Ambient / Electronica / Ethereal / Dub / Soundscapes / Abstract
Edit (6289)
Artist:
Marsen Jules Trio
(@)
Title:
Les Fleurs Variations
Format:
Download Only (MP3 only)
Label:
Oktaf
(@)
Distributor:
Finetunes
Rated:
By means of his Oktaf imprint, Martin Juhls aka Marsen Jules gives the opportunity to admire the finest specimens of his blooming musical greenhouse, carefully irrigated by his delicate poetics, after it leapt out in many listener's hearts through his appreciated issues on City Centre Offices and previous stuff on the renowned net-label Autoplate. Among Oktaf's most scented bulb, I'd like to mention the remastered version of Yara and the album Lazy Sunday Funerals, but for this issue, which contains four re-rranged tracks of his acclaimed album Les Fleurs, an intensively emotional album intended to resemble the whole span-life of a flower from its blossom to its decay resulted in a wonderful idyll strictly related to the ineluctability of the decay of natural beauty in its perpetual cycles, Martin makes official a new collaborative path together with his long time friends and twin brothers helping him in his gardening activity Anwar Alam (violin) and Jan-Phillip Alam (piano). These new musical presences don't alterate, but just highlights, the spell Martin's able to cast on the listener based on the gradual dissolving of a looped phrase on repeated airy symphony till they merges each other in order to flow together listener's emotional universe. Marsen Jules Trio is able to build that kind of music which has the magical power to marbleize the listener by simultaneously unleashing emotional winds in its inner world. This is just an appetizer of a possible forthcoming album signed by this trio - I particularly got enchanted by De La Morte D'un Cygne and Coeur Saignant of the 4 tracks included in this release -, but it's enough to test the exstatic property of Marsen Jules' musical poetics. Peeping at his wonderful blossoms could arise your curiosity in its rich musical garden as well as in gardening!
Ambient / Electronica / Ethereal / Dub / Soundscapes / Abstract
Edit (6273)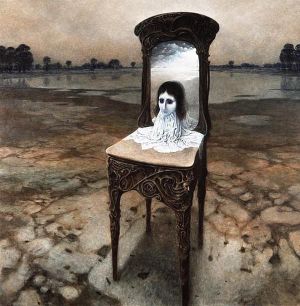 Artist:
VANESSA VAN BASTEN
Title:
Closer To The Small / Dark / Door
Format:
CD
Label:
Robotic Empire
(@)
Rated:
It's been a long wait until this new Vanessa Van Basten release and here it is on Robotic Empire, that means it's out for good!. For those who have never heard the band I can just say they play a blend of power shoegaze a la Jesu mixed with some dream-pop, post-rock influences. Like their previous materials also this cd is deeply influenced by the style of Justin Broadrick but the result is brilliant and more than once I've caught myself thinking their writing skill has become even better than that of dear ol' Justin. Said that there're a couple of elements the brought Bellini and friends one step ahead from the past, they've added a real drummer to their original line up and the song structure did benefit from this solid power trio formula. The other interesting element is the fact the combo has put more and more emphasis on what some music expert would label as "dream pop", that means sometimes they barely resemble bands like Cocteau Twins, materials from 4AD records or some of the production signed by Robin Guthrie. Don't worry you little hardcore kid / post metalhead, this' no "fruity" version of avant metal trying to make it in the heart of indie fans, they still have heavy parts, colossal riffs and loud explosions, they just pass from those that kind of sound to quasi acoustic guitars with keyboards and a those soft long delays or reverbs that give a lot of deepness to the ambience. This' exactly one of those rare records that can put together many different listeners into melancholic music of different kinds but at the same time it hasn't lost an ounce of credibility. Thumbs up for me.
Ambient / Electronica / Ethereal / Dub / Soundscapes / Abstract
Edit (6269)
image not
available
anymore
Artist:
THOLEN
(@)
Title:
Neuropol
Format:
CD
Label:
Cyclic Law
Rated:
This album is a dark ambient album with strong soundtrack influence, it just evoke scene of an horror movie. in fact, the title of the album, Neuropol, is the name of a fictional city whose society is divided in two distinct classes: a lethargic mass of working slaves on the surface trapped in the industrial landscapes and the elite who lives underground.
"They are watching through my eyes" opens this release with a mesmerizing drone below evocative soundscapes. "Neuropol Underground Infrastructure" uses high volume low frequencies to evoke a (perhaps) moral darkness above higher frequencies effects while "Cryogenic Ceremonies" is an highly evocative track ending with a sad line of piano. "Among The Tormented" is constructed with lines of filtered synth above a dark drone. "Tiefe - Floating Corpses Odor" opens with filtered voices walking around all the track. "Becomming (Segmented Minds)" starts with a dialog of a man and a, presumely, young women and develops with layers of low frequencies drones. "When all hope was dying" ends this records with layers of melancholy lines.
At the end of the listening, it's difficult to express the images evoked in this musical journey; this is an album really well mastered, not a so common feature these days, that requires good subwoofer to really appreciate the depth of the careful elaborated layers constituting the track. An album to be played loud.
Ambient / Electronica / Ethereal / Dub / Soundscapes / Abstract
Edit (6267)
Artist:
Leykam | Mark
Title:
Live Extracts 96-98
Format:
CD
Label:
Frank Mark Arts
(@)
Distributor:
CD Baby
Rated:
1996-1998...for some mysterious reasons I still have vivid memories around the music circulating in those years. For instance I remember in some elitarian sets it wasn't so difficult to listen performances of Buddhist monks while emitting trance-inducing vocals together with eccentric keyboardists and sound crafters dealing with ethnic instruments whereas people sitting in the stalls included someone winking at this musical explorations with libels of some more or less improvised guru in the pocket or on the bedside table nearby a finely chiselled censer and sweet-smelling stick of incense and day-dreaming about any bizarre intersection point between technological progress and spirituality and other groups of radical-chic people feeling a certain nostalgia for their roaring twenties in the 60s/70s and taking a liking to those teenagers spreading rumors about a possible alien conspiracy for anaesthetizing human race througout ambient and trance music and some exotic food in order to conquer and arguably destroy the Planet Earth! I vividly remember a live exhibition of the Buddhist Buthanese monk Lama Gyourme and J.P. Rykiel whereas there was a background sound on the amplified one of snoring dispirited people and pensive aum(or ohm)-like hypnotized ones filling the sound space amidst the audience. These live extracts by the respected cosmic ambient knights Frank Mark and Roman Leykam, issued by the renowned Frank Mark's imprint and recorded in different live-sessions in Germany during those years, partially enucleates that cultural tumor without renouncing to an appreciable sound research as well as to its stage set so that the themes are more or less the same, which even if nowadays could be considered quite old-fashioned used to be the knaves in social scene. There are many nice episodes along this collection , especially those ones where the cosmic and progressive rock vein by Roman Leykam pulsates more intensely by highlithing the mystical pressure of the polished and clean sandpapering on frequencies and the thinning of sounds coming from samples and tapes by Frank Mark, but their style sounds ineluctably influenced by those cultural memes as well as by famous ambient archives of labels emitting in that period (FAX, Silent and even the plenty of selections filled with some classics by composers such as Brian Eno, Hector Zazou, Robert Rich, Steve Roach, Edgar Froese dealing with that unconventional way of treating standards, especially for the substantial lack of melody, supposedly inducing the illusion of floating or cruising or helping introspection...). By the way, some listener
Ambient / Electronica / Ethereal / Dub / Soundscapes / Abstract
Edit (6263)
Artist:
Wolfskin / Last Industrial Estate
Title:
Stonegates of Silence
Format:
CD
Label:
Malignant Records
(@)
Rated:
According to the label, this is Wolfskin's last album. I had not heard of Last Industrial Estate, which is the work of Anders Peterson of Objekt 4, which I had also not heard of. Here's how Malignant describes the disc: 'This is Wolfskin at its bleakest and most restrained, offering 5 tracks of enveloping ambience built around foggy, ambiguous textures and an endless flow of drifting isolationism, shapeless horrors, and oppressive subterranean heaviness. In the case of Stonegates, Wolfskin goes out not with a bang, but with a slow, evolutionary creep into the shadows, forever etched in the lexicon of dark ambient music.' The best way I can describe this album is that these artists understand the power of negative space. Unlike some who feel a need to have every second filled with sound, they leave breathing room for the atmospheres that they have created. The sounds are fairly minimal at times leaving one with the feeling of being deep underground with only hints and whispers from above. 'Amidst the Infinite Skies,' did get a bit repetitive at times, but for the most part this was quite pleasant dark ambient. One interesting element here is that I did not really find the overall feeling to be ominous, so I have to disagree with the label's description of 'shapeless horrors, and oppressive subterranean heaviness,' but this is by no means a weakness. In fact, if I wanted to introduce someone to dark ambient music without having them cringe over bad horror movie samples (Ixaxaar, anyone?), this would be a good start. This disc weighs in at around 51 minutes.