Ambient / Electronica / Ethereal / Dub / Soundscapes / Abstract
Edit (5215)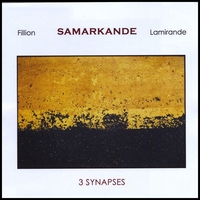 Artist:
Samarkande
(@)
Title:
3 Synapses
Format:
CDS (CD Single)
Distributor:
CDBaby
Rated:
Samarkande is Eric Fillion and Sylvain Lamirande, two musicians with a fair amount of academic cred, which may work for or against them depending on your perspective of the academic world. But when it is all said and done, it's really about the music anyway. Who gives a crap how it's made or how much education it took to get there. Either you like it or you don't. They present us with two long tracks and one shorter track painting sometimes twisted nightmare pictures of sonic voyages taking in not a few different landscapes to grab our attention. At times sounding like a screwed up Tangerine Dream knock off and then a Genesis Mellotron monster, at other times an imaginative mix of drum machine, vocal samples, random radio samples, free acoustic, free jazz, Minimalistic repetition and modern chaotic noise. Everything but the kitchen sink here, but that seems to be the way things are going nowadays. Genres are all melting together, the cross breeding sometimes giving us offsprings of great beauty and sometimes a monster or two. The important thing is they don't get stuck on any one sound but keep the surprises coming throughout the entire release.
Ambient / Electronica / Ethereal / Dub / Soundscapes / Abstract
Edit (5214)
Artist:
Expo '70
(@)
Title:
Black Ohms
Format:
CDS (CD Single)
Label:
Beta-lactam Ring Records
(@)
Rated:
Expo '70 is Justin Wright operating since 2003, and now stationed in Los Angeles, CA. Justin plays guitar, building ambient layers of sonic expectation/dronage taping into the vibe of the psychedelic 60's. This style of music has been, and still is being, done by probably hundreds of musicians all over the world to some extent. Layers, loops, pulsing tones, echoes, squeaks, buzzes. It's all here in spades. This is all a dreamer's world, the music not presenting us with any nasty surprises volume- or timbre-wise. Just the harmonically consonant atmosphere of tranquility. There is nothing new under the sun but the real point is whether it's any good or not, whether it accomplishes its purpose, which I surmise, is the opening of the doors of perception. I think it does, although I would suggest that quiet surroundings with a minimum of distractions, darkness, and a relaxed position would aid in the effect. The acoustic isolation of headphones may also help. Space music for the inner and outer mind. If you like this kind of spaced out drone music go for it. He gets some help from Matt Hill on the last track, also on guitar.
Ambient / Electronica / Ethereal / Dub / Soundscapes / Abstract
Edit (5213)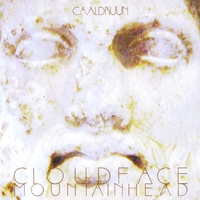 Artist:
Caaldruun
Title:
Cloudface Mountainhead
Format:
CD
Label:
Fox Den Recordings
(@)
Distributor:
CDBaby
Rated:
Seven tracks of buzzy, droney, broken sounds, tones, sonic mayhem and subtle beats by one Eric Kessel using "burnt-wire synthesizer, circuit-bent voice, black box, last-man-on-earth guitar & minidisc sound recovery." According to the artist web site "Drawing from a background in Cultural Anthropology, works for caaldruun are concerned with constructing compositions which are based on reconstructed memories from travels to and within other zones of experience. The unstable nature of memories is exploited for its creative potential in creating original "auditory myths"." The artist makes his claim to South American inspiration here and one can see it; or perhaps hear it, is more accurate. It's as if he were trying to tap into something "primitive" if that word may be used without pejorative connotation. He succeeds. Regardless of all the anthropological verbiage this is still an enjoyable journey into the heart and soul of the electron, of which we are all made, after all.
Ambient / Electronica / Ethereal / Dub / Soundscapes / Abstract
Edit (5210)
image not
available
anymore
A guitar-based dark ambient project by this Polish musician. Keyboards and other sounds are added to fill up the sonic terrain in an attempt to create atmosphere. For the most part it works, but as with a lot of music these days, this has been done before. There truly is nothing new under the sun, especially with Myspace and the Internet crammed full of aspiring musicians who have been ransacking the last fifty years of music history. Things improve with the fourth track which moves away from the chimey delayed guitar tones to something a bit more menacing, but we're back again to the chimes again after that track. This may be the major fault of the disk. There's not much change in guitar sounds throughout. A bit less subtlety might help in the long run. Subtlety can be good but there's always the danger of flying right up your own backside as well. This is not bad, just not all that original. If you like musical wallpaper you'll like this. Play it quietly on a Sunday afternoon when it's raining. But I expect you'll be sad when you're done, which may be the point here.
Ambient / Electronica / Ethereal / Dub / Soundscapes / Abstract
Edit (5208)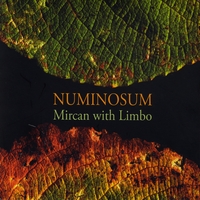 Artist:
Mircan with Limbo
(@)
Title:
Numinosum
Format:
CD
Label:
UCM
(@)
Distributor:
CDBaby
Rated:
Mircan Kaya (vocals) and the jazz ensemble Limbo as accompaniment. Semi-whispered songs of love, sadness and longing played for maximum impact. Most track lead into the next without a break. After 5 tracks of semi-impressionist ethereal sounds and vocals track 6, with its jazz bar vocals totally breaks the mood, after which we return to the nature-girl sounds of buzzing insects and rain followed by the previous musical type. Enjoyable for those who like the tree-hugger message with a bit of jazzy accompaniment to appeal to the hipster/coffee bar crowd. Standout track #9 "Water and Wine" with its dark, hypnotic pagan trance-inducing beat and gong exoticism.