Ambient / Electronica / Ethereal / Dub / Soundscapes / Abstract
Edit (6005)
Kinetix a.k.a. Gianluca Becuzzi is an italian artist active since 1999, and after several releases during years debuts on France based Sound on Probation. I would call Becuzzi a sound designer, a pretty abstract sound designer concerned with experimentation on the synthetic side of the sound. Along the two long tracks (that seem pretty much connected into a single long work) Kinetix layers on extremely extended ambient backgrounds a pletora of recurring micronoise patterns that are probably the very interesting part. The recurrence of the same parts probably makes the composition a bit redundant anyway due also to their minimalism. The hard work on the composition is clearly intelligible, but not an easy listening at all.
This split is the third release for Pylone, as usual on Sound on Probation. We are still on the sound research side, still with a concern on minimalism and micronoises, but with a flowing shape given to the four composition, a flux as the bio states. It's a form that captures more deeply the listener comparing with Kinetix, due also to a wider variety of sounds manipulations involved, as well for the background drones that vary from still minimalistic shapes to some deeper capturing sound waves. The same concern on digital experimentation emerges from the cover artwork made by Véronique Weil.
Ambient / Electronica / Ethereal / Dub / Soundscapes / Abstract
Edit (5983)
Artist:
Geomatic
(@)
Title:
64 Light Years Away
Format:
CD
Label:
Tympanik Audio
(@)
Distributor:
Tympanik Audio
Rated:
This came as a delightful surprise out of the blue ' an instrumental electronic album with a lot of complexity, depth and punch. The band itself is a bit of a mystery. '64 Light Years Away' is their third album (the first, 'Control Agents' was released in 2001), they're from Amsterdam, but I haven't a clue who the musicians are. It is strictly a group identity, and neither their MySpace site, band website, one-sheet or record label offer up any individual names. Geomatic doesn't even reveal their email address!

'64 Light Years Away' is heady stuff that will carry you worlds away; a real soundtrack for the mind. It makes me think of the best of old-style Delerium, Steve Roach and Michael Stearns, but several steps beyond. In no way does this sound the least bit New Agey. There are plenty of dark ambiences, post-industrial tribal rhythms, and deep dark delicious dubby delights, often spiced by Middle Eastern melodies and the wail of the muezzin in minarets. Even within the complexity of the music (and there is a good deal of complexity), there is a spatiality in the music that approaches the cosmic. Extremely well done with a variety of sounds and sonic motifs. Haunting, eclectic and mystical would be appropriate adjectives. The album stands up to repeated plays and still you will find more layers to unravel. If ever an album deserved to be called AWESOME, '64 Light Years Away' would fit that description. It's a heavy trip that is bound to grab your psyche, blow your mind and take you to realms you've never been before. HIGHLY RECOMMENDED!!!
image not
available
anymore
Artist:
Quartersized
Title:
Bingowings
Format:
CD EP
Label:
MOMT
(@)
Rated:
After questioning himself about politics in the previous EP, Ian, with his project Quartersized this time for his fifth release with a bit of irony take a serious problem like fat as theme, packing four tracks which thanks to sonic bass frequencies will destroy fat cells. Mixing the chants of Abelam of Papua Niugini with hip-hop beats on "Getto", covering Throbbing Gristle's "Discipline" making it turns into a dub upbeat tune, using vocals of an unknown preacher on the electronic closing "This earthly frame" and mixing acid bass lines with break beat drums and samples on the opening "Bingowings", Quartersized is playing with sounds and rhythms succeeding into sounding funny but credible at the same time. The release is available as CDr and digital download.
Ambient / Electronica / Ethereal / Dub / Soundscapes / Abstract
Edit (5973)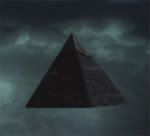 Artist:
AUN
(@)
Title:
Black Pyramid
Format:
CD
Label:
Cyclic Law
(@)
Rated:
The new album from this duo is loosely inspired by the works of Enki Bilal and, so, it feature an enigmatic black pyramid in the cover. This canadian duo made a guitar driven drone music that stay between Sunn O))) (in their heaviest moments) and Vidna Obmana (in their quietest).
"Phoenix" starts with a guitar drone that slowly prepares the entering of cosmic synths, "Taurus Ten" instead is pure guitar with atmospherics as support. Black pyramid is pure cinema soundscape that took the listener into "Ursa Major" and "2095". "Ursa minor" is a quiet intro to "Shining" and this album ends with beats as a soundtrack for an escape from something, or an end to a dream.
Although they are not particularly inventive in their writing, Martin Dumais and Julie Leblanc comes with a solid work where sounds are well crafted and evocative. So, even if it's not a masterpiece, it's a nice album for all drone lovers.
Ambient / Electronica / Ethereal / Dub / Soundscapes / Abstract
Edit (5963)
image not
available
anymore
Artist:
System
Title:
B
Format:
CD
Label:
Rump Recordings
(@)
Distributor:
VME
Rated:
Always busy with their personal projects (Opiate, Dub Tractor and Acustic) and after a new release under the Future 3 moniker, Anders Remmer, Thomas Knak and Jesper Skaaning are back with their first full length release as System: its title is B. The nine tracks of the album, as for the previous EP, find their roots into dub and electronic music but if on "Tempo EP" there was also a sort of jazz vein you could find between the melodic lines, B, is a mix of rich ambient sounds (do anyone named Brian Eno?), dub warm atmospheres and dubstep mid tempo rhythms with a bit of i.d.m. influences. So, while tiny melodic progressions paint a sort of melancholic canvas, complex rhythmic textures made of noises and bleeps strengthen the drum sounds. The whole result sounds like a two step record in slow motion which gives the right idea of the warm Jamaican weather transposed to Denmark...