Ambient / Electronica / Ethereal / Dub / Soundscapes / Abstract
Edit (7027)
Artist:
c.db.sn
Title:
...At the End of it All
Format:
CDS (CD Single)
Label:
Tympanik Audio
(@)
Rated:
c.db.sn, also known as Chase Dobson is an American Producer. His second solo effort ''¦At the End of it All' is now available on Tympanik Audio. It's quite an interesting record, that weaves its way through lush textures, soft pads, soundscapes, electronic beats and full on glitch. His work has grown considerably since his debut 'Into the Deep' was released in 2008. The disc opens with a rich textural base, which sets the stage for the dubstep 'like beats and wobbly basses that populate the piece which is entitled 'The Stillness of Hours.' It then progresses to the title track, which I can only describe as tender hip hop; a very simple tune, maybe even too simple. We evolve through a variety of different fields of electronic, ambient, glitch, and IDM on this release, but it doesn't get REALLY great until track 5, 'A Silent Sea' with a good bit of diversity and very nice soundscapes that slowly lead into a solid glitch groove and back again. This is par for the course for most of the songs herein; those most worthy of note: 'Airport [Never_Land],' 'Data Transmit' and 'As if December Never Happened.' The only real downfall of this album, is that most of the beats and/or glitches, tend to be set on repeat, with little variation. I mean, there are really just that, LITTLE variations, which can cause several songs to begin to feel monotonous. The only other complaint I have, is the INCREDIBLE 'The Stars Falling Cold' is FAR too short, and doesn't get justice, but I think that's more of a positive than a negative really. All in all, a good record certainly worth a listen, maybe even a second listen, which is when this one really began to grow on me.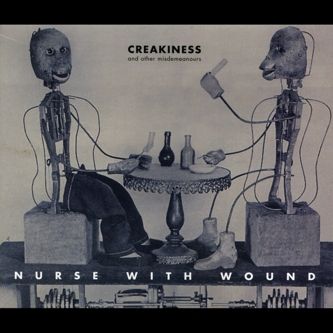 Artist:
Nurse With Wound
Title:
Creakiness and Other Misdemeanors
Format:
CD
Label:
United Jnana
(@)
Distributor:
Midheaven
Rated:
The five tracks that make up Creakiness And Other Misdemeanours will take you on a bizarre voyage, journeying through vintage arcades, through forests and across dark rivers, where jeweled crocodiles and pagan priestesses cavort along the banks, performing obscure rituals for unnamed purposes.

Creakiness... is comprised of rare recordings that span 14 years. "Creakiness" was originally released in 1991, as a split 12" with the group Spasm. For this outing, Nurse with Wound were Stephen Stapleton, Joolie Wood, James Mannox, and Tony Wakeford, and it is a five part sound poem of car horns and Warner Brothers cartoons, Bugs Bunny and Daffy Duck cavorting around the stereo field in a dizzying array, smoothly segueing into a haunted house atmosphere of creaking doors and pagan mantras, and the unearthly beauty of heartfelt mysticism is doubly effective, arising from the goofiness.

"Twisted Mona" and "Mona Twisted" are actually two halves to the same coin, originally released as Salt Women Tragedy, the third installment in the Echo Poeme Sequence series, as a 7" for Klanggalerie in 2005. The original was notoriously plagued by pressing issues, so a proper re-issue makes sense. The two Monas are a meditation on the human voice, a subdued woman's voice incanting in German, slowly panning from left to right, while temple bells that sound like clanking boats give a ghost ship ambiance. It sounds like another world, an alternate reality full of magick and romance, the slow repetitions hypnotic and soothing, pleasant on the ears. It'll have you swaying.

"Little Dipper Minus Two (echo poeme sequence 1) has more siren's song, alluring and seductive, with swelling electronic feedback punctuated by quicksilver stabs of synthesizer, little puffs of steam, and the occasional barking dog. It seems like something is happening, there is some narrative work at here, but it is murky, undefined, mysterious. The ambiance seems to rise and fall in a random fashion, there is a sense of an inner logic, but the structure seems organic, frayed and trailing, yet hanging together, like an auditory ecosystem.

"A Perfectly Natural Explanation" finishes things off; a woman's voice simply repeating the song title, while broken radio static fills the left side of the headphones, and a submerged string quartet takes the right.

Considering the disparate sources of the various tracks, it makes sense that Creakiness would come across as a somewhat disjointed affair but it makes sense, after a fashion. Since the beginning, Stephen Stapleton has described NWW as "surrealist music," citing the likes of Dali and the Comte de Leautremont as influences, right along with fellow wreckers of civilization like Throbbing Gristle and Z' ev. NWW's music has always been expansive and unpredictable, and it has always had more of a sense of humor than the bleak misanthropy of his industrial contemporaries, which just makes the uneasy listening more unsettling. The secret sauce that makes Nurse With Wound's music work, is a familiarity with the roots of electronic music, musique concrete and early synth experiments, and the way that sounds are tuned and placed in the stereo field reveal a master's touch. Nurse With Wound are simultaneously high- and low- brow, goofy and mystical. Complex.

Stapleton's music is most definitely not for everyone, and i don't believe i've ever encountered an artist that has such a polarizing effect on crowds. Chance Meeting On A Dissecting Table..., their infamous first record, will clear out a party faster than a dog fart, possibly annulling marriages in the process. The songs are long and avoid succumbing to the strictures of pop music, like harmony, melody, rhythm. They are works of abstract sound-art. For those disposed towards letting music infect their inner worlds, blossoming like phosphorescent fungal blooms behind closed eyelids, Nurse With Wound is essential listening.
Artist:
UGGERI, GIANNICO, MAURI
Title:
Pagetos
Format:
CD
Label:
Boring Machines
(@)
Rated:
This another chapter of the personal saga started a while ago by Matteo Uggeri, but stylistically this work brings the italian musician in what I think is his favorite musical habitat: a nowhere land where melancholy ties the knot with field recordings and melody. Melancholy could be the subtitle of the whole recording, infact Giannico (you probably know for some interesting solo releases) went for some minimal piano playing perfectly arranged by some more than inspired interventions by Luca Mauri (I/O, Luminance Ratio) and by some elegant cello harmonies by Andrea Serrapiglio (Carla Bozulich, Paramount Style). The high emotional impact and the overdose of melody of the cd makes me wonder if instead of ambient music or field recordings, we're simply in front of a minimalist, quasi pop, cinematic series of compositions. Do you really think I'm just exaggerating? So tell me if some of these litanies wouldn't be suitable for some romantic movie? In a way we've something that brings forth that language that some of these post-post-post meets camera music combos on Constellation have been recording during the last ten years and in my book that means elegance plus quality. This' one of those releases so mellow and so catchy that could be dug by a big range of listeners, not exactly a sunny release, I can't say why but it makes me think to autumn's leaves and to the end of the summer. Can you remember that Tears for Fears' line that says "Advice for the young at heart soon we will be older", it kept buzzing into my head for the whole length of the recording.
Ambient / Electronica / Ethereal / Dub / Soundscapes / Abstract
Edit (7017)
Artist:
ALBERTO BOCCARDI
Title:
s/t
Format:
CD
Label:
Fratto9 Under the Sky
(@)
Rated:
I think many of you into unconventional/refined music have already stumbled into this label due to releases like Andrea Marutti, A Spirale or Jelousy Party, but this' a new division of the label and it's focused on musicians and composers with a minimalist, isolationist, electronic electroacoustic, whatever edge. The first release to open the series is Alberto Boccardo, I didn't know that much about him before this cd and even if you can't judge a book by the cover, it's a good debut both for the label and for the musician. Boccardo works on melodic, cinematic textures not too far from Ben Frost, Tim Hacker or music in the likes, even if I can assure you guitar is not is main element in most of the tracks, it looks like he's a guitarist (by the way who's not a guitarist in 2012?!). Even if this' a collection of "compositions", the ambient-electronic influence in many of the track is always pulsing underneath, this is not exactly electronic music and there's no intention to be filed under this category but as I've said I think the genre is overshadowing this work. I'm sure many critics will be complaining about some passages including the use of the soft melodic female vocals in the second track, but I totally approve the end result and you know why? Because despite the intensity e the phatos of the music, Boccardo managed to maintain a light touch there so if you're looking from some isolationist-post industrial heaviness stay away. Thumbs up to this young guy.

Artist:
Berangere Maximin
(@)
Title:
No one is an Island
Format:
CD
Label:
Sub Rosa
(@)
Rated:
One of the most interesting aspect of this collaborative release by Berangere Maximin, a talented beatnik coming from the acousmatic scene and the electroacoustic classroom of Denis Dufour at the Perpignan Conservatoire, born in Reunion (an heavenly French overseas dominion in the Indian Ocean, surrounded by sharks and luxury hotels), an isle from which she moved when she was just fifteen - a biographical note, which looks like certified by the title of this release! -, lies in the prismatic plating of the sounds she intertwines with melodic rashes on instruments by four renowned musicians. It seems she coats some noisy tunnels with random objects and electronic expectorations, which have been holed by lovely strains, as if each song tells some tales about the steadfast struggle between inner universe and casual extrusions from outer world, so that for instance it seems that Frederic D.Oberland's sweet phrasing on guitar gets unnerved by chirping electronic hums and sizzles and its first neatness rots away towards more lopsided tonal declensions in the initial track "How Warm Is Our Love" as well as in "Bicephale Ballade", the second collaborative track with Christian Fennesz. After the tonal drying up of the pretty cameo "Un Jour, Mes Restes Au Soleil", this release, included in the Sub Rosa's series Framework, intended to spread some unusual conceptions of sound material mainly composed by young unknown sound artists, offers good food for hungry ears: my favorite ones are the first collaborative track with Christian Fennesz, "Knitting In The Air" - a lovely tune starting with the noise of some knitting needles and bird chirps, ascending over an entrancing effected guitar arpeggio, so that you can imagine those needles sharp clouds as if they were balls of thread whereas Berangere comments on textures coming from their unwinding with adjectives like "gorgeous", "marvellous", "fantastic", "terrific" by accentuating the last consonant sound of each word -, the giddy sonic monument she assembles with Richard Pinhas in "Carnaval Cannibale" and the entrancing and maddened setting of "Where the Skin meets the Bone" featuring the great trumpet-player Rhys Chatham, who seems to have combined his first approach on the instrument based on distortion with the more mystical and laid back one of his recent issues.