Ambient / Electronica / Ethereal / Dub / Soundscapes / Abstract
Edit (6961)
Artist:
Autistici
(@)
Title:
Amplified Presence
Format:
CD
Label:
Home Normal
(@)
Distributor:
Home Normal
Rated:
Autistici is the project of David Newman from the U.K. and it appears that releases go back as far as 2003 with some on Audiobulb Records, Kesh Recordings, Hippocamp, and others. Autistici incorporates a wide range of sources including textural sound design, orchestration, space and fragments of found sound or field recordings. The idea behind the music of Autistici is to focus on representing details from both the natural and manmade world. Conceptually, this includes elements from the listener's own body (and also what's inside their head) becoming incorporated into the composition. A bit existential, but there's truth in it. So in a sense, it's interactive music. Lofty conceptualization aside, I'm sure you're wondering what it sounds like.

First, I have no basis of comparison to previous works by Autistici (never having heard any) so I come to the table with (sort of) fresh ears. My overall first impression of 'Amplified Presence' was one of sound sculptures; pieces of art conveying an impression, a significance and/or feeling in the environment they were listened to. My initial listing was in the closed environment of my car. There was a museum-like quality to the listening space, and I could envision light displays, water sculptures, statuary, abstract installations, etc. This impression was greatly altered on the second listening at my computer where I am writing the review. There are the sonic (and other) distractions of the noise of an electric air filter, the sound of water running in the bathroom, the tapping of keys on a keyboard, the squeak of a chair, etc. The sound system configuration is different here too. These factors may have contributed in some degree to giving a more active (or perhaps interactive) quality to what I was hearing.

Because every piece on 'Amplified Presence' is essentially different it would be a LOT of work to attempt to describe them all, but I can give you a few incidentals though that should give you a better impression to discern whether this album is something you'd enjoy. The opener, 'Automated Night Light' utilizes reverberated dream tones that melt together in clusters with subtle drone, whirring and zizzing sounds in the background. Before you know it, you're in a 'Bed of Powdered Glass,' which seems to bend space through panning sequenced noise elements, a manipulated warped bass tone, subtle clicking (akin to artifacts you can sometimes experience on a bad CD) and other incidental tones. I imagine that through headphones this could be quite mind expanding. I should point out that this is all rather subtle and low-key.

'Religion of Water and Air' at first juxtaposes a simple, stilted repetitive piano melody with key-tapping typewriter (and some gentle noise in the background) until the key-tapping works its way into a full blown rhythm with percussive elements and glitch electronics. It halts, then there is a bassy buildup and a more steady sequenced noise element, then squishy-squashy electronics as it lumbers along on another rhythmic track, with glitchy electronics again. The track ends similar to how it began. It's all very playful and would make a great soundtrack for an animated short. I'm skipping over 'Vocal Chords,' 'Attachment Type,' and 'Sixteenth,' not because I didn't like them but due to (my) time constraints. Besides, there should still be a little mystery for you to discover on your own, eh?

'Tower Location' has watery sonics in the background (for awhile), a sequenced processed electronic buzzing tone, some light melodic ambience, and a glitch rhythm kit (in march tempo) emerges with a bell-wash with incidental bits of electronic effluvia. 'Slow Rotary Sensor Loop' begins with a low drone and swirling electronic textures and a ringing tone interspersed with measured electronic tapping. I think I hear summer sounds like bird and cicadas too. It ends with small steam noise burst. 'Field' is like imagining yourself in one, but perhaps one altered by a chemically induced state. 'Slow Fluorescence' begins with some kind of winding (as in winding a reel, or clock rather than 'the wind') sounds, and introduces more active field recording sounds with mellow ambiences, guitar harmonics, whooshing, thumping and crackling sounds.

Overall, this is an intriguing set of sonic environments that defy the categories of ambient, glitch, and experimental, while incorporating them all to realize something completely different. Interactive sound sculptures would not be a bad description for this album, but in a sense, 'Amplified Presence' is more than that. Other listeners may perceive them completely differently than I did, focusing on elements that I've overlooked. In any case, there is little to not enjoy on 'Amplified Presence' and I think Autistici achieves its goal here remarkably well.


Ambient / Electronica / Ethereal / Dub / Soundscapes / Abstract
Edit (6960)
The placid symphonic trembling of virginal strings, luminous heavenly choirs and puffed pipe organ of "Blue Polar", that kind of stuff which can act as a soundtrack for slow motion sequences of those national geographic documentary film about some naturral wonder or for proper gestures or facial expressions (such as that kind of smile in a daze or that slow caress on lower abdomen) by a woman who receives a positive response by a pregnancy test (when pregnancy is wanted!), turns this graceful release by Olan Mill - a collaborative project by Alex Smalley, a music therapist living in the idyllic Hampshire countryside in UK, and Svitlana Samoylenko - on, before the entrance of the delicate piano melody in "The Square Is Porcelain", whose deep emotional charge has been emphasized by a gradually opening string pealing. The following track, "Amber Balanced", is the highest dramtic peak of the whole album (and in my opinion, the most interesting moment from a compositional viewpoint), where a sort of low-pitched drone gradually ascends through field recordings of water and tweets, livid tones and sonic hazes. B-side of the release starts with "Intestinal Flora", where a drone built on a whispering violin (so high-pitched that looks like a distant military tap) looks like breathing with the murmur of some dripping water, while the intense languidity of the following track "Eye's Closed (For Rube)" vividly recalls pastoral landscapes before the long-lasting track, "Stalled Boson", which sounds like the glorious accomplishment of an implied tale (arguably the one of the man "picking his nose on Rainbow Corner, shuffling down coffee, blowing film cyclonic; anticyclonic, being a ditch in shoes, having steam in his eyes,..." described in the booklet by Olan Mill and Alexander Ross Peterson), whose musical setting could be placed in musical field close to the ones, which have been plowed by Stard Of the Lid or Constance Demby.
Ambient / Electronica / Ethereal / Dub / Soundscapes / Abstract
Edit (6959)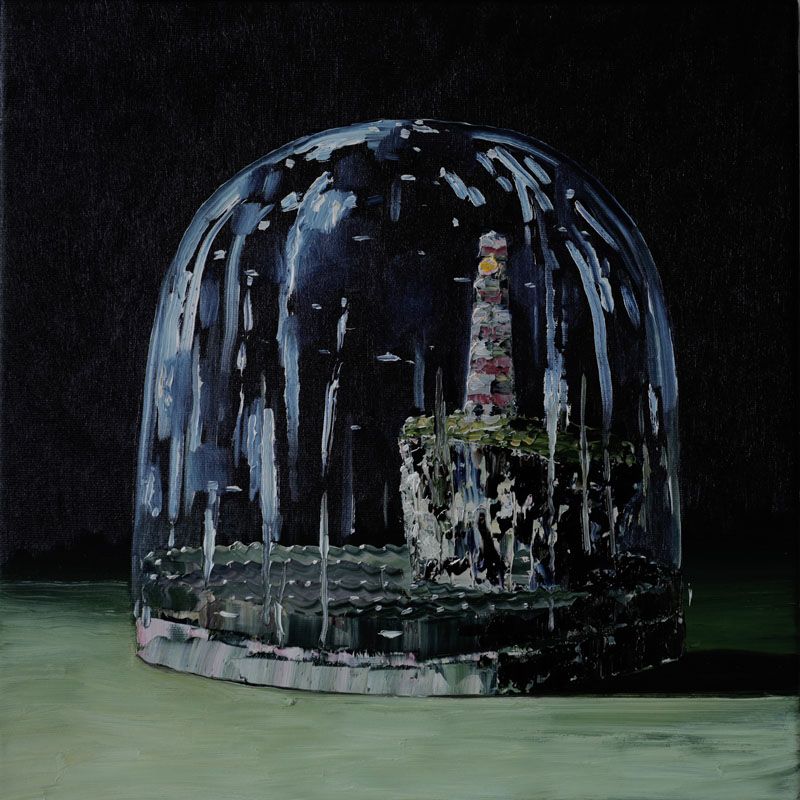 Artist:
The Caretaker
Title:
Patience (After Sebold)
Format:
CD
Label:
History Always Favors The Winners
Distributor:
Forced Exposure
Rated:
Leyland Kirby is interested in memories; in an interview for the Headphone Commute, in 2011, he described the fascination: "We are our memories and the saddest thing and big fear we all have is of losing our ability to remember as then really we are nothing only a shell and it's tragic for those around us to witness this descent into a living hell (even though we ourselves would not recognise anything being wrong)."

Patience (After Sebold) is the soundtrack to a documentary by Grant Gee, where he re-traced the steps of author WG Sebold's journey down the British sea coast. as chronicled in his most famous book, 'The Rings Of Saturn'. The book, and the film, both deal with the nature of memory and perception, of their unreliability, creating a ghost-like nether world in which the author floats and observes. Leyland Kirby's smeary, dreamy melancholia is the perfect score for this limbo.

After a number of releases under his own name, most notably "Sadly, The Future Is No Longer What It Once Was," with its ambitious six sides of antiquated chamber piano, where Leyland Kirby was focused more on composing and performing the pieces, and giving achieving a much more emotional and personal vision, 'Patience (After Sebold)', returns to The Caretaker's signature wax cylinder deconstructions. Named after Jack Torrance in The Shining, Leyland Kirby has been conjuring music for the haunted ballroom since 1999, but Patience (After Sebold) is much more classical than vaudeville, re-purposing sounds from Franz Schubert's 'Winterreise'; most of the album consists of locked piano grooves, with slurred disembodied choirs and pipe organs 3 miles in the sky, the whole affair is chopped and blurred with cotton swabs of reverb, like watching seaweed drift, through the surface of a fish tank.

"Patience (After Sebold)" seems distant, receding, like a rusting space station, drifting beyond Earth's radiosphere, dying transmissions from the familiar, and the voices that sent them now long since passed, anyway. Haunting, bittersweet, elegant, classic; Leyland Kirby has a way with working with tiny vignettes of music, cobbling them together like a sterling automaton, and creating something utterly distinctive and unique. Along with William Basinski, he is Master of the Loop.
Ambient / Electronica / Ethereal / Dub / Soundscapes / Abstract
Edit (6950)
Artist:
Maps and Diagrams
Title:
The Town Beneath the Sea
Format:
CD
Label:
Nomadic Kids Republic
(@)
Distributor:
Nomadic Kids Republic
Rated:
Maps and Diagrams is the ambient music project of the U.K.'s Tim Martin, the second of two albums on Home Normal's sister label, Nomadic Kids Republic. Maps and Diagram's discography goes all the way back to 2002 or so (even further into the future beyond this disc) but this is my first exposure to the project. I have to say that this release is an unexpected delight. 'The Town Beneath the Sea' is more along the lighter side of ambient and Martin paints from a sonically rich sound palette. The 13 tracks on the disc are certainly episodic, and attempting to describe each could probably fill the space of 13 reviews. As a whole, 'The Town Beneath the Sea' is evocative of places you've never been, but would certainly like to go, maybe some type of paradise that exists only in your imagination. For the most part the music is soothing and placidly meditative, often employing gentle drones and sustained tones as the atmosphere. Still, there are other elements that enter the picture- the swathed in reverb piano; glitchy electronics; the surface noise of a vinyl record; patches of manipulated white noise; feedback; sounds from field recordings; whirring clicks, distant rumblings, and much more. This is modern ambient music at its finest- sophisticated and complex, emotionally and audially engaging. Nothing remains static and everything is constantly evolving. There is a sentimentality at work on 'The Town Beneath the Sea' that may remind you of events and experiences in your life, subtly without specific intent. That was one of the things I enjoyed the most about the album. A rewarding listening experience that has a high degree of replayability, 'The Town Beneath the Sea' is an album you should own if you have any inclination towards ambient music. Few are the releases I get to review here at Chain D.L.K. that I can play in my bookstore, but this is certainly one at the top of my list. I'd like to hear more from Maps and Diagrams, but for now, 'The Town Beneath the Sea' will do just fine.
Ambient / Electronica / Ethereal / Dub / Soundscapes / Abstract
Edit (6944)
image not
available
anymore
Artist:
Maciek Szymczuk & Slowmotion
(@)
Title:
Ways
Format:
CD
Label:
Zoharum
(@)
Rated:
This new release from Zoharum is a collaboration between Maciek Szymczuk, a polish musician active in ambient territories, and Slowmotion, an almost apparently unknown british guitarist. The result is a strange mix between ambient, trip hop, glitch and shoegaze.
The opening track "which way" relies on the female vocals for the construction of the atmosphere while "northern wind" reveals the glitch influence of the authors involved. "Hesitating" is a short interlude to "the hills" a dreamy track involving shoegaze influence with his heavily effected guitar lines. "The edge of the forest" is a slower and darker track while "the night has come" is another short bridge to another part of the album. "Windy north" is another juxtaposition of guitar lines and glitchy beats while "step by step" returns to the dreamy atmosphere of the best moments of this release. "Like a dream..." is the introduction to the last part of this record: "At the crossroads" is a noisy dialogue between the two artist while "go through the green gate" close this release with a long shoegaze jam.
This could probably not be an important or innovative release but is declared by his authors so this is a breath of fresh air in a situation where average release are filled with overloaded linear notes. It worths a listen.