Ambient / Electronica / Ethereal / Dub / Soundscapes / Abstract
Edit (6909)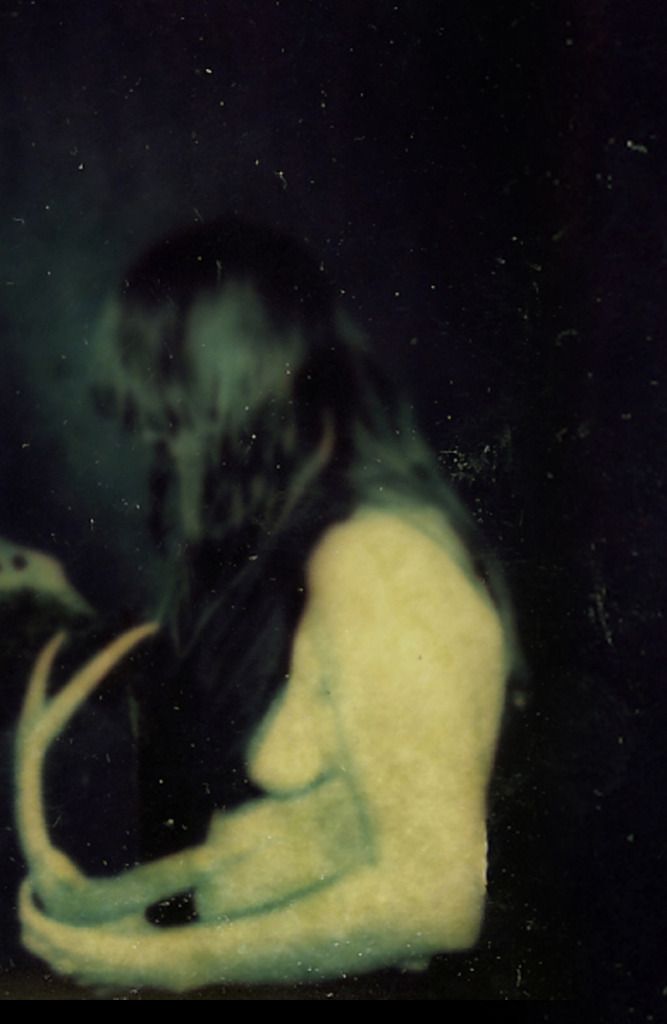 Artist:
Paintings for Animals
(@)
Title:
Thee Body ov Worship
Format:
Tape
Label:
House of Alchemy
(@)
Rated:
Paintings for Animals is a solo-project of Pær Sv, a sweet noise drone magician operating up here in the Pacific Northwest. He is the originator of the Seattle Occultural Music Festival. He's got the usual prodigious pyrochastic flow commonly found amongst noise musicians. On Thee Body ov Worship, out on House of Alchemy, he has manufactured 40 minutes of interstellar drift, split between the two halves of the cassette. Like Uroboros Thee Body ov Worship works well as a locked groove time warp, the two lengthy compositions, 'Moon Psalm' and 'Sun Psalm' chase each other across the sky, feedbacking into each other, dovetailing...

Like the best kosmische music, Thee Body ov Worship gives a euphoric sense of weightlessness. But this void is neither cold nor dead, it is like floating in navy blue ink full of stars. I couldn't get enough of this one, spinning it over and over, after my roommate and i conjured the plateau of leng out of thin air. I was in a pleasant lull, Thee Body ov Worship unspooling around me like a Persian Tiger. It reminds me a lot of an album by Jefre Cantu-Ledesma that came out a few years ago, Floating Weeds, that i used to listen to a lot as i was raking leaves. People that like Brian Eno's 'Discreet Music', wish that Lustmord would cheer up just a little bit , or Natural Snow Building's monumental effigies will dig this. They only made 75 of these, so don't miss it.

It looks like House of Alchemy is putting out a mad array of quality goods, i will be keeping an eye out.
Ambient / Electronica / Ethereal / Dub / Soundscapes / Abstract
Edit (6907)
This immersive release by this Belgian band (in the beginning a male/female duo before Leen Smets aka Yasnaia's departure), actually made up of Sandy Nijs aka Magthea and Herman Klapholz (better known as Ah Cama-Sotz), which can be reasonably counted among the legends or the masters of ritual music is the reissue of the not re-issued part of an intriguing project, commissioned by Antwerp Zoo Aquarium on the occasion of its 150th anniversary, as the original version was a split release, co-signed by another great name of the Belgian experimental music scene, Vidna Obmana, whose "half" has already been reissued by Hypnos a decade ago which unfortunately didn't comprise the precious contribution by Hybryds. Thanks to Polish label Zohar, this interesting work, which differs from other Hybrys' releases even if filing it under new age just beacause it's environmental somehow appears to me a misleading twist, surfaces from the abyss of forgetfulness with his tentacular sonic charm, intensified by some samples from underwater realm, including the notorious dolphin ultrasonics, given by the dolphinarium staff. Listeners are going to be surrounded by crossbreed of ritual drones, sonic crafts and tricks and hydrophonics in particular when human imprint sounds totally absorbed by sealife's emanations, so that it's able to evoke that appeased apprehension which sometimes accompanies explorations in unknown worlds which are normally inaccessible to people and excite the sometimes forgotten charm of discovery: this intriguing absorption looks highlighted in tracks like "L'Ivresse Des Grandes Profondeurs" where soft vocal tunes by Yasnaia coalesce with the cries of dolpinhs, "Archeozoicum" and "In the Wake of the Great Sea-serpent" where the guessed combination of powerful electronic bunches of frequencies and didgeridoos manages to catch listener's attention and the highly hypnotical textures of "Into The Ultrasonic Depths" emphasize the illusion of gradual diving, who becomes more and more enthralling in the final explorations, amidst "Whom Waling For The Whales" towers above other tracks for the bizarre interaction between those wonderful colossal creatures and a lovely phrasing on saxophone. The final track "Coda" can be considered an imaginary collaboration between Hybryds and two performers of the Aquarium, Ivo and Dolly, who stage a sort of duo on the texturing of the Belgian band, who managed to record their heartbeat and other underwater impulses to add some dynamics to their permormance. Reissuing this soundtrack was a right and proper act.
Ambient / Electronica / Ethereal / Dub / Soundscapes / Abstract
Edit (6905)
Artist:
Glitterbug
(@)
Title:
Egress EP
Format:
CD
Label:
False
(@)
Rated:
An egress is the act of coming or going out of a place. On Glitterbug's Egress EP, the seventh release from German producer/sound artist Till Rohmann, the four original tracks evoke images of departure, of emptiness, venturing out into the unknown.

Egress is a work for string ensemble and electronics; it is at times soothing, at times foreboding. The strings give a sense of tension, like an old Orson Welles shadow noir. Many comparisons have been made to film music to describe Egress. If this were to score a movie, it would be by Ridley Scott or maybe Tarkovsky; it implies the void, the cold emptiness of outer space.

Egress starts out minimally on 'Vacuity': the sound of wind, flittering dusty percussion dancing around yr head, before bell tones emerge from the depths, with a tintinnabulum dream logic of their own that sounds like being underwater. The strings kick in about 3/4 of the way through 'Vacuity' and linger for the rest of the album; there is a sense that SOMETHING'S GOING ON, but its not clear what. Its like the haunted visitors in Solaris, hidden behind closed doors, leaving you guessing. 'Span' sounds like a mid '70s Klaus Schulze outtak, with its rich colorful amniotic synth pads, a moment of optimist, the euphoria of leaving, before settling into the paranoid dripping dread of 'Appraise', all sustained string dissonance and insectile flourishes bouncing willy-nilly around the stereo field. 'Stagger', the last of the album's four originals, sounds like finding a pulsating brain at the center of a meteor belt, or perhaps stepping into the rusting carcass of a mechanical beast, before discovering that it still lives.

The remixes of 'Span' and 'Vacuity' by Tilman Ehrhorn and The Sight Below are less cold and introspective than the original source material, and will probably get more mileage on the dancefloors. The Sight Below's 11-minute re-imagining of Vacuity's windy desolation into a club friendly mnml tech-house voyage is a real treat and an album high-light, bearing Rafael Anton Irisarri's usual hallmark of excellence and the smoothest, roundest bass tones conceivable.

Egress gives us something to dream about while we wait for Glitterbug's newest full-length, Cancerboy, is due in May, and its a pleasant lull for the late winter months. Fans of out of body experiences and Lustmord will dig this, and anybody with ears can hear the stunning production quality. The strings add a nice human, emotional touch, and give it a real sense of class, of sophistication. Till Rohmann recommends giving this a spin on a decent hi-fi or a good pair of headphones, and i would have to agree. Go big or go home, this music works best when it is appreciated. I look forward to hearing more from this talented artist.
Ambient / Electronica / Ethereal / Dub / Soundscapes / Abstract
Edit (6901)
Artist:
Lydia Lunch and Philippe Petit
(@)
Title:
Twist of Fate
Format:
CD + DVD
Label:
Monotype Records
(@)
Rated:
The lights are out, tensions run high, you break a cold sweat... That is the image I get as 'Twist of Fate,' the collaborative effort of Lydia Lunch and Philippe Petit, begins to trickle down my ear canals. It is instantly eerie, with Petit providing dense textures and thick layers, creating an unsettlingly perfect bed for Lydia's occasionally melodic, always intense 'storytelling.' She does go back and forth every now and again, between spoken word and haunting singing, which surprisingly at times seems vaguely reminiscent of Ogre from Skinny Puppy's side project Ritalin. The layers and digital manipulations come and go, slowly fading in and out like some ocean of sonic fury whose waves relentlessly beat against a shore of bone dust and ash. At times Petit's soundscapes are so sparse, and light that they'll actually relax you just enough so that when the disembodied drones and reverb washed samples quickly creep back in, you feel that much more uneasy. This collection of just 8 songs is both dreamlike and haunting, with swirling evil, enveloping the senses. It'd be the perfect soundtrack for a psychological mindfuck. Not only that, but it comes with a 45 minute companion DVD of a live set performed by the pair, which features versions of many of the songs on the cd. The DVD is definitely more tense, jarring, dramatic. Petit's layers, textures and manipulations are even thicker still, with more of a harsh edge and noisy feel. Lydia's vocals are also noticeably darker and more frenetic; at points nearly reaching a banshee-like screech. She takes the original lyrics and brings them to new places, shifting tempos, ad-libbing, and just overall increasing the intensity tenfold. It's also quite interesting to watch Philippe working his craft, using Theremin like devices, laptops and even using such mundane items as a blown up balloon to build up the audio walls around him. The entire video portion is superimposed with a plethora of mood setting images such as visual textures, and even a wide variety of stills of Lunch, seemingly spanning her entire career. The music is definitely edgier and tenser on the DVD, and while the vocals have a certain magical sense of urgency to them, they are a bit more smooth, refined and evilly seductive on the CD. Together the DVD and CD make a great set; both a great listen and a great watch.
Ambient / Electronica / Ethereal / Dub / Soundscapes / Abstract
Edit (6900)
Artist:
Monty Adkins
(@)
Title:
Fragile.Flicker.Fragment
Format:
CD
Label:
AudioBulb Records
(@)
Rated:
Fragile. Flicker. Fragment. So fitting a title for this, Monty Adkins' latest offering. A seasoned veteran of electroacoustics, has found a new direction of growth with not only this, but his previos release '5 Panels' as well. While his earlier work was more glitchy, erratic (not in a negative way) and densely populated, his newer work shows a different side of his psyche. Fragile. Flicker. Fragment is a very airy, sparsely populated, calm, meticulously crafted world. Here he has come up with an amalgam of field recordings, layers of textures both light and rich, digital manipulations and glitches with a small dose of traditional instrumentation embedded beneath. Pieces like 'Memory Box' truly evoke a feeling of browsing and accessing old memories of everyday life, while a just a few songs such as 'Remnant' build tension with a touch more noise, and deeper bass notes and tones. While this is definitely not an edge-of-your-seat ride, it's not meant to be. It's a single carefully constructed piece broken down into 9 songs, which flow seamlessly together. It's a thought provoking, intelligent listen. There may be a few moments where you find yourself distracted by the goings-on around you throughout the piece but you'll come right back when those textures begin layering back in or pings of music boxes draw a lonely melody or when the native jinglings change things up a bit. Overall it's a very calming yet evolving and transcending release that may be a little slower than planned at points, but remains interesting enough that you'll want to listen the whole way through without missing anything.