Ambient / Electronica / Ethereal / Dub / Soundscapes / Abstract
Edit (10772)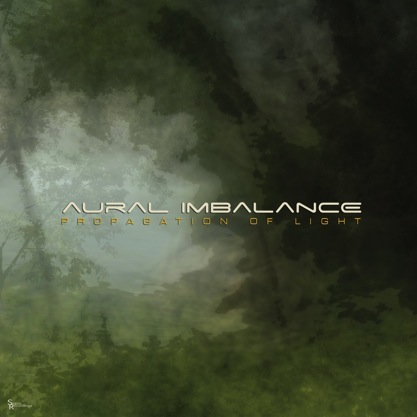 Listening to the Propagation of Light is sort of like chewing extra-long lasting gum where the intense flavor stays with you for far longer than you expect—and that's a good thing. Oh and what flavors there are to experience here! IDM, ambient, deep house, downtempo, techno and even atmospheric drum 'n bass, a musical buffet for a more-than-satisfying listening experience. Propagation opens with "Free-Quen-Sea", the kind of track you want to start your day with, like enjoying a perfect cup of coffee during sunrise, while overwhelmed with a sense of optomism. "Fall of Stars" follows on a deep house, near downtempo tip which has the charms of riding care-free in a luxury car along an isolated stretch of country road as the greenery blurs blissfully by. "Grown Up" seems to merge stylistic elements of the likes of Aril Brikha and The Detroit Escalator Company, deep and elegant but the 'positive' overtones are all Aural Imbalance. Now on "Night Crawling" we have a long and mysterious yet seductive techy introduction a la Swayzak, which then blossoms into a full-on upbeat melody three minutes in with hints of delicious mystery and drama. PoL interludes with "Just Breathe", the sole, meditative ambient piece while "State of Grace" picks up the tempo as layers of melody wash one after another like patterns in a kaleidoscope. Title track, "Propagation of Light" verges on ambient house that seems a dreamy nod to the late Frankie Knuckles and "Navigate to Now" feels like early Aphex Twin in his sunnier moments. This listener pauses to think, 'just how many positive vibes can you put on an album?!?' Our sugar rush experience is finally capped with the LTJ Bukem-esque atmospheric drum n bass piece, "World's Apart" which is the missing track on the legendary Earth series and every bit as whispy as rainforest mist. How many listeners can be treated to such a stylistic buffet and a pleasurable one at that. If you are feeling down, put aside the anti-depressants and let Huxtable cure your Aural Imbalance.
Ambient / Electronica / Ethereal / Dub / Soundscapes / Abstract
Edit (10768)
Artist:
Chronotope Project
(@)
Title:
Lotus Rising
Format:
CD + Download
Label:
Spotted Peccary Music
(@)
Rated:
Jeffrey Ericson Allen's Chronotope Project is back with a new release, 'Lotus Rising,' his eighth album and fourth with Spotted Peccary, after 2017's excellent 'Ovum' which I reviewed here. Allen's 30 year study and practice of Zen serves as the inspiration for this one, focusing on the image of the lotus flower, Buddhism's most recognizable symbol. The album's eight tracks tell the story of an aspirant's journey of self-actualization on the Buddha Way, stressing the importance of the moment. Allen explains, "Zen emphasizes the identity of practice and realization. Practice is not a 'means' to awakening; it is awakening itself, just as music is not a means to reach the end of a piece, but an evolving expression in time, in which each moment expresses an aspect of the whole."

I suppose the album could be viewed in that way if one were to think about it, but I think, Grasshopper, one would already need to have a zen mindset in order to make the association. The Haken Continuum Fingerboard, an instrument which affects a smooth glissando sound, not unlike a pedal steel guitar (with no Hawaiian or country music affectations) dominates quite a bit of 'Lotus Rising,' gliding effortlessly over gently sequenced synthesizer and ambient pads, producing a languidity to rival a lazy Sunday afternoon in July. Because of this, there seems to be little overt variation from track to track. There are subtleties, but it may require several listenings to pick up on them. The exception I found was the Deleriumesque "Opening The Hand of Thought," the fourth track in. The synth sequencing and mysterious aura are a bit stronger and the lack of HCF on it gives the piece a different vibe. Although there is a thread of rhythm in 'Lotus Rising,' that tends to be subtle too, at least until the last (and longest) track, 'Homage To The Three Jewels." Here we have a more percussion-oriented rhythm giving the piece a hint of tribal, also supported by a chorus of low voices and a delicate flute.

There might be a tendency to lump the music on 'Lotus Rising' into the New Age category, but it is nowhere near as melodically saccharin as your typical New Age outing. For me, this is music for drifting and dreaming, for exploring your inner-mind, not just some background ambiance for massage therapy or Reiki sessions. (Although it could work for that too.) Overall, Chronotope Project has produced another fine ambient work that should satisfy the most discriminating ambient enthusiasts.

Ambient / Electronica / Ethereal / Dub / Soundscapes / Abstract
Edit (10766)
Artist:
Eternell
(@)
Title:
Still Light
Format:
CD + Download
Label:
Sound In Silence Records
(@)
Rated:
Here is an interesting release, from the Athens, Greece based label Sound In Silence Records, that seems to specialize in limited edition CDs with handmade artwork. This one is by Swedish ambient artist Ludvig Cimbrelius, under his project name Eternell. (He also has other projects under the names of Alveol, Purl, Rust, Surr, Xpire, and Ziyal.) 'Still Light' is his 9th or 10th album under the Eternell name. 'Still Light' consists of three lengthy tracks totaling about 74 minutes. This is the kind of ambient that doesn't put any demands on the listener, as is quite droney and minimal. In fact, the cover painting sort of describes the music perfectly. Eternell's soundscapes are multilayered, drifting pieces that have a timeless quality to them. Cimbrelius also employs ambient guitar using vague melodies blended in seamlessly, which won't cause your mind to form any specific correlations, just as it should be. (It's more or less improvisational noodling, but good noodling.) When it comes to this kind of amorphous ambient, titles seem almost irrelevant. "Inner Song," "Still Light," and "Resting on the Surface of a Stream" seem like mere suggestions rather descriptive of the music. The ambient here is much closer to Eno's 'Thursday Afternoon' than nearly anything by Robert Rich in a light vs. dark sense comparison. The neat thing about albums such as this is that they have a high degree of replayability. In fact, if you were in the right mood, you could just put it on endless repeat and let it play all day or all night. Limited to 150 physical copies; no limit on the download.
Ambient / Electronica / Ethereal / Dub / Soundscapes / Abstract
Edit (10763)
Artist:
The Gentleman Losers
Title:
Make We Here Our Camp Of Winter
Format:
CD + Download
Label:
Sound In Silence
Helsinki-based brothers Samu and Ville Kuukka created most of this, their fourth album, at a cabin by a lake in Southern Finland in late Summer 2018, musing on thoughts of the approaching winter. The result is eight tracks and forty minutes of gentle mostly-instrumental work, built primarily around slow layered guitar plucking and analogue synths providing the warm, and crisper digital atmospherics and hints of electronica providing the cold.

It's sometimes thoroughly ambient, but at others, bordering on poppy, giving credence to the fact that the brothers also have a synth pop side-project. Sometimes this works well, with the title track a rich and accessible M83-esque number and final track "Bend Low, Sweet Branch, Bend Low" taking on slightly folkier sounds, but "Turning To Gold" drifts rather too close to sounding like an instrumental version of a Coldplay ballad.

"Always Crashing On The Same Wave" introduces a super-soft electronic beat that keeps things ambling along nicely. Perhaps less successful is the indulgent and muffled poetry of "Fish Roam In Winter Water", which doesn't quite hit the mark.

It's a little glib in parts, where the simplicity of it accidentally wanders into naivety and predictably, but for the most part it's a sincere, heartfelt and relaxing soundtrack to a Finnish winter.
Artist: W/V
Title: s/t
Format: 12" vinyl + Download
Label: Silken Tofu

The 'W' here is James Welburn, on gritty electronic electric bass drone and feedback, undisclosed objects and effects. The 'V' is Juliana Venter, on lyricless wailing experimental-theatre style voices and further undisclosed objects. Together they've produced this half-hour long, two-part improvisational catharsis that grumbles, groans and whines in equal measure, a coarse-textured sonic bath of noise and reverb.

While the first fourteen-part has the raw energy of the single session it was recorded in, the second part is the product of three later sessions during which the collaboration has clearly begun to mature, with a greater use of lower dynamics and space that allows some of the more subtle atmospheric sound to shine through. However a lesser emphasis on the vocals ends up being to the detriment of the work, which is in danger of becoming run-of-the-mill drone when it loses that distinctness.

It's a strong coming together of like-minded ideas with a gritty end product that deserves to be heard.