Ambient / Electronica / Ethereal / Dub / Soundscapes / Abstract
Edit (10778)
Artist:
Dahlia's Tear
(@)
Title:
Through the Nightfall Grandeur
Format:
CD
Label:
Cryo Chamber
(@)
Rated:
After a long silence, Dahlia's Tear returns with a new release presented as a concept album based around a spiritual awakening during a search for meaning. As usual, his music uses elements from religious music, mostly voices and cymbals, as a counterweight to the sometimes abstract musical nature of drone and this creates a sort of emotive link with the listener.
The first track, "Encroaching Shadows Beckon to Chase the Fleeing Light", introduces the listener into a dark ambient form based on a long loop, rather than on a drone, with the addition of other sound elements like samples and voices creating something which is simple and complex at the same time. "The Keeper of Broken Dreams and Tattered Spirits" uses instead a drone crescendo as a backbone of the track while using voices to create a meditative atmosphere. "Forlorn Whispers on a Moonlit Path" uses a piano loop and an impressive barrage of samples and effects. After a quiet first part, "The Frozen Echoes of the Endless Moor" uses the samples to create a rhythmic structure for the samples. "Bitter Silence of Desolate Steps" is developed upon a drone and a variation of the piano of the third track giving the impression of an overall design behind the whole release. The stacking of sound masses of "Drowning in Delusions of Grandeur" is overwhelming and "Lamenting Memories Long Past in the Remnants of Darkness" continues instead with a crescendo which has the same means. "Drifting into the Void Grasping at Fading Starlight" is a suspended track with long tones and short loops. "Lost in the Crystalline Enigma" closes this release with wide spectrum drones which underlines the sparse cymbals.
This is one of the few release in this genre which shows a musical personality which uses a particular musical framework instead of repeating the canonical formula working only in the sound effects. Highly recommended.
Ambient / Electronica / Ethereal / Dub / Soundscapes / Abstract
Edit (10776)
Artist:
Daimon
(@)
Title:
Dust
Format:
CD
Label:
Silentes Minimal Editions
(@)
Rated:
I was unfamiliar with this band, but their Facebook page describes Daimon as "Obscure deep drone audio-visual project run by Paolo Monti (The Star Pillow), Nicola Quiriconi (Vipcancro, Lisca Records), Simon Balestrazzi (T.A.C., Dream Weapon Ritual, Candor Chasma, AZOTH, etc)." As an aside, I was interested to see that this label came out of the ashes of Amplexus, which used to put out gorgeous releases back in the day. Now on to the music itself. The band In The Nursery had a series called "Optical Music." I always liked what that term evokes – what Aristotle would call "bringing before the eyes." It is this sense of bringing an image to mind that Daimon excels at. The music is cinematic, evoking different emotions as it evolves and shifts over time. The album opens with "All the Dead Dreamers" (a nod to H.P. Lovecraft, perhaps), which begins as a quiet droning number, but slowly shifts over time, increasing in dissonance and overall noisiness. If this were a movie scene, this would the point where the protagonists realized that the water on the lake had become far too still and the birds have vanished, just before a creature broke the surface of the water and bit someone in half. "So High So Close" dials it back a bit, with vibraphone breaking through the drone. The overall feeling here is a long journey, leaving home for an uncertain destination. The piece builds on itself, over and over, as time and the miles stretch out before you. "Leonard" brings the dissonance to front stage, opening with bits of metallic tapping and percussion, but getting more and more harsh. It never becomes harsh noise, but the overall feel is that of pressure, grinding away at you. If there is a story to tell, it is that not all battles are outside of one's mind. Finally, "Awash" closes the album with dissonance in full effect in their droning wall of sound. Bits of clanking metal and horn squawks peek through, broken up by a brief spoken word passage before ending with what sounds like overdriven woodwinds. Overall, this is nicely done and does an excellent job of evoking a sense of imagery to go along with the sound. Well worth checking out for fans of noisy dronescapes. This album weighs in at around 44 minutes.
Ambient / Electronica / Ethereal / Dub / Soundscapes / Abstract
Edit (10775)
Artist:
Christoph Lammers, Andreas Usenbenz
Title:
Drawing In Sound
Format:
LP
Label:
Klanggold
This is an improvised musical collaboration, not beti chrween two musicians as you might expect from the accreditation, but between a musician and a visual artist who, after some correspondence and preparation, performed a live work consisting of Usenbenz performing improvised soundscapes while Lammers drew using charcoal, ink, brushes and his bare hands on a 7 by 4 metre canvas. On a limited edition vinyl, one side is etched with the 24-minute musical content, while the other has a screen-printed image of part of Lammers' finished artwork.

It was performed in spring 2018 as an opener for an exhibition named "Wiese" ("Meadow") although musically it's not as organic as that may imply. Usenbenz uses a soft and long electronic drone with a slight texture of guitar tonality as a base, over which are sparingly layered field recordings and tape loops that have meadow elements- rustling hay, birdsong etc.- to extend the sonic picture. As it develops it becomes a little windier, perhaps more autumnal, and the guitar plucking becomes slightly more distinct, before an extremely long fade into low tones, ambience and nothingness.

I'm not a visual art critic so I won't make any comment on the artwork, except to say that it feels like a reasonably appropriate fit for the sonics on the other side. The inclusion of sharp-edged lettering is perhaps a little misleading, perhaps suggesting the music has more attitude than it really has, or indeed suggesting that there's any vocal or lyrical content at all which there isn't.

It's a succinct and successful little sound-and-pictures collaboration and while the theme and the sonic layout used are not especially ambitious, it's certainly a high quality and engaging listen.
Ambient / Electronica / Ethereal / Dub / Soundscapes / Abstract
Edit (10772)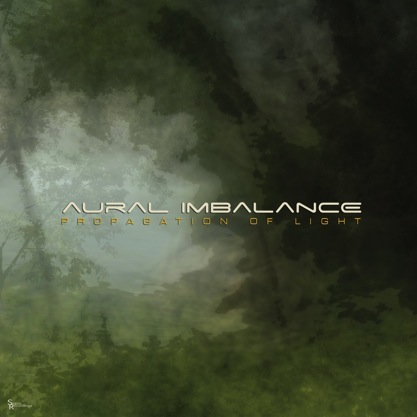 Listening to the Propagation of Light is sort of like chewing extra-long lasting gum where the intense flavor stays with you for far longer than you expect—and that's a good thing. Oh and what flavors there are to experience here! IDM, ambient, deep house, downtempo, techno and even atmospheric drum 'n bass, a musical buffet for a more-than-satisfying listening experience. Propagation opens with "Free-Quen-Sea", the kind of track you want to start your day with, like enjoying a perfect cup of coffee during sunrise, while overwhelmed with a sense of optomism. "Fall of Stars" follows on a deep house, near downtempo tip which has the charms of riding care-free in a luxury car along an isolated stretch of country road as the greenery blurs blissfully by. "Grown Up" seems to merge stylistic elements of the likes of Aril Brikha and The Detroit Escalator Company, deep and elegant but the 'positive' overtones are all Aural Imbalance. Now on "Night Crawling" we have a long and mysterious yet seductive techy introduction a la Swayzak, which then blossoms into a full-on upbeat melody three minutes in with hints of delicious mystery and drama. PoL interludes with "Just Breathe", the sole, meditative ambient piece while "State of Grace" picks up the tempo as layers of melody wash one after another like patterns in a kaleidoscope. Title track, "Propagation of Light" verges on ambient house that seems a dreamy nod to the late Frankie Knuckles and "Navigate to Now" feels like early Aphex Twin in his sunnier moments. This listener pauses to think, 'just how many positive vibes can you put on an album?!?' Our sugar rush experience is finally capped with the LTJ Bukem-esque atmospheric drum n bass piece, "World's Apart" which is the missing track on the legendary Earth series and every bit as whispy as rainforest mist. How many listeners can be treated to such a stylistic buffet and a pleasurable one at that. If you are feeling down, put aside the anti-depressants and let Huxtable cure your Aural Imbalance.
Ambient / Electronica / Ethereal / Dub / Soundscapes / Abstract
Edit (10768)
Artist:
Chronotope Project
(@)
Title:
Lotus Rising
Format:
CD + Download
Label:
Spotted Peccary Music
(@)
Rated:
Jeffrey Ericson Allen's Chronotope Project is back with a new release, 'Lotus Rising,' his eighth album and fourth with Spotted Peccary, after 2017's excellent 'Ovum' which I reviewed here. Allen's 30 year study and practice of Zen serves as the inspiration for this one, focusing on the image of the lotus flower, Buddhism's most recognizable symbol. The album's eight tracks tell the story of an aspirant's journey of self-actualization on the Buddha Way, stressing the importance of the moment. Allen explains, "Zen emphasizes the identity of practice and realization. Practice is not a 'means' to awakening; it is awakening itself, just as music is not a means to reach the end of a piece, but an evolving expression in time, in which each moment expresses an aspect of the whole."

I suppose the album could be viewed in that way if one were to think about it, but I think, Grasshopper, one would already need to have a zen mindset in order to make the association. The Haken Continuum Fingerboard, an instrument which affects a smooth glissando sound, not unlike a pedal steel guitar (with no Hawaiian or country music affectations) dominates quite a bit of 'Lotus Rising,' gliding effortlessly over gently sequenced synthesizer and ambient pads, producing a languidity to rival a lazy Sunday afternoon in July. Because of this, there seems to be little overt variation from track to track. There are subtleties, but it may require several listenings to pick up on them. The exception I found was the Deleriumesque "Opening The Hand of Thought," the fourth track in. The synth sequencing and mysterious aura are a bit stronger and the lack of HCF on it gives the piece a different vibe. Although there is a thread of rhythm in 'Lotus Rising,' that tends to be subtle too, at least until the last (and longest) track, 'Homage To The Three Jewels." Here we have a more percussion-oriented rhythm giving the piece a hint of tribal, also supported by a chorus of low voices and a delicate flute.

There might be a tendency to lump the music on 'Lotus Rising' into the New Age category, but it is nowhere near as melodically saccharin as your typical New Age outing. For me, this is music for drifting and dreaming, for exploring your inner-mind, not just some background ambiance for massage therapy or Reiki sessions. (Although it could work for that too.) Overall, Chronotope Project has produced another fine ambient work that should satisfy the most discriminating ambient enthusiasts.