Ambient / Electronica / Ethereal / Dub / Soundscapes / Abstract
Edit (7219)
Artist:
Hanetration
(@)
Title:
Torn Heat EP
Format:
Download Only (MP3 + Lossless)
Label:
self-released
Rated:
Whilst the first EP focused on bizarre and quite eccentric ambient/abstract tracks, this second EP by the anonymous project Hanetration seems to turn attention of those listeners who like stylistical clashes: it's a matter of fact this masked identity supposedly reprise some known electronic sonorities with a lo-fi approach. For instance the initial "Jurassic" seems to quote Ash Ra Tempel, some primordial sonorities by Tangerine Dream or the typical vibrato by Vangelis, filtered by a (purposely?) dusty lens, or the following "Splinter", which neatly recalls some melodic contortions by Boards On Canada, has a rhythmical pattern which sound played - straight and reversed - with objects found in the glory hole and a similarly mirrored pose seems to connote the bittersweet dour melancholy of "Sixth" and the intoxicating sonic obliqueness of the hypnotic final track "Flicker". "Torn Heat" is definitively a very interesting follow-up, but I surmise it's time for Hanetration to pin some peculiarities down of his/her/its sonic research. By the way, you can download it for free so that you can better understand the paths this obscure project is walking on.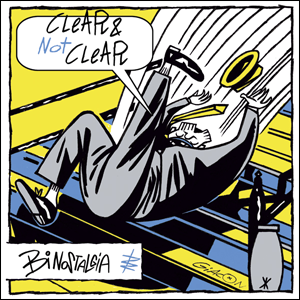 Artist:
Bi Nostalgia
Title:
Clear And Not Clear
Format:
2 x CD (double CD)
Label:
Oltre La Nebbia Il Mare
(@)
Rated:
Bi Nostalgia was the solo musical project of Luca Rigato, already member of Endless Nostalgia. With this project he explored his intimate side composing synth electronic songs based on tiny synth sounds and mellow atmospheres. As for Endless Nostalgia, Oltre La Nebbia Il Mare is bringing to the attention of the lovers of electronic sounds a double CD compilation that contains 36 tracks coming from tapes released from 1984 to 1987 for Luca's label, The League Of The Gloomers, plus one unreleased track recorded in 2005. In balance from pop and ambient (check the tracks of the second album which could remember a bit some Wim Mertens atmospheres), Luca Rigato created a soundscape of its own which is capable to make you focus on the music. There's no way you could use these tracks, even if they are sounding discreet, as background, as they demand attention. When I listened to "Dance of the Pessimism", "The act of killing himself" or "The Seeping Mouth" it's like I was feeling myself locked into an imaginary room. I have to admit that I'm more into catchy melodic synth songs or into experiments between electronic and pop (like Philip Glass did on his album "Songs From Liquid Days"), so the second CD of this compilation has been hard to listen to all in a row but you feel that Bi Nostalgia is a project coming from the heart. This is your chance to check a massive amount of Bi Nostalgia tracks that have been remastered and selected from "Anthems for Losers", "Dances of the Pessimism", "The Seeping Mouth', 'Cathedrals EP","Art Is Not Much" and "Philokalia" for the price of a single album. A bargain!
Artist:
Stuart Chalmers
(@)
Title:
Shimmering Reflections of the Endless Myriad Moment
Format:
CD
Label:
ZamZam
(@)
Rated:
The alienating effect of the field recording, supposedly grabbed on the occasion of unpleasant walking whereas bad weather and lashing wind seem to evoke ravages of time and other voices and forgotten melodies (the jammed music box seems to play the first tones of Tchaikovsky's "Swan Lake") from inner depths before they sound like falling down a sink drain, in the initial "Pulse" opens this release by tape manipulator and improviser Stuart Chalmers (also known as Skarabee and tusK), whose artistic path has been deeply marked by a course on sound engineering and music technology at the Birmingham Academy of Sound. His passion for tape manipulation is clear on the following track "Emerge", where a viscous loop, seemingly based on slammed doors, electric hums and a recurring wailing sound precede tape fast whooshes which could be made by a light pression on forward button during normal playback, obsessive tweets and even some broken beats before Stuart decides to change side as well as on the disquieting and sinister obliquities of slowed bells and e-bows of the following "Mirror". The following sample collage "Harvest" could be perfect for a really frightening horror movie since the nursery rhyme sung by a baby, which introduces to this strange listening experience, where appalled shouts, those thuds which can easily be associated to those horror movie effects which simulate the typical pace of the killer on wooden stairs (of course!) as well as to the heartbeat during high-tension moments, reversed bells and other sonic clues. Fast-forwarding tapes on a carpet of disquieting whistles, strange cries and voices come again on "Fragment", where other somewhat nightmarish sonic inserts seem to simulate a devastating and adventurous hungover which begins with the awakening in the middle of an Arab market. The ever-present tape whoosh accompany the listening till the final clouded track "Return", whose final field recording lead listeners to believe that "Shimmering Reflections of The Endless Myriad Moment" could have been just the audio documentary of a bad mental trip.
Artist:
Aaron Dilloway / Jason Lescalleet
(@)
Title:
Grapes and Snakes
Format:
12"
Label:
PAN
(@)
Rated:
I won't start this review with expressions like "once upon a time", but I have to admit I felt tempted to do so while speaking about releases like this one, whose explorations by means of old fashioned analogue synths, recording techniques or tools, including the glorious tape recorder, which could inspire the same enchantment of a well-stocked antique store, could lead some listeners to believe that the apex of sonic research is not the perfect cleanliness of digital sound. I have no precise idea about the explanation of the title "Grapes & Snakes", even if a friend who owns a recording studio told me that he heard the slangy use of both words from some sound engineers - grapes, rhyming with tapes, could allude to green led lights under peak levels on mixer decks (similar to bunches of grapes), while snakes could refer to the typical pattern of soundwaves -, but I don't like puzzling with similar oddities. However I noticed some similaraties of the stereophonic movements of the sounds on the first track "Shattered Capsules" with the ones of water serpents, portrayed on the very elegant silkscreened pvc sleeve, when they wrap around something as well as the amazing and somewhat estranging pricks on sonic patchy fog and other (sometimes primordial, but extremely seducing) ways for interlacing sounds. Whereas the progressions on the above-mentioned "Shattered Capsules" sounds more straight, the second 20-minutes lasting track on B-side, "Burning Nest", sounds like a psychoacoustic storm, which gets gradually drenched with trembling low frequencies and droney dirty injections. The stylistical garment, which might recall some combinations between tape records and primordial industrial - not so far from some experiments by Mika Vainio -, could be explained by the background of the musicians: Aaron Dillaway was one of the most imaginative member of Wolf Eyes and borrowed his mindblowing, highly energetic and emotionally purging climaxes to a plenty of important projects of the experimental and noise electronic scene, while Jason Lescalleet scouted old-fashioned equipment and tactics in order to explore microscopic audio detail and really extreme sonorities. Their collaboration could be better appreciated if listened with close eyes, just like some stuff by Conrad Schnitzler or other forerunners of this sonic researches.
Ambient / Electronica / Ethereal / Dub / Soundscapes / Abstract
Edit (7213)
image not
available
anymore
Artist:
Mark Harris
Title:
An Idea of North/Learning to Walk
Format:
CD
Label:
n5MD
Rated:
Very quiet, almost silent. A faint whisper of sound begins to fade in; very ambient, casual field recordings begin to sparsely populate this space before a light texture begins to comfortably drone in. So begins the opening track on 'An Idea of North/Learning to Walk' by Mark Harris. A refreshing effort that is extremely easy to listen to and get lost in, but doesn't slip away into the background some releases of its kind. The entire record is very soothing, emotional and dreamlike. It almost puts the listener into a trance with its airy textures, harmonics and ambience. Harris says his intent was to create a journey through various landscapes and environments and he has done that with fierce precision. Song to song it flows seamlessly and effortlessly with such a calming effect that even soothed this savage beast. Through his amazing arrangement of delicate space and tone interwoven with field recordings, gentle white noise washes and even a single lone melody has ensured this will be a journey you'll want to take again and again.