Artist:
Cut Hands
Title:
Black Mamba
Format:
CD
Label:
Susan Lawly/Very Friendly
(@)
Distributor:
Cargo Records
Rated:
In a 2011 interview with The Quietus (http://thequietus.com/articles/07199-william-bennett-cut-hands-whitehouse-interview), William Bennett talked about the effects of polyrhythms on the nervous system, that when we run out of body parts to move, 'It (the rhythm) goes inside, and things happen inside on a more metaphysical level. And on the more rhythmic tracks that's what I'm attempting.'

Cut Hands is William Bennett's so called 'Afro Noise' project. He's best known as one of noise music's longest contributors, as one half of the duo Whitehouse, formed in 1980. Whitehouse would push audiences to exultant states by use of transgressive sounds, language, imagery; a 30-some year barrage to break down all beliefs, all conditioning, to push someone through to a pure experience. Over the years, what most people have come to think of as 'noise' (power electronics, HNWs, synth explorations, tape collage) has become increasingly easy to assimilate: its the same experience every time. Bennett became wary of the technological arms race of the traditional noiz freak. After experimenting with a DJ night of Vodoun ritual drumming at Glasgow's Optimo club, Bennett realized the ritualistic potency and ability to confound and trance-form, when exposing audiences to the rhythms. He pared his music down to sparse percussive elements, then layered with feedback and buzzy synths.

'Black Mamba' is the second full-length from the project, after last year's 'Afro Noise vol. 1', which made everyone drool. Stripped down and sparse, cut hands weaves layers of djembes, doundouns, ksing-ksing and synths into a hypnotic tapestry that will make yr insides dance, for sure. 'Witness The Spread Of The Dream' kicks things off with a tmantra, read by Mimsy DeBlois, who designed the sweet, sweet voodoo album art, and sounds like a creepy hypnotism loop, until tearing into the pounding tribalism of the title track, that sounds like walking into a voodoo ritual, midstep. This tracks showcases one of the deadly strengths of Cut Hands: the ability to change tempo. Much of this record reads like bleak, gray British techno, but almost all dance music gets caught up in one BPM, one groove, and it takes a real prodigy to make a computer swing like a human. Cut Hands African ritual is the height of complexity, its like trying to count a snowstorm. The rational mind goes to sleep, overwhelmed, allowing for something beautiful and ancient to transpire. This version of 'Black Mamba' is a slight variation on the vinyl edition, released earlier in the year, and answers yet another question; yes, you do need to buy every Cut Hands release.

Its continually inspiring to see people who've been around for a long time constantly reinventing the game. They've had time to master and explore their craft, and sometimes it seems that the post-punk underground has been able to produce a number of downright geniuses. The clubs are perfectly poised to fall for Black Mamba, a part of a number of blackened post-Techno magicians rolling up their sleeves and getting primal. In a world that is predominantly defined by people making similar styles of music with similar gear, there is an increasing demand for electronic music that is homespun, handmade. We are all moving into the Heart Of Darkness, with ritual rhythms lighting up the night with the ghosts of embers. William Bennett, (and Raime, and Ekoplekz, and Shackleton), are sneaking in trance music to the clubs, bringing the ultimate dopamine fix, waking something ancient and powerful. Its coming out of a movement from Throbbing Gristle and Cabaret Voltaire, through '90s industrial music and rave. Its dark and its smart and its arty and its weird; i, for one, have not been this excited about a wave of music for a number of years. Hopefully, Cut Hands continual ascent forces cliche noise bands, as well as electronic producers, to step up their game and not get too fatted. And also hopefully, this decadent ritual will continue to spread.
Artist:
VV.AA.
Title:
Traces One
Format:
12"
Label:
Recollection GRM/Editions Mego
(@)
Rated:
I've already introduced the project Recollection GRM, based on an interesting series of records focused on the huge archives of Pierre Schaeffer's Groupe de Recherches Musicales and supported by Editions Mego. This release is the first compilation, fed with the experiments of various scholars of that legendary smithy of sound researchers, who intercepted noises and built more or less encrypted sonic codes from that creative process which arises from the silence of the author or of the composer and from the resulting capture and elaboration of impulses from external world or machines, which get maneuvered in the dark by composer itself. On the first face of the record, the Argentinian music therapist and sonic researcher Beatriz Ferreyra separates electronic factors from concrete ones for the preparation of L'Orvietan - the choice of such a title which mentions a panacea against poisonings sounds on the beam! -, where she gradually extracts abstract (and sometimes scary) pseudosymphonies from polyphonic stratifications, while French composer Philippe Carson manages to build a sort of industrial suite in three movements by recombining noises grabbed in the Stuyvesant factories where twist drills, grinding machines, sizing press, hydraulic pistons, chain curtain, gas pipes, hot-air ducts, power drills, cog wheels and other machines sound like uttering in unison after they grabbed listener's attention with their intrinsic pace and before they intensity and thickness increase. Other three cheing gems have been cut on the second face: Edgardo Canton sonically renders homage to Italian composer Gaetano Donizzetti by composing an electroacoustic aria by means of quivers, pulses and shivers, which could abstractly define the Italian word "palpito", which that composer inspired to Edgardo, while "Chemins d'avant la mort" is a true rarity, one of the rare works by GRM technical coordinator Francis Regnier, where two linear sounds, rising from the silence, experiences a sort of strong sonic tremor before returning to silence. The last track of this collection, the only known compostion by Mireille Chamass-Kyrou, is the oldest one as well: "Etude 1" is an astonishing application of physical processing to sounds, whose transitions could let you think of the first stages of the evolutionary sonic processes by contemporary sonic pathfinders such as Alva Noto or Mika Vainio, even if Mireille completed this sonic study in 1960!
Ambient / Electronica / Ethereal / Dub / Soundscapes / Abstract
Edit (7290)
Artist:
io
Title:
flamenco abstractions
Format:
CD
Label:
Elegua Records
(@)
Rated:
Electro-acoustic musician and ethnomusicologist David Font's syncretic sonic research was predestined to a certain extent: he was born in Puerto Rico, but grown in Miami, so that his zealous study of electronic music and Afro-Caribbean and African rhythms could descend from the circumstance he spent the first years of his life between rumba and ultra-bass from the "geomusical" viewpoint! By means of the Io project and his label Elegua, he already transformed and reworked some ethnic relics or peculiar styles which sounded like living a second life in a paralle digital world: for example, he adapted mbira, a traditional melodic instrument belonging to southern African music, within different sets of electronic sound on "Mbira Abstracions" and tailored amazing dub glad rags for a gigantic mechanical marimba on the occasion of a tribute to the late Conlon Nancarrow on "conloninpurple variation no.1". On this release, he took a slab at devising some palos (the Spanish name for flamenco styles) anew with the help of the talented and world-renowned guitarist Jose Luis Rodriguez. Their first "trespass" could be the fact they deeply focused on "minera", a kind of fandango whose origin, as you can easily surmise, comes from mines, particularly those ones nearby Alicante and La Union: this style was risking to sink into oblivion due to its strict technical canons (particularly for singing), which could conflict with lively flamenco dynamics, but they bravely contravene any rules without corrupting minera's signature style and emotional "heirloom" thanks to a plenty of impressive conjuring tricks. Guitar arpeggios could sound lighter than feathers or heavier than a boulder, they can turn into something caressing or haunting, rapturous or claustrophobic, cathartic or overwhelming within a short while. Moreover it seems they gain an authentic physical consistency, so that you could feel like they get reeled in a coil or jinking outside the sound-box in search of an escape route whereas they sometimes cut through air like sudden arrows or slightly drips from chords. The listening experience is equally intense on "Sobre Martinete", an interesting make-up of one of the most "industrial" flamenco style (its dull and mournful singing wasn't usually accompanied by guitars, but just by metallic sounds due to the fact this palo was mainly related to blacksmith's forge), and on the abstract variations of buleria, whose typical 12-beats fast rhythmical pattern has been rendered by "burning" electric pulses.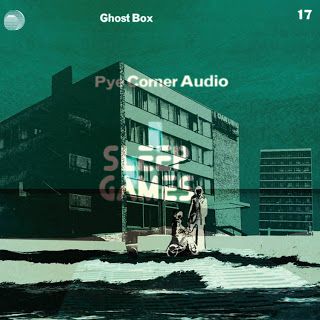 Artist:
Pye Corner Audio
(@)
Title:
Sleep Games
Format:
CD
Label:
Ghost Box Records
(@)
Rated:
As we approach Kurzweil's singularity, epochs and eras are running together in a permanent ontological NOW. The future is unfathomable, so we strive to master history, perhaps in an attempt to better understand the times we are living in. We are attempting to eradicate the grievous crimes against taste found in any era, and reinvent ourselves in the process. Ghost Box, the label run by Jim Jupp (Belbury Poly) and Julian House (The Advisory Circle) have been ahead of the curve since the label's inception in 2004, materializing an alternate history located somewhere between the years of our lord 1954 and 1978. With 'Sleep Games,' the most recent and most realized work by The Head Technician, the force behind Pye Corner Audio, they have expanded their template by about 7 years, and allowed in cosmic disco forces into Belbury's town square, lit the pastoral avenues with phosphorescent lights and polished chrome.

The Head Technician, aka Martin Jenkins, is a self-proclaimed John Carpenter devotee, and the predominant mood of 'Sleep Games' is akin to escaping from New York in The Fog, while someThing follows ominously, just beyond the halo of yr taillights. But Jenkins is also obsessed with early Detroit Techno: Carl Craig, Juan Atkins, Drexciya, Underground Resistance. He adorns the '80s plasticine sheen of horror movie synth explorations with a pillowy thump and colorful sequencer arpeggios, making a cyberpunk superbeast of atmospherics and danceability. Its a way forward for Ghost Box, who could flounder under their own archaic electronica, if they weren't careful.

'Sleep Games' is an exciting listen; its supposed to sound like movie music. It seems as if something is going on. With track names like 'The Mirror Ball Cracked,' 'A Door In The Dry Ice,' and 'Underneath The Dancefloor' 'Sleep Games' conjures mysterious visions of night drives and haunted discotheques. Some have referred to PCA's sound as 'Spectral Electronics'. It sounds like someone driving a speeding Delorean to catch the library before it closes, with churning fog obscuring the fields and barns of sleeping Belbury, in an attempt to subdue the sleeping demon beneath the haunted dancefloor, so that the good townspeople may dance and take pills and make merry in safety and splendour.

All of the drum machines and synths are lovingly sources from analogue, giving an old school crunch and warmth to the proceedings. As the Earth is riddled with neat, meticulous ADD-addled bedroom producers, rough hewn homemade electronica seems to be coming back in fashion, things which are personal and irreproducible, that seem like they COME from somewhere. The soul of the circuitboards, and the chi of the vacuum tubes are captured and transmitted in the stygian troughs of the spinning vinyl, an ineffable specter that is increasingly mandatory, in the dense oversaturated music industry. Martin Jenkins gives a loving touch to everything he produces, and has found a spiritual home in the town of Belbury, as part of the Ghost Box coven. Mark Fisher, aka K-punk, one of the patron saints of Hauntology, has even given his blackened benediction to 'Sleep Games', acting as a creative consultant for the haunted tenement cover art, lovingly created by labelhead Jim Jupp. Every mark of excellence is present and accounted for, proving Pye Corner Audio and Ghost Box to be at the peak of their powers, taking risks and creating worlds. It is exciting to watch their world grow and shift, and it is a magickal world to lose one's self in. With '80s movie scores gaining visibility and respectability, starting with 2010's Unsound Festival in Cracow, Poland, which focused on horror-themed music, to seeing classic scores lavishly re-issued on vinyl by the likes of Death Waltz Recording Company, perhaps people are finally ready to hear Pye Corner Audio's mouldering electronica. Its his best work yet, and a triumph and a new direction for Ghost Box, which continues to set the standard for Victorian Techno.
Artist:
Still Light
(@)
Title:
Rosarium
Format:
CD
Label:
Tonefloat
(@)
Rated:
Schmalzy, ineluctably melancholic, somewhat harrowing emotions like the unavoidability of a deep sorrow related to a loss that cannot be filled in spite of any temporary exorcism stay afloat on this intriguing album by Colorado-based talented musician and leading vocalist Kirill Nikolai, who gives the listener not the usual grit of sadness, which could sound too stodgy for those ones in search of some escapism within music. Even if you could imagine music notation on the staff could have been written by salt furtive tears, suddenly sprung while on exctasy (!), while listening, you'll easily notice that it seems that Still Light's music runs on a double track: lyrics often translate what music manages to say by its own and this aspect sounds clear since the initial "Bough", where rich vocals burst on the scene just after suspensive ghostly choirs, an evocative pan flute and a pale guitar anticipating an icy cello speak by themselves. "A Thing Buried" seems to describe a scene of burial through entrancing guitar arpeggios which weaves a dark-folk medieval sad ballad and a sort of dumb drone and the transitional relief, which has been inspired by the calming stillness of a snowy landscape on the lovely song "The Cross Of Snow" (the astonishing voice by Irish folk singer Carol Anne McGowan accentuates such an emotional atmosphere), cannot dam entrancing the emotional effluvium by Kirill, which reaches the highest stylistical peak in the two absorbing parts of "Processional" - the first one could evoke a gradual acceptance of a loss (the music sounds as warm as a friendly hug or slap for condolences), whereas the second one sounds like an intimate angelic lullaby (closer to ambient-tinged exstatic folk by primordial Sigur Ros or Eluvium) -, before the final redemption on "Rosary", where Kirill seems to sing the recovered beauty and balance after such an intense grief.