Ambient / Electronica / Ethereal / Dub / Soundscapes / Abstract
Edit (7036)
Artist:
Access to Arasaka
(@)
Title:
Geosynchron
Format:
CD
Label:
Tympanik Audio
(@)
Rated:
The latest and greatest by Access to Arasaka goes by the name 'Geosynchron.' Part three of a pseudo triptych (started with 'Orbitus' and continued with 'Aleph') it proves to be the perfect climax. It is an expertly crafted journey through time, space and the unknown. It's songs draw their titles from equal parts mythology and space, and they really couldn't have been chosen better. Sole member Rob Lioy carefully constructs these works to near perfection, using lush textures and pads, drones and precision glitches, dotted throughout with what I liken to lost attempts of communication by the superior alien race. We are drawn through delicate, minimal pieces; digital soundscapes bathed in synths and vocoders; and full on glitched out complexities. There isn't a single track of filler, not a song to skip past and at no point does it get dull. The only potential moment of awkwardness is 'Lysithea' (featuring Jamie Blacker) where the flow of the record is just ever so slightly hindered by a very cold and lonely piece (in a good way, I assure you) where Blacker's vocals add a very different, almost goth feel to the piece. It is a great song, just as good as the rest, but feels just a tiny bit out of place with the rest of the album. That being said, it still doesn't take away an ounce of anything from 'Geosynchron.' Access to Arasaka is a name you'll want to remember and 'Geosynchron' is a record you'll want to play over and over again.
Ambient / Electronica / Ethereal / Dub / Soundscapes / Abstract
Edit (7035)
According to the linear notes "the idea behind the album is the trial of creating an inner feeling [...] which is superior to others", so the result is a sort of symphonic dark ambient where, instead of creating the oppressive dark soundscape, the sound spectrum is brighter and more aggressive.
The album start with an untitled track serving as an introduction to the six parts of this release, "Supremos I" is an almost epic slowly evolving synth line that ends where begin the noisy aggressive second part of the track. "Supremos II" is a quiet juxtaposition of small noises where "Supremos III" is reminiscent of some old sci-fi soundtracks. "Supremos IV", the longest track of the album, return, in his first part, to the epic soundscape of "Supremos I" while, in the second part, turn to industrial territories and quietly ending in an almost elegiac way. "Supremos V" is a quiet drone while "Supremos VI" is perhaps the most brighter an epic of all track relying in a high frequencies drones. The last untitled track is a dark ending closer to the classic dark ambient territories.
This release is well produced, compact and coherent in his development and has a good quality: a personal idea of sound that distance from the orthodoxy of this genre. Recommended.
Ambient / Electronica / Ethereal / Dub / Soundscapes / Abstract
Edit (7034)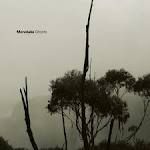 Artist:
Monolake
(@)
Title:
Ghosts
Format:
CD
Label:
Imbalance Computer Music
(@)
Rated:
A new album from Robert Henke's Monolake project is always a cause for celebration. "Ghosts" is the second installment of an intended trilogy, the first being 2009's "Silence". There is a sense that events are unfolding, there is a story unfolding, but its hard to say what exactly it is. "Ghosts" creates a strange and compelling sonic journey, that gets deeper and vaster, the more often you delve into its depths.

This is some of Monolake's most rhythmic work in a hot minute, primed for adventurous dance floors everywhere. Almost every track is rooted down with a smooth, low bottom end, that lays most of the monsterstep hacks to waste. Henke's produtions are always clear, tight, and crisp. Flickering around the margins, clattering steel and tinkling glass flutter like half-remembered dreams, in classic 90s Rephlex fashion. Intricate as a swiss watch, but funky as a Prince concert. "Ghosts" sounds equally good on a robust club sound-system as in yr living room, on a good pair of headphones, where countless thousands of microscopic details emerge and reveal themselves.

It is this care and attention to detail that makes Robert Henke's work stand head and shoulders above the competition. As one of the inaugural inventors of the notorious Ableton Live software, he understands sound on a molecular level. The amount of stretching, fading, warping, panning, down-sampling, up-sampling, and spatial reconstruction is breathtaking. While he has an engineer's mind, he said in an interview with Self-Titled Magazine, "If I had to choose between the perfect concept and the perfect emotion, I'd choose the perfect emotion." Monolake creates music for cyborgs. He makes the machines summon his dreams.

"Ghosts" is mostly ominous and dystopian, somber and reflective. It will never be mainstream club fodder. It is intended for deep listeners and thinkers. Those that take the time to investigate "Ghosts" abandoned space station, the rewards are many and vast. Robert Henke has raised the bar for fellow electronic music producers almost impossibly high.

Pure.
Glowing.
Genius.
image not
available
anymore
Artist:
Shrubbn!!
Title:
Echos
Format:
2 x 12" vinyl
Label:
Shitkatapult
Rated:
Formed by Marco Haas (most famous under the T.Raumschmiere moniker) and Ulli Bomans (also active with Schieres), Shrubbn!! are active since fall 90s but they didn't issue much during this time span. 2012, with all the disgraceful meanings you want to give to this year, seemed the right time to issue their first album "Echos". Available on double vinyl and digital download, "Echos", contains fourteen disturbing and fascinating tracks. Forget the dance rock assault of the latest T.Raumschmiere and try to think about how you could make sound catchy bass frequencies, clanging noises and subtle melodies. Marco and Ulli succeeded to give life to what to me sounded like a recording of a submarine sailing the nordic seas. In balance from ambient, industrial and dub, "Echos" is an instrumental trip made of loops, rhythm glimpses, bass sub-frequencies and, as I already said, tiny melodies which surface here and there. Nice one...
Artist:
Matteo Uggeri | Luca Mauri | Francesco Giannico
(@)
Title:
Pagetos
Format:
CD
Label:
Boring Machines
(@)
Rated:
It's 4.56 AM, the trampling onto an icy ground under the heavystep of boot-covered feet breaks the silence and in the meanwhile the observer pushes off the slush and the smashed ice, he goes a few paces before stopping and staring at the enchanting fixity of a snow-white homogenous scenery in the middle of boundless steep slopes and the almost surreal nocturnal glow of the omnivorous whiteness, emphasized by gentle piano strokes, crystalline guitar plucks and soft plonks. So it begins the fourth and supposedly final act of the tetralogy "Between The Elements", based on an interesting concept, a variation on the typicial and almost cliched seasonal theme, based on tangencies and intersections between natural elements (Pagetos is the Greek word for hoarfrost, the meeting point between earth and water), developed by MB (Maurizio Bianchi), Hue aka Matteo Uggeri and Spyros Abatelios and musically dramatized by talented pianist Francesco Giannico aka Mark Hamn, guitar player Luca Mauri and cello samples by Andrea Serrapiglio this time. It's just gone half an hour, it's 5.34 AM, the temperature is falling and while the rime looks like covering everything, cold gets bitter and bitter so that it pierces the body without any wound by making it blue from cold, teeth are chattering (as suggested by field recordings), the mute melodies of "Calaverna" flows into the solitary contemplation of "Icy Leaves", whereas even the trumpet solo by Uggeri crystallizes while blowing on piano's wavering. It's 7.27 AM and the cold has become so severe than the silent hero of this winter tale takes refuge in a mountain shelter (you could hear noises which look like coming from inside of it), but just after one hour he cannot resist to the inviting symbiosis offered by the natural show surrounding him, so that the track "Cold Air" sounds like the highest peak of such an idyll, but after the entrancing lights of aurora, the light warmth of the morning begins the frost and puts an end to the temporary stand-by of frozen passions and compulsions, which dramatically resurfaces with their burden of frustration and suffering in the final track. I didn't devised a nice way to review this record by an imaginary timeline, but tracklist (and its imaginary plot) evolves on a time span between late night and first hours of morning, emphasizing the synaesthetic appeal of the listening experience.