Ambient / Electronica / Ethereal / Dub / Soundscapes / Abstract
Edit (7056)
Artist:
Grant Cutler
(@)
Title:
2012
Format:
12"
Label:
Innova
(@)
Distributor:
naxos
Rated:
Listening to Grant Cutler's 2012 sounds a lot like drifting above a landscape similar to the one depicted on the creamy paper of the LP cover. An alien landscape, sparse and rocky, bright white light.

2012 was actually recorded in 2008, and is a snapshot of when the composer first moved to Minnesota. He had just moved into a new house, He'd just purchased a Roland JX-3P synth from 1983, and set about layering otherworldly drones onto his grandfather's reel-to-reel tape deck. The warmth and faded quality that the analog equipment gives these recordings make 2012,/i> delightful to the ears, and it gives one a chance to notice the wonderful musicianship at play. Like the sequenced-bass of "Talk To Me," which could sound at home in a Detroit Techno club, if some wise DJ were to drop a beat on top. The trancey-repetitive nature of this music gets inside yr head, inside yr bones, keeps you coming back for. Mesmerizing.

2012is like the soundtrack to the sweetest metaphysical space opera that was never made. a single panning camera-lens over unbroken deserts, the reddish monotony finally interrupted by a pyramid made of glass. There's nothing much going on, until the Makers reveal themselves. With track names like "Devotion," "Attainment," "Mountain Top," its like these Supreme Beings are blaring wisdom telepathically, straight into yr brain.

Grant Cutler was studying Zen meditation at the time of this recording, and it shows, songs periodically being swallowed up by unexpected trance-inducing drones. Its like a less-boring meditation record. Honestly, after several visits to 2012's hazy climate, i could say that there is nothing wrong with this record. Its for a certain type, sure, those prone to closed-eye meditations and walking around with headphones on, but for those visionary types, there is a very distinctive world etched onto the two sides of this vinyl.
Artist:
Stefan Paulus
(@)
Title:
Becoming-Dissolve
Format:
Download Only (MP3 + Lossless)
Label:
Earth Mantra
Rated:
The author of this release, Stefan Paulus, conveniently calls his sonic stuff by using the expression "psychogeography drifts", a reminder of the notorious method for investigation on surrounding reality as well as an eccentric approach to the studies of a place, defined by radical theorist Guy Debord, and while listening this contemporary sonic "flaneur"'s "Becoming-Dissolve" and in spite of the theoretical limits of such a method, which have been recognised by its inventor, some words by Debord himself look like having been echoed back by Stefan's sound: "When freedom is practiced in a closed circle, it fades into a dream, becomes a mere image of itself. The ambiance of play is by nature unstable. At any moment, "ordinary life" may prevail once again. The geographical limitation of play is even more striking than its temporal limitation. Every game takes place within the boundaries of its own spatial domain". The so-called "derive" resounds in the three moments of this becoming, a kind of narrative sequence of long-lasting field recordings which have been injected with entrancing sine waves, electronic rarefied atmospheres and humoral resonances so that it seems an emphatic cruise across a nebula of daily aural stimulations: the overwhelming solipsism combined with a certain feeling of self-alienating during a train trip in "Becoming-Endless", the glacial lethargy and the freezing surges in "Becoming-Imperceptible", the entrancing absorption of the ego within a natural landscape, emphasized by heavy rain, nocturnal chirring of cicadas and the blowing of strong winds over a wintry land, in "Becoming-Molecular" are the daydreaming stages of this suggestive dissolving. "Becoming-Dissolve" is available for free on Earth Mantra's net-label web-site.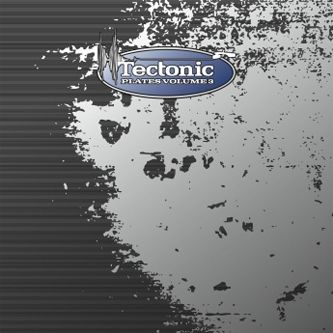 Artist:
VV.AA.
(@)
Title:
Tectonic Plates 3
Format:
CD
Label:
Tectonic Recordings
(@)
Rated:
Tectonic Recordings has had a formative influence on the evolution of Dubstep and its various bass-y tributaries. Run by Rob Ellis, aka DJ Pinch, over they years they have released a slew of classic Dubstep records by the likes of 2562, Distance, Skream! & Benga. It is fitting that on this most recent installment of the Tectonic Plates compilations, that they freeze and take stock of the current state of the bass.

Over the course of 13 tracks, it is possible to hear and identify many mutant strains of late-night LFO tweaking; from the now classic sub-woofer shredding of Kryptic Minds' "The Talisman," through the hypnotic tribalism of Tunnidge's "Universal" to the ends of an ATARI universe of Ginz's "Chrome". It draws a straight line straight from the earliest dubstep sounds, like Burial and Kode 9's wailing ghost divas and half-tempo locked grooves, to Skrillex's laser eyes and monster drops. Most of the tracks keep to the consistent 140 BPM, which makes for a smooth listening experience, well sequenced and well produced. There is also a pervasive mournful mood, brought on by heart-tugging strings, that harken back to the earliest days of dubstep, that sense of melancholy and immanent dread. Easy on the ears. Some of the tracks seem like works in progress, like Kevin McPhee's "Outs," which sounds like a dubplate rushed hot to the presses to someone's DJ friend, which seems like techno in its purest forms, utilitarian jams to make people dance.

In this day and age of media overload, trusted labels and selectors are more important than ever, and Pinch has been on the scene since the get go. Not every track on Tectonic Plates is essential listening, just like any DJ mix anywhere, but any of them would go over the for the late night faithful. Its interesting to speculate on where bass music will go from here.
image not
available
anymore
Artist:
Maurizio Bianchi
Title:
CeltiChants
Format:
CD
Label:
Alone at Last records
(@)
Distributor:
Alone at Last records
Rated:
I think the name of Maurizio Bianchi / MB did not need any introduction here. He is simply one of the great fathers of electronic music in Italy and Europe and is long been considered a cult musician, recognized and enshrined in all our musical environment.
MB is an excellent artist and musician and tight end capable of producing, in over thirty years of activity, real masterpieces of music and ranging experiments at the boundaries between electronic and noise. Many of his records have become genuine landmarks of this genre.
In recent years, Maurizio has also become a point of reference and a friend for the work individual and collective for many of us. Always willing to work with many other artists in the electronic scene, he has managed to create a kind of permanent musical laboratory around them.

Into this second "sonic youth" the great MB gave us a wide range of excellent discs created by several people. And even when such collaborations have not reached the levels of the highest quality of all his previous solo work is still important and valid evidence of the symbiosis possible between his music and the artists who have collaborated with him. This MB work, however, is not in collaboration with others artistis. Maurizio plays alone (at last) and present to us a long and unique suite of sound entitled "Celtichants" that lasts just one hour. But, if you listen this suite, you feel like you take a few moments and you will do everything to try and play it back in the hour immediately following. Even'll be the last hour of your life. Because this "Celtichants" is a very beautiful work. Work i believe is also very, very important. For two different reasons.
The first reason is that, unlike other works of MB more extreme and perhaps less accessible, this work revealed from the beginning in all its splendor. Celtichants represents, for me, really "a new form of beauty" because it not only keeps intact the quality and the best creativity and artistic research of MB's music, that we always used to, but exceeds them instinctively and from the first listen. A real seminal work of which he felt the need after so much noise.
Listen to him with respectful silence then this beautiful "Celtic Songs" by MB! But do not expect human voices or ethnic harmony of the Celtic tradition. Because these Celtic songs come from a sound dreamy and unknown elsewhere and bring us up to the sound of his ethereal and stellar wind. These are our songs of Maldoror for a "fifth dimension", evidence of distant and remote place that belongs to us but in the depths of our being. A place where the spirit of Isidore Ducasse hovers behind every breath of cosmic wind that carries them. I will not say more words on the beauty of this work by Maurizio Bianchi to invite you to buy and listen to this record. But, if the first reason is not enough for a new disk of MB, I will give you a second reason why it fascinates me and I think this album is a masterpiece not to be missed. For fans of the genre but also for the neophyte listen to electronic or industrial music for the first time.
This record I came to me, last week, directly from Moscow. Together with other work which I will label the same way of speaking. The work of MB is the third title included in the catalog of a small fledgling independent label that was for me a revelation.
This label is Russian and is called "Alone at Last" and was born in march this year. On his website (www.alone-at-last.com) looks like a label focused on the realization of very limited editions of artists known and recognized in the electronic scene. It 's also the reason for not accepting demos.
If you visit his site you will sense the line and the painstaking care with which the "Alone at Last" creates their own records.
Rarely in the independent and industrial scene, I got to see this level of packaging. Each disk has a cardboard box, carved on many layers of different dominant color, each designed so as to be then folded by hand on the other in sequence. Each disc is a small gem of paper, carefully close like an ancient Japanese Origami around the jewel it contains. And the first 50 copies of each limited edition is also signed by the artist.
A few meager liner notes accompanying the content. No self-celebration of the label or artist. What is said is used as a theme track for the imaginary linked to each work. And the imagery of this is a poetic song. A deluge text composed by the terms of our technological imaginary. A poem dedicated, as all the work, to Ducasse, Comte de Lautreamont. Each disc also contains within it also precious polychrome photographic prints, based on the work of several photographers. In particular, the three prints that accompany Celtichants, are photographs taken by Siegmar Fricke in the Canary Islands over some beautiful basalt stones of Miocene epoch.
I believe I have nothing more to add. I want to give a final friendly advice: GET FAST THIS WORK by Maurizio Bianchi for Alone at Last Records. You will not regret.

Ambient / Electronica / Ethereal / Dub / Soundscapes / Abstract
Edit (7042)
This new release coming from the esteemed Polish label Zoharum, signed by Radoslaw Kaminski aka Ab Intra (Latin for "From Within") is going to tickle tympanic palates of drone and dark-ambient follower. The first sandpapering of the record could vaguely recall more "mystical" branch of ambient-chill such as Asura or other stuff on Ultimae and similar labels, due to some sonic clues such as seraphic choirs, distant thundering and absydal electric storms, then his silent gales migrate towards ritual-ambient fields, recalling some sonic episodes by Kammerheit or Runes Order (particularly in "Supremus IV" and "Supremus II") with distended whistling blows, moving inside electric clouds, sinister bolts and subtle sub-bass tones, whereas it seems that previous dust begins to amalgamate in majestic or epic mirages. You could have the impression that Ab Intra's sound got miniaturizes into many particles in order to pass over any pellicle or membrane before breaking the banks and flood into the sensorial ground in the final moments of the album, in order to share or just inspire great visions in listener's mind by creeping into it throughout ears, so that I could say "Supremus" sounds like a very attractive mind-tuning opera. Have a listen.