Ambient / Electronica / Ethereal / Dub / Soundscapes / Abstract
Edit (6913)
Analogies between productive activities of music labels (and laboratories!) and factories which makes blenders and other kitchen-aid tools are nowadays more relevant than in the past, but this is not to be considered a pejorative exemplification, especially if whisked and beaten stuff tastes good and assortment of recipes is so rich! Well, you could object against such an association with arguments related to commodity economics, as thinking to a factory of blenders could evoke an imaginary crowded by backcombed housewives exhibiting seducing plastic smiles, but I'm pretty sure you will easily recognize these new musical features by skillful electronic juggler Barry Lynn (most known as Boxcutter) are somehow vintage, even if that lovely nostalgic affection he translates into sonic language has been addressed to the glorious dawn of internet (or better its achievement as a mass phenomenon, maybe second best just to scratch'n'win lotteries or porn movies) as you may guess from the references you'll notice by giving the tracklist a cursory glance or just by pressing "play" button and listening the initial tracks, "NeoGeocities" (many of you should recognise The Host mentions Geocities, a notorious free web-hosting serive, now active just in Japan, maybe a possible explanation of the fact this track features that kind of harmonics, which are associated to Japanese electronic music's sonorities), where there's a combination of analog and digital sonic pulses, as well as sounds which look like having been grabbed from old and new modems, including some modulations of the unmistakable raspberry coming from old analogic modem after dialing provider's telephone number, and "Angel Fire" (another glorious ISP belonging to Internet's golden age), where a guitar played with the typical palm mute technique has been perfectly set into a flowing stream of synth pads and spirited 808 drumming. This sort of historical re-enactment runs in parallel to an exhumation of sonic stimulations - often stuffed with that space-rock cream of effected guitars - which are able to evoke that sort of daydreaming period and its promising load of progressionist expectations, a bunch of hopes ideally watered by Juno-106 smelling arpeggiated synths of "Hidden Ontology", the faint lights evoked by the brightful melodies of tracks like "3AM Surfing" and "Summer Solstice at Cape Canaveral" (my favorite track of the whole album), the relaxing and balancing mood of "Aeontology", evoking that kind of extatic feelings awaken while observing northern light shows, the nocturnal reverie of the final track "Birthday Blubells" and so on. In many moments of the record, you could be overwhelmed by a "paradise lost"-like childish nostalgia and particularly if you're an IT senior manager of some collapsing company or a broker who made good deals when Internet speculative bubbles used to fluctuate in stock markets, The Host's sonorities are going to inject that kind of bittersweet feeling you could experience while glancing through a photobook with a plenty of shots immortalizing your first birthdays' parties.
Artist:
Maciek Szymczuk & Slowtion
(@)
Title:
Ways
Format:
CD
Label:
Zoharum
(@)
Rated:
Filing what this bicephalous project by Polish electronic composer Maciek Szymczuk and British musician Julian Coope aka Slowtion submit to listeners' attention is not so easy. In spite of the fact that their sonic streams where Maciek's wife Joanna sometimes drains some enchanting ethereal vocalizations - in many moments they have almost a "didactic" role...a sort of seducing guide through the stages of this "trip" - have been framed with possibly interesting references to an imaginary spiritual research aimed to represent the constant unravelling by most of human beings between clues, proofs and complexities in order to reach a contact with the so-called Absolute, the musical complexity due to its richness of supposedly unintentional cross-reference marks appears head and shoulders above any possible conceptual framework to me: even though it seems "Ways" partially represents the wide stylistical lawns and wolds Maciek Szymczuk normally fertilizes during his personal musical explorations and could be considered somehow "minimalist" as most of tracks are not obstructed with a plenty of sounds, you're going to listen many interesting crossbreeds of elements taken from diverse musical branches. In tracks such as "Northern Wind", "The Hills", "Step By Step" or "Windy North" there're interesting examples of bizarre hybridization between the so-called "click'n'cut" electronic style with movements and intuitions taken from post-rock, trip hop or dark ambient so that moments when past listenings resurface from some depth of musical memory are not so infrequent. For instance I had sometimes the impression of listening to the dried version of some post-rock bands or the sabbatic transposition of some post-punk voices (and in a moment I felt like listening a record by The Soft Moon broadcasted filtered by some esoteric sound machine borrowed from Sleep Chamber's studio!). The possibility to understand and appreciate the narrative concatenations of this record so that the final track, titled "Go Through The Green Gate", will sound not just like a good piece of dub-like ritual ambient but more as the final moment of a process (or supposedly as the very initial moment of a new one...), mostly depends on listener's sensitivity, both from an aesthetic viewpoint and from a spiritual one.
Ambient / Electronica / Ethereal / Dub / Soundscapes / Abstract
Edit (6909)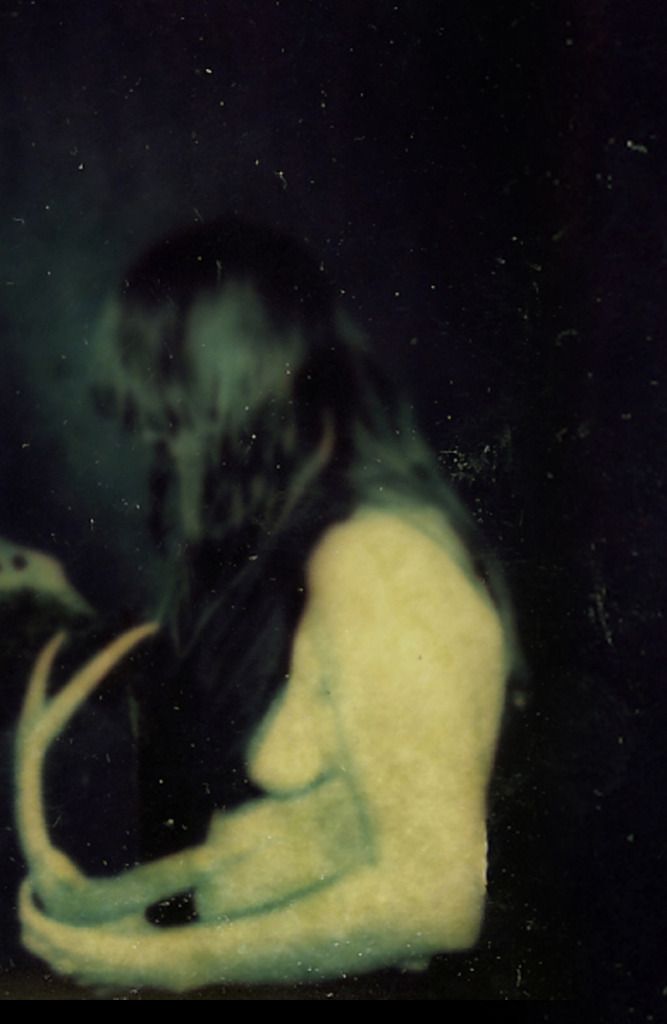 Artist:
Paintings for Animals
(@)
Title:
Thee Body ov Worship
Format:
Tape
Label:
House of Alchemy
(@)
Rated:
Paintings for Animals is a solo-project of Pær Sv, a sweet noise drone magician operating up here in the Pacific Northwest. He is the originator of the Seattle Occultural Music Festival. He's got the usual prodigious pyrochastic flow commonly found amongst noise musicians. On Thee Body ov Worship, out on House of Alchemy, he has manufactured 40 minutes of interstellar drift, split between the two halves of the cassette. Like Uroboros Thee Body ov Worship works well as a locked groove time warp, the two lengthy compositions, 'Moon Psalm' and 'Sun Psalm' chase each other across the sky, feedbacking into each other, dovetailing...

Like the best kosmische music, Thee Body ov Worship gives a euphoric sense of weightlessness. But this void is neither cold nor dead, it is like floating in navy blue ink full of stars. I couldn't get enough of this one, spinning it over and over, after my roommate and i conjured the plateau of leng out of thin air. I was in a pleasant lull, Thee Body ov Worship unspooling around me like a Persian Tiger. It reminds me a lot of an album by Jefre Cantu-Ledesma that came out a few years ago, Floating Weeds, that i used to listen to a lot as i was raking leaves. People that like Brian Eno's 'Discreet Music', wish that Lustmord would cheer up just a little bit , or Natural Snow Building's monumental effigies will dig this. They only made 75 of these, so don't miss it.

It looks like House of Alchemy is putting out a mad array of quality goods, i will be keeping an eye out.
Ambient / Electronica / Ethereal / Dub / Soundscapes / Abstract
Edit (6907)
This immersive release by this Belgian band (in the beginning a male/female duo before Leen Smets aka Yasnaia's departure), actually made up of Sandy Nijs aka Magthea and Herman Klapholz (better known as Ah Cama-Sotz), which can be reasonably counted among the legends or the masters of ritual music is the reissue of the not re-issued part of an intriguing project, commissioned by Antwerp Zoo Aquarium on the occasion of its 150th anniversary, as the original version was a split release, co-signed by another great name of the Belgian experimental music scene, Vidna Obmana, whose "half" has already been reissued by Hypnos a decade ago which unfortunately didn't comprise the precious contribution by Hybryds. Thanks to Polish label Zohar, this interesting work, which differs from other Hybrys' releases even if filing it under new age just beacause it's environmental somehow appears to me a misleading twist, surfaces from the abyss of forgetfulness with his tentacular sonic charm, intensified by some samples from underwater realm, including the notorious dolphin ultrasonics, given by the dolphinarium staff. Listeners are going to be surrounded by crossbreed of ritual drones, sonic crafts and tricks and hydrophonics in particular when human imprint sounds totally absorbed by sealife's emanations, so that it's able to evoke that appeased apprehension which sometimes accompanies explorations in unknown worlds which are normally inaccessible to people and excite the sometimes forgotten charm of discovery: this intriguing absorption looks highlighted in tracks like "L'Ivresse Des Grandes Profondeurs" where soft vocal tunes by Yasnaia coalesce with the cries of dolpinhs, "Archeozoicum" and "In the Wake of the Great Sea-serpent" where the guessed combination of powerful electronic bunches of frequencies and didgeridoos manages to catch listener's attention and the highly hypnotical textures of "Into The Ultrasonic Depths" emphasize the illusion of gradual diving, who becomes more and more enthralling in the final explorations, amidst "Whom Waling For The Whales" towers above other tracks for the bizarre interaction between those wonderful colossal creatures and a lovely phrasing on saxophone. The final track "Coda" can be considered an imaginary collaboration between Hybryds and two performers of the Aquarium, Ivo and Dolly, who stage a sort of duo on the texturing of the Belgian band, who managed to record their heartbeat and other underwater impulses to add some dynamics to their permormance. Reissuing this soundtrack was a right and proper act.
Ambient / Electronica / Ethereal / Dub / Soundscapes / Abstract
Edit (6905)
Artist:
Glitterbug
(@)
Title:
Egress EP
Format:
CD
Label:
False
(@)
Rated:
An egress is the act of coming or going out of a place. On Glitterbug's Egress EP, the seventh release from German producer/sound artist Till Rohmann, the four original tracks evoke images of departure, of emptiness, venturing out into the unknown.

Egress is a work for string ensemble and electronics; it is at times soothing, at times foreboding. The strings give a sense of tension, like an old Orson Welles shadow noir. Many comparisons have been made to film music to describe Egress. If this were to score a movie, it would be by Ridley Scott or maybe Tarkovsky; it implies the void, the cold emptiness of outer space.

Egress starts out minimally on 'Vacuity': the sound of wind, flittering dusty percussion dancing around yr head, before bell tones emerge from the depths, with a tintinnabulum dream logic of their own that sounds like being underwater. The strings kick in about 3/4 of the way through 'Vacuity' and linger for the rest of the album; there is a sense that SOMETHING'S GOING ON, but its not clear what. Its like the haunted visitors in Solaris, hidden behind closed doors, leaving you guessing. 'Span' sounds like a mid '70s Klaus Schulze outtak, with its rich colorful amniotic synth pads, a moment of optimist, the euphoria of leaving, before settling into the paranoid dripping dread of 'Appraise', all sustained string dissonance and insectile flourishes bouncing willy-nilly around the stereo field. 'Stagger', the last of the album's four originals, sounds like finding a pulsating brain at the center of a meteor belt, or perhaps stepping into the rusting carcass of a mechanical beast, before discovering that it still lives.

The remixes of 'Span' and 'Vacuity' by Tilman Ehrhorn and The Sight Below are less cold and introspective than the original source material, and will probably get more mileage on the dancefloors. The Sight Below's 11-minute re-imagining of Vacuity's windy desolation into a club friendly mnml tech-house voyage is a real treat and an album high-light, bearing Rafael Anton Irisarri's usual hallmark of excellence and the smoothest, roundest bass tones conceivable.

Egress gives us something to dream about while we wait for Glitterbug's newest full-length, Cancerboy, is due in May, and its a pleasant lull for the late winter months. Fans of out of body experiences and Lustmord will dig this, and anybody with ears can hear the stunning production quality. The strings add a nice human, emotional touch, and give it a real sense of class, of sophistication. Till Rohmann recommends giving this a spin on a decent hi-fi or a good pair of headphones, and i would have to agree. Go big or go home, this music works best when it is appreciated. I look forward to hearing more from this talented artist.