Ambient / Electronica / Ethereal / Dub / Soundscapes / Abstract
Edit (10808)
Artist:
The Gentleman Losers
(@)
Title:
Make We Here Our Camp of Winter
Format:
CD + Download
Label:
Sound In Silence Records
(@)
Rated:
The Gentleman Losers is the experimental musical group of brothers Samu and Ville Kuukka, based in Helsinki, Finland. Since their formation in 2004, they have released three albums and one EP on labels such as Büro, City Centre Offices, Grainy Records and Standard Form. 'Make We Here Our Camp Of Winter' is The Gentleman Losers' fourth full-length album, featuring eight new compositions, most of which were written during the summer of 2018 at a cabin by a lake in southern Finland. All in all, this is a much more spontaneous record than previous ones. That's what the label says anyway, and I have to take it on faith since this is my first experience with this project.

Taking in the first track, "Shelter From the Rain," I thought I wasn't going to like this album very much as it predominantly seemed to be spacey, slidey guitar noodling. Boy was I ever wrong! What follow is much more interesting but makes this an extremely difficult album to categorize. While some might pigeon-hole it as experimental (the patently catch-all category for music that's kind of out there and doesn't neatly fit into the prescribed genres), I think the stigma of that term tends to imply a lack of form, a tendency towards noise, and a free-form approach, none of which are germane to this work. Aside from the aforementioned opening track, there is an intense attention to detail, content and atmosphere throughout the next seven tracks. While an aura of ambient can be heard at times, this is by no means an ambient album. With some occasional similarity to Eno's 'Music For Films,' (along with some other projects he's collaborated on) little thematic ideas are expressed through various electro-acoustic environments that seem isolated from the rest of the world. Nowhere is this more apparent to me than on third track, "Book of Leaves." At times on this album you'll hear a sustained guitar with Frippish overtones, but no Frippertronics; piano chordal progressions that don't quite resolve, and fragmented melodies that appear as under-developed musical fragments. The overall tone is gentle and genial, but haunted with a melancholy wistfulness. And yes, there is a wintery feel, readily identifiable to me because it happens now to be winter here, snowy paths, chill winds and all. Repetition plays no small part in some of these pieces, but it's not the kind of repetition that tends to bore you to tears, but rather the kind that draws you in to an inescapable whirlpool of swirling memories. It is soundtrack-like without being cinematic as it lacks the broadness and bombast so often attributed to that term.

The one thing I didn't particularly care for was the rather frigid recitation by Oliver Whitehead on "Fish Roam in Winter Water" although it was thematically consistent with the album in general, to me it just cracked the atmosphere. The album ends rather inconclusively on the track "Bend Low Sweet Branch, Bend Low," which is perhaps the only way it should have ended. Some tracks are more engaging than others, but as a whole 'Make We Here Our Camp Of Winter' is still a worthy work. Limited to 500 CDr copies.

Ambient / Electronica / Ethereal / Dub / Soundscapes / Abstract
Edit (10807)
Artist:
Umber
(@)
Title:
This Earth To Another
Format:
CD + Download
Label:
Sound In Silence Records
(@)
Rated:
Umber is Leicestershire, UK musician/composer Alex Steward's ambient project, and 'This Earth To Another' is his second full-length release after his 2013 debut, 'Sunshine Young,' also having several EPs and a remix album to his credit. For the most part, Umber's style is melodic ambient, or what I term Melambient. The melodies aren't as defined as you might hear in a song, but the melodic content is there nevertheless. Melambient is the closest thing to modern New Age, laid back and kind of drifty-dreamy. 'This Earth To Another' begins with shimmering drones ("Altered Fragments") but the melambient aspect kicks in with the title track which follows, subtly creeping in. Percussion, where used tends to be subdued, discreet and minimal. The electronics/keyboards are complimented by ambient acoustic guitar making for some sonic diversity. The blending of elements is possibly the best aspect of this work which flows together in a harmonious musical mandala that easily achieves a calming and restive mood. The one track that seemed most different also happened to be the longest - "Harvest (Slow)," which begins with a nice droney electronic ambience, but then fills up with ambient guitar overtones from the same, producing a trancey sort of meditative psychedelia. It's twelve minutes with little variation once it gets going, but you can close your eyes and imagine just about anything on the plane of tranquility while listening to it. "Grape and Grain" is likely the closest piece resembling a traditional song, largely due to the guitar chording. Closing with "Low Tide," Umber leaves you with a sweet, nostalgic feeling of someplace you know you've been but can't quite put your finger on. Unlike some ambient albums that just pass through you like water, 'This Earth To Another' will leave you with a subconscious wistful feeling that is bound to draw you back again and again. As is the case with most all Sound in Silence releases, this is a limited edition (200 copies) handmade and hand-numbered CDr packaged in a lovely hand-stamped light blue cardboard envelope with the front cover image printed on a polaroid style photo paper and an insert sheet containing tracklist and information. Includes unlimited streaming of the album plus high-quality download in MP3, FLAC and more.
Artist:
VV.AA (@)
Title:
Merry And Bright
Format:
CD
Label:
Zaftig Research
(@)
Rated:
For a while, ever year Brett Lunceford would release a Christmas compilation on his label Zaftig Research. I believe the last one for a while was in 2008 then it came back in 2017 and now we have the 2018 version to review. I am not usually very good about reviewing compilations because it is tough to break down every single track but I wrote a short little blurb here about each one as I went through them, some two times to get it all in.

Conure: The Return of Ralphie is more sapling from A Christmas Story layered and chopped into an ever-growing noisy nightmare, excellent as expected from Conure!

Darmkwadraat: Electric Snow is a digital soup of synthesizer bleeps and bloops with a noisy edge on top. Great stuff from a pretty new act who as far as I can tell only has one release on Lage Landen Lawaai, which puts out super limited tapes. Lots of fun!

Dead Shall Not Have Died In Vain: Jingle Construct is the track I provided for this compilation, so I will not be reviewing it here ;-)

Goose: Sugarplum Dreams contains a beautiful winter landscape of drones and bells, you can hear the wind in the background and some bells jingling nearby, excellent mood music. A brief version of Dance of the Sugar Plum Fairy shows up at the end.

Praying For Oblivion + Skullwall: Stockholm Syndrome brings together two harsh noise masters with a track of layered chaos. Both projects released a collaboration at the end of 2017 and much like this split they bring in the sound from each project and mix together very well.

Jan-M. Iversen: Christmas Morn brings a beautiful drone piece that is so intricately layered and musical. If you know how prolific Jan-Morten Iversen is you will not be shocked by the talent behind all of his music.

Orange: No Presents For Christmas is another one of Brett's projects, this time though he brings in the Power Electronics to punish our ears, good old school dirty vibes.

Narishkeit: The Ant Eater. Narishkeit appeared on last years Christmas compilation and they also have a release on Inner Demons. This project from the Netherlands has not been super productive but what they are putting out there is pretty great. The project has some mystery behind it but hopefully, we will hear more from them in the future.

Phog Masheeen: It Will Be Christmas In Hell is a weird loungy track with spoken/sung "lyrics" on top of it. I have not heard any of their other work to know if it is like this but it is odd and I'm not sure if I like it.

Weeping Wall: Five Minutes With A Ten Dollah Ho Ho Ho brings a "noise" track that I wouldn't call harsh at all, it is like a broken digital sounding wash of static. Not many changes in the track but I dig it. I can't find much about this project out there, hopefully, more will turn up soon!

Survey Control: Salamajarvi National Park is an excellent stark track that sounds like someone floating through space attempting to make radio contact with someone out there. Gorgeous outer space drones! Sounds a bit like Bad Sector maybe?

Stolen Light: Boxing Day where Brett brings in the layering of noise and recordings from home maybe? Layered professionally and masterfully.

Bardoseneticcube: Ambioz is another classic ambient sci-fi sounding track as would be expected from this project. Never disappoints!

C/A/T: A Letter To Santa sounds like what we have come to expect from Ben Arp after all these years, classic Rhythmic Noise, I am happy to see that Ben is working on new material again!

Collapse: Happy Xmas (War Is Over) Revisited, the first part of that track name "Happy Xmas (War Is Over)" is a John Lennon song but I am not sure if that was the inspiration for the title. Collapsist is a project that I believe uses modular synths. Excellent repetitious waves of synthesizer sounds!

Overall this is an excellent compilation from Zaftig Research, I know Brett has more planned for the label which is very exciting for myself being a fan for years.

Artist:
Original Past Life
Title:
Inference / Interference
Format:
Download Only (MP3 + Lossless)
Label:
Tone List
Three-piece Original Past Life use a combination of improvisation followed by studio reworking to craft a selection of quite gritty pieces that build thick and electronic atmospheres, drones and manipulations around an instrumental core of guitar, bass and drums to give a result that only hangs my a thin thread of connection to the conventional music those instruments are normally used for.

Michael Caratti's percussion work is fairly organic and live-sounding, complex drumming that provides an anchor to jazz and 'normal' music. Adam Trainer's bass work is generally quite languid, exploring long notes and sustains that work at a slow pace that pulls in interesting ways against the drums, while Warwick Hall's guitar seem to have freer reign to twist itself into odd noises, scratches and impulsive expression.

All three of performers are also credited for 'electronics' and in pieces like "Serpentform", the original instrumental work (if there is any) is so heavily processed as to be unrecognisable in a totally digital-sounding environment of rumbles and pulses. In its calmer and less distortion-washed moments it has shades of a moody M83, while "Blessing The Barn" has dub-like levels of reverb that feel nicely relaxed, compared to some of the other pieces which, while never overtly angry, sometimes come across as agitated.

It's a strong collaborative effort that never really feels like it has struck new territory, but is still rewarding with 43 minutes of moody texture.
Ambient / Electronica / Ethereal / Dub / Soundscapes / Abstract
Edit (10799)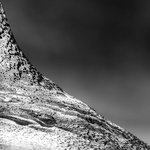 Artist:
Cuts
Title:
A Gradual Decline
Format:
CD
Label:
Village Green
(@)
Rated:
After the EP "A Slow Decay" already reviewed some time ago, Anthony Tombling Jr releases his debut album which is inspired by his concerns about the earth's fragility due to climate changes caused by human actiity. While "A Slow Decay" is something between minimalism and IDM, "A Gradual Decline" shows also ambient influences as there a certain use of drones and textures when there's not the presence of a beat.
"A Gradual Decline" is the only track present in both releases and starts quietly with loops starting sequentially until a beat underlines the rhythmic structure of the track and introducing its impressive melodic breaches. "Shattering Through" develops his synth melodic lines with a slower pace. The sharp distortions of "Polar" underlines its rhythmic structure. "From Here To Nowhere" is an ambient track based on piano chords and filtered female voices upon an ethereal soundscape. "Time Is Not Your Friend" and "Maboroshi" evolve from a drone to a melodic catchy tune. "Pollen" has a suspended atmosphere due to its use of resonances and echoes. "Beauty Collapsing" revolves around a mechanical beat. "Kernel Panic" alternate part based on complex beat to beatless and noisy ones. "Gravitational Loss" is a short drone interlude and "Fear Of Everything" is a long crescendo which proceeds by accumulation of sonic layers to create a soundscape of charming spectral density.
This release confirms the quality of sound construction hinted by the EP and will be enjoyed mainly by fans of IDM and ambient music and could even be listen among the releases of the year. Highly recommended.