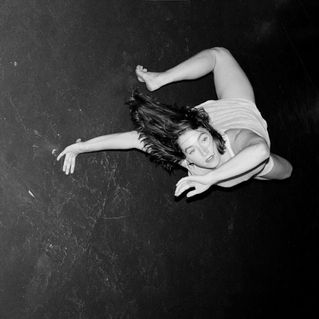 Artist:
Raime
Title:
Quarter Turns Over A Living Line
Format:
CD
Label:
Blackest Ever Black
(@)
Rated:
Imagine rain-slicked back alleys; haunted warehouses; a wooded clearing at night. These are some of the locales that Tom Halstead and Joe Andrews, collectively known as Raime, will guide you through, when immersing yrself in the blasted, decayed landscape of 'Quarter Turns Over A Living Line.'

Where lesser producers and weak imitators are content to pretend that the history of dance music is a logical, linear progression and work to perfect the perfect sugar-tweaked bass wobble, Raime draw lateral assocations across three decades of steely electronics, downtuned guitars, and horror-movie scores to create an inner nighttime world that is both menacing and optimistic. Owing as much to Earth and Sunn O)) as Regis and Burial, Raime (as one of the flagship bands of the impressive Blackest Ever Black label) have extracted viral DNA from a number of obscure sub-genres, such as Drone Metal and Doom Jazz, and combined them with the receptive and adaptable Industrial and Drum 'n Bass genes to form a dusty, lurching Golem of stately Techno. What could have ended up as another genre-splicing mishmash mess has ended up, instead, as an innovative album, full of impressive sound-design, finesse, and even some slow grooves.

'Passed Over Trails' kicks things off with some growling bass textures, before coalescing into a jazz-noir opium revery; it is plain from the start that this is not just another 'bass music' record. The closest corollary is Bong-Ra's amazing Mount Fuji Doomjazz Corporation project, that sounds like being followed down a lonely sidestreet by a car with tinted windows. Recognizable elements gradually dissolve, like reflections on oily water, to be replaced by the mummified Drum 'n Bass of 'The Last Foundry,' which wouldn't sound out of place in an afterhours set at a club, and the leaden bassdrop is one of 2012's finest moments on record. 'Soil And Colts' is a lumbering Techno track, crawling along at half-speed. Like some iron giant, complete with creaks, groans, and ominous shrieks, with an aurora of beauty surrounding and containing the scene; then seamlessly connecting with 'Exist In The Repeat Of Practice,' more skeletal d'n'b and '80s plasticine horror synth. By the time 'The Walker In Blast And Bottle' arrives, a model is nearly in place: start off with a minimal beat, then creep in ambiance and subtle sound design, which is like watching an image solidifying the air around you. Raime make mental movies, sure, but not the kind you'd see on a screen. 'Quarter Turn Over A Living Line' is more like a dreamstate that you get to explore for an hour, a direct connection to the superconscious of a couple of Scottish blokes.

The devil is in the details, when it comes to Raime. They're certainly not the first to make slow, crawling techno with surreal flourishes (again Regis, Monolake) but the way that they combine their post-Industrial electronica with doom metal, jazz, and other acoustic sounds, point a way forward for themselves, as well as the totality of dance music. With the machines that are at our fingers, we have control of songs and sounds to the almost molecular level, and we are beginning to see a race of sonic wizards that are constructing basalt mountain ranges of sound, out of thin air, just to see what they'd look and sound like. The way that Raime fills out their sound with the thickest, darkest dub echoes, like on 'Passed Over Trails' reveal 4 well-tuned ears, as well as some of the finest production and mastering money can buy. Everything is in place, and they never mis-step, 'QTOALL' gets more engrossing with each listen. This is Raime's first full-length, as well as the first LP of original material for Blackest Ever Black, so it should be interesting to see what this assemblage shall come up with in time, provided we're not all sucked into some galactic whirlpool, first.
Artist:
FORMA
(@)
Title:
OFF/ON
Format:
CD
Label:
Spectrum Spools/Mego
(@)
Rated:
That lava flow on the cover artwork of the second release by this Brooklyn-based trio of young cosmic couriers, made up of Mark Dwinell, Sophie Lam and George Bennett, didn't make me thought about geophysics, volcanology, hot gullies, after my eardrums got pleasefully stimulated by OFF/ON, their second release which follows the critically acclaimed self-named debut. Although their sound could be easily associated to some eruptions or outcrops from buried electronic music styles, their sound could be associated to another lava-related iconic object, the legendary decorative lamp, produced by Mathmos and developed by Edward-Craven Walker, as its blobs of coloured wax could be considered as one of the most representative emblem of retrofuturism (!), the concrete simulacrum of some relic, which could be linked to a somewhat kitsch and fetish idea of future in the teeth of its belonging to the past, whose symbolic meaning never fades, just like an aged record you enjoyed or a chocolate candy with oxidized surface which still tastes delicious! After such a premise, looking through their equipment - Moog Prodigy, Roland SH-1000, Yamaha CS-15, Korg Lambda, DSI Mopho, Roland TR-707 and TR-606. Oberheim SEM, Akai AX73, Roland RS-09 (the relatively cheapest device to play Jarre's "Oxygene"...) and more - could let you surmise they retraced the glorious pathway of some legendary knights such as the above-mentioned Jean-Michel Jarre, Tangerine Dream or Vangelis and by their own admission, they deconstructed the Motorik, a slang term coined by some older colleagues to describe the typical 4/4 ostinato rhythm by many krautrockers such as Neu! or Kraftwerk, but it's clear since the initial "OFF" dynamics behind their majestic cosmic rides, twisted sequences and flowing arpeggiations are not a simple homage to those sonorities, but often show an impressive homogeneity, an attention to detail and computational splashes, which sound like fitted to a refurbished enthusiasm for an upcoming space age, for a primordial return to synth-music source or maybe for a conscious and sage return to innocence!
Artist:
Roedelius + Chaplin
Title:
King of Hearts
Format:
CD
Label:
Sub Rosa
(@)
Rated:
I'm getting into the habit of blindly listening upcoming releases by playing them without worrying about the author or the label: it happened during this kind of random listening that when my eardrum met the first track of this release "Comme Ãça", some scenes from Charlie Chaplin's "City Lights" and the moving poetry behind his tender awkwardness and his touching care in the love affair with a blind flower girl, in the attempt of collecting money for an expensive sight-saving operation, have been immediately rendered into my mind. You can just imagine my surprise when I discovered that one of the co-signers of this graceful release is no less than Christopher Chaplin, the youngest son of Charlie Chaplin, who remixed a live piano set by another musical living legend as it is the German avantgarde composer and krautrock pioneer Hans-Joachim Roedelius for Fiona Talkington's "Late Junction Session" on BBC Radio 3. When Roedelius was invited to choose a musician to remix his live set, he opted for Chaplin, whom he first met at the "Gugginger Irritationem 2", a festival in Wien, focused on Art Brut. I've not read anything about source for inspiration and themes behind "King Of Hearts", but the title could let you imagine the tale about a dethroned noble-minded and big-hearted king, who decides to return to his previous kingdom in order to restore justice and peace after hearing and ascertain his previous beloved subjects in despair. The first part of the album seems to evoke a grim reality where oppression and covetousness muted poeple's souls, whose gravity resounds with the sad piano arpeggios and anxious bells on "Autrement", the menacing atmosphere evoked by "Mais oui", the solitary remembrance, which seems to be activated by electronic chirping birds, on "Tout à fait", the aching emotional outbursts on the catchy tangle of a torn and disquiet piano melody, an afflicted violin in "Parce que", which precedes the consciousness raising, the recovered temperament and the declaration of intent by this imaginary king, whose heartbeat and voice first appear on the amazing "Evidemment", whereas the slow slapping on lead guitar and the organ on "Bien Sur" evokes a cogitation about a strategy. The delicate cover of notorious "By This River", the song Roedelius co-wrote with Brian Eno and Moebius, on "Aussi Bien", the regal portamento of jazzy "N'est-ce pas", the sliding joint between a distorted guitar and faltering piano melody on "Tant mieux" and the amazing final track "Voici", a sort of crossbreeding between improvisational jazz techniques and suffused lights Roedelius applies on sounds, are going to let you imagine how the story could end. A somewhat unorthodox piece of good contemporary classical music.
image not
available
anymore
Sometimes the unspectacular looking releases have got the richest musically content to offer. Ashbed is the Electronic music project of David Tatlock, who hails out of New Waterford, NS, Canada. In his earlier years he has been often supported by Nightwaves zine-editor and Synthpop supporter (... and Chain D.L.K. author...) Gary Flanagan through some compilation appearances. Also some of Flanagan's reviews on his early demo recordings have been throughout positive, although Ashbed's music is for the most part far away of Gary's preferences. 'If We Should Part' is filled with haunting and dense athmospheres, the music combines darkest Electro with Noise, Dubstep and Ambient. Skinny Puppy gets often mentioned, but also Controlled Bleeding, Gridlock, Scorn plus I would add the ominous textures of projects like Little Sap Dungeon as being quells of inspiration for Mr. Tatlock. Mostly his tracks are drowning into Downtempo-like sick and noisy sound-walls. 'So It Goes' is such an example, which adds a monotonous Dubstep-rhythm to lead the track. 'In Between Dreams' stands for a clearer, more Puppy-an Dark Electro-inspired tune. Also thanks to the inclusion of vocals this one is a nice addition to fans of this beloved genre. 'Third Coming' then brings back the abstract, Experimental-infiltrated side of David, and this style still leads most tracks of this album. Also 'The Hidden' or the title-track are dwelling pretty much in obtrusive synthesizer sound-drops, plus the drastic rhythm section brings both near to a Gridlock-like experience. While I would recommend here and there adding a bit more clearance in his song structures, maybe too with a consideration to present more vocals like on 'In Between Dreams', I am generally quite impressed by the efforts of Mr. Tatlock. Regarding the above mentioned artists for possible comparisons it should be quite clear, that this album won't satisfy meaningless dancefloor attributes. Ashbed could need a bit more exposure by press and listeners for a better out-coming, while the talent is without doubts presented on here.


Artist:
Lata
(@)
Title:
Starlings
Format:
CD
Label:
Exotic Pylon Records
(@)
Rated:
Thirty-six hours on a train could become a so mind-altering experience for the most inveterate traveller that you can easily argue it could be a prodrome for mystical experiences and result into a safe-conduct for any kind of barrier, which locks any door of perception. Jacob Burns, former bass player with Scottish band Damn Shames and one of the youngest force of post-punk experimental band Cindytalk, was none the worse for such a train travel across India (hopefully not for a delay or I could surmise this record could have been more harsh and bloody furious than it is...) and maybe he couldn't imagine after he stepped down the train, the sensorial feast he experienced inside Tundla Station could be so inspirational. According to his own words "the arches of the place were alive with birds, flicking off the walls and the top of the crowds, delicate bodies who seemed drawn up, in ever more numbers, to the vaulted roof, where they were coming into roost. The host of them were all singing, in a high, pure pitch that was contained and multiplied by the masonry of the station into an incredible noise, loud but not painful". The second source for inspiration Jacob poured into "Starlings" was his toing and froing over East London Line. Both of these two excitements astonishingly merge on this one-track album, whose 9 parts are easily recognisable while sliding on impressive sonic interbreeding between tweets and chirps on one side and mechanical clattering, puffing brakes, jumps on rails and other typical noises the ear usually grab during a train journey. An appetizer of "Starlings" already delighted eardrums of all those who bought the July edition of The Wire Magazine's Tapper CD, who could confirm the remarkable way this sound designer followed to encapsulate two of the most proper juggernauts and inspirational sources for many contemporary electronic jugglers: transport and birds!