Ambient / Electronica / Ethereal / Dub / Soundscapes / Abstract
Edit (7862)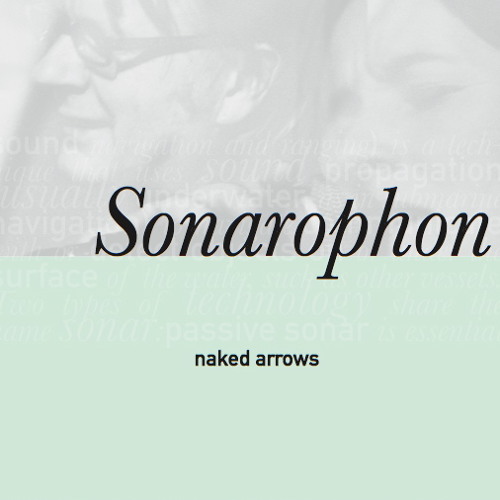 Artist:
Sonarophon
Title:
Naked Arrows
Format:
CD
Label:
Zang:
Rated:
Recorded live at the Tou Scene in Stavanger the new second album of Sonarophone, titled 'Naked Arrows', is about to be released after three years from their debut 'De Frie Elementer' always on Zang:. Sonarophone is a duo formed by Alf Terje Hana (at CHAIN D.L.K. we reviewed different releases of his main project Athana) and Line Horneland. Containing eight tracks, the album is a melting pot where guitar experimentation (Alf is a master of this field) and jazz meet, transmute and rise to new life. Line vocals are captivating and hypnotic and pass from jazz classic atmospheres to whispers. On tracks like 'Oldtidsstrid' we have the sum of their sound with a spacey guitar introduction which is joined by vocal chants, breath noises and screams. It just sounds evocative and convincing. Also the following 'Short Song' is particular one as it's formed by a mix of distorted rhythms, guitar short arpeggios and little vocal chants. I imagine how it would have been being at that show when at a certain point the audience find itself in front of a woman who sings like in reverse and looks at a guy who seems to play a guitar but the speakers spread a fragmented strange sound (like on the track 'Samtea'). Inspired and beautiful this is an album I'm suggesting you to check and you can find so by visiting the band's sound cloud page at www.soundcloud.com/sonarophon
Babi's voice seems to flutter about and go through a musical hotchpotch where a sound of a drawing pencil, a pot-bellied horn, an adventourous childplay-like toy piano melody and a joyful metronome on the initial "Passiflora", which rings up the curtain that hides the enchanted world of this brimful Japanese female musician, whose delightful twine of toy-music, poppish commercial cosmetics and a delicate razzmattazz manages to emphasize her lovely dreamy view of the world. Funny instrumental arabesques and pirouettes, which seem to have been tweely formalized on the atonal track "Lesson", got spread on differen stlistical slices of fragrant bread with the support of many performers on saxophone, fagotto, viola, violin, cello and clarinet after the invitation of this precocious - biographical notes say that she started leearning piano when she was just 2 and professional composition at the age of 5 - musician, who has been helped by Cornelius sound programmer Toyoaki Mishima for mixing and mastering as well: there are no traces of "adult" strategies inside her gracful cameos, even when she plays on triple times such as the amazing "Fancy Witch", a sort of minuet on a funny harpshicord, the daydreaming waltzing march of "Praeparat" and the more ephemerl one of "Passepied", the electro-pop scherzo of "Insect Collecting", which features a triangle and many insects (!), the staggering puppets evoked by the tidbit of "Zaubertheater" and the carilloning "Parade". On the final tracks, Babi let surface a "Pierrotesque" melancholic side of her fanciful personality, but tracks like "Owl" and above all "Atelier" reveal that gentility, which could have been by the overjoyed vivaciousness of previous playthings. This record, which has been co-produced by Noble and Babi's imprint Uffufucucu, will let you easily realize the reason why she gained deserved praises by Ryuichi Sakamoto.
Artist:
Download
(@)
Title:
LingAM
Format:
CD
Label:
Metropolis
(@)
Rated:
The most mischievous listeners with a vague knowledge of Hinduism or just Kamasutra are going to think that the title of the new incendiary album by Download, the amazing project by Kevin Crompton aka cEvin Key - mostly known as one leg of legendary band Skinny Puppy - and Phil "Philth" Western, could refer to the phallic symbol of Shiva and emblem of generative power as well as an idea which could echo something like a downwards load and if you think about a possible contemproary adaptation of that symbol in the guise of a 1/4 in phone connector, such a link could sound somewhat fascinating, but besides any possible display of virility, a title like "lingAM" made me think about a sort of self awareness of their intrinsic value and stylistical eminence since Download's technical mastery with frequencies and electronics, which sometimes are like part of difficult codes, could be more associated with oratorical skills so that they proficiently work on a lingo they perfectly know. They lower start up lever on the initial title-track where the first elements of this electrically boiled soup they serve resurface from the bottom of sonic hoards, which draw on many stylistical basins - techno, goa-trance, electro, abstract electronics, toytronics, IDM, broken beats, ambient... -, whereas any following movement earmarks sonic recipes for unexpected ascetic and ascending pleasing moments as well as listening reminiscences: from Chemical Bros., which sound evoked over the listening of the overcharged "AAARD", to Underworld's "Beaucup Fish", which could come to mind while listening to "Duppy", from psychedelic hooks of FSOL, which could appear in the electrical storms of "Saw Crust", to Skinny Puppy's first experiments, which come out here and there over the whole album. The tracks like "Yoni", Blotch" where beat-driven concatenations hack the listening sphere up by speading wisely inoculated meditative moments, as if rhythm acts like a battery charger for mental right ascension, and the lysergic activated sludges of "INAGE MAntra", "PiLLAR" or "JirAFFE from the planet Sanders" are maybe the most pleasing moments and the best propellers for listener's imagination.
The elective correlation between music, science and mathematics has already been widely canonized and this match has been an almost protocol conceptual framework for a plenty of electronic musicians so that many listeners and reviewers could considered it as a sort of cubbyhole; "Neuroplanets", the new project by Thanasis Kaproulias aka Novi_sad released for Sub Rosa's New Series Framework collection, seems to go beyond a merely conceptualen closure by focusing on the modeling of sonic raw material, which got provided by master craftsmen of sound like Bj Nilsen, Daniel Menche, Francisco Lopez and Mika Vainio, on the basis of applied data and numerical analysis of researches in the fascinating fields of neuroscience and astronomy. The unavoidable accentuation of the mysterious charm of the four resulting soundscapes intersects the outer reaches of these fast-forwarding and somehow psychedelic branches of human knowledge: the repeated sounds which have been rendered from audio analysis of strange meteorological phenomena on other planets (wind, dust devils and tornadoes on Mars, ghostly planetary plasma waves from NASA, a whistle of ultra-cold liquid helium-3, changing volume relative to the North Pole and the Earth's rotation and decametric noise and radio storms on Jupiter) could let you imagine that what you're listening by means of your headphones is playing on some very distant places at the same time. The initial project should have "sonically" detected only these strange events, but Thanasis decided to augment his excellent work by implementing data from functional anatomy of schizophrenic patients with auditory hallucinations (!), patterns of music agnosia associated with middle cerebral artery infarcts, rightward and leftward bisection biases in spacial neglect and neuroimaging with bipolar disorder and children with serious emotional disturbances. Both the uncommon references and transposition and the quality of sonic artifacts by Novi_sad, which reaches the noisiest peaks on the entrancing tracks commissioned from Lopez and Vainio, deliver many shocking frissons on listener's imagination.
Artist:
Toshimaru Nakamura + Ken Ikeda + Tomoyoshi Date
Title:
Green Heights
Format:
CD
Label:
Baskaru
(@)
Rated:
The title of this collection of five tunes from this trio of Japanese sonic experimenters derives from the location where they recorded them, the balcony on the 6th floor of a Japanese building in Tokyo where Brazilian-born Tomoyoshi Date, an ER doctor with a mania for field recordings and toy piano, which got poured into different interesting collaborative projects - he plays in Illuha with Corey Fuller (we've recently spoken about their amazing last album on Taylor Deupree's 12K), in Opitope with Chihei Hatakeyama and in Melodia with Federico Durand - lives. Date opened the door to a couple of friends - NY-based sound designer hooked on fusty synths and video artist Ken Ikeda, who besides some past releases on Touch and Spekk labels can boast of striking collaborations with David Lynch, Tadanoori Yooo and Mariko Mori, and Toshimaru Nakamura, inventive composer as well as one of the most appreciated improviser of that influential Japanese free-improv scene, known as Onkyokei, who plays a mixing console as if it were a musical instrument by means of a system he named "no-input mixing board" on the occasion -, provided some wine, sake and other social drinks in order to foster talkativeness and flair. The title itself could refer to the features of each track as green color is commonly considered hypnotical whereas the references to various Greek letters in the titles of each track could refer to brainwaves (alpha, theta, beta, gamma), which many lovers of recreational technology knew after the spreading of so-called brain machines. Each track seems to be built on bases of piercing pure tones, which bear and enevelop the textures of gently entancing melodies, the amazing electroacoustic jabs and the electronic novocaine they wisely inject so much as the most cacophonous ingredients of each soup sound somewhat soothing.