Ambient / Electronica / Ethereal / Dub / Soundscapes / Abstract
Edit (10126)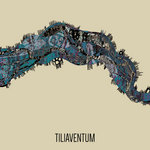 Artist:
Deison & Mingle
(@)
Title:
Tiliaventum
Format:
CD
Label:
Final Muzik
(@)
Rated:
As the title suggests, this release is an homage to the Tagliamento, one of the few braided river remained and, for his morphology, could be easily seen as a metaphor about life seen as the intersection of personal destinies or about place viewed as the sum of personal contributions. While it's plenty of contributions, every theoretically external input is fully absorbed in a coherent musical field.
The sounds of "Arteria" opens this release with an equilibrium between a sense of movement and a sense of rest where even some field recording seems to emerge. "Tiliment" is a quiet and meditative piece for sustained tones supported by the beats while, even in an abstract way, "Agane" reveals a sense for melody closer than expected to pop. "La Piena", with his heavy beats and square structure, takes this release towards certain industrial territories. The complex soundscape of "Sotterraneo" is an interlude to "Grave" which continues on the path marked by the use of terse beats while "Pietra Viva" reveals in the background the craft in the shaping of sound and the clever use of field recordings. From a certain perspective, "21:00:12" seems the second part of "La Piena" while "Savalon" and "Nel tuo letto" are quiet sonic watercolors and "Ajar e aghe" closes this release with a song for voice and field recordings of the water.
The use of sounds derived from natural elements like stones seems the glue that ties togheter a release swinging from experimental angst to pop attention, so resulting in a release that could find an audience even outside of the genre's circle. Recommended.
Ambient / Electronica / Ethereal / Dub / Soundscapes / Abstract
Edit (10125)
Artist: drøne
Title: Mappa Mundi
Format: CD + Download
Label: self-released

The name "Drøne" could hardly be more appropriate, albeit with the added o stroke. This is a thirty-five minute arrangement of mechanical drone noises, electric hums, distant industrial rhythms and work-related electronic found sounds. A mixture of well-used sounds- playgrounds, railways, offices- meshes with less recognisable

Officially the 35 minutes is mapped out into five named sub-sections, but in practice it slowly evolves as different layers arrive, overlap and decay with few sudden shifts, so it's hard to discuss highlights or weaknesses with any specificity. By halfway through, dark-sounding voices have been added and the mood has shifted a step or two in a sinister direction. A tone like a distant alarm frightened and disorientated my co-worker who didn't realise it was (technically) music. Shortly afterward this opens up into a slightly brighter section centred around rolling stock and tannoy announcements. This in turn leads to a more discordant arrangement of high-pitched screeches that's properly uncomfortable. The modem sounds that follow sound almost reassuring by comparison. We wrap nicely with a relatively simple blanket hum.

It's a slightly muddy production overall, rumbling and bubbling in a way that's deliberately indistinct and alienating, but the net result is a strangely captivating soundscape that draws you in, willing you to listen more carefully to see if you can hear anything familiar in it. For my personal taste I think it's just a touch too wilfully hard-edged, with too many tinnitus notes and too much noise, but nevertheless it's still a strong work.
Artist:
Atariame
(@)
Title:
Fear is the World
Format:
Tape
Label:
Constellation Tatsu
(@)
Rated:
The St.Petersbourg-based singer and producer Atariame is one of the "brightest" stars in Constellation Tatsu spring/summer bunch. I decided to use quotation marks as you won't maybe label her as a serene artist, but I won't see is a sort of black hole, as her light is not that dark. If we have to use one of the typical ways to file stars, she could be matched to a white dwarf more as she emits some shining rays of light, but some technical improvements of the music surrounding her crystalline voice could let her shine more. Anyway, the dried elements that orbit around her voice is something that could evoke an almost empty space around both the sound of her voice and the intuitions and the emotional depths she enlightens. Her style could sometimes resemble some known voices floating in the oceans of dream pop, sad core, bedroom music and darkwave such as Chelsea Wolfe or Lotte Kostner (particularly when musical dress is close to folkish sonorities - in songs like "Sweet Taste of Being Accepted" or "Travel Burnout") or some stuff on the notorious label Kranky, but electronics (even if sometimes rough) often set different settings for her vocal emissions/emulsions. I particularly enjoyed the ghosts of 80ies dark wave evoked in "Fluffy Paws", the grey drones of "Always the Youngest" or the intimate magnetism of tracks like "Lying Awake" and "The Pretty Takes It All", but the whole album sounds consistent with the nature of the emotional set that Atariame explores. Once upon a time, Atariame should have been labelled as a 'next big thing'.
Ambient / Electronica / Ethereal / Dub / Soundscapes / Abstract
Edit (10122)
Artist:
Fluorescent Heights
(@)
Title:
Strange Lagoon found At Nightfall
Format:
Tape
Label:
Constellation Tatsu
(@)
Rated:
The remarkably listenable hissing of tape and the noises of someone handling a tape recorder mark the opening of this release belonging to the summer bunch of Constellation Tatsu. Each side lasts almost fifteen minutes and the sound explored by Fluorescent Heights is a so perfect suite for tropical "summer-sized" reverie that you won't imagine it comes from Sweden (even if Swedish are maybe the more "Mediterranean" people of Scandinavia), as you would be induced to guess it could actually come from an imaginary elvish settlement in Tahiti. The lo-fi exotic ambient that features this release could be described as something in between some entries of the so-called organic ambient of the first 90ies (I could mention projects like Entrancing Iris or Heavenly Music Corporation) and vaguely melancholic contemporary branches of minimal ambient, as it features variations of not so many sonic inputs: an overstretched quiet pad and some "bubbling" sounds that highlight and integrate the entrancing melodic loop in "Strange Lagoon Found At Nightfall" and a sort of relaxing aquatic hits grasped into an almost static tone on "Papaya 2" on the other side.
Ambient / Electronica / Ethereal / Dub / Soundscapes / Abstract
Edit (10119)
Artist: Ārash Āzādi
Title: Geosonic Journeys
Format: Download Only (MP3 + Lossless)
Label: Establishment

Iranian-born rash zdi brings his Persian setar training into play as a subtle, not-too-obvious twist on the more accessible side of electronica drone soundscaping and feedback layering. Synthetic metallic washes flow smoothly throughout over electronic bubbles and clicks. Soft industrial-ish found sounds occasionally arrange themselves into gentle rhythms. The Middle Eastern instrumentation is barely discernible at times as it's so well moulded into the sound layout. If this is 'geosonic' then this geology is the fluid movement of lavas and molten materials, not the stable sound of rocks.

The opening two tracks "Entering The Realm Of Journey" and "Peyote And The Magnetic Beings" are relatively flat and structureless compared to what follows. The metallic tension is most prominent in "Circling Exhibitions In A Blackhole", a slightly nails-down-a-blackboard element providing some genuine discomfort in the first half before the salve of a cinematic string melody makes the second half more palatable.

By contrast, "Water, Stones, Salvation" is a smooth lullaby melody with gentle bubbling, while "Back Home With Winds And Batteries" has a low soporific pulse to it under drawn-out calming chords. "Ascending From Underwater To Outer Space" has more than a hint of Tangerine Dream about it, in a good way, but a little busier and glitchier, making it slightly anachronistic in the middle of the album.

At six tracks and under forty minutes it's a tightly realised and rich album that is, surprisingly, a little lacking in unique sonic character, but with a warm texture that's still certainly worth hearing.