Artist:
Akira Kosemura
Title:
In The Dark Woods
Format:
CD + DVD
Label:
Schole
(@)
Rated:
Ten years ago, Akira Kosemura was sneaking into many headphones and music lovers' heart of "western" world by means of the masterpiece "It's On Everything" (coming out on Lawerence English's Someone Good). Over ten years, I followed this brilliant artist through Schole Records, his playground and his label, through which he also released some stuff by artists (such as Quentin Sirjacq and Dakota Suite) akin to his style as well as his own albums. Ten years after that sort of debut by which he breached the gates of the hearts of many lovers of piano-driven music (many fans of musicians like Dustin O'Halloran, Nils Frahm or Max Richter got closer to Akira's outputs), he comes back by another set of piano fugues, "In The Dark Woods", where he kept many of the known features of his sound (the central role of piano, minimal but intense compositions, an elegant crossover between electronics and acoustics and, last but not least, an emotional set where a certain anxiety continuosly fades into a peaceful search for a contemplative symbiosis and an interplay with nature), but he developed an interesting theme on this new album: according to the introduction on the label's website '"Treasuring a serene feeling and an intimate conversation with oneself." is the main concept of his new work, which recalls vivid emotions, as music goes into one's body and feels a blood flow deep into a heart. As indicated in the title, an entire album is filled with an obscure darkness and a world of misty sounds never to be feared of, like a comfortable quietness in the dark where a child in the womb is hearing mother's heartbeat'. Such a cross-over between dim and light emotional sets can explain the reason why he also composed a dedication to Laura Palmer, the notorious fictional character of David Lynch's TV series Twin Peaks, as well as the alternation of melodic moments, embracing slightly different dosages of obscurity and light, electronics and acoustics, whose core and apex lay in the two final tracks, the title track "In The Dark Woods" and the piano solo reprise "Letter From A Distance". As usual, Akira has regard for the visual aspect of his art by attached a DVD including five video clips, a booklet including snapshots of "In The Dark Woods" clip (featuring the dancer and reader Kimiho Hulbert and directed by Shin Kikuchi), a download coupon including another version of "Spark" as well as a very elegant package.
Ambient / Electronica / Ethereal / Dub / Soundscapes / Abstract
Edit (10245)
Artist:
N [54]
Title:
Suedfall
Format:
12" vinyl + Download
Label:
Midira Records
The 54th release from Hellmut Neidhardt's prolific N project comprises two different versions of the title work, which in itself is a spacious drone and glacially slow unfolding melody forming a very icy, bright yet barren soundscape.

The A side is a live recording of the 2011 premiere performance, performed in Christuskirche Bochum and with a distinctly hollow, churchy aura. Subtle distortions add to the cold crispness of the atmosphere and over its 19-minute course it gradually unfolds and escalates into something which adds a hint of danger to the sense of abandonment.

The B side is a new studio version, the existence of which was triggered by its inclusion in a short film. Putting additional electrified violin work firmly at the fore, this version is distinctly cleaner. More rounded, synthetic organ- and bell-like notes bring the melodic elements into clearer relief, and we progress towards something purer and more violin-led as it evolves this time, and a particularly slow fade away leaves the listener in a much calmer space.

It's a slick and polished bit of frosty sound layering with quite a purist attitude, and while in part I did have a slight sense of "I've heard this before" because of the familiar tones, let that not take anything away from the quality of proceedings here.
Artist:
Aidan Casserly
Title:
"Dirk Bogarde Suite" + "Winter Papers"
Format:
Download Only (MP3 + Lossless)
Label:
House Of Analogue
Rated:
Aidan Casserly is at his peak of creativity and this time he brings to his audience two new releases: the first one is an EP titled "Dirk Bogarde Suite" and the second one is a new album titled "Winter Papers". "Dirk Bogarde Suite" contains four tracks which are based on four key moments of the life of the English actor/writer named in the title. The titles "War Finds You Out", "Idol Of The Odeons", "Exile" and "A Forgotten Icon" are somehow self explanatory. I didn't know him, but the fact that his 1961 role, as an homosexual lawyer into the Basil Dearden movie "Victim", touched so deeply the audience who formed movements which forced the English parliament to change some laws about that matter, amazed me. An actor and a movie that can influence society. It would be a sort of dream nowadays. Musically, besides "Idol Of The Odeons", which is a nice upbeat song a la Marc Almond of the "Stories Of Johnny" period, the other three are inspired piano ballads ("Exile, is a little bit more "experimental" with its sax solo intermezzos that break in changing the atmosphere, though). "Winter Papers", contains songs where Aidan is using the poems of Monica Brito on ten out of eleven (Aidan wrote the lyrics for "The Lady"). Monica Brito is a Portuguese poet/artist based now in Canada which book titled like this album, containing her poems / illustrations, will be out sometimes in the year. A mutual friend on Facebook introduced them as her writing style is similar to Aidan's and he gladly got in contact. Most of the tracks are ballads based on piano and occasional strings parts. The ones that particularly catched my attention are "Silent Sounds" and "Pieces", as they are a bit different. The first one is a jazzy semi upbeat tune really minimal but able to create a great atmosphere and the second is a really good one where piano, distorted guitar chords, strings and drums create a nice mix of energetic crescendo and atmospheric moments. Also "The Lady", which is closing the album, is a really good one: it contains a mix of spoken word, piano and synth pads, thing that is creating a sort of cinematic effect I liked. I think that the minimalistic approach is due to the will to make the people focus on Brito's lyrics as a form of respect toward the feelings of the person he was collaborating with.
Ambient / Electronica / Ethereal / Dub / Soundscapes / Abstract
Edit (10241)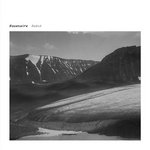 Artist:
Havenaire
(@)
Title:
Rabot
Format:
CD
Label:
Glacial Movements
(@)
Rated:
Havenaire is the ambient musical project of John Roger Olsson which is also a pop musician as The Grand Opening and this is also audible as, even if this is a proper ambient release, instead of relying on the use of drone, a melody is a building element of all tracks. The title and the theme of this release is inspired by old photos taken in 1910 by Fredrik Enquist, a Swedish geographer, and one is in the cover artwork and his aesthetic fills the overall ideas behind the releases published by Glacial Movements.
As "Rabot" starts, the listener is immediately introduced into the sonic framework of this release: two drones juxtaposed one as a background and one slowly developing in a sort of pale melody which evoke the landscape of the cover artwork. "Enquist Photo 1910" is a crescendo where small details and nuances are introduced as the track evolves. "Sylarna" is a quiet track whose loop in the background hypnotize the listener. "Calving" seems a crescendo but, as it seems to reach a peak, it slow down to quiet drone to start again. "Tarfala Valley" is a quiet sonic rest as "Sarek (Part 1-2)" closes this release with a first part which seems static as all his development is in small details and resonances while the second uses small noises moving in the sonic field as the background exposes a looping melody in the background.
While someone could reasonably states that this release is deeply rooted in a canonical form, the impressive quality of the writing, the craft in sound construction and the ability to catch the listener places it to the status of half masterpiece. Truly recommended.
Artist:
Nuaru
(@)
Title:
Like In A Dream EP
Format:
Download Only (MP3 + Lossless)
Label:
Free Love Digi
(@)
Rated:
The incipit of this digital tidbit that Nuaru, a Dutch - from Eindhoven - producer grown in the nest (or I'd say in the greenhouse, given Nuaru's love and interest for botany) of Basserk, could vaguely resemble the sonorities of a lot of stuff by Burial or Fanu, but the ethereal breathe, the sound of tapping raindrops, the crystalline melody and the puffed claps soon become gears of a pleasant rhythmical engine, whose fuel is what he called "nature bass" in "Like In A Dream", the first half of this sonic drop. The engine rolling beats in the second half "She Blends In With The Ocean" is even more energetic, but in spite of the fact the (h)earthbeat-like bass is more thunderous and concentration levels of percussive elements is higher, Nuaru keeps that breathe-like effect alive by a wise dosage of "organic" elements and playing on gain levels. Just nicely liquid!