Ambient / Electronica / Ethereal / Dub / Soundscapes / Abstract
Edit (10685)
image not
available
anymore
Artist:
Atrium Carceri
Title:
Codex
Format:
CD
Label:
Cryo Chamber
(@)
Rated:
After three years in the making Simon Heath returns with a new release where he shows his well known vision of dark ambient. This album is present with the usual synopsis, this time about prayer for the Demiurge to return so someone could return to Elysium. This is an hint that the core of this release if far more optimistic, and with a brighter sound, than the average of the genre.
As the first track, "The Void", starts the listener is immersed in a form of dark ambient where the compositional focus is, along with the usual elements of the genre, a fistful of small sounds which create an illusion of a real environment; after the quiet piano chords which close the track, "From Chasms Reborn" reveals how the use of effects gives the sense that the music is recorded in a specific place e.g., the piano chords have a reverb as it was in a distant place. After a static beginning, "The Seer" evolves in a noisy way, "A Memory Lost" is a languid pianistic interlude to "The Empty Chapel" where the detail of the background sounds takes the attention instead of the drone in the foreground. "Path of Fallen Gods" starts quietly with a bass drone which evolves in frequencies with foley adding movement until a final, and sparse, drone closes a really good track. "The Ancient City" continues in this sound path while "Sacrifice to the Machine" features an industrial beat to have a variation. "The Maze" is the most static, but spatial, track of this release while "A Hunger too Deep" is centered upon an almost romantic piano instead of a drone. "The Citadel" closes this release summarizing all the elements of the album.
Technically it's an impressive release from a veteran of the genre which shows its distance from a scene based upon a form replied in an almost dull mode. From a writing perspective, most fans will rate it among the albums of the year. Excellent.
Ambient / Electronica / Ethereal / Dub / Soundscapes / Abstract
Edit (10681)
"Ambient goes country" is the headline of the blurb promoting that release, but that's maybe a little bit misleading. I'd suggest that this is country music that's going on a tentative electronic journey, as pedal steel, acoustic bass and twangy banjo remain firmly at the core, mapping out brooding and sometimes slightly Americana and bluesy patterns, but with some unusual production and atmospheric touches that twist the character a little. There's also a breadth to the acoustic instrumentation that gives it a more cinematic and high-budget feel, with appearances from a Shankar guitar and an above-average span of percussive sounds.

It's exemplified by tracks like "Kraag", with its endearing melodic swagger. Final track "Waterloo" borders gently onto cheese with its plaintive trumpet leading into choral ahhhhh sounds. The two-note suspense work on "Laems"- possibly the National duolian, I have to admit I'm not sure- gives it a slight "60's spy theme" flavour.

Imagine Ennio Morricone and Acker Bilk collaborating on a spaghetti Western set in a cold Norwegian village, and you're somewhere near here. An unusual fusion of country and electronics with an emotively grey outlook.
Ambient / Electronica / Ethereal / Dub / Soundscapes / Abstract
Edit (10680)
The title and cover artwork of Daniela Orvin's album imply a private, prosaic and personal domestic environment that we certainly hear in the Bach piano notes and ambience of the opener "Prelude". But as the half-hour long album (arguably mini-album) unfolds, we are drawn into a more unexpected world. It's like a soundtrack for a slow-paced sci-fi love story, where early-era Tangerine Dream-style synth work rolls gently and positively over warm textures and pads.

Highlights include the expansive "Unexpected Coincidence" and the soft arpeggios of "Spring Came Early". The titular introspection gives us moodier pieces like "For Now" and the piano-centric "18,00 From My Balcony".

At times it's classical chillout music but built from synthwave-style ingredients, and it really works. The modest duration perhaps works in its favour. Orvin has been doing soundtrack work recently and on this evidence, her work should soon be in demand.
Ambient / Electronica / Ethereal / Dub / Soundscapes / Abstract
Edit (10677)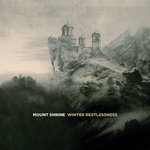 Artist:
Mount Shrine
Title:
Winter Restlessness
Format:
CD
Label:
Cryo Chamber
(@)
Rated:
Mount Shrine is a Brazilian project which releases an album which is presented by the label with descriptive words about a winter landscape and a journey to a place where someone can meditate. In other words, this is an ambient release where the focus of the composer is on the development of an atmosphere rather than on an evolution of the form.
The voices in the background that open "Winter Restlessness" introduce the listener towards an atmospheric and quiet ambient album where drones slowly evolve in a mid frequencies range so it's really close to classic ambient and the voice carries no real message but it's a way to let the music blend with the listener's environment. Even if it seems static at first sight, the sound nuances of "Moon's Distrust" constantly evolves. The crescendo of "The Silence Between Our Houses" is as predictable as evocative, so underlining the quality of the sound construction. "Foggy Deck", as its name suggests, alternates almost silents moments to droning ones. The field recordings of "Lifeless Indoors" creates an environment in which the listener find himself. "Exile" closes this release with a blurred drone which is gradually focused.
While it isn't adding anything new to a canonical form overtly in debt with the classic form of ambient, the quality of sound construction and the comprehension of the concept of this music ensures that a really enjoyable release is done. Recommended for fans of the genre.
Ambient / Electronica / Ethereal / Dub / Soundscapes / Abstract
Edit (10676)
Artist:
M. Geddes Gengras
Title:
Light Pipe
Format:
2 x CD (double CD)
Label:
Room40
M. Geddes Gengras' tenth release is a gentle fusion of synthetic ambient textures and soft, superslow melodic synthwave pads worked into long, slow and calm sonic baths that you can luxuriate in. Sometimes, soft plucked guitar or guitar-like sounds amble over the top, washed in reverb and sustain, evoking images of wide open spaces with just the faintest twang of electronica-meets-Americana.

"Irwin" is reminiscent of Jean-Michel Jarre's "Waiting For Cousteau" (the track, rather than the whole album), bubbling along through a broad environment with a strong sense of wonder and very formless melody, while the album's nearest orbit towards rhythm- manifested in subtle pulses and lower-pitched arpeggiating patterns- borders obliquely with the lighter side of soft techno, but with the emphasis on 'soft'.

There's a little bit of grit in certain pieces that differentiates these works from vanilla chill-out fare, for example the lo-fi atmospheric hiss that threads itself through "Cherise", or the rumbling growls that open "Water Study" which, if you've fallen asleep listening to this, might nudge you slightly towards nightmare- but these elements are relatively few and far between.

Fans of Moby's ambient works- particularly his more recent and indulgent sleep offerings- will find something worth wallowing in here, as will anyone willing or wanting to spend two and a half hours immersed in a warm and meditative fug that manages- just- to avoid most clichés and leave you feeling peaceful and refreshed- or asleep.