The talented Norwegian musician Hans Kjorstad (starting his musical path when he played the violin at the age of 7 in Fron in Gudbrandsdalen, a small Norwegian village, that has a lively folk music scene) recently established his personal imprint Motvind - as a sister company to the Motvind Festival - by releasing the debut album by Miman, a trio he founded together with Egil Kalman (playing double bass and synthesizer) and Andreas Røysum (playing guitar and a clarinet). According to the notes (...and we have no reason to not trust them!), these three folks recorded "Ulme" with the support of Magnus Nergaard over three days in March 2017 during which they improvised in front of a fireplace (as you can guess by the title of the first song "Omkring Ilden", meaning "around the fire") in a cabin in the woods north of Oslo. Wood and fire are important elements of the set, as it seems the musicians constantly gave voice to them by means of scratches, hits, creaking noises, which don't disturb the delicate melodies on which they pop out like fairy entities or maybe like those mushrooms in the sylvan undergrowth of the nice cover artwork. Such an aural organization, combining flakes of electronics and acoustics leaning on a ground of references to Norwegian, British and Indian traditional sonorities, is particularly clear on "De Vises Club", the more extended track of the album, but it's clear on the other tracks - where they often change the way by which they assemble sounds - as well, covering a wide range going from quite abstract and almost not-musical improvisations ("Torre", "Skarvor") and bluesy moments ("VÄgen Ut") to the pastoral delicate transcendence of "Walden" - a reference to the masterpiece by Thoreau? I recommend to enjoy it while driving over lovely natural sets, as I did while driving around the pre-Apennine areas close to Bologna if you like driving without fearing twists and turns! - and the lovely reverie of the closing "Plaums Draum".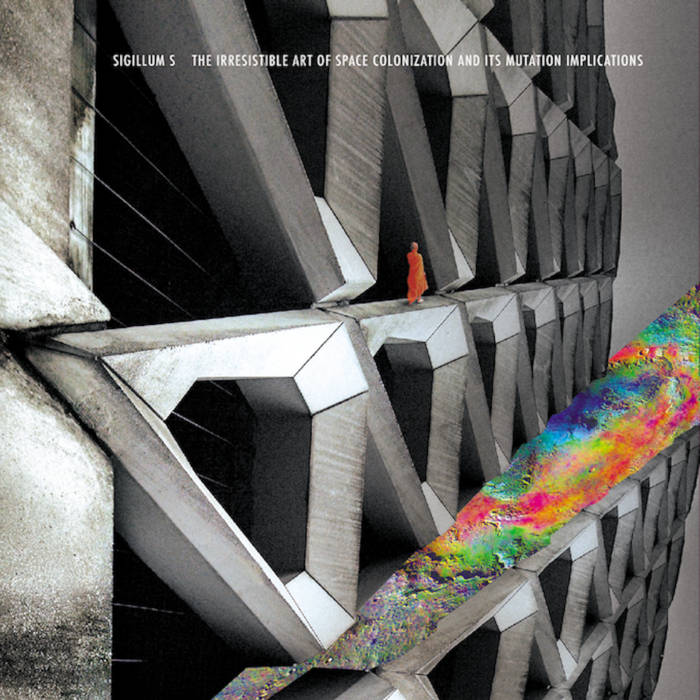 Artist:
Sigillum S
Title:
The Irresistible Art Of Space Colonization And Its Mutation Implications
Format:
CD
Label:
Transmutation LTD
Rated:
Sigillum S two years ago celebrated their 30th anniversary (one year later, because they started in 1985) by releasing three albums printed on CD, LP and tape. That moment was important for them not only because they raised the glasses to salute three decades of sonic terrorism and sound research, they also celebrated a new band member: Bruno Dorella. Bruno, owner of the label Bar La Muerte, is also member of the following bands: Bachi Da Pietra, Lava, OVO, Ronin and Wolfango. He started to play live with them but with the new album "The Irresistible Art Of Space Colonization and Its Mutation Implications", it's the first time that we have the chance to check how he helped Eraldo Bernocchi and Paolo Bandera to redefine their sound. As usual, the titles of the new album are recalling to me the works of people who had an impact on visual arts or culture in general: I mean people like Ballard, Burroughs, Cronenberg, etc. We have titles like "Occult Storage For Pan-Dronic Glossolalia", "Wrong Proto - Matter Gravitation", "Genetically-Engineered Insects", "When Comets Become Organic Households", "Through The Endless Streams Of Satellite Euphoria", etc. Musically Sigillum S always evolved and if on their beginning their music could have been defined as ritualistic and industrial, since early 00's they started to include into their music also elements of the sound that they had on their side projects. Eraldo played and collaborated with many people such as Mick Harris, Bill Laswell, Tony Wakeford, to name few and explored different genres from dub to guitar drone (as on his album under the Blackwood moniker). Paolo with Sshe Retina Stimulants, NG5361, Komplet his other projects and collaborations always explored the folders of noise electronic sounds. In my opinion, the album where they started to redefine their sound has been "23/20". It was featuring sound contributions from long time Sigillum S collaborators as well from artists they estimate. People like: Bill Laswell, Toshinori Kondo, Professor Shebab, SH Fernando and WordSound, Martino Nicoletti, Lorenzo Esposito Fornasari, ZU, Xabier Iriondo, Ephel Duath, various members of Crisis , Mark Solotroff, Thomas Fehlmann, Gudrun Gut, Andrea Marutti, Claudio Agostoni and many others. Anyway, let's start to talk about the new album. On this one, we have a sort of orchestral sound effect as we have several kind of sound layers, as well as several influences and I hazard to say that we have also a sort of melodic structure that wasn't really used before. All these layers are dosed in the mix, creating the effect of a whole orchestra using unconventional sounds. The kind of rhythms, ambient sounds, noises, vocals may sound familiar, but they have been used in a different way. Take "Through The Endless Streams Of Satellite Euphoria", for example: we have a dub bass, synth treated bleeps, a semi dub drum (I might be wrong but this is one of the few times that Sigillum S are using a real drum) and then a trumpet like sound. The first time I listened to this track I immediately thought about 23 Skidoo and I don't remember I ever thought about them while listening to Sigillum S. Sigillum S have been ritualistic but they never been "funk" and this has been a great surprise. We have the tracks mostly based on drones and noise and we have the ones where rhythm has an important part and it could be a normal drum, a treated one mixed with synthetic beats, it doesn't matter, because the tracks evolve and change one from the other. This is another thing that I liked a lot: the variety of atmospheres and sounds. A perfect example of what I mean could be the closing track "Celestial Heliocentric Cultures", which is the one that I felt connected to the cover made by Petulia Mattioli, because it gives me the impression of being influenced by Tibetan music but played by a mutant which filtered it with industrial soundscapes. It's like the cover: a Tibetan monk walking on a metallic landscapes made by an unknown species. The album will be out on the 14th of September on CD, LP and tape. https://sigillum-s.bandcamp.com/album/the-irresistible-art-of-space-colonization-and-its-mutation-implications
Ambient / Electronica / Ethereal / Dub / Soundscapes / Abstract
Edit (10622)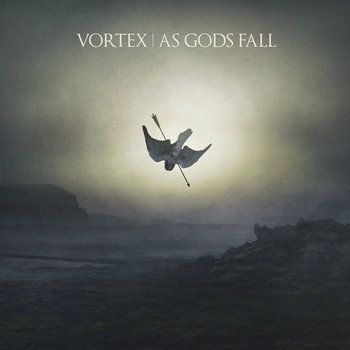 Artist:
Vortex
Title:
As Gods Fall
Format:
CD
Label:
Cyclic Law
(@)
Rated:
This release from the project by Marcus Stiglegger is the final part of a trilogy based on the Nordic mythology of the Edda used as metaphor for a world out of balance. This release features a bunch of guest which is a vital element of this release as they put other elements to the main framework which is essentially ritual dark ambient.
The first track, "Awakening", opens this release with a sort of harmonic chart introducing an almost martial second part and the blend of the two elements is rather evocative. "Awareness" is instead quite an instrumental neo folk track with the melodic line of the violin underlined by the rhythmic element. "War Is Coming" is a long track using a guitar line to incorporate metal element to the final result while "The Slain" is a quiet ambient track until the folk rhythmic element slowly emerges. The almost drone metal initial part of "Odhinn's Wrath" introduces a furious part based on drums and loops. "Hel On Earth" is a quiet ritual track with the use of harmonic chant and resonances upon a deep drone while "Valhalla" is a folk dance track upon a cinematic soundscape which emerges fully in the final part of the track. The ambient background of "The Priestess" is used for the female spoken words and "A New World" quietly closes this release with this lines of guitar and a final lullaby based on a glockenspiel.
The second CD is a collection of remixes which expose hidden elements of the tracks rather than be oriented towards dancehall and is a good companion for fans, even if it's somehow unrelated with the main CD.
"As Gods Fall…" is a remarkable release mostly because the great variety of influences which span from folk to metal is fused in a reasonably cohesive whole that maintain the listener's attention with apparently no efforts. Truly recommended.
Ambient / Electronica / Ethereal / Dub / Soundscapes / Abstract
Edit (10615)
Artist:
Lesa Listvy
(@)
Title:
Way Home
Format:
CD
Label:
Cryo Chamber
(@)
Rated:
Lesa Listvy is a Moscow based quartet which makes a large use of analogue tools and this it mirrored by the liner notes of this album. The history of tribe which return home, after a shaman persuaded them to go elsewhere, only to find nature fused with technology is a rather naive metaphor of a project which try to resist to the current trend of a genre plagued by the heavy use to digital technology used to create impressive sonic effect.
The first track, "Sunny Side", uses field recordings effectively in such a way drones merge in a cohesive whole bordering symphonic territories while "Reflection" uses the same framework in a more meditative way. "Evening by the Lake" is a more canonical crescendo based on drone's juxtapositions and "The Hedge" seems to follow the same steps when the introduction of a beat takes the track and reveals ambient house influences confirmed by the elaborated layers of "Obelisk" which create an evocative track and this musical direction is further confirmed by "Swarm" with its dub-like structure. The thick drone masses of "Lost Compass" mark a return to the dark ambient form and "Way Home" alternates ritualistic moments to ethereal ones. "Mechanism" closes this release with deep drones layered in the most canonical form of the genre.
This is a release which alternates canonical moments to more personal ones and reveal a project which is searching his own voice and it's a release that will be enjoyed by many with his variety. It's really worth a listen.
Ambient / Electronica / Ethereal / Dub / Soundscapes / Abstract
Edit (10613)
Artist:
Frore & Shane Morris
Title:
Eclipse
Format:
CDS (CD Single)
Label:
Spotted Peccary
(@)
Rated:
Frore & Shane Morris we're both new to me and after reading the press release I was a bit curious to see how well they would do because of comparisons to Vidna Obmana, Robert Rich and Steve Roach. That is some pretty big shoes to fill but o do have to say they succeed in walking those same paths while still standing out.

Eclipse is filled with 8 tracks most running right around 8-10 minutes a piece and lays down some excellent slow tribal drumming with some beautiful ambiance. It is very easy to throw the album on and zone out for the hour plus that this album runs and just enjoy the ride.