Ambient / Electronica / Ethereal / Dub / Soundscapes / Abstract
Edit (8143)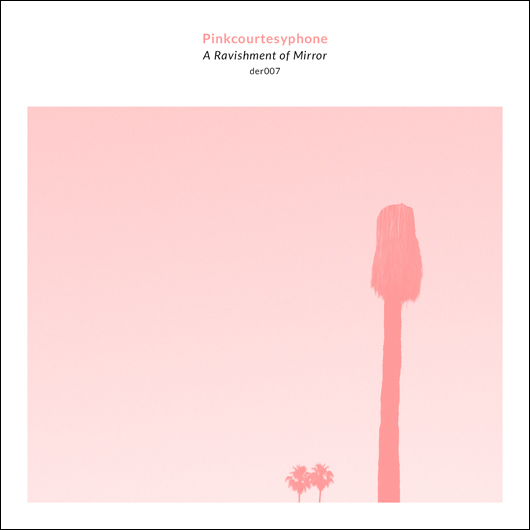 Artist:
Pinkcourtesyphone
Title:
A Ravishment of Mirror
Format:
CD
Label:
self-released
Rated:
This album is full of warm ambient tones that surround the listener, yet fall short of providing a lush atmospheric space. Instead, there is a pink noise that leaves one feeling unsettlingly enveloped by emptiness like a broken rain sound machine. According to the artist's statement, the album is supposed to be conceptually wrapped up in the plastic world that is Los Angele. Like a Tati film, its grand, ethereal criticism of the modern 'Hollywood' decadence is not at all lacking in humor. There is a sort of irony involved - like a New Age guru enticing the listener into meditation over reasonably priced self-help DVDs. This is not an album for a relaxing background soundtrack but rather an interesting experiment in binaural noise and concept.

Ambient / Electronica / Ethereal / Dub / Soundscapes / Abstract
Edit (8142)
Artist:
Bruno Bavota
Title:
La casa sulla luna
Format:
CD
Label:
self-released
Rated:
Upon first listen, Bavota's simplistic chord progressions and melodies appear to be rather trite and repetitive. This may be so ' however, upon closer look this simplicity is not lost on the listener who longs not only for something merely digestible but, also finds the moody environment of La casa sulla luna a meditative one. Even the album artwork is playfully stylized as if it were drawn directly from a children's bedtime tale. With each depression of the piano's damper pedal, one is drawn into the feeling of the performer - hushed tones and swelling melodies surround. This is precisely why I am loath to label this 'neo-classical' because its roots are firmly embedded in the Romantic tradition of the likes of Liszt ' whose own use of melody, at times, is that of simplicity wrapped in the grandeur of large tonal clusters. There are no deceptive cadences here and one can assume an entire piece's progression with confident assurance. The Italians have always possessed a nature of unabashed celebration of pure aesthetic experience without the weightiness of conceptuality as a burdening factor. While the notion of 'endless melody' is embraced here, this is no grand Germanic Gesamtkunstwerk - form and content merge with the playfulness of a Rossini. The album leaves just as it entered: without pretentious posturing of self-explanatory affect. It is as if Bavota has let his self flow freely, from feeling to fingers, bypassing 'heady' conceptual dwellings altogether.

Artist:
Pierre Alexandre Tremblay
(@)
Title:
La marée
Format:
2 x CD (double CD)
Label:
empreintes DIGITALes
(@)
Rated:
According to the words by Professor Pierre Alexandre Tremblay, "La maree" could be considered as a sort of collection of challenges between five different soloists and their antagonist, the loudspeaker, which trascends its possible reciprocity: "this uneven relationship is reminiscent of the fragility of sandcastles and other human constructions with their daily facing of the patience of the elements. Are these ephemeral joys many revenges over the ineluctable?". Right after you will have listened to the impressive dynamics of this "dialogues" between instrument and loudspeaker, you'll think Tremblay's one is just a rethorical question as the perpetual metamorphosis within each track could easily mirror the impetuosity of any kind of event, both "spiritual" or emotional and physical or natural, where the flair for real-time processing by Tremblay, who manages to move heaven and earth by quick and sometimes unpredictable sequences of dissonances and consonances, stillness and excitement, chaos and order, makes each composition really intense. The bass clarinet (played by Heather Roche) on "La Rupture Ineluctable", the opening track of the first of the two cds, let me think about some stuff by Colin Stetson, Wade Matthews or Joao Pedro Viegas before the strife against loudspeakers gradually escalates over awesome electric interferences and resonant discharges, and some similaraties with other electroacoustic experiments can be perceived in the last piece of the second cd, "Un Clou, Son Marteau, Et Le Beton', where piano tones got mingled with electric glops for an intense emotional soup by moving from vertiginous tumbles to suspenseful stagnations. The engaging soprano voice by Peyee Chen on the funny "Still, Again", which performs many great stunts and a sort of artistic manifesto about the controversial concept of "okeyness" amidst bouncing balls, plastique-like noises, malleable piano tones, electronic strokes and noise interferences, could be mirrored by some precedent in the wide field of experimental music, but Tremblay's explosive creativity culminates on the other two tracks where he also test two invented instruments: the most fascinating integration is maybe Baschet-Malbos piano, which was extensively used on the occasion of a number of celebrative performances for John Cage centennial in 2012. This fascinating instrument and its flower-like head of stainless steel and polycarbonate cones has been played by Sarah Nicolls on the highly cinematic "Le Tombeau Des Fondeurs", while Jean-Francois Laporte's Babel table elicits the labyrinthine vibrations on the tidal waves of "Mono No Aware".
Ambient / Electronica / Ethereal / Dub / Soundscapes / Abstract
Edit (8137)
image not
available
anymore
Artist:
Machinefabriek
(@)
Title:
Dubbeltjes
Format:
CD
Label:
Zoharum
(@)
Rated:
This album from Machinefabriek is a collection of tracks released in small editions or in compilations so they were, in some sense, collector's items. As he write in the press notes the "short playing time formats [...] are great to work with" as he can "experiment with and to create really focused, cristalised pieces". In fact, rather to be a classic compilation, full 3-inch cdr or 7" are entirely included as they are constructed as a single piece developed in movements; however they are not constructed with a complex structure but with an almost ascetic economy of means so they sound like complex pop songs.
The gentle guitar notes of "Huiswerk1" introduce the listener in a sonic world where electronic is not a synonym for coldness while "Huiswerk2" is subtler in his use of sparse noises. "Hilary" and "Jeffery" are focused on the manipulation of trombone's recordings but, while the first is more drone oriented, the second depicts a quiet soundscape. "Ontrafelde Tonen 1", "Ontrafelde Tonen 2" and "Ontrafelde Tonen 3" are mainly focused on voice and field recordings and they reveals a parallel between tones of the voices and the resonances of the recordings. "My Funny Valentine" and "Oh Doctor Jesus" are reinterpretation of jazz classic done with an almost romantic mood. "Ax" and "Eeuw" are soundscapes developed from loops and sparse notes. "Danse Des Loops" closes this release, as the title suggests, with rhythmic knits constructed by the loops and colored by samples.
An adjective as romantic is not usual to apply to work of this genre but one of the peculiar quality of Rutger Zuydervelt is to write abstract pieces that almost sound like songs. An enjoyable record for everyone.
Ambient / Electronica / Ethereal / Dub / Soundscapes / Abstract
Edit (8136)
Artist:
Anne Chris Bakker
(@)
Title:
Tussenlicht
Format:
CDS (CD Single)
Label:
Somehow Recordings
Rated:
Released in September 2013 Tussenlicht is Anne Chris Bakker's second solo recording (Weerzien, 2012), which I haven't heard so judging progression of sound or technique is not possible. Let me say first off that I was surprised that this CD played on what seemed to be the label side of the disk. It's just a black surface on one side and the silver surface on the other. Logic would demand playing the silver side but actually you play the black side. Freaky! Anyway, as far as the music is concerned this is an enjoyable example of Brian Eno inspired minimalistic ambience (even if she doesn't think she's copying him. These complicated webs of influence happen all the time in music). Music in a dream-state, consonant tones playing over a sound bed of droney electronic (I'm guessing here) loops. But this isn't as static in tonality as Eno's stuff is. There's the added dimension of location recordings to put the music in the real world, giving it a sense that there's a living, breathing person behind it all. If the music had been in a minor key it would have been sad and creepy, but it isn't. Just a bit of "slice of life," like staring out your window while the music is playing in the room behind you, the sounds of the neighborhood and the music reaching the ears at the same time. Something to listen to at the end of a long day to wind down, or on a quiet Sunday afternoon, sitting in a comfortable chair with your eyes closed. Nothing earth-shatteringly new (is that even possible anymore?) but I liked it.