Ambient / Electronica / Ethereal / Dub / Soundscapes / Abstract
Edit (10496)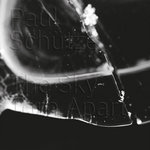 Artist:
Paul Schütze
Title:
The Sky Torn Apart
Format:
CD
Label:
Glacial Movements
(@)
Rated:
While it seems just another record of the genre as it's introduced by the usual liner notes speaking about more or less apocalyptic visions of worlds at the edge of destruction, it should be noted that the difference between important and avoidable release is how this idea is tied to the result. The idea of circularity between destruction and reconstruction here is depicted in a clear structure enhanced by the use of dynamics.
Small noises introduce a drone which ebbs and flows through the audial field and it's juxtaposed gradually by an emerging drone which acts as a canvas while the former acts a sort of time keeper. This lasts until a deep bass enters as a separator to a part where the elements begin to fade until a wide spectrum drone takes the listener's attention and underlines the small noises that continues and acts as a glueing elements of the whole composition. Then, the second part of the track is a gradual descending towards silence which is only broken by the small noises which close the track in a perfect circle.
The clear structure of the track highlights the remarkable work on the sound details which introduces the listener into a realistic and immersive environment without any indulgence to a trivial evocativeness of a special effect. Recommended.
Toronto-based percussionist Debashis Sinha here draws on his South Asian-Canadian cultural heritage, taking a broad variety of acoustic and organic percussive elements and drawing them out into expressive and experimental pieces that blend jazzier Asian musical sounds with longer, more Western avantgarde soundscaping models. It reworks material from a live concert and previous work in audiovisual projects and film scores, though unless you're already familiar with the material you wouldn't know it, though it does help explain the diverse and arguably disconnected breadth of the material.

While some tracks like opener "Empyrean" and closer "Reverie" are quite thickly layered, textured and fairly jazzy, other pieces like "entr acte" are decidedly minimal, showcasing the live freeform percussion work by accompanying it only with gentle hums.

The English-language poetry that cuts in on "Thrum" is something of a shock to the system and not necessarily a welcome one in terms of atmosphere and meaning, before it unfolds into a really rather pleasant and glitchy pulsing electronica affair with an infectious and underused bassline that is reminiscent of some The Orb tracks. "Harmonium Part III" takes a minimal techno form in tripped-out directions, a direction which is pursued deeper and to great effect in "Part IV" which is a mesmeric track but does feel like it has lost sight of this album's initial root.

It's certainly a unique recipe of sounds, perhaps a little disjointed and confused in purpose at times but certainly an intriguing journey of a listening experience.
Ambient / Electronica / Ethereal / Dub / Soundscapes / Abstract
Edit (10485)
Artist:
Jeff Greinke
(@)
Title:
Before Sunrise
Format:
CD
Label:
Spotted Peccary Music
(@)
Rated:
'Before Sunrise' marks the 20th solo album for ambient artist Jeff Greinke, not counting his collaborations. It's a shame that a number of them are out of print, although there have been some reissues. I first experienced Greinke's work in the late '80s to early '90s and so am familiar with only a handful of his recordings. What I liked about them is that they seemed dark and arcane at the time; not dark in a Robert Rich or Lustmord sort of way, but less conventional ambient than what others in the genre seemed to be doing then. If you've been out of touch with Greinke's music as well, you will find that it has evolved into something quite different, yet not without retaining the flavor and texture Greinke is known for. Greinke's crepuscular vision of 'Before Sunrise' is a rich tapestry of acoustic instruments played by guest players (Greg Campbell- French horn, vibraphone, hand drum; Lesli Dalaba- trumpet; James DeJoie- clarinets, saxophones, flutes; Alex Guy- viola; Paris Hurley- violin; Austin Larkin- viola, violin; Dylan Rieck- cello) combined with Greinke's signature electro-acoustic atmospheres and keyboard improvs. It's an impressionistic kind of ambient, fairly well removed from the New Age melodic ambient you might expect to hear with orchestral instruments combined with synthesizers. This is a pretty deep work with a number of moods and soundscapes explored over the course of 8 tracks in 57 minutes; everything from rumbling darkness to splinters of moonlight piercing through a many-layered forest of sound, to sparkly fairy lights. By its nature, 'Before Sunrise' has an aura of melancholy mystery to it that always seems to be evolving. It is almost hard to believe that the music has been largely improvised as the instrumental coordination is so stellar that it often seems as though there had to have been some rather complex arrangements in places. The layering of atmospheres is extraordinary in its richness, yet nothing is buried. Rather than overtake Greinke's atmospheres, the acoustic instruments enhance it and add their own piquancy to what is already a pretty heady stew. 'Before Sunrise' is a trip well worth taking, and is intriguing enough to warrant multiple replays.
Artist:
Tantric Doctors
Title:
Karesansui
Format:
CD + Download
Label:
Focused Silence
"Karesansui" is Sheffield (UK)-based electronic and jazz musician Adam Woolf's single-track, 45-minute improvised work inspired by Japanese stone gardens. Through a process of overdubbing, he lays up freeform clarinet, alto sax and soprano sax lines over electronic pulses, impromptu and often patternless glitches and lumps of low analogue synth noise.

The jazz elements are cold and largely shapeless, and on their own, might become ingratiating over the course of three quarters of an hour. It's the electronic underbelly of this release, counterpointing the jazz elements and shifting them into an alienating environment full of unexpected punches and whirrs, that keeps things ticking along and keeps you engaged for the most part. Even so, the seeming lack of progression, form or chapterisation across the work does begin to get tiring towards the end. Like sitting in a relaxing garden for a long time, the environment itself is only half the experience of being there.

It's intricate in parts but something of a listening commitment- though I don't mean that as harshly as it might sound. It's an unabashed bit of experimental avantgarde jazz coupled with strong electronic sounds, unashamed to be solely what it is, or to be targeted at people already predisposed to appreciating it. It's unlikely to find a broad audience, but hopefully it will reach enough people who will revel in it.
Ambient / Electronica / Ethereal / Dub / Soundscapes / Abstract
Edit (10472)
Artist:
Glyn Bigga Bush
Title:
Sunken Foal Stories
Format:
LP
Label:
Schamoni Musik / Lion Head Rec.
Glyn Bush's long CV includes Rockers Hi Fi and Original Rockers, but for a release under his own name, he's gone for something a bit bolder and more introspective, concentrating on a very raw and broad-stroked approach to sampling spoken-word broadcast material and musical snippets and building and layering them into short sonic vignettes and brief jazzy grooves.

In a way it's like jumping back to the late 80's or early 90's when wholesale sampling was still a novelty, recalling Negativland works or the interludes in Art Of Noise albums. This is reinforced by details like the speak-and-spell voice on "Theme from The Tincleton Now" and the analogue tape-like quality of some of the spoken word sources.

The strongest tracks include "Teahead Of Time", the TV-sync-friendly "Carnaby Street Caper" and the slightly more conventional electronica formed around string samples in "Speltre Flecks".

The abruptness and edgy construction of these pieces lead to a bit of a patchy experience overall, a release that never really 'gets going' as a half-hour listening experience but which has an endearing energy that will be enjoyed by people with fond memories of those simpler sampling times.