Artist:
Martijn Comes
(@)
Title:
Infinite Spaces and Beyond
Format:
CD
Label:
IO Sound
(@)
Rated:
Some sizzling synth-driven frequencies, frothy dilations and sonic meteroids on the opening track "Memory Field" fire up the engine of the musical starship by experienced Dutch sound artist Martijn Comes. Careful and erudite listeners will supposedly recognize many well-known musical astral bodies while watching out of its portholes, such as the electronic archeostructures by The Orb, the psychedelic extrusions by Future Sound London, Pete Namlook's intergalactic overdrives or some acts of synth-pop, ambient-dub and techno-ambient, but they will soon surrender to the attractively elongated "fields" by this gut, who managed to wrap his overdrive of electronic dub, techno-throbbing sponges, fluffy ambient by catalytic orchestral stoles and sometimes unpredictable dynamics: for instance, the cathedral-like space organs of "Silent Field" will let you foretell the follow-up of the track just after Martijn adulterates it by a pitching, which fosters a sort of alchemical transmutation into a progressive techno combustion or the marine inputs in the beginning of the final "Ultrasonic Field" has no apparent connections with the magnetic gargling plain chant and the ancestral radiofrequencies at the end of the suite. Martijn wisely turns each track into adventurous listening experiences by occasional aerostatic interruption and gorgeously cadenced mutations, which become proper sonic traps on the almost mystical suite "Electric Field" and on "Mirrored Field", which could resemble to some late 90ies techno-trance dry stuff such as Dr.Numa, Zen Paradox or Koen "Starfish Pool" Lybaert. This breathtaking sidereal journey has been asterfully mastered by Taylor Deupree.
image not
available
anymore
This album is a reissue of the first CD album of this project, conceived as a 'mail art music' and recorded on a 4-track cassette, featuring a bunch of collaborations with people like Vidna Obmana and Pier Luigi Andreoni. The result is an essay on post-industrial and ambient music of undoubtable charm.
From 'A Door to Perception' to 'Coda' this album is focused on loop and just intonation singing as in 'the Garden at the Sea'. 'Ritual for Quetzal Coatl' is the center of the work as it juxtaposes the loop and the beat with a sort of field recording of ethnic flavor. 'The Man with No Shadow' features samples perhaps taken from japan movie. This release features also a bonus cd with more experimental tracks like 'Saxapulations' where sax samples are layered and juxtaposed and 'Girl hunter: Dabide no hoshi: BishÃÃÃôjo-gari' where film samples are in a dialogue with classic japan instruments like koto marking a departure from the atmosphere of the other tracks.
Even if it's a really long release, almost two hours and an half with his bonus, there's no fill-in or boring interludes, it's full of ideas and surprises so it's strange that it's so underrated when there's some books about ambient music. A gem rediscovered.
Artist:
Quentin Hiatus
(@)
Title:
It's Only
Format:
CD
Label:
Free Love Digi
Rated:
According to his own biography, "earthborn children told stories and called him Beastman, scurrying into the night in fear of him. As the years past, he cultivated the Solo System and emerged from the wild, determined to Experience the Mysterious. Guided by the great master Sophos, he mastered the art of Formtranse". Besides his imaginative description and the somewhat mythological parthenogenesis, Quentin "Hiatus" McFadden's music has really neither beastial nor divine traits. Quentin's dexterity with bass-driven rhythmical contraptions could let you think he comes from UK, the homeland and the meeting point of many talents of the scene; his headquarters are actually in the heart of US, Arizona, an almost unknown scene that Quentin is tryng to display by means of his own label, Free Love Digi, by which he also launches this full-length album after a series of tidbits with the imprint of some underground labels. Even if it could sound like a stretching of the point, its "Americanism" could gathered by the way he chews percussive elements like they were chewing gums that he inflates out of his brain by airy sonorities. Some tracks of his album such as the title track "It's Only" or "Digress" are so breezy that could be rather matched with some old chillign entries from mainly German sound jugglers and his mania for heavy "spacialization" of sound could be linked to another (stereo)typically American mania and source of pride, the conquest of space, so that some tracks like the lovely dedication to so-called Def Poetry in the middle of the album, the bouncy sidereal drumstep on "Unexpected Red" or the synth-propelled whirligigs on "Behaviourism" could sound like the sonic mirroring of space walks on board of a starship, whose shields got constantly hitten by space debris. The fluorescent blood from the scarred sniggering heart on the cover artwork spilled delightfully listenable lymph out.
Jens Berents Christiansen's brainchild Rumpistol is one of the few projects that makes progress without deteriorating or messing around by licking fashionable sonorities and this album is the most convincing patency that he has not scattered his creative forces that marked his merriest first steps. All tracks, whose titles start with A, on "Away" reveal that chromatic luxuriance of his gentle style, which wisely blends IDM, dub, techno, broken beats, downbeat and even jazz and modern classical spurts, but manage to pierce through mature topics such as soul drifting, loneliness and alienation, which got remarkably depicted by means of piebald sonic springs: the danceable carousel of hypnagogic clots of "Asleep", the volatile vaporizations of "A Glance", which could resemble to some stuff by Royksopp, the tamished bespeaking of borderline urban living of "A Town", the electronic dub swarms of "Allahbad", the lovely sullen cycloids of "A Fall", the abulic slow-motion of "Amar", the lovely a-whirl dub of "Adrift", the abraded mellowness of the song "Away" which features a lovely duet by Red Baron and Katherine Mills Rymer (OOFJ) and the emotional intensity of John LaMonica's singing on the final track "Atacama", which vividly evokes the coastal desert place between Chile and Peru, the driest non-polar desert in the world.
Ambient / Electronica / Ethereal / Dub / Soundscapes / Abstract
Edit (8143)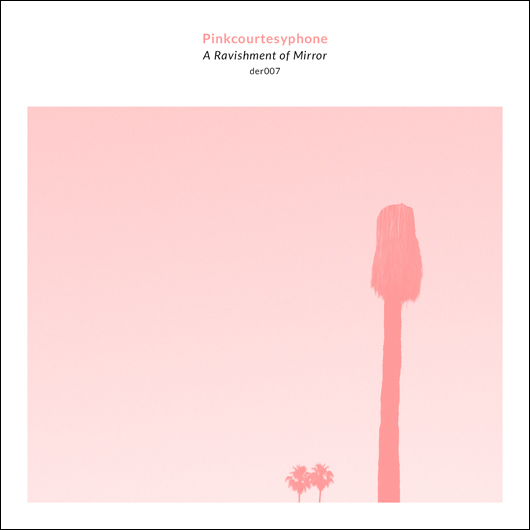 Artist:
Pinkcourtesyphone
Title:
A Ravishment of Mirror
Format:
CD
Label:
self-released
Rated:
This album is full of warm ambient tones that surround the listener, yet fall short of providing a lush atmospheric space. Instead, there is a pink noise that leaves one feeling unsettlingly enveloped by emptiness like a broken rain sound machine. According to the artist's statement, the album is supposed to be conceptually wrapped up in the plastic world that is Los Angele. Like a Tati film, its grand, ethereal criticism of the modern 'Hollywood' decadence is not at all lacking in humor. There is a sort of irony involved - like a New Age guru enticing the listener into meditation over reasonably priced self-help DVDs. This is not an album for a relaxing background soundtrack but rather an interesting experiment in binaural noise and concept.