Ambient / Electronica / Ethereal / Dub / Soundscapes / Abstract
Edit (8177)
Artist:
Christina Vantzou
(@)
Title:
N°2
Format:
CD
Label:
Kranky
(@)
Rated:
Four years of pernickety efforts by Greek video artist Christina Vantzou resulted into a breathtaking release, her second solo one as you can easily gather from the title, which managed to delight my eardrum and titillate my mind even more than her debut. Although her main collaborators are the same of her "n.1" - Minna Choi, founder and music director of Magik*Magik Orchestra, who helped Christina for notation, arrangemnets and recordings with a 15-piece ensemble at Tiny Telephone studios in San Francisco, and Adam Bryanbaum Wiltzie (Stars of the Lid/A Winged Victory for the Sullen), Christina's former partner-in art for The Dead Texan, who premixed the album and added some personal sonic embellishments at his studio in Brussels -, "n.2" sounds more airy and mused to me: each track features a grandiose pace as if she managed to render the thickening of lightening insights or the gradual spiritual glimmer by peronsal moments of truth, even when the refulgence of her sound goes through dimmer transitions on tracks like "Going Backwards to Recover What was Left Behind" or "Brain Fog". Orchestral strings act like enzymes for this fainting enlightment, but the most astonishing moments of the album ("Vancouver Island Quartet". "Sister". "The Magic of the Autodidact") occur when Christina dilutes trilling mermaid-like warbles into expanding ethereal and emotional funnel clouds, which gently push dramatically cinematic pearls towards blissful transcendence.
Even if some sonic glint vaguely keeps a certain percussive ruggedness and the cover artwork could be a reference to "Songs About My Cats", listeners who mainly know Aaron Funk and his hard-edged outputs in the guise of breakcore sorcerer Venetian Snares could be surprised by his epiphany on this collaborative project with Toronto-based producer and music artist Joanne Pollock. They mainly recorded and created the music of Poemss in Aaron's house in Winnipeg, but the dwelling of their music has no walls and nophysical location at all: according to their own words "this record seems less rooted in a particular place or time, and seems more to be born out of out thoughts, dreams, and reflections" as it's clear since the beginning when the hoarse voice by Aaron and the gently pitched one by Joanna sing about the "hair follicle of an ancient pony, who was once known to save the children in distress" on "Ancient Pony". A delicate and somewhat childish reverie drenches the first part of the record and reaches the top on the fluffy whispered lullaby "Bedtime", which follows "Heads on Heads" where their music sounds like bouncing between IDM and Human League-like synth-pop within a zero gravity nursery room. The bouffant synths of "Moviescape", one of the most cherubic moments of the album, vividly mark the doorway into Poemss daydream, which carries on proper musical pearls such as the lovely lasing into the ecstatic rapture of "Miles Away", the sweet duet of "Gentle Mirror", where you're not sure if Aaron and Joanne sings "I could be your lie" or "I could be your light" as if they rendered the intimate duplicity that got evoked by the title-track, the analogue edulcoration on "Think of somewhere Nice", the metronomic heartbeats and their knotting to dream states of astonishing songs like "Losing Meaning", Hall Of Faces" and the intense emotional warmth of the final track "Think of Something Beautiful". After this master stroke, which follows Heterotic, the project by label boss Mike Paradinas and his partner-in-life and partner-in-art Lara Rix-Martin, I could conjecture that Planet Mu proved the point that the combination of masculine and feminine musical souls and their reciprocal "levelling" can result into really good outputs.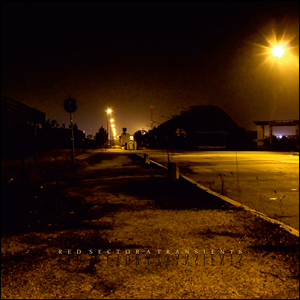 Artist:
Red Sector A
Title:
Transients
Format:
CD
Label:
Silentes
(@)
Rated:
Active since the mid 90s, Red Sector A, released four albums for Minus Habens where ambient dub was meeting techno rhythms. Under the Subterranean Source moniker, Andrea Bellucci, the guy behind Red Sector A, released two CD albums in the U.S. Desolation House, a Relapse sub-label and before starting the Red Sector A, he was active in the dance scene as composer. 'Transients' is Red Sector A's fifth album and the first for Silentes. On this one, Andrea, is bringing to fans of electronic music, ten new tracks born in collaboration with many well known musicians of the Italian and international scene. Andrew Lagowski, Teho Teardo, Retina.it, Dean Dennis (ex Clock-DVA), Giorgio Ricci (Templezone), Eraldo Bernocchi (also member of Sigillum S) and Fabrizio Modonese Palumbo of Larsen joined him helping enriching his sound. Listening to "Transients", I can't tell exactly what the guests did as their contributes are merged into the strong rhythmical texture which is the main element on the mix. We have a sound built by different layers which interact but kinda live on their own, also. As I said, the rhythms are king as there are so many beats made using glitching sounds, drums, synth noises that at first listening, those are the first thing that pops out. Under that, there's an underworld made of drones, tiny noises, loops and stuff that you'll discover them little by little. Also, you'll notice the clean mix which is helping listening to every sound. If you love i.d.m. as well as sound research and Warp, Rephlex are two labels you love, "Transients" is an album you'll enjoy.
Artist:
Emanuele de Raymondi
(@)
Title:
Ultimo Domicilio
Format:
CD EP
Label:
ZeroOKilled Music
(@)
Distributor:
Rough Trade
Rated:
Process scheduling of music market is sometimes unintelligible to me as the second release by Italian sound artist Emanuele de Raymondi arrived weeks after its release date. Anyway such a delay cannot prevent me from advise it after we appreciated his debut album "Buyukberber Variations" a couple of years ago, where he delvered some improvisations by Turkish clarinet virtuoso Oguz Buyukberger by discosing a remarkable "fluency" with different musical languages. On "Ultimo Domicilio" (Italian for "the Last Domicile"), Emanuele's sonic arts got interlaced with the photographic set by Lorenzo Castore, who developed the concept of individual and collective memory (or I'd rather say individual and collective oblivion...) by some snapshots taken inside 5 forgotten or abandoned domiciles in 5 different towns (Finale Ligure in Italy, Fontenay in France, Brooklyin, Sarajevo and Krakow). His pictures got assembled in a 18-minutes lasting documentary by Daniele Spano', while the musical translation of these five places got committed to Emanuele: his meticulus textures of samples, piano and guitars - in-between chamber music, acousmatic and ambient - manage to render the overlap between places and non-places of memory and oblivion as well as the emotional core of memories by alternations of lulls and "waggles" of different sonic inputs, as if he tried to translate the effluence or even the metempsychosis that emanate from portrayed objects. Check out the documentary on the web in order to have an idea of the relevance of his sonic cameos.
Ambient / Electronica / Ethereal / Dub / Soundscapes / Abstract
Edit (8168)
A long-time presence on the ritual ambient music scene, Hybryds latest release, 'The Silent Whisper', continues to supply dark, industrial-strength sounds that are "sometimes harsh and bleeding and sometimes soft and gentle.' Based in Belgium, Hybryds consists of Magthea , the original founder (also known as Sandy Nijs), TraumaSutra (Peter De Koning) and vocalist Madeline Arnt. Dark Poem, another Belgian cult band personality, also appears as a vocalist on selected tracks. The music of Hybryds typically consists of deep, mysterious rumblings in the lower registers along with vocals or narration by Madeline Arnt and this combination is consistently effective. The feeling of this music is otherworldly, and sometimes harsh, but it does succeed in evoking a sense of intentional spirituality that is rare in our consumer-driven contemporary culture. The tracks range from smoothly accessible, as in 'Wheel of Life', to strongly primal, as in 'Garden of Dreams'. All of the pieces on this CD exhibit a strong sense of balance between the electronics and vocals, no doubt the result of a long collaboration between the members of Hybryds. 'Silent Whisper - Part 1&2&3' is probably the most impressive track artfully combining a variety of alien sounds, vocal chanting and saxophone into a convincing amalgam. The singing of Madeline Arnt stands out on this CD, but the percussion and electronic sounds are always well chosen and the mixing is excellent. 'The Silent Whisper' is perhaps best understood when the listener imagines himself in a small Berlin after-hours club on a summer evening ' hearing Hybryds perform live would be a powerful experience.