Ambient / Electronica / Ethereal / Dub / Soundscapes / Abstract
Edit (3960)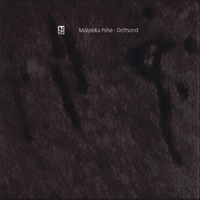 Artist:
MOLJEBKA PVLSE
Title:
Driftsond
Format:
CD
Label:
Gears of Sand
Rated:
Those into droning ambient, both dark and ethereal, should be well acquainted with Mathias Josefson's creature by now, given the amazing quality of his releases on Cold Meat Industry, Eibon, Segerhuva, Fin de Siècle, Mystery Sea etc. This new full-length work is released on high-quality, you-wouldn't-tell-it's-a cdr by Ben Fleury Steiner's Gears of Sand imprint, which makes perfect sense, as both artists have deeply investigated the potential of guitar-generated soundscapes. Unlike many of MP's recent releases, which incorporated lots of manipulated field recordings and even voices, this is a pure guitar drone work. Think of vast drones and tones of resonating strings, probably played with an ebow and filtered with an array of pedals. As simple as that, but less is more in this case, as the four tracks have a constant intensity and quality which is often lacking in releases of this genre. Fans of the most abstract, less "rock" (ahem!) side of Fear Falls Burning, Troum, etc. should go & grab a copy of this for sure.
image not
available
anymore
Wow, I think I deserve some respect here since before writing the final review of this dvd I've been watching it at least three or four times which in my book means I've given it lot's off attention!. The fact is the work and the concept behind it is to say it all: majestic, I dunno if you remember the whole tragedy of the russian sailors left choking in the dept of the sea but I've seen a couple of documentaries on it and I remember quite well the whole disaster. The other reason why it took me so much to digest the dvd is that not only the project is ambitious, but the final result is equally complex, infact the dvd featues some extras where Mimmo explanes how they've approached this work. To prevent you from thinking this' gonna bore you to death, I've to say according to my personal taste that's one of the most interesting releases on Amirani. While most of the original sources for the visual part are well assembled I'm not completely convinced about all the effects used in the process of elaboration of the images, but that doesn't mean it won't leave you dry. Though the primary "voices" involved in the realization of this soundtrack are soprano sax and trombone, the electronic insertions are really well calibrated and help dying neutrally every act of what sometimes has the feature of a theatrical play (a drama indeed). There's something beautifully old fashioned in the music played for the score and surprise, surprise: differently from what one may expect it's not sad or dark, but that's also what I find it's really personal of this work. With the exception of the electronic parts of the record, which usually are non intrusive and discrete, our "horn" duo ranges from abstract melodies to barely classical movements eluding the jazz background of Contini and Mimmo. Funny cause what initially could be a dangerous choice reveals to be the most unconventional decision and at the end of the dvd I've happened to think that they've given much more power to the images and to the story plot. The music has its autonomous life even when separated by its soundtrack essence and that's good, by the way the majority of the "movements" are subsequential thus it's quite different from those soundtrack where you have a recurring theme or songs that can be isolated from the whole musical context. Good work and above all music wise an enchanting release.
image not
available
anymore
Artist:
LUCA FORMENTINI
(@)
Title:
Tacet
Format:
CD
Label:
Extreme
(@)
Rated:
After Australians, Americans and Japanese, Italians are doing their best to increase their ethnic weight between the ranks of Extreme records and Luca Formentini follows Claudio Parodi, by the way even if both those country fellows can be ideally filed under "drone" music, the nature and the final result of the two works are quite far one from each other". Formentini has an candid old school ambient/visionary approach that I'm sure many of you (me included) will appreciate. While remembering you "old school" doesn't imply always: "surpassed", Formentini's refined effort will kill those who loved the most inspired Eno, David Torn (minus some of his old fashioned fusion reminiscences), the most sober Laswell and many beautiful documentary soundtracks you may have (or have not) heard once in your life. I'm tented to say this could be a sophisticated atmospherical release with a ECM, Axiom cut (no, it's nit dub). Don't worry, I know for many of you ECM (and Axiom) has become just a synonym for "chic music for pretentious bourgeois intellectual wonnabes", but I've to admit myself they still put out interesting records every now and then. For what it's worth Luca has some celebrities featured on this cd: Markus Stokhausen (son of such a father but great musician himself!), Sylvian's own Steve Jensen that surely have enriched what already was an intense release just to name the most famous. By some means I wish I've been able to express this guitar driven songs are in some way close to "classic ambient" but scout's honour: if that's the so called classicism is more than welcome! The fact is Formentini has simply exploited a pre-existing "language" but he manages to be both lyrically evocative and touchy thar makes the difference. "Tacet" is warm and has the undoubtful quality to make you feel relaxed both when the mood of the track is sad and when we have something close to the softest/diluted evolution of Miles Davis (Nordic jazz anybody?). While many of his contemporaries fall while looking for the coolest sound, Formentini is more absorbed in the search for interiority and you can hear it. I know I may sound dumb for writing this but after many listening I couldn't but think how Wenders' "Until the end of the world" wouldn't have been such a bore with a soundtrack like that. Nothing can better describe "Tacet" but relaxing.



Ambient / Electronica / Ethereal / Dub / Soundscapes / Abstract
Edit (3952)
image not
available
anymore
Artist:
Erdenstern
(@)
Title:
Into The Dark
Format:
CD
Rated:
After three very interesting releases, covering each a specific color and theme, it was about time Erdenstern explored the dark. When I heard speak about a 4th album of the band I was not all that thrilled to be honest. Small weaknesses on the other releases have been the lack of variation. Even though it has been but small holes in the otherwise magical armor, it made me not so thrilled.
Going into an album that way as a journalist is a good thing. What I hear on this new Erdenstern album is the without a doubt best Erdenstern album up to date. As the other releases have been very good this album put the band in the top of the food chain!
The pure darkness, variation, wonderful choirs, good horror mood, great chants, rituals and atmosphere is what make this album so alive. This even though it´s an album about death.
This time the melodies have taken a step back and instead made way for more experimentation and pure good old horror feel. Still with a freshness and high standard as Erdenstern is known for.
At times this wonderful album tend to be a little too much background music for my taste but as the band wants to do music for RPG games that is intentional and it works!
The artwork is high class but I did not like the pictures of the members. Nothing against them as persons at all but the photos and the way they were inserted is not so good. Comments on the back about being a small label and telling people to not "rouge or pirate".
What I really love with this album and band is the precision which they keep within a set out border! Sometimes with Erdensterns releases you think it is music to a film. They even work with themes or at least very similar melodies. That could be a bit too much but here it is done with more skill than before and with more care to details. I really enjoy listen to this album and if you like fantasy music you should check this one out. You should also (for the first time maybe) get a really good kick out of this album if you like dark ambient. A band such as Shinjuku Thief comes to mind.
Good work Erdenstern!

Artist:
SYNAPSCAPE
Title:
Now
Format:
CD
Label:
Ant-Zen
(@)
Rated:
One of the veteran acts signed to world-wide renowned Ant-Zen label returns with its sixth full-length album (without counting their various collaborations in between...): SYNAPSCAPE, hailing out of Bielefeld, Germany. And what has started 12 years before, finds once again a remarkable and unique continuation. Tim Kniep and Phillip Münch have produced 13 remarkable tracks (okay, only 12 tracks although the art lists 13 tracks...) reflecting different influences, while still remaining their own authentic style. Already the opening instrumental tune "Hormona" takes influences out of Electronica and IDM-influences, while only offering a slight distorted outfit. The speed to offer the best possibilities for some dancefloor action is richly given with tracks like "Tale", "Relate", "Blades" and most of all "Bodies". Besides the heavily use of polyrhythmic distortion elements and strange manipulated synth texture, all of these pieces feature Tim Kniep's alienated and distorted vocals – the fact that they like to integrate the factor "human" to their music makes them even more unique. This is welcomed and a side-kick to all related and mostly instrumental-producing Powernoise-acts offering repetitions. The track "Espionage" then deals with some Dark Ambient influences by using ominous and atonal synth textures, another remarkable piece. Although that SYNAPSCAPE have lost through their long career a bit of aggression of their early works, this release still holds a lot of hard cakes to bite. But besides all this, it still gives a lecture to acts producing the repetitive Harsh EBM formula featuring annoying voice-samples and a loop-based kind of work. Thumbs up once again for the prove that Powernoise can be diverse but also intelligent and attractive.