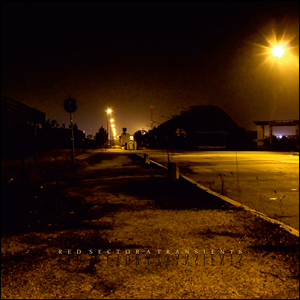 Artist:
Red Sector A
Title:
Transients
Format:
CD
Label:
Silentes
(@)
Rated:
Active since the mid 90s, Red Sector A, released four albums for Minus Habens where ambient dub was meeting techno rhythms. Under the Subterranean Source moniker, Andrea Bellucci, the guy behind Red Sector A, released two CD albums in the U.S. Desolation House, a Relapse sub-label and before starting the Red Sector A, he was active in the dance scene as composer. 'Transients' is Red Sector A's fifth album and the first for Silentes. On this one, Andrea, is bringing to fans of electronic music, ten new tracks born in collaboration with many well known musicians of the Italian and international scene. Andrew Lagowski, Teho Teardo, Retina.it, Dean Dennis (ex Clock-DVA), Giorgio Ricci (Templezone), Eraldo Bernocchi (also member of Sigillum S) and Fabrizio Modonese Palumbo of Larsen joined him helping enriching his sound. Listening to "Transients", I can't tell exactly what the guests did as their contributes are merged into the strong rhythmical texture which is the main element on the mix. We have a sound built by different layers which interact but kinda live on their own, also. As I said, the rhythms are king as there are so many beats made using glitching sounds, drums, synth noises that at first listening, those are the first thing that pops out. Under that, there's an underworld made of drones, tiny noises, loops and stuff that you'll discover them little by little. Also, you'll notice the clean mix which is helping listening to every sound. If you love i.d.m. as well as sound research and Warp, Rephlex are two labels you love, "Transients" is an album you'll enjoy.
Artist:
Emanuele de Raymondi
(@)
Title:
Ultimo Domicilio
Format:
CD EP
Label:
ZeroOKilled Music
(@)
Distributor:
Rough Trade
Rated:
Process scheduling of music market is sometimes unintelligible to me as the second release by Italian sound artist Emanuele de Raymondi arrived weeks after its release date. Anyway such a delay cannot prevent me from advise it after we appreciated his debut album "Buyukberber Variations" a couple of years ago, where he delvered some improvisations by Turkish clarinet virtuoso Oguz Buyukberger by discosing a remarkable "fluency" with different musical languages. On "Ultimo Domicilio" (Italian for "the Last Domicile"), Emanuele's sonic arts got interlaced with the photographic set by Lorenzo Castore, who developed the concept of individual and collective memory (or I'd rather say individual and collective oblivion...) by some snapshots taken inside 5 forgotten or abandoned domiciles in 5 different towns (Finale Ligure in Italy, Fontenay in France, Brooklyin, Sarajevo and Krakow). His pictures got assembled in a 18-minutes lasting documentary by Daniele Spano', while the musical translation of these five places got committed to Emanuele: his meticulus textures of samples, piano and guitars - in-between chamber music, acousmatic and ambient - manage to render the overlap between places and non-places of memory and oblivion as well as the emotional core of memories by alternations of lulls and "waggles" of different sonic inputs, as if he tried to translate the effluence or even the metempsychosis that emanate from portrayed objects. Check out the documentary on the web in order to have an idea of the relevance of his sonic cameos.
Ambient / Electronica / Ethereal / Dub / Soundscapes / Abstract
Edit (8168)
A long-time presence on the ritual ambient music scene, Hybryds latest release, 'The Silent Whisper', continues to supply dark, industrial-strength sounds that are "sometimes harsh and bleeding and sometimes soft and gentle.' Based in Belgium, Hybryds consists of Magthea , the original founder (also known as Sandy Nijs), TraumaSutra (Peter De Koning) and vocalist Madeline Arnt. Dark Poem, another Belgian cult band personality, also appears as a vocalist on selected tracks. The music of Hybryds typically consists of deep, mysterious rumblings in the lower registers along with vocals or narration by Madeline Arnt and this combination is consistently effective. The feeling of this music is otherworldly, and sometimes harsh, but it does succeed in evoking a sense of intentional spirituality that is rare in our consumer-driven contemporary culture. The tracks range from smoothly accessible, as in 'Wheel of Life', to strongly primal, as in 'Garden of Dreams'. All of the pieces on this CD exhibit a strong sense of balance between the electronics and vocals, no doubt the result of a long collaboration between the members of Hybryds. 'Silent Whisper - Part 1&2&3' is probably the most impressive track artfully combining a variety of alien sounds, vocal chanting and saxophone into a convincing amalgam. The singing of Madeline Arnt stands out on this CD, but the percussion and electronic sounds are always well chosen and the mixing is excellent. 'The Silent Whisper' is perhaps best understood when the listener imagines himself in a small Berlin after-hours club on a summer evening ' hearing Hybryds perform live would be a powerful experience.
image not
available
anymore
Artist:
Alberto Ezzu - Lux Vocal Ensemble
(@)
Title:
Il Fuoco del 6° Armonico sulla Luce della Dominante partendo dalla Madre Fondamentale (con in mente Zarathustra)
Format:
CD
Label:
Hic Sunt Leones
Rated:
"Il Fuoco del 6° Armonico sulla Luce della Dominante partendo dalla Madre Fondamentale (con in mente Zarathustra)", which sounds something like "The focus of the sixth harmonic on the dominant light starting from the fundamental mother (having in mind Zarathustra)", is the latest album by Alberto Ezzu Lux Vocal Ensemble but as project born in 2001 at the early days of the ensemble. Alberto Ezzu Lux Vocal Ensemble born that year to perform compositions and improvisations using mainly overtone singing. If you don't know what kind of singing is that, think about the traditional Mongolian chants where one performer emits two tones at a time. To that, they add traditional European instruments (synponica, micanon, viola and lute), classic instruments (cello and oboe), oriental traditional instruments (tampura, sitar, Indian harmonium and percussions) plus electronic instruments. On this album you can find a one hour suite where different overtone singers focus their performance following a synth frequency which slowly changes creating, in this way, a minimal multi layered experimental suite which is able to hypnotize the listener. This album is a step into Alberto Ezzu's path as music researcher, music therapist and, for the listener, is a chance you can take to focus your attention on your inner self using these sounds as a tool.
Ambient / Electronica / Ethereal / Dub / Soundscapes / Abstract
Edit (8161)
The "draft" of this great album by B/B/S, the awesome collaborative project by Aidan Baker, Andrea Belfi and Erik Skodvin, comes from an idea by Midira label-owner Dimitri, who organized a concert at Christuskirsche, Bochum, an evangelist historical church, whose specific acoustic features made it an imaginary part of the line up as well, and wisely asked to Christoph Scheidel a live recording of the concert, which provided the sonic material for later studio mastering by Martyn Heine in Berlin. The two long-lasting tracks of this astonishing record depart from ambient drones which gradually advance by turning into a crossbreed between primordial krautwave and improvised soundscapes, but whereas the sharpness of electronic fibers by Erik, guitar artifacts by Adrian and vivacious tribal-like augmented drumming by Andrea sound like moving and joining together like ethereal exhalations on "Coltre", they got fledged before getting warmly cathartic and somewhat mystical on the beautiful "Manto" on the flipside. The relaxed but intensely vibrant atmosphere that this record manages to render could let you envy the lucky people who spectated B/B/S concert, but it had been a good thing that someone had the idea to record it!