Ambient / Electronica / Ethereal / Dub / Soundscapes / Abstract
Edit (8094)
Artist:
Quentin Sirjacq
(@)
Title:
Piano Memories
Format:
CD
Label:
Schole
(@)
Rated:
The reciprocal fascination between Japanese and French arts and culture is stronger than someone could imagine by taking account of their geographical distance. Somebody explains such a magnetic exoticism by a possible central and almost devotional sense of beauty of both cultural principles, but even if such an explanation cannot be considered completely preconceived, I could just reckon that both Japanese and French simply love beautiful things. I could say it's the same for music as well: many classical music lovers know that Debussy's way of breaking traditional rules of harmony derived from the influences of jazz and oriental music he never disowned, while many Japanese cinema lovers maybe noticed that many Japanese filmmakers emplyed French composers in their scores. I took cognizance of these two aspects as I firstly spoke about talented French composer and pianist Quentin Sirjacq on the occasion of the release of "Bright Days Ahead (Les Beaux Jours)" OST by highlighting the strong connection of his style with French impressionism. In regards to this new lovely album, which was entirely recorded with Schole label boss Akira Kosemura as a co-producer and Hiroshi Iguchi as a recording engineer after a journey in Japan, Quentin confirms the opinion of those ones who speak about him as a possible reincarnation of Chopin. Furthermore his lovely delicate flights on piano keys, which immediately hit listeners for their endearing touch, got wisely enhanced by unexpected and somewhat unpredictable electronic effects by Paris-based drummer and sound producer Steve Arguelles as well as by a guessed sound spacialization. His charming nine piano memories seem to whisper to listener's heart where beauty or maybe what French names joissance got hidden in the depths of its own soul.
Ambient / Electronica / Ethereal / Dub / Soundscapes / Abstract
Edit (8093)
Artist:
J.C. Combs
(@)
Title:
Every Junkie is a Recording
Format:
Download Only (MP3 + Lossless)
Label:
self-released
J.C. Combs is a Seattle-based composer and sound artist whose work has been heard previously on Electroshock Records and the Spectropol Record labels .Every Junkie is a Recording is a 33 minute, single-track offering that enables the listener to explore a landscape of the imagination, convincingly conjured from electronic and hybrid sonic materials. Full disclosure ' J.C. and I have worked together at the Sound-In.org website that he founded five years ago. Every Junkie is a Recording is a good example of what is possible using sounds and tones artfully constructed as a descriptive vocabulary.

The beginning minutes of this piece are a series of deliberately steady staccato electronic notes ' like footsteps - often with sforzando accents. These are accompanied by stronger, more singular, reverberant tones pitched somewhat higher and spaced out among the beats. The tempo and feel is andante in the literal sense ' we are strolling down a familiar street at night, perhaps in the fog, the lights from the lamp posts providing little pools of welcome illumination. The texture, however, morphs into a less distinct rhythm as the opening section progresses, and a more alien, metallic feel creeps into the tones of the upper registers. Now little gusts of wind are heard - the landscape has changed to the less familiar, even as we continue walking tentatively forward.

After the 8 minute mark, the footsteps fall away and we are immersed in a series of warm metallic humming sounds of various pitches with the sense of no longer walking but floating. The wind gusts return, but are now more menacing and the enveloping tones have turned lower and darker. It is as if we have entered into an unfamiliar neighborhood that imparts a vague sense of unease. The pace slows considerably evoking an almost dream-like state, with an underlying current of faint dread. At 17:00 this feeling is expanded by a soft, but steadily increasing roar that flows underneath a series of bell-like tones, as if sounding from some ghostly clock tower. Soon a more regular ringing sound is heard accompanied by the opening andante theme ' perhaps we are walking past a railroad crossing gate. This fades into the distance and is replaced by a low ragged roar; perhaps we are passing some industrial process close by.

By 25:00 the roar has increased markedly, and there are no other sounds. After of few minutes the metallic humming returns, faintly heard at first but becoming steadily louder, then fading again. We seem to be getting steadily closer to the source of all these sounds. In the closing minute, a ticking sound is added - like an alarm clock only faster ' and this evokes a feeling of timed tension. The roaring suddenly stops, and for the last minute of the piece just the ticking is heard until it too, abruptly ceases.

As the liner notes accurately state, this is ' a piece which travels in and around ambient, drone, accidental sounds, mystery synthesis and melodic noise.' Every Junkie is a Recording is a persuasive and engaging sonic journey carefully crafted from unusual materials.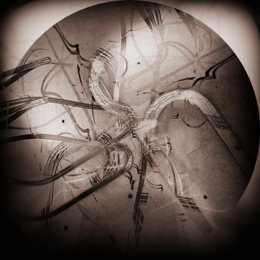 This album is of the not so common cases where the title is a key to understand his construction principles. The title is from a track that, according to the linear notes, 'amplifies and recontextualises the musicality of natural sounds' so the result is an album as subtle his development as estetically engaging.
The quiet field recordings of 'Battery set up in a forest clearing' open this release slowly evolving in a quiet and bright drone colored by a synth line. 'Blanket and radiator', made with Henry Duclos, is based upon the juxtaposition of small noises and glitches and a quiet soundscape. 'Attaching softness to a shell', with Andrea Polli, is something between field recordings and soundscape being neither of the two as it starts quietly as an ambient track, then it evolves with field recording filtered to exalt his spectral properties using his clean version to color the track and it closes with a sort of child voice or a bird song, an amazing and demanding listening. 'Blue stem sister', with Calika, is a rhythmic interlude to 'Projections from a prayer' and so they seem to form a single track as they share formal similarities. 'Meditation on distance' closes this release with a quiet soundscape made out with a drone and small noises and it's something between ambient and lowers cape quietly culling the listener to the end of this release.
This album marks a milestone in the production of this artist and is one of the best releases this year in this field. Highly Recommended.
Ambient / Electronica / Ethereal / Dub / Soundscapes / Abstract
Edit (8087)
Artist:
Jóhann Jóhannsson
Title:
Prisoners OST
Format:
CD
Label:
NTOV / Cobraside / NTOV9
(@)
Distributor:
Cobraside Distribution
Rated:
After I saw Prisoners, a tragedy/thriller by Alcon Entertainment directed by Denis Vileneuve and starring Oscar nominees Hugh Jackman (Les Miserables, Oklahoma!, Australia, X-Men) and Jake Gyllenhaal (Brokeback Mountain, Donnie Darko, Spider Man), I wondered why the soundtrack by talented Icelandic composer Johann Johannsson received nothing more than some positive feedbacks in spite of several awards and nominations the movie and in particular the excellent cinematography by Roger Deakins. According to Johannsson own words, the score should have two features and must be fit for a duble purpose: "one is to serve as a kind of lyrical and poetic counterpoint to the horror of the events in the film", as its plot focuses on the abduction of two young girls in a small town in Pennsylvania and the tragically anguished attempt to find them where the father of one of those girls, well interpreted by Hugh Jackman, becomes almost unhinged and comes to the point he decides to torture till the fatal moment he manages to discover the unsuspected kidnapper."The other purpose is to keep a certain tension and a sense of unease. [...] The keyword throughout the writing was to avoid anything that sounded like thriller music, but to still convey a sense of tension, coupled with these moments of melancholy and delicate beauty". The way he followed these interesting compositional approach is really brilliant: despite the recurring melodic theme, which is typical of soundtrack, Johann often sounds like inserting a second fainter melody where the tonal sequence sounds often inverted, whereas the main melody slowly and intensely descends, the ancillary one ascends, but the element which makes the listening of this OST really engaging is the sound chiselling and the accurate attention to timbre. Besides the precious contribution by fellow cello player Hildur Gudnadottir and Norwegian composer Erik Skodvin, the guessed secret recipe is the instrumental addition by Thomas Bloch, who dosed sounds from the legendary Ondes Martenot and the Cristal Baschet - a sort of glass harmonica with metallic resonators) - in order to create a sort of organ-like sound, which immediately puncture listener's emotional sphere by means of celestial fragile textures, which could sometimes evoke the sonic tension of other OST composers (some tracks reminded "Angels Of The Universe" OST by Hilmar Orn Hilmarsson and Sigur Ros for instance), which wisely balanced orchestral music and electronics for scoring.
Artist:
Kouhei Matsunaga
Title:
Drawings
Format:
7" vinyl + Book
Label:
Fang Bomb
(@)
Rated:
Berlin-based Japanese composer, sound artist and illustrator Kouhei Matsunaga aka Koyxen Mattsunagnen seems to have constructed a bridge between his two main skills, the one with drum machines, laptop and synths, which has been extensively rubbed on an impressive number of remarkable collaborations (Merzbow, Asmus Tietchens, Sean Booth from Autechre, Mika Vainio and so on) and a number of very good releases on well-known labels such Raster-Noton, Skam Records, Mille Plateaux, Wordsound, Tigerbeat6, Important Records and PAN and the one with pencil, which has been exhibited for some cover artworks. Curvy black lines got plaited into settings where naked women, deformed suitors, ephemeral figures, donkeys, fowls, sketched birds and other animals come to light from mainly empty spaces. The connection with music on the attached 7" vinyl are strictly related to the suggestions it can inspire: for instance you could imagine that the rhythmical patchwork that Kouhei assembled on the initial "7" could emulate the movement of a pigeon's neck while some syncopated bleeps could come from the garrulity of a hungry seagull, the following technoid dub on "632_" sounds like cheeping over sinuous downy (and somehow feminine) sonorities or the final "540" could let you imagine an electronically-treated coalescence of twitters where the almost mechanical step of crumbled percussions could let you think about bird's act of ransacking into a cup of birdseed. A certain dadaist pulsating vein bonds Matsunaga's binary codes.