Ambient / Electronica / Ethereal / Dub / Soundscapes / Abstract
Edit (8381)
Oiseaux-Tempête's 2013 debut album weaved through a number of different styles a humourless thread of disenchantment in the face of contemporary European political and economic problems. For angst and despair, po-faced post-rock or stoner rock with titles to match ('Opening Theme (Ablaze in the Distance)', 'Ouroboros'). For wistfulness or otherwise more contemplative moods, airy ambient arrangements and field recordings ('Sophia's Shadow', 'Outro (for the following)'). In-between these, some full-on swelling, droning grit for good measure ('L'île'). For all its sincerity, dramatic prowess and genuine musical strength and appeal, the problem with post-rock is its histrionic wilt, its gesturing seeming overstated after a certain amount of exposure. It has a tendency to sameness that quickly loses appeal, so when it only fringes compositions rather than absorbing them altogether, the results are usually considerably more interesting - 'Sophia's Shadow' and 'L'île' are good examples of this.

With the above in mind, this remix collection from Oiseaux-Tempête's post-rock polemic introduces an electronic edge to most of the pieces. The outcome is a less consistent but, to this listener, rather more gratifying listening experience.
Leopard of Honour's remix of 'Nuage Noir' opens the record. The sparse, predictable slow-core plodder becomes a Burial-esque electro shuffler, with looped motifs, rounded subterranean bass and woodblock strikes lingering beneath the main rhythms. It's very satisfying to hear the song's elements arranged this way and this well. It's worth noting that this is one of the more striking transformations; for the most part, the original pieces are given atmospheric filter treatment, usually with rhythms removed or obscured - or, in the case of the Scanner and Colin Johnco remixes, added. This relatively limited formulation is possibly out of respect to the spirit of the original album, centred as it is around protest and political discontent.
However, not straying too far from the source material has its troubles. Unfortunately, Dag Rosenqvist's reworking of on 'Opening Theme (Ablaze in the Distance)' feels more like a discarded alternate take than a remix, picking a single isosceles crescendo and losing some interesting dynamics as a result. Machinefabriek's reinterpretation of 'Kyrie Eleison', while a total conversion of sorts (rather tempting the term 'post(-processed)-rock'), nonetheless differs too subtly to feel like much more than an original outtake.

Among more appealing contributions, Wixtes' remix of 'Buy Gold (Beat Song)' discards the titular thudding beat, resulting in a grainy cloud of sombre guitar work gusting around sampled speech. Similarly, Saåad crop but engorge 'La Traversée' into a solid dark ambient/drone piece. Scanner introduces as a textural focus a varied, stuttering rhythm range to 'Calling John Carcone' and manages pretty well to retain beneath it the tempestuous post-rock anguish of the original. 'Nuage Noir' also features a second time, with Greek thereminist May Roosevelt at the helm. Besides cropping the length, she leaves the song largely intact, instead adding a rich, effective harmonised theremin accompaniment.

Like most compilations and particularly remix compilations, it's a mixed bag. But it is impressive how earnestly the present personnel endeavour to preserve the themes and tone of their source material. When it works, it does so very well.
Ambient / Electronica / Ethereal / Dub / Soundscapes / Abstract
Edit (8380)
Artist:
No.Inc.
Title:
Early Reflections
Format:
Download Only (MP3 + Lossless)
Label:
No.
Rated:
This is just the first half of the first physical release on newborn label by No.Inc., the collaborative project by Atom TM and Modular Object, and is available as a digital download since last May, but it can be an evidence of the sonic grounds or the sonic portions of sky these talented sound-artists willingly explore. The first of the seven parts which opens this cosmic suite could render that sensation of being inside a space shuttle after losing its bearings and cruising over pitch dark vacuum. The occasional meeting with resounding elements such as shimmering cosmic glassophones, a sort of crossbreed between celesta and harpsichord, which appears in the first minutes of the third part and draws stark melodic lines, synth-brass secretions and other vibrations which got wisely agglutinated in the drone-like mantle that gradually blanket listeners, could come from outer or inner space as if they were hallucinogen contrails of some astral body or visions from inner depths during this mesmeric bathing into a sort of Lily's isolation tank. I'll check the second part of this release, "Refraction", which should be more rhythmical, but this impressive suite, which is closer to some isolationist stuff from FAX - some sombre moments of the record let me imagine that this suite could be considered a sort of dirge in memory of the late lamented label boss Pete Namlook whom both artists met and worked with -, could fulfill listener's expectations.
Ambient / Electronica / Ethereal / Dub / Soundscapes / Abstract
Edit (8376)
Artist:
Tangent
Title:
Transience
Format:
CD
Label:
Tympanik Audio
(@)
Distributor:
Bandcamp
Rated:
Tympanik Audio comes up with a Netherlands-based project. After their debut release signed to the hard working people of the Dutch Mindtrick Records, this Dutch duo presents us their second full-length album to the US-based No. 1 institution for demanding Ambient/IDM/Electronica music, Tympanik Audio. Label-mastermind Paul Nielsen has had again the right nose for talent, as 'Transience' easily approves. Both band-members, Robbert Kok and Ralph van Reijendam, present us their eclectic and eerie form of post-modern Ambient-Electronica music, which turns out lesser 'powerful' than mentioned in the accompanied label info-sheet. This duo concentrates to produce icy and filmic sounding Electronica-/Ambient-soundscapes which got supported by abrasive and at times noisy rhythmic elements which can be found in several related IDM- / Glitch-productions. That doesn't mean that Tangent have to be reduced to be a copy-cat. It's rather the opposite, but Tangent stands for another example that it is nearly impossible to search out the true pearls out of the mass of mediocrity when it comes to point on the rhythmically part of a production. A track like the opener 'Drifting Frontiers' lives essentially of its ongoing addition of those experimental sound collages until the scattering percussion set joins the scenario. 'Sublimated' is more accessible rhythmically, it even offers linearity, but it too points out, that Tangent's music scores the most with their crystal-clear produced Electronica- / Synthesizer soundscapes. Also worth a mention is 'Shattered' with its plain starting lo-fi synth-drops and the ongoing abrasive percussion set until the Gridlock-like, ice-cold pads drive this track. To follow the lost piano drops produced under large hall reverb-effects in 'Radiating Singularity' is another thrilling experience worth to discover. With the track 'Bloom' there came up hopes that the whole sound-environment would change to a warmer, friendlier tone, but also this bloom rather acts like an ice-flower. So the whole album is not at all a new collection of more or less rhythmically Noise-tracks, which would work well in the clubs. It is rather a precisely and fascinating produced album of futuristic, icy soundscapes which need a bit free time to catch the whole content. It is definitely not the soundtrack for plain background entertainment, but throughout an enlightening album and an ideal addition to the Tympanik-roster.
I could guess that Austrian composer Fadi Dorninger aka Hun-Fa-Di, one of the men together with John Fitzpatrick behind the curtains of The Smiling Buddhas, could have an instinctive penchant for the research of something above the lines and the challenge against altitude sickness that he gushes on this release both under the musical viewpoint and the "conceptual" one, where elevations of his native country got linked to the attempts of overtaking stylistical fences by flavoring his sonic explorations (or I'd rather say his sonic translation of a journey in the native region of Austrian Alps) by means of the audible impressions of his experience in the field of OST and music for theatre: for instance on the opening track "Snow Melt and Wet Avalanches", he turns an imaginary xylophone-like sound that could come from crystal drops over icy keyboard into a dub-oriented dance of electronic bleeps, where the majesty of Alps peeps out of a mellow drumming before getting compeltely unveiled in all its scenic splendor by sturdy synth-boom on the contemplative "Wintersun". The Smiling Buddhas renders the vertigo and the excited palpitation which precedes a ski slope into sound on "Seconds Before Skiing Down Steep!", the concern for intense electrical activity and a vague sense of disorientation nearby the safe mountain refuge of Studlhutte on the cushioned techno song of "Thunder and Lighting near Studlhutte", the creaking of wooden celing of an isolated hut under heavy snow drifts on "Snow Snow Snow", a thrilling skydown with Firngleiter on "Skiing Down Grosser Sonnblick (9941 ft.altitude)" and the rocky behemoth of Eiger notorious northface on "Nordwand", whose choirs and acid techno lines evoke its mortal shadows - many climbers died after they fell from its steep walls - , while the final track "Falling" is a soundtrack of Fadi's only fall into the rope experience, where you can vividly feel his levels of adrenalin!
Ambient / Electronica / Ethereal / Dub / Soundscapes / Abstract
Edit (8373)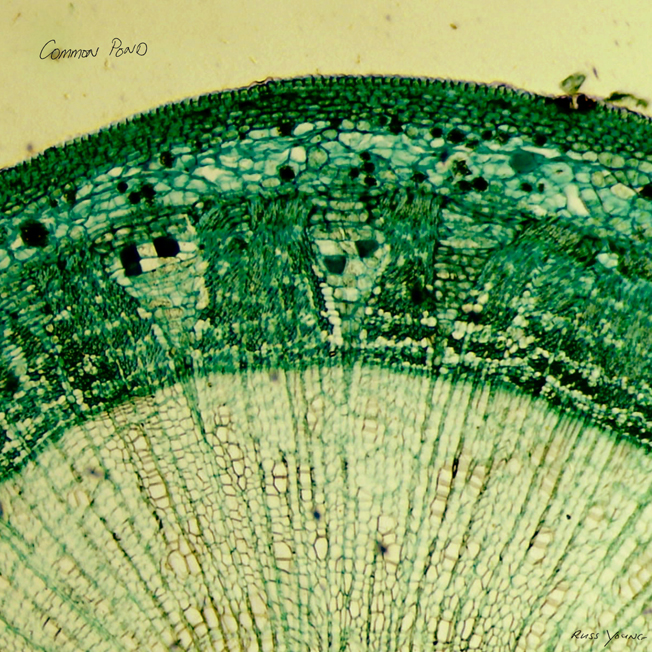 Artist:
Russ Young
Title:
Common Pond
Format:
Download Only (MP3 + Lossless)
Label:
Audiobulb
(@)
Rated:
This new, download only, release from Audiobulb is from an UK producer that introduces himself as someone "trying to create forms out of found audio" i.e., everything recorded in some form. According to the linear notes this release "try to create an image by assembling manipulated audio sources" that is a engaging statement as, in order to express image, there's a necessity to use strongly recognizable sources and a way to made the references clear to the listener. Unfortunately this is not always obtained through all this release.
The gentle sounds of "Cricket Pitch" and "Hewson Road" opens this release depicting a quiet landscape using two elements: a drone acting as a canvas and found sounds creating forms. "Lamy's Sound & Light" is a static soundscape while "Belmont Transmitter" is based on a single loop with little variations. "Common Pond" and "East Bight Stones" return to the form of the first tracks while "Phil's House", entirely based on field recordings, sounds as the only track that properly fulfills the linear notes' premises. The drones of "John's Bike" acts as a prelude to recording of a starting bike and "Observatory Roof" closes this release with small samples and sounds gently closing this relase as it started.
Due to the variety of sources and musical development it sounds more like a compilation than a proper album but this acts a costant reminder for the listener, only with headphone is possible to note the layers of small noise creating the textures of the track. Not only for fans and collectors.