Artist:
Nebulo
Title:
Avutma
Format:
CD
Label:
Hymen Records
(@)
Distributor:
DSBP
Rated:
That's a big scorer point for Hymen: every release they bring out surprises in one or another way, nothing seems to be foreseeable. This also counts for the French act NEBULO, the music-project of Thomas P. Musically this "Avutma" album offers a sci-fi sound-trip into a very own cold and foggy world. Pianos and organs got several times fx-manipulated to build a musically ground construct. Synth layers and subtle modified beats accomplishing this surreal scenario, which can described as a mixture of Ambient, IDM and Clicks'n'Cuts. The Ambient influence is surely the most recognizable ingredient, since this album doesn't offer too much hectic and the possibility of a rhythmically movement. Some crunchy beatings here and there invade the walls of sounds to fill in at least some linearity. At times this complete sound scenario leads into a climax of surrealism and a real psycho-hypnotic impression. Not that easy to follow track by track, this "Avutma" album seems to be designed to satisfy the die-hard Ambient-Electronica freaks only. To me this album is a bit too personal-minded and it could need some more light extracted out of a more mass-compatible sound construct – but that's only a personal impression. Not bad at all, but maybe this work requires too much spins from the listener until completely satisfaction joins in?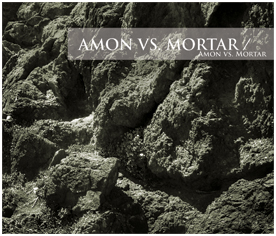 Artist:
AMON VS MORTAR
(@)
Title:
s/t
Format:
CD
Label:
Afe
(@)
Rated:
Given the fact this release came out on Afe you have Andrea Marutti squared and that would be enough to give a strong identification to this product. This cd features material from Mortar coming from late 1996, some went to compose its Oktagon lp plus some previously unreleased materials, everything has been molded and reshaped by Marutti with his Amon moniker and if you've confidence with his previous work with such a project you don't have to expect something that different. It's misty-ambient, dark-ambient music with an incredible amount of mid-low frequencies and keyboards/synths' sounds. I think the original sound source for some of the tracks were synths but don't expect those post-black metal releases with cheap ambient keyboards sounding like a third rate horror movie soundtrack. If you strain and work with your imagination I think here and there you can also guess the cut of some of the original sources is someway old-school, but as you can guess Amon has reshaped the whole recordings to give it a new tissue and here you have it, thus don't consider it as old despite it betrays that old school touch lot's of you may appreciate. Sometimes I've been quite surprised by the fact Marutti has gone quasi-melodic, like in the passage where he used an organ sound to play a sad melancholic harmony that breaks into the wall of misty clouds you can cross for the whole length of the cd. For those of you who already had the chance to taste some of his Eibon materials, here Amon tends to diversify a lot some of the passages even though the global sound of the work is quite uniform but you have more sounds suspended in the background, sometimes lost in reverb, sometimes something strive to get to the surface, the impression is there's something beyond the steam. this effort also reminded me of Amon collaboration with Nimh in the occasion of Sator, just a bit less heavy and less powerful, but something brought to my mind that monolithic feeling. At the end of the day it's a really quiet and introspective cd and I think the desolated rocks Abby Helasdottir/Gydia has put on e the cover tell us much more of this release than the majority of the words I've written.

image not
available
anymore
Artist:
RELEVELER
(@)
Title:
Incipient
Format:
CD
Label:
Interdimensional Industries
Rated:
Released the last year but arrived to my desk just recently the debut album of Releveler titled INCIPIENT is one of my preferred recent electronic albums. What convinced me since the first listening is the thickness of the ambient sounds, the cinematic sense of the tracks and the melodic taste of the whole. If I have to think of a paragon I'd point Oil 10 with a touch of cEvin Key. Acive since the falling 90's Krhys Wiebe collaborated with different bands, remixing their music and also producing their sound. Four years ago Releveler released a 12" titled "Untouched" (you can find the revised version of the main track on this album) and is already out an E.P. with remixes containing "Your flavor" (five different versions of this track that sees on guitar, backing vocals and production Pete Jones of P.I.L. fame), "Denial" and "Untouched" (plus as bonus there is a Releveler version of Depeche Mode's "To Have And To Hold" and a remix of Phase Theory's "Simple Complications"). If you love electronic music with a bit of ambient industrial sounds, dark atmospheres and rich rhythm textures but you are also willing to find some melody and some vocals in it, INCIPIENT is for sure a CD I'd suggest you and if you're also into late Gary Numan, here you can find a good version where the original spirit of the track is enhanced by the use of many electronic sound layers, nice vocals vocoder filtered and a semi oriental percussive rhythm... Check some tracks on http://www.myspace.com/rlvlr.
A while ago, Andrea from Afe records told me after he has finished the final mixdown of this or that release he uses to give a final listening to what he's done while falling asleep. I'm sure after having read this confession you won't have an hard time figuring out the head chief at Afe had probably fallen in love with Michael Palace/Horchata's music at the first listening (or should I write first sleep?!..;-). Despite the minidisc recording coming from Amazonia and Mato Grosso, the very matter of this release is made out of drones and ambient music and Palace is a real master for what regards the use of soft droning and subtle sounds that creep slowly behind the dark melodies. Despite being a really dark piece what surprises me the most of "acytota" is the fact it's still far from a dark ambient effort and it also maintains a really warm essence. I'm sure it has to do with self suggestion, but while listening to these soft foggy drones I could also imagine one of those heartbreaking documentaries portraying animal wildlife so well you'd die to be there. Palace in the past have also recorded material on labels such as like Ad Noiseam and it may help you to understand we're speaking about a top notch ambient musician, but soft sounds, drones and the great production of this new release speak louder than his discography or I'd better write they're just softer than a thousand drones. Melancholic, misty and heartfelt.


In a scene mostly crowded of male artists, Abby Helasdottir shows the basic idea that dark ambient/experimental music is exclusively male oriented is a bullshit and this release also demonstrates the concept female musicians may have this or that characteristics is false. As we've already said this musician from New Zeland deals with dark ambient from the music to the layout and if you're looking for some supplementary hints I'd say this doesn't belong to the category of "I'll scare the shit out of you" dark-ambient releases, it's an heave trip for sure but it's a psychedelic crepuscular trip that presents some really melodic interventions that change the whole atmosphere of the two long tracks here included. It looks like some sound source of this release comes from some old tape experiment she did during the late nineties and someway the global feel of the most obscure passages could suggest it, but if that puts forward the equation: "old sounds equals retro music"... forget it. The interesting game of heavy passages and melancholic quasi-sacral movements is mainteined also in the second track of this work, here you've more outspoken keyboards sounds that twist the shape of the scenario but the style is really similar to the music of the opening suite. I know you may not agree with me but I think Gydia's music fits really well with definitions such as like "ecstatic", yes, "dark and esthetic" and considering she's far from those mono-drone ercordings where you feel like bored to death after a few minutes, I'm sure you'll appreciate the way she maintained her composition dynamical by moving different elements and atmospheres during the length of every track.