Ambient / Electronica / Ethereal / Dub / Soundscapes / Abstract
Edit (8890)
Recorded in two years and born from a collaboration between Cristiano Deison and Matteo Uggeri (who's also active with Grey Sparkle In Grey), "In The Other House" is an album which I approached to in a difficult way. I'm not keen on isolationist atmospheres made of drones and manipulated sounds which sometimes sound like you're finding them there by chance, so sometimes I missed the point of what I was listening to. Musically we have sounds that Uggeri "stolen" (violin samples to Franz Krostopovic, piano samples to Agostino Brambilla, guitar samples to Alberto Carozzi, bass samples to Cristiano Lupo, trombone to Stella Riva and saw to Piergiorgio Storti), while Deison added his drones and treated noises creating, in that way, something which is more like a sound installation than else. The key to understand these recordings is into the title and into Francesca Mele's photographs used for the cover: we have a house, but even if the house is the place where we rest and we try to found ourselves on a daily basis, the house could be also the worst place to come back to. On the cover we have a woman looking to a man's dead body and we can feel that there's no pain but, somehow, that was the consequence of a slow death. Maybe, a daily and deadly one. On the titles, every room is associated to a situation/feeling and we can understand what is going on. "Worried Stagnation (Bedroom)", "Micro Drama (Kitchen) or " So Detached (Dining Room And Terrace) " are titles that can give you an exact description of what we'd try to avoid and that sometimes we aren't able to and the minimal almost static sounds are reinforcing that terrible feeling. Available on vinyl and CD, the album born from the collaboration of five labels: Final Muzik , Old Bicycle Records , Oak , Loud and Grey Sparkle. You can check it here https://deison.bandcamp.com/album/in-the-other-house
Artist:
General Magic & Pita
Title:
Fridge Trax Plus
Format:
2 x 12" vinyl
Label:
Editions Mego
(@)
Rated:
Someone could imagine that a synth, a drum machine or other electronic devices should have marked the dawn of most glorious labels of the scene. Some labels actually build their catalogue on the sounds some artists squeezed from specific synth or drum machines, but not so many listeners would surmise that a fridge could have been even more influential than a synth, as testified by this re-release of the very first outputs by one of the most appreciated electronic music label like Editions Mego, whose huge catalogue got started by an EP - "Fridge Trax 12" - and an album - "Live & Final Fridge" - from the electronic music eggheads of Peter Rehberg aka Pita and General Magic, the well-known duo by Andreas Pieper and Ramon Bauer, who entirely made these amazing releases (13 tracks both, but I imagine they recorded more than 13 ones and some could have been left unedited) by processing sounds they grabbed by putting a microphone inside a fridge. I'm not sure they imagined their experiment would have been so influential to the point it can be considered one of the records that fostered the inoculation of abstract sonorities within dance music structures, but all those youngster who are just approaching to the wide world of sound will be so delighted by the funny sonic freaks they made from a bunch of icy and sometimes defrosten sounds that I won't be surprised if a museum will exhibit Mego's fridges or other useful modern electric appliances alongside Mozart's score or Beethoven's comb for the devotional pleasure of future generations. That's a wise way to celebrate the first 20 years of existence of the Wien-based label.
Artist:
Charlemagne Palestine + Rhys Chatham
(@)
Title:
YOUUU + MEE = WEEE
Format:
3 x CD (triple CD)
Label:
Sub Rosa
(@)
Rated:
Sub Rosa recently completed a sort of trilogy of collaborative recordings by mellifluous and polyhedral musician Rhys Chatham, who after moving his first steps in music as a piano tuner for La Monte Young and harpsichord tuner for Glenn Gould, Gustav Leonhardt and Rosalyn Tureck and studying under the wise teachings by electronic music pioneer Morton Subotnick and La Monte Young, became one of the most influential voice of avantgarde scene to the point he could be the real link between New York Downtown composers of the late 70ies and the so-called NoWave by developing a musical and sonic language with a plenty of connections between experimental music and rock. Following the collaborative recordings with Z'ev and Tony Conrad, this release with Charlemagne Palestine highlights the intensely ritualistic hooks that essentially feature Palestine's performance during which he surrounds himself and his piano using stuffed animals, drinks cognac and smokes a plenty of kreteks, the Indonesian clove cigarettes. During the listening of the three long-lasting tracks - one for each cd -, you'll get easily absorbed by the exceptional emotional and sometimes even mystical or ecstatic strain - while the first one is quite febrile, a sort of blissful standstill is going to tickle listener's eardrums on the one-hour lasting second recording before the heavenly and highly suggestive titillations of the third one -, that got rendered by Charlemagne Palestine by means of a Bosendofer piano, a Yamaha orgue and even his voice, while Rhys keeps on drifting towards soulful elongation on a looping trumpet and a psychedelia-driven electric guitar. An entrancing musical alchemy.
Artist:
Alessandro Bosetti & Chris Abrahams
Title:
A Heart That Responds From Schooling
Format:
CD
Label:
Unsounds
(@)
Rated:
This bicephalous release by Marseille-based Italian sound artist and performer Alessandro Bosetti and Australian pianist and well-known member of the appreciated The Necks Chris Abrahams succeeds in satisfying the tastes of connoisseurs of compositional aspects and more easygoing listeners, as on one hand some aesthatic severity by Chris, who perches between improvisations and more sophisticated structures, got tempered by more relaxed phrasing, on the other hand Alessandro walks a tightrope between light-hearted approach and more finical sonic chiselling. They let some lightbeams flood through ear on the opening "Eye" - not only for the track's title - by means of somberly feathery piano melodies, rippling electronic interferences and a very low recurring tone, which sounds like a suffocated mumbling, before Abrahams's piano traces convulsively hitting scales over a flashing Morse-like pulse on the following "Reservoirs", whose dual sonic inputs seem to get gradually amalgamated. Bosetti's voice makes his entrance on the lovely cover version of Steve Lucy's "Esteem", where both piano and lyrics are so vivid that you can almost catch a counenance in the interaction between the two musicians, and Bosetti's way of singing, even when slightly out of tune on the highest pitches - his untuned moments sound more like that kind of almost weeping voice anyone could have when voice trembles with emotion -, is likewise evocative on the second excellent cover of the album, "Bridges (Travessia)" by Milton Nascimento and Fernando Brant, where Chris's piano is extremely concise before getting rippled in the last part of the song. In between the two songs, you'll find another vocal medley "Observatories", but this time Bosetti's layered voice turns into a sort of ecstatic choir around the gupled piano staccato by Chris. The cinematic frenzied crescendo of "Greenhouses" is one of my favorite moments of the whole album, who got closed by a reprise of "La Nourriture", a track which got previously released on the bizarre "Renard".
Ambient / Electronica / Ethereal / Dub / Soundscapes / Abstract
Edit (8878)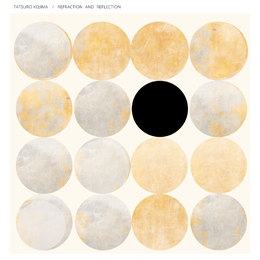 Artist:
Tatsuro Kojima
Title:
Refraction and Reflection
Format:
Download Only (MP3 + Lossless)
Label:
Audiobulb
(@)
Rated:
Tatsuro Kojima describes himself as composing in visual terms rather than musical ones as being trained as a visual artist. This release has been constructed using "field recordings and synthesizer sounds and processed them in various ways to alter and reconstruct the original". However, rather than sound as a complex intertwining of sounds, this release is almost linear in his development from more complex tracks to more linear ones.
The first half, starting with "idea" is closer to some forms of post-glitch where the noises and the samples are arranged, rather than exposing their discontinuities, to recreate a sort of blurred edge. "Surface of the light" uses a drone as unifying elements for the field recordings. "0405" is a clever sequences of samples while "neutral" is a static and metronomic one. With the piano notes of "0203" starts the second half of this release, oriented toward gentle ambient miniature mostly based on loop, "blank space" is a gentle noisy soundscape while "fiction?" is focused on the dialogue between the hypnotic carillon like background and the noise upon with a remarkable result. "Yuki no ato (28/11 9 a.m.)" is almost a lowercase tune while "kokoro / asu wa you hi" is almost a proper piano piece ending with the resonances of the last notes which occupies almost half of the track. "Owari ni" develops the distortion of a drone. "Fish-eye" is an hypnotic track based on a drone and field recording acting as almost a loop.
Even in a well defined and known musical form, Tatsuro Kojima develops enjoyable moments of clear charm almost compensating his lack of originality. Only for fans, or collectors, of ambient and glitch-pop.