Ambient / Electronica / Ethereal / Dub / Soundscapes / Abstract
Edit (5175)
Artist:
GENERIC
Title:
Torture
Format:
CD
Label:
Fractured Spaces Records
Rated:
You must admit that choosing "Generic" as a monicker and titling your debut cd "Torture" is a bit risky, but UK artist Adam Sykes is no absolute beginner either, given he ran the Iris Light label from 19967 to 2007. The six untiled parts forming the album are a sort of time warp to '90's Cold Meat-influenced industrial ambient. "Torture" is entirely loop-based, generally mixing some repeated metal clanking or scraping with a bass-end drone, and not much else (some Gregorian chant here and there, yep). It's like Aube at its most minimal jamming with the aesthetics of, say, Archon Satani or Stratvm Terror. The sound quality is quite muddy and lo-fi, as if this was recorded in some dank cell, and considering the cd was mastered by Osman Arabi I assume it is a deliberate choice. While surely being no masterpiece, "Torture" has a droning quality I like and shows a faithful devotion to a totally untrendy style (unlike much revamped "old school industrial") which oddly makes this sound like a relic.
Ambient / Electronica / Ethereal / Dub / Soundscapes / Abstract
Edit (5172)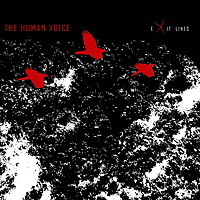 Artist:
THE HUMAN VOICE
Title:
Exit Lines
Format:
CD
Label:
Eibon
Rated:
The Human Voice is Haerleif Langas from Norway, best known for his activity as Northaunt. The laconic liner notes state that this is "a document of days and nights of inner turmoil". If you manage to ignore the jarring filtered vocals that are used on a number of tracks, "Exit Lines" is a solid album of sober piano/keyboards-driven ambient music in the vein of Yellow6, late Pan American or good old Eno ("Mausoleum", "The Ghost of Our Love"). Melancholy is the key word - a quietly blue feel which only occasionally becomes despondent ("Det Skjer, Ditt Ansikt Vendes Mot Morket").
Ambient / Electronica / Ethereal / Dub / Soundscapes / Abstract
Edit (5155)
Artist:
MCKMN
(@)
Title:
Orphan Ristophe
Format:
CD
Label:
Mockmoon Records
(@)
Distributor:
CD Baby
Rated:
Right off the bat, I found this project intriguing. In fact, it was the first CD I opened and played when I received the latest batch to review. My first impressions were mostly positive, but I decided not to rush into anything and give it some time, so I put it on the back burner for a bit. Whether the project is called MCKMN, or Mockmoon I guess doesn't make too much of a difference. It's the music of Dutch artist Terence Koot and I think it's his first effort. For some reason stuff I've heard coming out of the Netherlands lately has been pretty interesting, and maybe there is a musical renaissance brewing in the land of tulips, van Gogh and good weed.

My initial impression of MCKMN's "Orphan Ritophe" was that it has a progressive bent, and my impression didn't change after a few listenings. It is an instrumental album with a cinematic flavor. Koot constructs tracks that could easily be used in movie scores or computer games. I was most impressed with the flow of the pieces, the way they moved naturally with a certain continuity. The layering is full and rich without being cluttered, engaging without being overwhelming, dramatic where it needs to be, and laid back when appropriate. These are all the marks of a talented composer who has a good handle on his craft. While many who attempt this style of music often draw too much from the Delerium school of composition, MCKMN's influences seem to be more drawn from film composers like Hans Zimmer, Graeme Revell, Howard Shore, Paul Haslinger, Marco Beltrami, etc. I'm not say he's in a league with those guys yet, but it seems to be where MCKMN is heading.

I like the moods displayed on "Orphan Ritophe". They're a bit on the dark side without coming across as morbid, dreary, depressing or apocalyptic. The percussion programming is great, even if the mix hasn't been perfected yet. The track "Ganymede" conveys a lot of motion; perhaps a hunt, or flying over some exotic terrain in a helicopter while riders on horseback below chase their quarry. The title track which follows utilizes electric guitar to build atmosphere, and morphs into almost a koto-like sound to give an oriental flavor. When the soaring lead kicks in, you just get goosebumps. Koot's tempered use of strings also seems to be an indication that he has a movie in his mind when he composed these tracks. "The Great White Open" uses a haunting vocal loop to set its mood then morphs into a jazzy horn thing followed by a sparse guitar melody, all underscored by driving percussion. For the most part, the tracks are episodic; something you will find in most film scores, but there is also a cohesivness and consistency on this album that you won't find in a lot of film scores owing to the nature of the variety of scenes that must be composed for.

Without a doubt, this is one of the most impressive new releases I have heard in a long time. I'm an electronic musician, but I doubt I could come up with anything this good even of I threw another 10k into studio gear and devoted 90% of my time to making music. "Orphan Ritophe" is really "The Bomb" and the only improvement that might be able to be made on it is in the production department. Some elements didn't sound as bright or defined as I would have liked. But hey, this guy is only 26 years old, and this effort is head and shoulders above most of the stuff I get to review. There is a depth and maturity here that takes many musician/composers a decade or more to reach. Mark my words, if Mr. Koot gets the right breaks, you're going to hear his music on some game, or as the soundtrack to some movie in the not too distant future. In the meantime, I'd recommend this album as a STRONG BUY, because it's that damn good.

Ambient / Electronica / Ethereal / Dub / Soundscapes / Abstract
Edit (5153)
Artist:
Delicate Noise
(@)
Title:
Filmezza
Format:
CD
Label:
LENS Records
(@)
Distributor:
LENS Records
Rated:
I like electronic music, a lot of different types of electronic music. If I didn't I wouldn't be doing music reviews here. In fact, I'm much more open-minded with electronic music than guitar-driven music, as I've loved the stuff ever since I heard the first moog many years ago. The only kinds of electronic music I don't particularly care for are when the music is nothing but non-stop brutal noise, or is so twee, new-agey or saccharin that it makes me cringe. That being said, Delicate Noise's "Filmezza" certainly doesn't fall into the former category, but more than flirts with the latter. And that's not a good thing in my book.

First though, let me say something positive here. I really like the psychedelic artwork on the CD's double-fold digipack. If I saw this in a store, I might be tempted to pick it up, even though I knew nothing about the music. (Such is the power of packaging.) Unfortunately, the "Cant judge a book by its cover" adage is apropos here, and I should have known by the mention of a strong Boards of Canada influence mentioned on the one-sheet that accompanied the CD that I'd have reservations for what I was about to hear. I'm no Boards of Canada fan. The only CD I ever bought by them I sold after one listen. I think they're twee synth noodlers, neo-New Age, and just not very good in general. I'm sure many will disagree with me on that account (they sell a lot of albums so they must have plenty of fans) but that's my opinion, and I'm entitled to it.

With that in mind, I gave the CD a listen and my fears were confirmed. But before I get critical, I think it's necessary to go back to Delicate Noise's initial 2006 release, "Diversion" for some background on Mark Andrushko, who is Delicate Noise. Andrushko's debut album is a darker, more experimental, original and interesting trip than "Filmezza". Although some of the tracks show an artist who has yet to reach his full potential, there is enough good meat on "Diversion" to warrant repeat plays. Although not a strong singer, Mark adds his vocals to some of the tracks giving them more flavor and character. Mostly he stays within his bounds, I think that if he pursued that direction, he'd be a lot better off. It worked for Brian Eno on "Another Green World", and Eno doesn't have a dynamic voice. But even when the tracks on "Diversion" were purely instrumental, they were engaging and exhibited a fine creative use of synthwork.

This Board of Canada direction taken on "Filmezza" is a big step backwards in my opinion. First, it's already been done. Second, the one thing that really bugs me about the Boards aside from the twee new agey synths is their use of sampled children's voices. Here, Andrushko goes overboard and I often got the feeling of being dosed with hallucinogens on an elementary school playground at recess time. Call me a juvenile misanthrope, but I'm a firm believer of the adage, "Children should be seen and not heard", especially when it comes to electronic music. And you just can't escape the kids on this CD. They're nearly everywhere!

I should mention that the CD was mixed by Steven Seibold of Hate Dept. (how's that for irony) and I have no qualms with the mix. I'm sure Seibold did the best he could with the material. Delicate Noise impersonates BOC to a veritable tee, so if you LOVE the Boards, you can rate this CD 4 ½ stars. But I'm sticking with my rating because I don't think we need anymore Canadian Boards. I'd be interested to see Delicate Noise's next move; if Andrushko switches gears and takes what he hinted at on "Diversion" to the next level, it could be awesome.


Artist:
ESA
Title:
The Sea & The Silence
Format:
CD
Label:
Tympanik Audio
(@)
Distributor:
Ant-Zen
Rated:
It seems that Hive-recording artists are free for sale, because sooner than expected the British project ESA (stands for Electronic Substance Abuse) a.k.a. Jamie Blacker returns after 2 albums on Hive with a completely new album out on Tympanik Audio. Besides ESA, Jamie could make himself a quite good name thanks to some guest-musician contributions to STRAY (side-project of Erica UNTER NULL Dunham) and his label comrade AUTOCLAV 1.1.
And ESA stands surely for the harder side of the release catalogue of the uprising Tympanik label, maybe side by side with PNEUMATIC DETACH. "The Sea & The Silence" seems to be a conceptual release and the medium itself seems to have a healthy effort on Jamie, since he has added a special quote, which documents his dedication: "This album is in dedication to the three things that have helped me through this year, my music, my close friends and the sea, that seems to wash away my worries with every wave."
Musically, ESA offers a straight pounding Powernoise sound pretty much along the classic CONVERTER/IMMINENT-line. The opening track "Tasting Nails" is one of the best introductions I've ever heard, presenting very well the balance between dark and ominous sample sounds and hammering rhythm lines to the end of the track. "Absolute Fury (in its very Fabric)" then doesn't takes any prisoners and executes the dancefloor. Remarkable also to note is the fact, that Jamie uses and integrates vocals. Be it his own timbre, often fx manipulated and inserted in different kinds, or be it with the help of several female guest vocalists, Jacqueline Curd, featured on the title track, "Your Anger Is A Gift" and "The Devil Worships Me" has to named for example.
Another highlight worth to mention is the dark sounding "Open To Me Your Black And Bitter Heart" and the try to combine DIVE-like noisy arrangements with some acoustic guitar loops – total contrary instruments can sound united.
"The Sea & The Silence" is a great example of a modern sounding rhythmically Powernoise album. It avoids too much repetitions, it doesn't fall into that unnecessary Hard-Tec/EBM-sound, but it is still straight oriented. An album with depth, message, Industrial ambience not to be missed.