Ambient / Electronica / Ethereal / Dub / Soundscapes / Abstract
Edit (9179)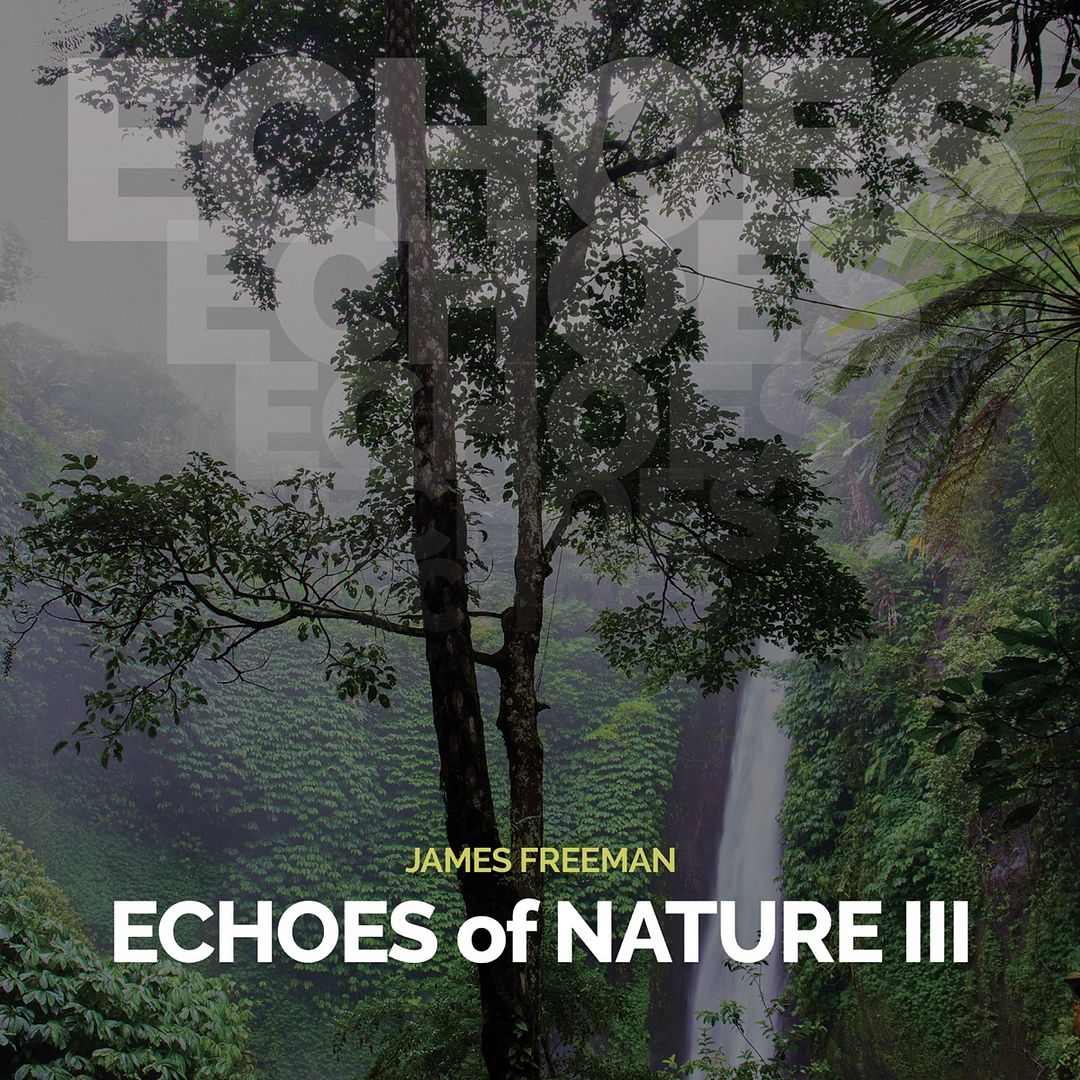 Artist:
James Freeman
Title:
Echoes of Nature III
Format:
CD
Label:
Edgetone Records
(@)
Distributor:
The Orchard
Rated:
The third installment of James Freeman's "Echoes of Nature" is generally interchangeable with the first two albums, though it is easily the most disjointed, and thus perhaps the most adventurous. Composer, conceptualist, and performer Freeman (synthesizer, bass, and guitar), once again marries his 'field recordings' (equally natural and unpredictable sounds of turkeys, birds, thunder, wolves, etc.) with authoritative soloing by live musicians. In addition to "Echoes" regulars Yehudit and Mad Tolling on violin/viola and Nika Rejto on flute/winds, Sheldon Brown returns on saxophone along with newcomer Lisa Wellhausen on flute.

The album begins rather ominously with fragmented low-end flourishes, which sets the tone for the first two tracks 'August Birds' and 'Wolves'. Both tracks, especially 'August Birds', can be surprisingly ominous-sounding. The pair had interesting moments, but more than once I felt like I needed a sonic breath to empty the mind space saturated by Freeman's conceptions.

'Canadian Geese' had more spaciousness and was a very interesting listen. Clean electric guitar comping coupled with the sounds of geese! I digress, but wonder if Canadian Geese sound different then geese of other nationalities? Proficient string improvisation by either Yehudit or Mad Tolling throughout leads to the subsequent 'Thunder Turkeys', which is similar in tonality and the longest track on the album (17:38). The comical, unpredictable sound of turkeys is highly amusing at times, and in this instance Freeman conjoins everything with an electric bass. Again, nearly ten minutes in, I found myself yearning for a long, deep breath as opposed to gasps.

I enjoyed the last three tracks the most, notably 'Amazon Dance', which was framed in the 'jazz idiom' and heavy on the winds and reeds. 'Tweety Birds' utilizes Rhodes piano-type sounds panned quickly back-and-forth to great effect. All in all, "Echoes of Nature III" was my least favorite of the bunch, but also the most audacious. It may fare better with a different track order. A remarkable sonic undertaking, regardless.

The math formula used to create the music, as defined in the press sheet:

1. Translate notes into numbers: C= 1, C#=2, etc.
2. Compose a theme, such as 1 3 4 6 2 9 11 3
3. Create derivative lines using the math formulas
4. Repeat this process to yield a matrix of numbers (notes) as a foundation for composing ideas
Ambient / Electronica / Ethereal / Dub / Soundscapes / Abstract
Edit (9178)
Artist:
James Freeman
Title:
Echoes of Nature II
Format:
CD
Label:
Edgetone Records
(@)
Distributor:
The Orchard
Rated:
Wait..there's a sequel to James Freeman's "Echoes of Nature"? And - spoiler alert - there's also an "Echoes of Nature III"??!! Still coming to all five senses from listening to the first, along comes a sequel with equally juxtaposed synthetics, natural 'field recordings' (owls, streams, etc.), and acoustic instruments/live musicians improvising atop it all. The result is surprisingly intriguing yet pastoral.

I was impressed with Freeman's first "Echoes of Nature", and this is more of the same, albeit more synthetic-sounding and nimble than the prior. Twenty-minute opener 'Frog Pond' features dexterous synth arpeggios, a frog-like ascending motif that functions almost like a bassline, and animated interplay amongst the soloists ranging in instrumentation from reed to wind to string. Mad Tolling and Yehudit return on violin/viola, as does Nika Rejto on flute and piccolo.

In an almost disconcerting way, the inorganic drum that opens the final track 'Jungle Flute' was so synthetic that, for a moment, it took me away from what had been nearly 50 minutes of balanced auditory potpourri. I thought, "that is a very unnatural-sounding drum to imagine either being or hearing in the jungle". Like everything on both of Freeman's "Echoes of Nature" albums, however, it somehow finds its relative place in the atmosphere, merrily plodding along.

Recommended for first-thing AM/last-thing PM listening for maximum enjoyment.
Ambient / Electronica / Ethereal / Dub / Soundscapes / Abstract
Edit (9177)
Artist:
James Freeman
Title:
Echoes of Nature
Format:
CD
Label:
Edgetone Records
(@)
Distributor:
The Orchard
Rated:
James Freeman's "Echoes of Nature" is a curious juxtaposition of synthesis and nature. Pre-listen, my thinking was that - though adventurous - the bulk of the material would be far too labored to have significant merit. The idea of 1s, 0s, and that which is inorganic blended with field recordings of nature (crickets, ocean waves, etc.) further coupled with organic/acoustic instrument improvisation seemed contrived. It still does. But somehow it works, literally filling either a room or your ears with echoes of natural musicality that still somehow derives itself from mathematically-shifting modality.

The extended violin and viola soloing of Mad Tolling and Yehudit are out-front but also well-integrated, as-is the flute and piccolo of Nika Rejto on the applicable 'Sunrise Birds'. All of the solos work contextually most of the time, and even when they sound like they might be getting in the way or otherwise too dominant, a temporary reprieve - but hardly a resolution - is almost breath-like as my brain gets ready for the next one.

Hard to pick a favorite, but I enjoyed the very long (39:48) 'Morning Waves' the most; it proved to be a dexterous workout for my headphones and my brain. Freeman's slow moving low-end synth swells married with high-end fast arpeggios and scale runs contrast the ocean waves in a spectacular way that is hypnotic. I had the pleasure of listening to "Echoes of Nature" first thing in the early AM, and it was quite rewarding. Musically fulfilling in-the-moment, and somehow continuing to be functional post-listen as I felt a sense of calmness afterward.
Ambient / Electronica / Ethereal / Dub / Soundscapes / Abstract
Edit (9176)
If you're into latter-day progressive rock, you are undoubtedly familiar with the name Trey Gunn, who was part of Robert Fripp's King Crimson from 1994 to 2003. Gunn has a slew of other credits under his belt, including collaborations with David Sylvian, Michael Brook, John Paul Jones, Steven Wilson, Jerry Marotta, Sean Malone, and a host of others as well as having a number of solo albums. Gunn's instrument of choice here is touch guitar (Warr guitar), an instrument that combines both bass and melodic strings on a single fretboard, related to the Chapman Stick. I've come to find that 'The Waters, They Are Rising' has been out for well over a year. My apologies that sometimes things get buried in the stacks of releases we are sent for review, and we only have a limited number of reviewers with limited time (hey, this isn't all we do) so better later than never, eh?

I have to admit that I gave up on Fripp's KC after 'Three of a Perfect Pair' so I'm not familiar with Gunn's work there, nor have I ever heard any of his solo albums. 'The Waters, They Are Rising' isn't what you's expect of a Crimson prog-rock guitar alumnus, but then again Gunn is far from your average prog-rock guitarist, and touch guitar isn't your typical prog-rock guitar. The majority of 'TW,TAR' is ambient, at times in the mode of Frippertronics, but not exactly. The album begins with a cover of Bob Dylan's "Not Dark Yet" sung by Dylan Nichole Bandy. Her husky alto voice sings this track in a languid style that's perfect for the feeling of what's to come backed only by Gunn's touch guitar. The rest of the tracks (2-11) are instrumentals that are based on Peter Gabriel's "Here Comes the Flood" and and music for a recent film score. (Sonya Lee's "Every Beautiful Thing.") Some were done live, some in the studio. You would be hard-pressed to figure out which is which, or what is what as it all seems to flow together. (This is supposed to be the first in a series of recordings based on different themes; "Flow" for this one, "Gravity" for the next.) When I first listened to this, I really didn't care for it. Seemed to me like a lot of sparse improvisational guitar with some electronic processing without aim or direction. In the background can be heard heavily processed spoken word at times on one track. Kinda thin on substance I thought. Subsequent listenings produced a markedly different opinion as aim and direction can definitely be discened by the careful ear. This is all about ebb and flow, where the most basic sonic elements can run very deep, as deep as the rising waters presented in the title. Each of the ten tracks of the instrumental portion of the album has its own feel and texture, and while undoubtedly minimal, presents a rich ambience that is unique. While much of it has no rhythmic component, there are a couple of sections that do- "The Seven Who Were Saved," and "The Final Wave." They are subtle to be sure, but you can't miss them. Bandy's voice makes a brief, wordless reprise on the final track, "The First Return," a nice bookend to close out the album. Overall, The Waters, They Are Rising' is an interesting, absorbing kind of ambient music, much more likely to be appreciated by connoisseurs of the contemplative than Gunn's core fanbase.
Ambient / Electronica / Ethereal / Dub / Soundscapes / Abstract
Edit (9175)
Artist:
Atomine Elektrine
(@)
Title:
Laniakea
Format:
CD
Label:
Wrotycz Records
(@)
Rated:

There probably aren't too many people who read Chain D.L.K. reviews that aren't familiar with the work of Peter Andersson. He's the man behind Raison d'être, Stratvm Terror, Necrophorus, Atomine Elektrine, Panzar, Svasti-ayanam, Bocksholm, Cataclyst and Grismannen. Back in the early '90's when I was first investigating the dark side of electronic music I couldn't get enough of the music of artists on the Cold Meat Industry label. It was inevitable that I'd discover Andersson's astounding work, and over the years he's become one of the most influential artists in the dark ambient genre. I ate up this stuff like crazy buying anything of his (and other similar artists) I could get my hands on. For me, Atomine Elektrine, and the fist album, 'Elemental Severance' seemed to be one of his more unusual projects; a repository for ideas that didn't seem to fit in elswhere in his ouevre. It was a hodge-podge of experimental electronica and sampling that ran the gamut from Enigma-esque instrumentals to Tangerine Dream-like space music to Dead Can Dancey structures, and a smidge of Raison d'être archaic gothiness with plenty of dialogue samples thrown in for good measure. Listening to it again in the present day it sounds a bit dated but there are still great moments. I kind of wrote it off as a one-off project, little realizing that Andersson would produce a half-dozen more albums under the Atomine Elektrine moniker (including this one) over the years. Imagine my surptise and delight then in discovering a new Atomine Elektrine CD in the latest review batch, although I found I had some catching up to do when I checked out the discography. From the little I was able to sample it seemed as though Atomine Elektrine had taken on a definite identity- much more electronic and cosmic space oriented, and also at times much heavier.

That brings us to 'Laniakea,' the most recent Atomine Elektrine album, and what a wonderful thing it is. The name means "immeasurable heaven: deep, spacious, dark and ostensibly empty but still full of energy, matter, structures and bright objects." A perfectly approprite title if there ever was one. In essence though, 'Laniakea' is an homage to Tangerine Dream and the passing of founding memeber Edgar Froese (who I was lucky enough to meet and interview back in the late '70's) as well as other "kosmiche musik" artists of the era. The album has five tracks, with an additional three for the CD version, a definite inducement to buy the physical product. It begins gently with "Centaurus" easing you in with with some melodic electronic ambient, then builds up the deep atmosphere with "Abell 3521". It's about 3 minutes before that oh so familiar TD hypnotic sequencer comes to fore, but when it does, it's nostalgic and glorious! Every element employed supports and enhances this wave of cosmic bliss that you hope might never end. "Virgo" moves into even deeper terrain, far beyond thyis earthly realm, floating in the void of the infinite. Then, out of nowhere, or everywhere, the hypnotic sequencer takes over again, with motion that becomes your travel engine. You have to love the subtle sonic manipulations and permutations that ensue, all the while maintaining the integrity of the structure. "Hydra" is somewhat lighter but still sequencer driven, a little respite before the awesomeness of "Fornax". This is the last stop on the cosmic express for those of you buying the digital download as opposed to the CD.

For those continuing on the journey, welcome to "Achernar" where a more sublime (and slightly metallic) hypnotic sequencer awaits. "Acamar" uses a staccato yet sublte sequencer to transport you to "Zeta Normae" firmly rooted in TD territory. 'Laniakea' doesn't really break new ground in the kosmiche musik genre, but it will give you that (hypnotic sequencer) fix you've been craving, and really, what more could you ask for?