Ambient / Electronica / Ethereal / Dub / Soundscapes / Abstract
Edit (8878)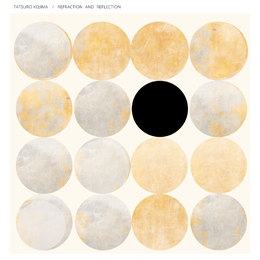 Artist:
Tatsuro Kojima
Title:
Refraction and Reflection
Format:
Download Only (MP3 + Lossless)
Label:
Audiobulb
(@)
Rated:
Tatsuro Kojima describes himself as composing in visual terms rather than musical ones as being trained as a visual artist. This release has been constructed using "field recordings and synthesizer sounds and processed them in various ways to alter and reconstruct the original". However, rather than sound as a complex intertwining of sounds, this release is almost linear in his development from more complex tracks to more linear ones.
The first half, starting with "idea" is closer to some forms of post-glitch where the noises and the samples are arranged, rather than exposing their discontinuities, to recreate a sort of blurred edge. "Surface of the light" uses a drone as unifying elements for the field recordings. "0405" is a clever sequences of samples while "neutral" is a static and metronomic one. With the piano notes of "0203" starts the second half of this release, oriented toward gentle ambient miniature mostly based on loop, "blank space" is a gentle noisy soundscape while "fiction?" is focused on the dialogue between the hypnotic carillon like background and the noise upon with a remarkable result. "Yuki no ato (28/11 9 a.m.)" is almost a lowercase tune while "kokoro / asu wa you hi" is almost a proper piano piece ending with the resonances of the last notes which occupies almost half of the track. "Owari ni" develops the distortion of a drone. "Fish-eye" is an hypnotic track based on a drone and field recording acting as almost a loop.
Even in a well defined and known musical form, Tatsuro Kojima develops enjoyable moments of clear charm almost compensating his lack of originality. Only for fans, or collectors, of ambient and glitch-pop.
Ambient / Electronica / Ethereal / Dub / Soundscapes / Abstract
Edit (8875)
Artist:
Maciek Szymczuk
(@)
Title:
Music for Cassandra
Format:
CD
Label:
Zoharum
(@)
Distributor:
Alchembria
Rated:
A Friedrich Schiller's quote, "Give me back my darkened senses, I'll be gladly blind by choice", reveals the theme of this release: the mythological figure of Cassandra. As a concept-album, the tracks are conceived as movements of a long piece and apparently feeble tracks make sense in the context of the other tracks.
The musical tale starts with "Serpents' Tongues", an introductory track to "She Who Entangles Men" and the musical form is suddenly exposed: upon an almost ambient texture a mid-tempo beat tries to collide with the overall sense of sadness. "The Seer" reveals an almost synth-pop influence with the melody of the second part of the track while "Helen's Golden Veil" returns to a more solemn melody and "In The Belly Of The Weapon" is a dark ambient interlude to "Spoil Of War" whose guitar introduction is resolved in a track, "Infinite Sadness Of Being Right", entirely based on a beautiful synth line slowly developed. The resonance of "Let My Life Be Done" marks the final part of this release with the return of drums. "Last Lament In Death" is a static dark ambient subtle texture and "I Am Free" close this release at the crossroad of ambient and synth-pop.
The uncertainty of the musical direction is the result of the effort of depicting the many sides of the myth and exploit this sound palette to escape from a mere mimesis of the story. It's worth a careful listening.
Ambient / Electronica / Ethereal / Dub / Soundscapes / Abstract
Edit (8874)
Artist:
Expo 70
(@)
Title:
Solar Drifting
Format:
CD
Label:
Zoharum
(@)
Distributor:
Alchembria
Rated:
This new release from Expo 70 collects four out of print release and documents this project with shorter tracks than the ones included in the releases already reviewed by myself. Instead of the chronologic order, the playlist tries to oppose the two sides of the musical composition: the drone, mostly by guitar, and the noise, mostly by synth, so escaping the vague sense of stasis that could be the cons of this musical style.
"Soft Wave Continuum" is based on two distinct drones based on two tones while "Trancending Energy From Light (Excerpt)" is an exploration of guitar's resonances. "Solar Drifting" starts with oscillators acting as foreground to the underlying guitar lines. The delay applied to the guitar in "Crawling Through Crystal Skies" creates the more psychedelic track of this release while the feedback of "Tarot Reading" create the more metal oriented one. "A1V" features metallic percussion while "Sunglasses" explore the form already used in "Solar Drifting". "Electric Waves" explore the guitar effects to create a kaleidoscopic musical spectrum and "Heterotopia" is focused on a guitar line slowly emerging from a guitar drone.
All that emerges it the search for evading the sense of stasis, typical of drone, to reach a sense of imperceptible movement. With his varied musical structure this release is perhaps a perfect introduction for the primer and it's a recommended release for fans of the project.
Artist:
D Bayne
Title:
Meditations on Present Time
Format:
CD
Label:
Luminescence Records
Rated:
The seemingly simple piano phrasing by which Luminescence label boss, the American composer and pianist D Bayne, implements field recordings into composition, is neither a diaphragm nor a proper filtering overlap, as there's a strong matching between the resounding surroundings and its somewhat ecstatic tonal stream. It could be regarded more as if it were a clingfilm, whose transparency highlights the inner dynamics as well as the elusive balance of the surrounding living world, instead of hiding it. Named after the places or situations where field recordings got grabbed - "East Washington Street at Night", "Metra Locomotive Ravenswood Station", "Ogilvie Transportation Center", "Ogilvie Transportation Center Platforms", "Bourbon Street", "Chicago River Bridges", "One South Wacker Drive" and so on -, the twelve tracks of this album by this experienced composer, whose artistic and musical growth was undoubtedly furthered by remarkable teachings and teachers (for instance, after gaining a graduation from the Lawrence University Conservatory of Music in 1995, he studied with Dave Douglas, Louis Sclavis, Dylan van der Schyff and John Abercrombie at the Banff International Workshop in Jazz and Creative Music in 2003 and with Karlheinz Stockhausen and Richard Toop at the Stockhausen Corses Kuerten in Germany) - a glaring indication of D bayne's strong academic exprience will be clear to attentive listeners, who will easily notice his moderate aleatorism and the accurate focus on harmony -, sound like an emotionally purging removal of emotional dust from the surfaces of a sometimes grey, unsurprising and monotonous reality to the extent that I can't rulesome beneficial effects for listeners out.
Artist:
Baron Oufo
Title:
Dar al-Hikma
Format:
CD
Label:
Quadrilab
Rated:
The buzzing sound of a sort of engine, which got combined by low frequency tones from a somehow menacing synth-brass, of the opening track "Depth of the Prophecy" - some pitched sounds could let some attentive listeners surmise such a title could be a reference to well-known Korg monophonic synthesizer more than to mysticism or religion - are the substratum of the first of four really immersive and atmospheric drones, whose inspirational transcendent forces got enforced by Dar al-Hikma, the place where Jerome Alban (member of Metronome Charisma and Year of No Light) and Eddie Ladoire - the Frenchmen behind Baron Oufo moniker - conceived this album, named after this fascinating place in Egyptian capital city Cairo, the ancient university of the Fatimid Caliphate, whose huge library was considered as a sort of proper wonder. A distinct metallic clangourous noise marks the ignition of the above-sketched drone, as it it mirrored the breaking of an ancient lock that seals some mysterious ancient knowledge, which sounds like being celebrated by the thick obscure aural mist, which got injected by Baron Oufo over the listening experience they managed to create. The fade out at the end of the above-mentioned opening track could let you think the typical clips of some sci-fi movies, where a ginormous shiny space cruiser or some unknown planet cause temporary eclipses, while the following "Dhikr", named after an ancient mystical rite of traditional Islamic Sufism, better evokes the halo of the whole release by means of the insertion of some trance-inducing percussions and the chirping birds, which precedes "Is a God to live in a dog?", the darkest transition of the release, which land on the over-stretched slighly lighter tones of the 20-minutes lasting "Blessing and Worship to the Prophet of the Lovely Star".