Artist:
Giulio Aldinucci
(@)
Title:
Spazio Sacro
Format:
CD
Label:
Time Released Sound
(@)
Rated:
The sizzling noises of the opening track "The hermit" by brilliant sound artist Giulio Aldinucci could let you think he's frantically unpacking boxes or picking the lock of a casket where he kept sonic traces of memories and sonic clues from a number of sacred places of his native land, before he discloses his "Spazio Sacro" (italian for "Sacred space"), a release where the intimate recesses of religious experience meet the architecture and the lovely landscaping of Siena (Tuscany, Italy), where the alternance of void spaces and modelled solid matter meet the empty and rich places of a soul during its spiritual quest over painful remembrance ("Ricordo"), trascendental and somehow dizzying meditations ("Sator"), stunning contemplative moments where the dialogue of mind and soul cross the blurred lines of external sonic entiies which seems to be signs of a previously unknowable truth ("Come un immenso specchio d'inverno" - meaning "Like a wide mirror in wintertime"-), ecstatic reverie ("The liquid room"), intuitive perception of universal greatness ("Mountain") and recovered piece oif mind and intimacy ("Camino" - Italian word for 'fireplace'). Many field recordings that got manipulated by Giulio have been wisely placed in this perpetual ascension towards ethereal regions of composer's feelings and memories and the summit of the sacred (both artificial and natural) places which features his personal and sensorial history.
Ambient / Electronica / Ethereal / Dub / Soundscapes / Abstract
Edit (8729)
In order to propel a hot air baloon air, Koln-based Klangwart heat this lovely release by an awesome amalamation of old-fashioned electronic music in between the balearic orbits by Manuel Gottsching, the cosmic joyrides of German kosmische knights, some waveforms by William Orbit and the hydrocarbon rhythmical chains and the delightful analogue trajectories by Terry Riley (the closest one to Klangwart's "Transit" is maybe Riley's "A Rainbow in Curved Air"), whose minimal music together with the one by legendary Steve Reich has been a source for inspiration since the times when Markus Detmer and Timo Reuber (the minds behind Klangwart's curtains) met in a seminar on electronic music in 1992 when theyr were students of musicology. The listening experience they offer on "Transit" is other than a bunch of nostalgic inserts as some unforeseen events and unexpected rising of the injecting flame at the bottom of balloon's envelope occur during the flight since the "Passage I", the first journey (remarkably shorter in time than his more-than-10-minutes lasting anthem) after the intro "Ante", where the typical analogue sequence, that could be matched to BBC news jingles or some bizarre experiments of genetic engineering, sounds like heaten by hot flushes of muffles low frequencies before getting siphoned by wide reverberations on the following "Express", which sounds like some psychedelic drifts by Chemical Brothers. The organic chirping of the beautiful "Station", which is closer to some analogue mellotronic stuff from many Swiss producers, and the gentle rhythmical blaze of "Transit" precede the ecstatic electronic secretions of "Plateau", whose injection of soothing feelings didn't get endangered by the molecular agitation of the following "Passage II" or the analogue wrapping of "Exile", whose gradual overheating sounds like the perfect track for the crossing of the space-time continuum inside a starship that seems to land over the fuzzy rippling of the final "Rendezvous". Klangwart's "Transit" could really be considered one fo the most intriguing varnishing of the so-called cosmic music.
Ambient / Electronica / Ethereal / Dub / Soundscapes / Abstract
Edit (8727)
problems
with image
availability
Artist:
Docetism
Title:
Breaking The Circle Of Life
Format:
CD
Label:
Tavern Eightieth
(@)
Rated:
I had not heard of this Polish project, but the label explains that the album 'explores the idea of a peaceful escape from life and the service of impulse and desire, aiming to express the possible contents of such an escape. The result is a set of gentle, moving ambient productions combining forest field recordings and murky choral samples with dubby bass and thick, droning strings.' Sounds good, so let's get into the music. 'Poisons' kicks it off with a 2 minute track of peaceful dark ambient. Then 'Parsifal' shifts gears as the clouds part and the sun appears overhead. Peaceful, hypnotic music with a bass line buried low in the mix (at first I thought it was coming from the car next to me). 'Forest Monks' brings the beat to the forefront with a prominent bass drum and voices singing and chanting. The overall feel is still pretty chill, though. Next up, 'The Wheel Of Ixion Stands Still,' a title which comes from the Schopenhauer quote in the liner notes, keeps the mellow vibe going with slow moving, peaceful ambiance and ethereal female vocals. Finally, 'Samadhi' features heavily processed spoken word that seems to be guiding a meditation session at the beginning, middle, and end. Singing bowl tones open and close the track while heavy drone permeates the track. A bass beat runs through it like a heartbeat, adding to the contemplative feel. The best way to describe this disc is something to put on when you need to slow everything down. Very chill stuff. This album is limited to 100 copies and weighs in at around 32 minutes.
Ambient / Electronica / Ethereal / Dub / Soundscapes / Abstract
Edit (8725)
Artist:
Fanum / Karna
(@)
Title:
Something Else
Format:
CD
Label:
Zhelezobeton
(@)
Rated:
I was not familiar with these Russian acts, but I have enjoyed the material that Zhelezobeton has put out over the years so I was interested to see this addition to the label. Before you even put the disc in the player, you'll notice a quotation on the disc from Y. Mamleev that states 'We have to know how to suffer without a reason... We have to master pure suffering, have to learn to suffer amidst happiness.' This may give some indication of the feeling that they are trying to evoke here. Thankfully, this was anything but suffering. First up, we have Fanum, with the track 'Final.' This is a nice slab of spacey dark ambient that the label describes as 'an unhurried drift through deserted mechanized spaces, slow loops of soft noises and streams of vibrant drones. It seems like birds singing somewhere? Or is it just a rusty flap creaking in the wind?' It's pulsating and gritty, and at time it evokes the feeling of being in a factory with machinery creaking, whirring, and humming all around you. At other times it shifts to a more spacey feel, with deep, rumbling bass drone. Nicely done. Next up, we have Karna with 'Afterworld,' which the label describes as 'a monotonous post-apocalyptic soundscape imbued by cold moonlight. Lifeless space, painted with pulsating low frequencies and grainy crackling of the electrified air.' The piece kicks off with an air raid siren before diving into noisy, droning ambiance. Over time, it slowly shifts to a more structured feel, with a slow, pounding beat, before dissolving back into diffuse drone. Although they are different in style, they are similar in feel. As such, this hangs together better than one could expect from two different bands. If you have enjoyed the dark ambient music coming out of Russia in recent years, this will be right up your alley. This album weighs in at around 53 minutes.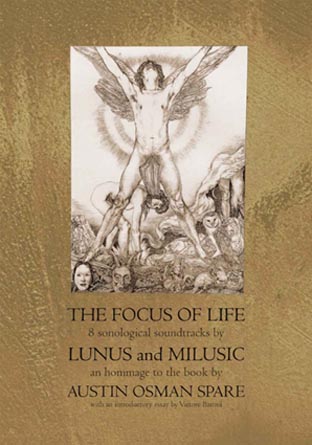 Artist:
Lunus And Milusic
Title:
The Focus Of Life
Format:
CD + Book
Label:
Old Europa Cafe
Rated:
Artist, magician, precursor and eccentric man for his Dickensian times, Austin Osman Spare brought the unconscious to conscious thanks to his automatic drawings and sigils methods. His paints were evocative and mysterious and despite he lived almost in poverty, he made links with Crowley (he joined shortly the Botherhood Of The Silver Star a.k.a. Aregenteum Astrum) and in the 50s with Steffi and Kenneth Grant, who after his death became his literary executors. Talking about the CD by Lunus and Milusic, I think that the first one doesn't need a long introduction, as Denis Granziera is active since the 90s with musical project such as Teatro Satanico, Abra Had Abra, Bass Tards!, Lvnvs, Necrophonie, Officina Elettromagnetica, S. Biasin Trio, the latest New Processean Order, etc. Milusic is Roberto Migliussi and musically hasn't been really active, but he was the founder of Idola Tribus, a fanzine published in the 80s that was dealing with music, iconic historical people (as Hassan-I Sabbath) and more. In the last decades he became publisher and translated different Grant and Spare writings as well became a Peat therapist (Peat is a method of energetic psychology perfectioned by Zivorad M. Slavinski). Anyway, back to the music, "The Focus Of Life" contains eight tracks inspired by the Austin Osman Spare book. We have a sort of spoken word with an electronic soundtrack where synth pads and mid tempo rhythms create the core of the tracks while noises, chants, hypnotic melodies enhance the formula. The release has also a 38 pages book with introductory essay by Vittore Baroni and reproduction of the work of A.O.S. from 'Focus of Life". I enjoyed the release and in my humble opinion would have been perfect with the lyrics read by a professional actor.