Ambient / Electronica / Ethereal / Dub / Soundscapes / Abstract
Edit (10161)
Artist:
ghost and tape
(@)
Title:
Vár
Format:
CD
Label:
Home Normal
(@)
Rated:
The title of this new output by Danish producer Heine Christensen aka ghost and tape is the word for 'spring' in Old Norse (very similar to 'Voar' and 'Ware', old Scottish words used in Orkney and Shetland and in Northern Isles and South-Western Scotland respectively), whose meaning is not strictly related to the season, but could also refer to a 'new beginning'. Discovered through an album released by Akira Kosemura's imprint Scholes, randomly found in a shop in Tokyo (where headquarters of Home Normal is), Ian resembles that he was initially attracted by the artwork, but when he listened to its musical content, he noticed a strong consonance with Home Normal's ethos and policy. In Ian's own words: "I've always admired people who take their time with their music for they appreciate the finer details and seem to understand music as a timeless quantity.[...]'Pure and forceful with mystifying, beautiful patterns.' I don't think you could get a more apt description than this to describe such a work. This is ambient music as its most thoughtful and tender; so carefully crafted and worked, with purpose in each and every twist and turn.". The description could sum the sound you'll find in this album up; its general vibe, elongated and occasionally lulling tones, gentle melodies, whose symbiosis with field recordings of natural settings, evoking a strong sense of peace, are not a harmony in the strictly academic meaning of the term, but they asymptotically tend to an idea of harmony, that smells of ancient pagan beliefs, green magic and awakening natural energies, strongly rooted in some Germanic old culture (as testified by the reference to the goddess 'Eostre' - the English word 'Easter' seems to come from the name of this name, as well). Even if I won't say the sonic strategies explored by Heine are really groundbreaking in the ambient scene, the purity of its sound makes it a really delightful listening experience. A rare quality nowadays.
Ambient / Electronica / Ethereal / Dub / Soundscapes / Abstract
Edit (10156)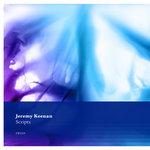 Artist:
Jeremy Keenan
(@)
Title:
Scripts
Format:
Download Only (MP3 + Lossless)
Label:
Forwind Press
(@)
Rated:
While he's a relatively (un)known sound artist, this is the first audio release I heard of by Jeremy Keenan. Most of his output is an exploration and an actualization of the processes used by the avant-garde of the '60s, so his focus in on generative music process and the properties of sound rather than on melody and harmony. To fully appreciate this release it's quite recommended a proper setting e.g., headphone and the concern that a listener should place his attention on sound movements in timbre rather than pitch.
The short drones that open "Scripts" introduce the listener into an apparently static sound field, even if the three parts of the track are sharply delimited, which exposes his form when the listener is aware of the movements either in frequency than in space. "Intone" continues on the same path but with a process of addition and subtraction of the layers of well defined frequencies of the drones. As the elements of "Zapffe" enter and exit from the listener's perception, there's a sense of writing along with the construction of the timbres and this is further confirmed by "We Were Supposed to Drown" which is completely focused upon a single drone which is slightly but continuously modified to escape even the smallest moment of stasis.
This release with his impressive movement to be based mainly on drones is a sure pick for all fans of ambient music and with his wise choice of concision (it lasts only 29 minutes) it could be appreciated also by the casual listener of the genre. Recommended.
Ambient / Electronica / Ethereal / Dub / Soundscapes / Abstract
Edit (10155)
Artist:
Sontag Shogun and Moskitoo
(@)
Title:
The Things We Let Fall Apart / The Thunderswan
Format:
7"
Label:
Home Normal
(@)
Rated:
Some storyteller would say that this brief sonic tidbit on Home Normal - Ian Hawgood, its label manager, announced this will be the last release of 2017 - could be made of the same substance that dreams are made of, or I'd better say of the substance of fairytales. It's somehow true, as the two outputs on the tracks of this vynil could be matched to fabulous parallel worlds, due to the musical outfit that New York-based trio Sontag Shogun sewed for the enchanting voice by sound designer and vocalist Sanae Yamasaki, better known as Moskitoo (check her outouts on 12k to focus her style better): Ian Temple's delicate piano melodies, the amazedly guessed electronic entities forged and grasped by Jesse Perlstein (he's also the background voice you can hear in "The Thunderswan") and Jeremy Young, who also added some drops of squeezed oscillators in this balm for listeners' dreams. According to Jeremy's introduction, the idea behind these two tracks blossomed after Sontag Shogun tour with minamo, where they met Moskitoo. The band already appreciated Moskitoo's music, but they tried to give a sort of 'live' touch and put her evocative music out of glitchy and digitally marked sonic webs by drying Sontag's music to highlight the "soft, whispering voice" of the Japanese singer. "The Things We Let Fall Apart" mirrors this process, as they removed "a glitching beat created from chopped grain synthesized bits of radio static" of the initial version of the track. The shape of the sound in the mentioned "The Thunderswan" is similar, but there's a sort of fairytale as a framework for the track. Here it is the explanation of the story by Jeremy: "this piece is about a girl who doesn't belong in the town she's from. She wanders through tall reeds at night to a dark lake where she finds families of ducks and geese. She knows she doesn't belong here either, but they take her in, give her swan's wings, and teach her to fly. Eventually one night, she takes flight and leaves the lake, soaring over it, over the lights of the town, looking down on these places that mean nothing to her, and she gets stuck in a thunderstorm. She battles through some rains and wind, and decides to elevate herself to above the clouds, she breaks through the thick clouds, following the ever-brightening glow of the moon to find clear night skies. Below her are the tops of clouds, above her only stars, she's more alone here and now than she's ever been and starts to doubt that she'll ever find her true home. Just then, in an instant, from behind her and circling all around her, come 200 other boys and girls, flapping their giant swan's wings and gliding through the night air together. She's made it. She's home at last.". They's Home (Normal) at last.
Ambient / Electronica / Ethereal / Dub / Soundscapes / Abstract
Edit (10145)
Artist:
Darshan Ambient
(@)
Title:
Lingering Day: Anatomy of a Daydream
Format:
CD + Download
Label:
Spotted Peccary Music
(@)
Rated:

'Lingering Day: Anatomy of a Daydream' is the tenth album on the Spotted Peccary label by Darshan Ambient (with over a dozen additional releases elswhere), the project name of California musician/composer Michael Allison. Of course, this is the first Darshan Ambient release I've experienced. Allison's background includes stints back in the '80s with Nona Hendryx's Zero Cool band, China Shop, Richard Hell & the Voidoids, and his own band, Empty House. (Kind of sounded like a prog-rock version of the Police mixed with Thomas Dolby.) Funny how such fiery beginnings mellows into chillout ambient as the years go by. To be perfectly honest, I really didn't care too much for 'Lingering Day' the first couple of times I heard it. It came across as New Agey, pretty but lacking substance. There is one track ("Silver") that conjured images of cartoon lambs frolicking in cartoon fields perhaps as a commercial for fabric softener. On the other hand the album is extremely well-played, orchestrated, recorded and produced, all by Allison himself. With further listening I find that only the first couple of numbers fit in that typical New Age mold. That's mainly due to the simple piano-based meodies and themes. Third track, "Arc of Angels" sounds like something from an Anthony Phillips (first guitarist of progressive rock band Genesis), the only track on the album with vocals. It's a bit like a prog-rocker turning pastoral. And yes, there drums on it. Once beyond these early tracks things do get better though, albeit slowly. There is still (highly stylized) simplistic melodic content, but it gives way to a more ambient feel. The rhythm track on "Mover" (as repetitious as it is) supports rather than detracts from this bouncy, shifting melambient piece. Further along there are more sustained ambiences, some with melodies and others not so much. One of my favorites was "The Lost Hunter," is a piece with just the right amounts of melody, rhythm and proggy but languid guitar. What is remarkable about the album is its variety, in which numerous moods, motifs, and settings are explored. One minute you're floating in airy cumulus space with "Hand in the Clouds," the next you're earthbound, bopping along in some foreign market "Kissing Crust". So there is ambient, and melambient here, like the softer side of prog-rock which for many, might not be a bad thing at all. The final track, and title track "Lingering Day" is completely ambient in its deliciously droney soundscape. Good way to end it. 'Lingering Day' has a lot to offer once you get past the first couple of stereotypical New Age tracks as it unfolds into something quite marvelous.
Ambient / Electronica / Ethereal / Dub / Soundscapes / Abstract
Edit (10144)
Artist:
Metatron Omega
(@)
Title:
Illuminatio
Format:
CD
Label:
Cryo Chamber
(@)
Rated:
As its previous release, Metatron Omega confirms his religious inspiration with a release based on the concept of illumination obtained with meditation in a solitary environment. This depiction is mostly obtained with a massive use of echoes and reverbs to obtain a sound of great space and based on resonances similar to those that could be heard in a really large cathedral.
The echoes of Gregorian chants in "Ecclesia Universalis" open this release introducing the listener into an environment which is as abstract as culturally signified that is interrupted for a second part based on small sonic nuances. "Heosphoros" is always at the crossroad between a crescendo and a static track while "Illuminatio" is almost a proper crescendo, or, more properly, is a slow layering of sound lines, which abruptly ends for a finale of grave meditation. "Thy Light" and "Mysteriis De Sanguine" oscillate between echoes of voices and evocative samples. The deep sounscape of "Sacrum Noctis" with really bass frequency is illuminated by the bright high pitched drone and "Chalice of Eternity" closes this release with a quiet and religious environment generated with evocative sound lines.
While it could be a little boring for listeners of other genres, as it's based on a couple of great ideas scattered in a release lasting over an hour, it would be a sure pick for those who cares for evocative and crafted soundscapes. A nice release.