Ambient / Electronica / Ethereal / Dub / Soundscapes / Abstract
Edit (9389)
Artist:
Reisebüro86
Title:
Platform 12
Format:
Download Only (MP3 + Lossless)
Label:
self-released
"Platform 12" opens as though it will largely be an ambient field recording of a slightly barren, windswept Hungarian railway station, and while that it certainly the opening line of the premise, it quickly morphs into other shapes. Unexpected spot sounds are looped into various rhythms both simple and complex.

"Day II" seems to have involved the microphone being snuck into a station office- is that a dot matrix printer? And in the second half of "Day I", is that the sound of a station urinal flushing, timestretched to within an inch of its life? It's a playful and wilfully random affair in some ways, but there are sinister, windy undertones as well.

The mechanical insistence of "Day II" is a transient, found sound techno. "Day III" throws electronic equipment warning beeps together like they're having a melodic bar fight. "Day IV" creates a debate between different hydraulic machines. A train station this may be, quiet it is not. Interestingly, there's no evidence of people here either; somehow all evidence of human life has been carefully expunged from the recordings, leaving only the machines with a voice.

"Platform 12" is an engaging and well-executed 20-minute concept EP.
Ambient / Electronica / Ethereal / Dub / Soundscapes / Abstract
Edit (9388)
Artist:
Dean De Benedictis
(@)
Title:
Salvaging the Present
Format:
CD
Label:
Spotted Peccary Music
(@)
Rated:
The second Spotted Peccary release in today's reviews comes from Dean De Benedictis, an artist with rich and varied credentials going back to 1990's. He's the son of TV series music composer Dick De Benedictis (Perry Mason 1985-93, Columbo, Rockford Files, Matlock, etc.) and has been releasing his own recordings since 1996. With a background in jazz fusion and progressive rock bands (he performed with Brand X on tour in 2004), Dean gravitated toward electronic and techno-tribal, influenced by such artists as Tangerine Dream, Mark Isham, Steve Roach, Robert Rich and Loren Nerell. He's had releases under the alias Surface 10 as well as under his own name. De Benedictis is the founder of both Fateless Records, and the Fateless Flows Collective, a Los Angeles group of electronic composers. Dean is also the co-founder and producer of Cyberstock, an outdoor music concert and visual arts display held in the Santa Monica Mountains. With all that in mind, it's a wonder that 'Salvaging the Present' is my first experience with his music.

Seldom does a one-sheet (the promo text accompanying the release provided by the label and/or artist for the review) do much more than hype the release, and I usually hate quoting them, but in this case, it's quite relevant. "Through the creative use of musical instruments and sound design tools, De Benedictis scores an emotionally deep, aesthetically appealing and technologically sophisticated triumph, blending organic and electronic expressions into a compelling panorama of music and sound." That just about nails it. But he didn't do it entirely alone - guests include Percy Jones (bass), Alexey Gorokholinskiy (clarinet), Peter Ludwig (cello and voice), Lisa Claire Mitterer (vocals), D'von Charley (native flute), Jim Goetsch (sax) and Angelo Elonte (violin). 'Salvaging the Present' is so far removed from what we've come to think of as ambient, that it is "sui generis," something entirely in its own genre. Yes, there are deep ambient passages, some techno-tribal, a nod to classical, world music, experimental, and more, but it has a special vibe to it that can't be pigeonholed.

It's grand and spacious, yet well-grounded. Sometimes heavenly, sometimes rhythmic, sometimes both simultaneously. The album has nine tracks, all of them over six minutes and under ten. The first track alone, "To the Ends of Elation" is a minor masterpiece with a richness and musicality that rivals anything in the cinematic ambient realm I've heard in a long, long time. It only gets better from there, and I'm actually awed by what I'm hearing. An incredible variety of moods and motifs that enthrall the listener, this is the kind of ambient that you want to pump up the volume for, not relegate to the background. So in that sense 'Salvaging the Present' is much more than just ambient; it is symphonic ambient without the strictures of classical music, or any traditional musical format. Yet, there are elements that will be familiar, and the way they are blended within the context of these soundscapes is indeed remarkable. This is really a beautiful album through and through, worthy of its lofty rating, and highly recommended.
Ambient / Electronica / Ethereal / Dub / Soundscapes / Abstract
Edit (9387)
Artist:
Rudy Adrian
(@)
Title:
Coastlines
Format:
CD
Label:
Spotted Peccary Music
(@)
Rated:
'Coastlines' is New Zealander Rudy Adrian's 15th album release and 5th for the Spotted Peccary label. This is my first experience with either, and although I've been reviewing here at Chain D.L.K. for quite some time, it seems as though there is always something new to discover, even if the project has been around for awhile previously unknown to me. As you might surmise, Adrian is an electronic ambient artist, and the title 'Coastlines' is self-evident of the music. Well, sort of but not exactly. This is not 50 minutes of water lapping against the shore or the ocean crashing on the beach. There is a little of that to set the mood, but nothing so prosaic or boring; you could get that on some 'Environments' album.

Being a native new Zealander Rudy has access to all of its unspoiled spaces and breathtaking vistas, so it must be a Godsend for creating ambient music, and perhaps that's the reason why he's so prolific. Over ten tracks on this album, Adrian explores various aspects of where the sea meets the land, and within the confines of the concept, he presents a variety of aural moods that are mostly placid, sometimes mysterious, often meditative and always expansive. Natural sounds are occasionally employed to enhance the ambiance, but not overused. The melodic content is somewhat subliminal and elongated (not quite "melambient"), perhaps not as amorphous as Eno's ambient melodies, but subdued all the same. I suppose there are parts that could be construed as "new agey" (the chirping birdies come to mind) but these are transient motifs in a much greater whole. 'Coastlines' is slow and sedate, but rich with textures and atmosphere. At low volume it would be great for mediation, and even promoting sleep with its luxuriant tranquility. Imaginative and and engaging, 'Coastlines' has a wonderful flow to it that will make repeated listening a pleasure.
Ambient / Electronica / Ethereal / Dub / Soundscapes / Abstract
Edit (9384)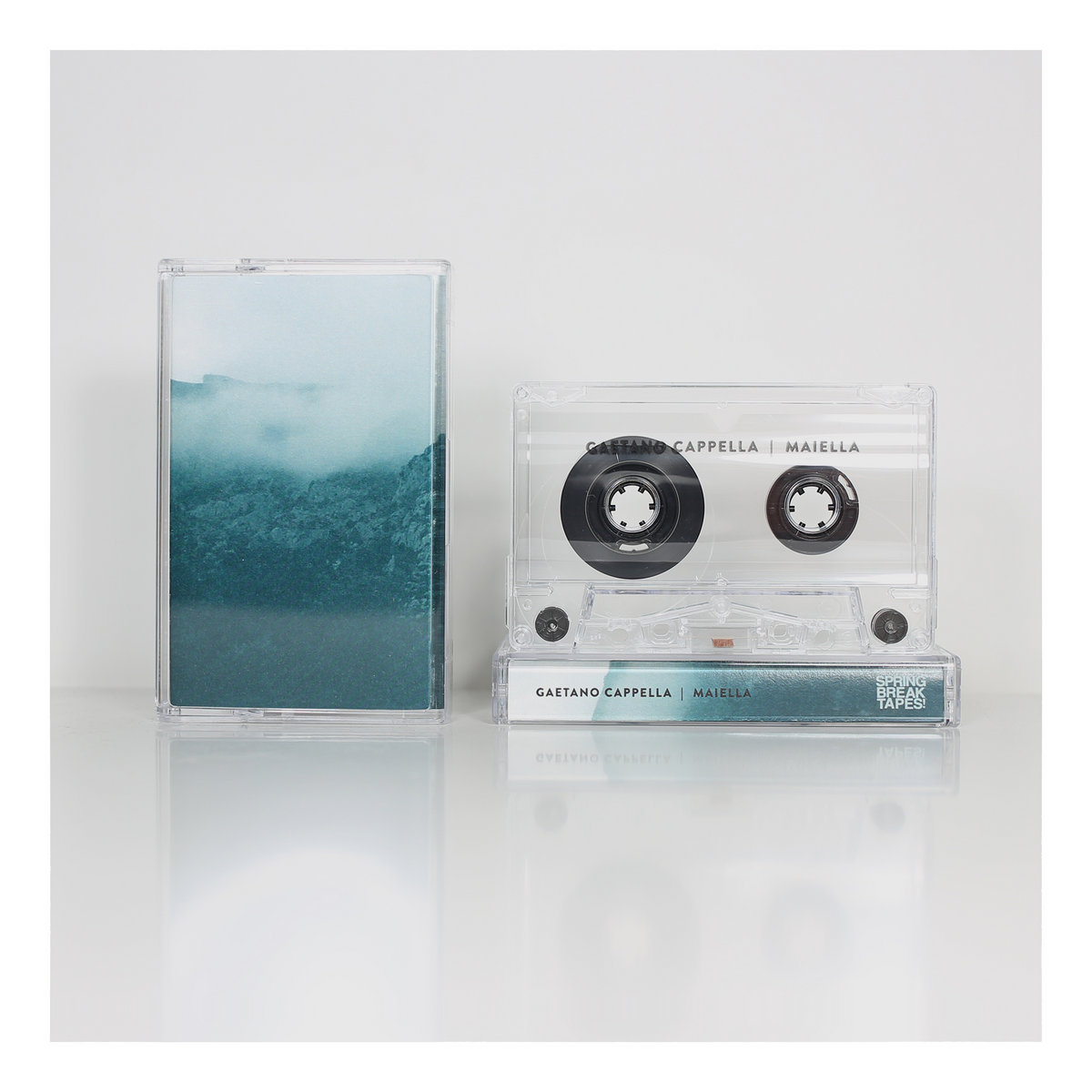 Artist:
Gaetano Cappella
Title:
Maiella
Format:
Tape
Label:
Spring Break Tapes
Rated:
Gaetano Cappella is a young 26 years old guy coming from Abruzzo, Italy. On early 2015 because of a personal crisis he decided to isolate himself from the outside world just to get connected to nature. Once he made it he started to feel like the suffering of the earth was concerning and inspiring him. This, after being without playing for three years, made him started recording his EP "Maiella". Soundwise, the two sides of the EP are composed by field recordings and manipulated guitar sounds. Guitar loops where played using two portable cassette tape devices (the old walkman) and everything was mixed and played live on a Fostex four track recording device. No software have been used to record the music you're finding here. Personally I really appreciated the approach Gaetano had with his sound sources, as the small melodic parts are well mixed into the background drones which are enriched by flashing sounds and sparse rhythmic parts. Being magmatic and intense, "Maiella", before being released on tape by Joe McKay's Spring Break Tapes has been played live at the exhibition "Italt In A Frame", which was part of the Triennale in Milan. Gaetano has started to work to new material which will be part of a trilogy and part of it has already been used as audio installation at the Path Festival in Verona. Even if the tape sold out in few days after the release, you can check the digital files here https://springbreaktapes.bandcamp.com/album/maiella
Ambient / Electronica / Ethereal / Dub / Soundscapes / Abstract
Edit (9376)
image not
available
anymore
Artist:
Welcome Black
Title:
Sun
Format:
CD + DVD
Label:
Black Mara
(@)
Rated:
This release is from a russian project almost obscure as there's no information about it except his discography and a couple of statements. The project of Alexander Smirnov is overtly based upon live recording with real instruments but the result is an almost canonical form of drone music. The peculiar element of this release is that is an audiovisual work as the track of the same name is the audio part of the film of the same name done by the author.
The audio part is a single track in three movements: "Act 1" starts quietly but, after the initial drone, a second one introduces a noisy nuance, as if it was generated with a distorted guitar, and the overall movement is an oscillation between the clear drone and the noisy one; "Act 2" develops the noisy drone with the enhancement of his resonances, so it wraps the listener in a thick mass of sound, while "Act 3" is based on the clear one, so it's more meditative in nature even when it seems to close this release with a slight return to noise.
Perhaps a little bit longer than necessary, it works better as the audio track for the film as the association between static images and quiet drone create a dialectic with the association between moving images and noisy drone and the fact that part of the attention is for the visual part, the vague sense of boredom which could arise as the track evolves is not present. The CD is only for fans of the genre while the DVD is really worth a vision.