Ambient / Electronica / Ethereal / Dub / Soundscapes / Abstract
Edit (9255)
The brilliant producer William Long aka Celer introduces this new output by a sad and somehow epic story that occurred to his great uncle more than thirty years ago, whose sojourn in Tunisia exactly lasted two days and one night. In 1984, this 80 years old brave man arrived in Tunisi from New York City, stayed one night in the Hotel Amilcar, where he decided to mail a blank postcard to his family. The day after he moved to Hammamet, where he rented a hotel room, bought swimming trunks, before drowning in the ocean in the afternoon. Caught by this tragedy in family, William decided to step back those places where his uncle spent his last days, but the sad memories melted with the beauty of those locations and that's maybe the reason why the sound he recorded in North Africa and Tokyo combines ecstatic and lunatic moments in a lovely steady balance without that overwhelming melancholic waves, that often washes Celer's outputs. William managed to trace those two days and one night of his uncle in a really immersive way by well-balanced field recordings he grabbed during his journey and astonishingly emotional ambient suites ("Spindles and fire", "Sol Azur", "In all deracinated things"), that could remind some ambient stuff by Peter Kember's Experimental Audio Research or the moody drones by Todd Gautreau's Tear Ceremony and Sonogram- ), and meaningful sonic postcards, such as the anti-imperialist harangue in French in "We cannot be the rich ruling class of a poor country", the rendering of the moment when Celer's uncle wrote the above-mentioned postcard in "notes from the Hotel Amilcar (with television, ocean view, and a glass of water)", "Asleep against the black rocks near Cap Serrat" and "The fear to touch the sand", that supposedly rendered the moments that preceded the fatal event, whose tragic beauty comes out of the sonic emulsion of the final "Terminal points".
Getting stomping (it's required by the style they deal with), but with a certain grace. This simple strategy could summarize the secret formula that justifies the longevity of Berlin-based label Souvenir Records. The label got founded ten years ago by Dj Ali Tiefschwarz and his partner Basti and keeps on withstanding the upheavals of a fast-paced scene, where stars got dimmer seconds after they gleam and shine. They are perfectly aware of the fact ten years in the current musical market is an astronomical era, and that's why they have a reason to celebrate. Besides a tour that will touch many finest clubs in Germany, France and Switzerland, they celebrate by this compilation, including a mouthwatering selection, exploring a broad range of styles in between tech house, techno, deep house and electronica, melted together by an intuitive sense of quality. Over a decade, they collected many good tunes, such as Ruede Hagelstein's hymn "Emergency", Tiefschwarz collaboration with Jaw for "Hurricane or floor filler "Triple S" by Chris Wood and Meat. This compilation of 15 breathtaking tunes is really catchy since the opening "Eago" by the above-mentioned Ruede Hogelstein - a lovely chilling warm-up on finest airy deep-techno chords - to the final "Taboo" by IOAKIM SAYZ - a mesmerizing declension of tech house - and groups together both long-term partners of Tiefschwarz label and newcomers such as Mathame, Cesare vs Disorder, Dixie Yure (tributing his "Mapache" to Ulises Gomez) and the duo by Thomas Von Party and Thomass Jackson (his misty tune "Boneyard Fluteman" is one of the highlights of the selection). Released under the lucky number 77...an augurs well for label owners!
Artist:
Oiseaux-Tempête
(@)
Title:
Unworks & Rarities (2012-2015)
Format:
CD
Label:
Sub Rosa
(@)
Rated:
Despite the substantial lack of stylistic and conceptual uniformity, this collection of b-sides and unreleased stuff - recorded between 2012 and 2015 - by Oiseaux-Tempête, the brainchild of French musicians Frédéric D. Oberland and Stéphane Pigneul crystallises significant collaborative outputs in the development of their sound. The opening 10 minutes of the gently morphed ambient suite "Eclipse & Scirocco" manages to evoke the matching of ideas of its title: occasional distortions of delicate layers, which sound like sedimenting layers of vapor fading the hallucinations within the fading lights of twilight, bright melodies getting dimmer and dimmer in the act of entangling the listener till the rising of Christine Ott's Ondes Martenot voice. The obscure and bluesy Americana-like guitar phrasing on the following "Quai De L'Exil" seems to tighten the stronghold and to wither at the same time until these two processes find their highest peak at the end of the track. The sound of the same dim guitar slips away from the worrying echoes of riots and urban battles like a silent mist, an amplifier of the thought of "No Go(l)d No Master", a transliteration of the well-known anarchist slogan "No God No Master", tangling the political theme they explored in their recent album "ÜTOPIYA?". The bluesy declension of post-rock evokes bitter sips of dust and whiskey in "Black As Midnight On A Moonless Night", the track that precedes "The Strangest Creature On Earth", one of the most touching moment of the album - particularly after the recent sad news from Istambul -, named after a poem by Turkish poet N'zm Hikmet Ran, interpreted by former The Ex frontman and singer GW Sok. Another hook to recent facts occurred in Paris cut the grinding guitar, bass and drum lines of the final "Nec Mergitur", where Oiseaux-Tempête's music seems to summarize the first part of Paris coat of arms "Fluctuat Nec Mergiter", meaning "Tossed But Not Sunk". Very good collection of unreleased tweets of rising fury...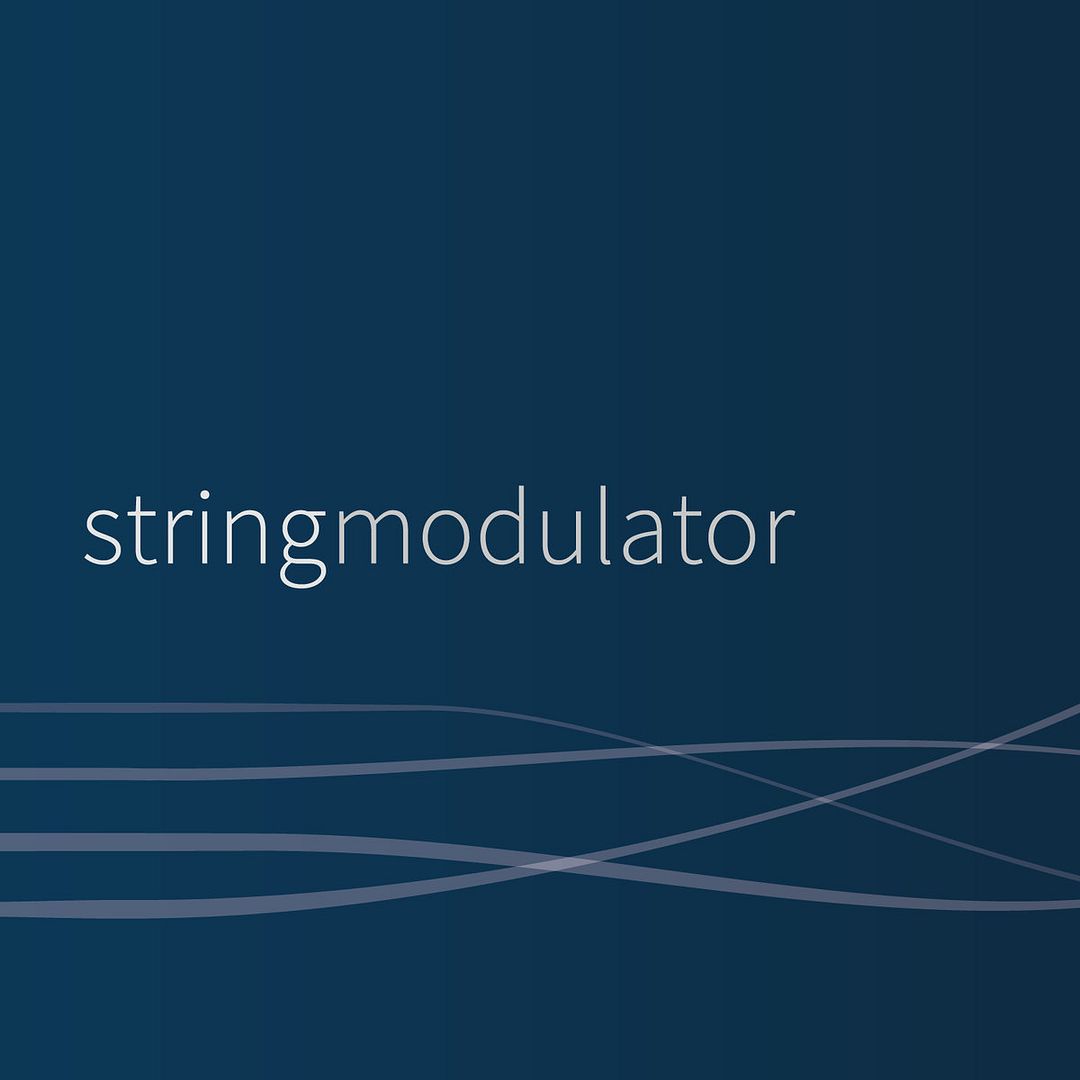 Artist:
stringmodulator
(@)
Title:
stringmodulator [EP]
Format:
CD
Label:
self-released
Distributor:
Bandcamp
Rated:
German musicians Jan Quednau (bass) and Fabian Chmielewski (guitar) compromise stringmodulator, an experimental music duo limited to ten strings. At 41 minutes, their first EP is quite possibly the longest EP I've encountered to-date, though in fairness the time spent listening flew by.

Lengthy initial track 'flow' does just that; at nearly 19 minutes, a number of motifs and patterns are established for a few minutes, never over-staying their welcome, and enveloping an organic continuance that is steady as a river (flows). At numerous times I found myself marrying 'flow' to an imagined crime-thriller film. For example, I could envision it functioning as dramatic underscore to certain scenes in Michael Mann's 1995 film "Heat," especially during the more pulsating/grooving moments.

Second composition 'OZEaN' is more contemplative and solemn. Almost call-and-response in nature, Quednau frequently sets the tonal stage with highly-treated, wandering basslines which Chmielewski answers with various guitar utterances that range from driven harmonics, feedback yelps, and clean, jazz-voiced chords. And then, somehow, we ultimately end up modulating into a miniature funk workout in the final minutes.

The final track is a live version of 'flow' that coalesces the most brash moments of the studio version and pushes them closer to extremes, alluding to an everyday four-on-the-floor pulse. Though purposefully limited by its instrumentation, the debut EP by stringmodlulator takes enough left turns to be enthralling, and overall satisfying.
Artist:
Matt Davignon
(@)
Title:
Pink Earth
Format:
CD
Label:
Ribosome Music
Distributor:
Bandcamp
Rated:
With "Pink Earth", Matt Davignon continues his experiments with rhythmic-devoid, amoebic-tinged drum machine treatments. It is a curious endeavor to utilize devices intended to create patterns and mostly sounds with a very specific function for virtually everything but. Still, the end result sounds made-to-measure and fits perfectly within the confines of a concept album that, "represents the experiences of an expedition team on a strange new planet, and their impressions of the landscape, flora, and primitive fauna that they encountered."

19+ minute opener 'Arrival / Pink Earth' percolates unhurriedly, beginning with the rising/descending sound similar to that of a buzzing insect, purposeful in its virtual-sounding complexion. Gradually we digress into spiraled, mildly-distorted long tones accompanied by percussive accents, and then a near orgy of subdued blips accompanied by sped-up-/slowed-down fragments of what I'd guess are treated field recordings. The end result of the multifarious, disjointed particles is surprising: an organic-sounding, sonic thicket of sorts.

Most of the other tracks follow suite; some, such as 'Lepidoptera', are more congested than others, featuring acute, concentrated thwacks tirelessly layered to forge yet another fabricated environment. 'Departure' effectively arrests the team's expedition with sampled singing coupled with the sound of radio tuning. It's a concise, fitting end to the album's prolonged aural exploration.

At numerous moments traversing "Pink Earth," visions of a synthetic woodland at nighttime were conjured. I'd wager that's a mission accomplished.