Artist:
Bell Monks + Gregory Taylor
(@)
Title:
Brocades + Palimpsets
Format:
CD
Label:
clang
(@)
Rated:
Sometimes a few elements are enough to make music that can speak to listener's soul. Bell Monks, the bicephalous project by Jeff Herriott and Eric Sheffield, mostly based on the reprise and the morphing around seemingly useless and unused musical sketches by Jeff, whose music has been aptly described as "colorful....darkly atmospheric" by New York Times, "incredibly softly, beautiful, and delicate" by Computer Music Journal and as a combination of "the minimalism of Brian Eno's ambient work with the gloomy songwriting of Low" by The Onion's AV Club, seems to be a clear evidence about such an assertion. The sonic strategy by which Bell Monks filled many albums and EPs over a decade ranging from ambient, post-rock, and pure computer music and grabbed the attention of many listeners. The description by the media as mentioned earlier voices could be applied to this release, whose primary input was based on 14 short and extremely peaceful tunes for guitar and Rhodes they composed in spring 2012 for an art event in Milwaukee. Some lines of contrabass and saxophone were furtherly added respectively by Ben Willis and Matt Sintchak, but even if this first make-up was good enough for an official release, they decided to forward these tunes to Gregory Taylor, who transformed instrumental parts using a series of computational techniques. This release is the result of the final cut by Lars Graugaard, the man behind clang's curtains, who decided to select the tracks which mostly reflected the original tracks by Bell Monks over more than 100 minutes of sonic material. The quality of selected items is extremely high. Sometimes you could have the impression that melodic lines of different tracks are very similar or almost identical - you could notice some resemblances between the lines of the lovely "Whirling Halves" and "Beacon E23" for instance - and many moments could sound like melancholic lullabies, but listeners will get instantaneously immersed by the slow catchy and wisely processed guitar chords, the sparse melodies whose sonic grasps got mirrored by the eloquent cover artwork that has been chosen for this selection. The compositional process is undoubtedly similar to the way by which Brian Eno and some similar artists in the dawn of ambient music followed, but you could find some similarities to other contemporary stuff (primarily Tor Lundvall - check tracks like "Electric Light" or the entrancing "Ether Limning" - or some artists in the roster of 12k singing interesting crossovers between field recordings and ambient - particularly in the last part of the album -) dealing with isolationist and meditative electronic music. Recommended for swimming in private mental or emotional pool.
Ambient / Electronica / Ethereal / Dub / Soundscapes / Abstract
Edit (9337)
image not
available
anymore
Artist:
Kolhoosi 13
Title:
Monuments of Power
Format:
CD
Label:
Cryo Chamber
(@)
Rated:
Kolhoosi 13 is a finnish duo whose musical output is a form of dark ambient heavily based on field recording to tie the sound to remnants of everyday life. This new release is presented in the liner notes as inspired by in idea of irresponsible power whose actions, disregarding man and habitat, are without consequences. While undoubtedly catchy, these notes haven't any real relationship with the music which is a solid dark ambient release that could be presented with any of the clichés of the genre receiving anyway the deserved attention.
The subtle sonic details of "From Comradery to Sustenance" introduce the listener into a sort of audio part of a movie; the proper musical part is a deep drone acting as a canvas for the foley sounds which seems to enact a sort military mission. "Uprising of the Spirit" is, instead, a proper dark ambient track based on the juxtaposition to various drones generating a vague sense of solemnity. "A White Sea" alternates ambient moments to field recordings, in a vague sense, so it escape boredom in stillness. "Glow From the Depths" slowly evolves alternating evocative moments and static ones. "Rainout" rework the structure of the first track but above a real musical structure. "The Monument of Power" closes this release in an almost canonical way i.e., with evocative drones slowly fading in silence.
A release whose impressive sense for sonic detail and a reasonable variety hide a somehow derivative writing. Probably when they will focus their musical structure into something really personal it could even been a masterpiece. Recommended for fans of the genre.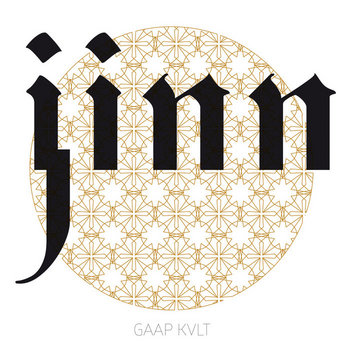 Artist:
Gaap Kvlt
Title:
Jinn
Format:
CD
Label:
Zoharum
(@)
Distributor:
Alchembria
Rated:
his release from Gaap Kvlt, a mysterious Polish project, is inspired by the climate of the Moroccan deserts, hot during the day, very cold at night and so it's a two faces release. One part of this release is based upon drones while the other is based upon beats so the listener oscillates between ambient moments and minimal techno ones and this characteristic blurs the sense of boring that often arises with release too focused on the canon of a particular genre.
The drone of "Prayer" opens this release slowly developing, with the insertion of the sample of an oriental prayer, into an evocative sonic meditation. "Abu Kamal" is, instead, a rhythmic track closer to some minimal techno using the aural space to generate a sense of immersion into an abstract space. "Bou Rattat" starts as an ambient track but slowly adds hypnotic elements as beats and loops. "Peninsula" is a soundscape slowly evolving into a drone track. "Prayer 8 (Death)" takes the elements of the first to track but in an almost industrial way creating a track of great impact. "Larache" returns into minimal techno territories while "Tangsir" plays with the disposition in space of the samples. "Ovidius" tries to be an evocative track using synth lines to obtain a cinematic effect. "Vient" closes this release with a quiet track which uses gentle layers of quiet drones until the return of the rhythm reminds to the north Africa inspiration of this work.
Wandering between ambient and techno with a great production, it's the typical release to be heard with headphones to enjoy the various subtleties of the music. It's really worth a listen.
Ambient / Electronica / Ethereal / Dub / Soundscapes / Abstract
Edit (9330)
Assign or relate a function to music - a song for having a coffee with friends, a song for letting your children sleep, a song for a pervert night, a song for an elevator, a song to charm snakes or beetles - is an old-fashioned way of advertising records that gradually disappeared and made me smile. Many musicians have reasonable arguments against this method of introducing music, which was widely used by first ambient labels and got massively reprised by new age-focused labels and compilation pushers, that expanded the types of situation to fit sounds, songs, and any supposedly suitable audible products. Welsh label Serein introduced this collection of beautiful tracks by highlighting the perfect usability during a journey, but the quality of each track is so high and elevating for the mood and thought of listeners that most of the reviewers could turn a blind eye against this grossly hackneyed manner of speaking about music. Most of the tracks are close to that traditional interbreeding between ambient music, contemporary classical and tonal spraying that featured stylistic grounds that got fertilized in the recent past by other labels as well, such as London-based Just Music through the releases by artists such as Jon Hopkins, Echaskech, Honeyroot and Leo Abrahams, but there are many variations on the theme of escapism in this selection widening the stylistic range: tracks like Benoit Pioulard's "Alogia" or The Inventors of Aircraft's "No Returns" lap upon Boards of Canada's ethereal shores, some similarities to the pianism by Ludovico Einaudi, can be caught in the beautifully melancholic opening by Otto A Totland on "Selon", the ecstatic tension by Brambles on "Petrichor" could be matched by some divagations by Johann Johannsson, some stuff that rearranged sounds according to a fuzzier logic such as Ametsub's "Blue Loop" - I already introduced "All is Silence", one of the best output by this sound artist in this space - or the entrancing "Solaris", co-signed by Yui Onodera and Chihei Hatakeyama - other known names to Chain DLK followers - or the warm thin sonic vapor by Imprints' "Roy" or the crepuscular intercrossing with field recordings by Donato Wharton on "A Lightless Volume of Water". The mentioned tracks and the whole content of this excellent compilation will demonstrate that your mind could reach unpredictable space orbits using well-selected tunes whether or not physically traveling on rails, wheels or feet.
Ambient / Electronica / Ethereal / Dub / Soundscapes / Abstract
Edit (9328)
Artist:
Mira Drevo
Title:
Sledy na Snegu
Format:
CD
Label:
Zhelezobeton
(@)
Rated:
Mira Drevo is the electro-acoustic ambient project of Dimitriy "Skald" of St. Petersburg, Russia, and along with Pavel of the post-rock doom metal band Sequoian Aequison, they made this live recording titled 'Sledy na Snegu' ('Footprints in the Snow') on December 25, 2015 in the St. Petersburg Sound Museum (formerly Experimental Sound Gallery, ESG-21) for one of the nights of the "Alchemy of Noise" party series. One this recording Dimitriy uses synthesizers, a sampler, authentic field and ethnographic recordings along with acoustic instruments - flute, mouth harp, and percussion. Pavel contributes some gentle guitar, quite different from the band that he's in.

Considering that this is a single,lengthy track (a little over 32 minutes), and in all probability largely improvised, this is one remarkable piece of music. This isn't just your "drone on, and add a few other sounds to the mix" kind of ambient. This is musical ambient that seems almost an outgrowth of nature; a kind of melodic environment. And of course, performed on Christmas night (well, our Christmas, Russian Christmas is January 7th) what else would you expect but a winter piece? From the music though, you don't get the impression of icy cold, but rather a calm, placid, and nearly cheerful environment. I can picture snow gently falling, hear people walking through the streets conversing, the occasional cry of a snow-bird flying overhead, and other things you might associate with the lighter side of the season. Throughout the piece there is a slow-moving melodicism that is subtly woven through the ambience. This to me is what raises this piece above a lot of the ambient music of this kind that I've heard previously. In a way too, it is rather hallucinatory, but never what might be described as "mind-bending," but more "mind-flowing". Most of 'Sledy na Snegu' has no real rhythm track, except the last few minutes where there is a minimal beat, and the culmination of a psychedelic melody, like very, very laid back Pink Floyd. The only vocals are incidental dialogue in Russian, indistinct enough to just be part of the ambience. The whole thing is quite remarkable, and fortunately no applause was recorded, so unless you already knew (as I have told you) you would never know that it was live. This is the first and only thing that I've heard from Mira Drevo, but after this, I'm certainly up for more. A limited release available in two formats: 77 copies on pro-CDR in a cardboard slipcase, or 55 copies on cassette (even numbers white, odd numbers black). Worthy.