Ambient / Electronica / Ethereal / Dub / Soundscapes / Abstract
Edit (9147)
Artist:
Kshatriy
(@)
Title:
Mushrooms and Kshatriy
Format:
CD
Label:
Zhelezobeton
(@)
Rated:
A new batch of releases to review has just been sent my way from Chain D. L. K. central, and this was the first one I (randomly) picked. At first unfamiliar, but the name Kshatriy seemed to jog my memory from somewhere, and then I recalled a few years back I reviewed a couple of releases on the Vetvei label on which Kshatriy was one of the collaborators. They were quite interesting as I recall, but markedly different from this work, although still in the ambient vein. Kshatriy is the project of Sergey Uak-Kib from Vsevolozhsk, Russia, and he's been releasing material since 2004. 'Mushrooms and Kshatriy' is actually Kshatriy's second release going back to 2006 that had an extremely limited release at the time (friends and fans) so most people never heard, or heard of it. This re-release has been completely remastered, and is one amazing work.

I don't think the "mushrooms" in the title have anything to do with Portobellos, Shiitakes, White Buttons or Chanterelles, but more of the Psilocybe variety. Don't worry though, you won't need to eat any fungus to appreciate this work; Kshatriy provides all the hallucinations you'll ever need here, and then some. Working primarily with electronics, Kshatriy explores nine aspects of the psychedelic mushroom experience over nine tracks - Growing, Flying, Curious, Crying, Angry, Psychactive, Walking, Magic, and Dying. In the beginning, you sense activity like something is trying to break through the surface, darkness, but overhead the cry of birds and the motion of other lifeforms. Your mind is becoming keely attuned to the tumultuous life of another realm. The claustrophobia falls away and a sense of spaciousness reaches your consciousness, open, vast and brilliant. Now the hallucinatory terrain glows with a pulsing life of its own. Things in the atmosphere once invisible are now revealed to you- subtle but still evident. The curiosity you have about them makes manifest all manner of intracasies in form; at times abstract and oblique, at others in perfect patterns of symmetry. The inner and outer worlds merge and become one. Emotion takes over and happiness and sadness become indistinguishable. It's the primordial brain at work, welling to the surface of your consciousness, unearthing visions of a past eons beyond your lifetime melded with a future you have never experienced. The "Psychoactive" component brings new information into your experience as outside stimuli (voices) creeps in. It is beyond logic and reason, just another layer to pass through. Time to move, and "Walking" through space and time seems like the right thing to do. There is no solidity, only "otherness" as you move. When yourself moves beyond your self, are you still there? Now comes the tricky part, the sense that you can do anything, be anything. Manipulating supernatural forces, ascribing meanings to symbols and signs, effecting change to your environment, moving by will that which would otherwise seem static. But all too soon, there is the come-down. The experience is fading, "Dying". As you find the alternate reality dissapating, here is a sense of both sadness and relief. Exhaustion finally overtakes you as you melt away.

This is the only way I could describe this work. Details about synths and sounds, drones and moans, ambiences and atmospheres just don't work here. You need to experience it for yourself. One of the best albums I have ever heard in the psychedelic and (slightly) dark ambient vein, I just can't say enough positive things about 'Mushrooms and Kshatriy'. Definitely worthy, and limited to only 77 copies as I understand. Do not fail to acquire one.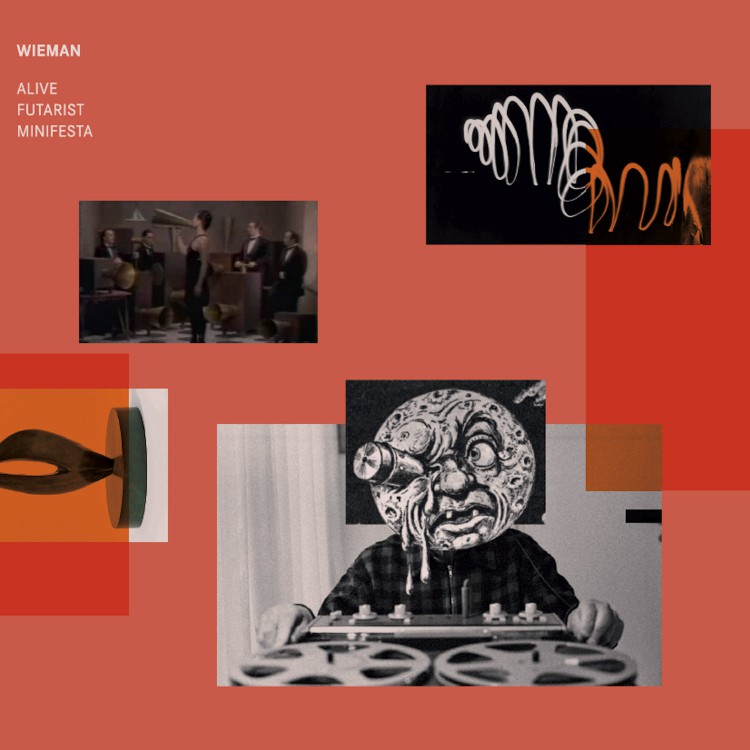 Artist:
Wieman
(@)
Title:
Alive Futarist Minifesta
Format:
CD
Label:
attenuation circuit
(@)
Rated:
This release starts from a performance in Tilburg to celebrate the 100th anniversary of 'Futurism' and, for this effort, the duo of Roel Meelkop & Frans de Waard was joined by Jos Smolders. From a musical perspective, Wieman sounds as a logical continuation of the path taken by Goem but, while this project was almost rigorous in their form, this release is seeking ways to sneak off from rigid structures with detours to other paths and "épater l'auditeur".
The sound of an airplane, under a pounding beat, opens this release and set the musical tone at the crossroad of futurist's fetishes and, obviously, noises. The second part of the track is a sort of dance interlude centered upon Smolders synth where a spoken work recording, mostly taken from 2001: a space odyssey, adds that sense of estrangement which is the character of last century's avant-garde. The third part is closer to the classic Goem form as it completely centered upon minimal beats and sparse noises that suddenly takes the foreground for an harsh interlude featuring in the background war sirens as a probable reference to upcoming war. Almost unexpectedly a meditative fourth part starts as a sort of danceable (?) interlude to an atmospheric part acting as a bridge to the closing noises that ends the piece.
It's another work that confirms the even creative status of this artists which continue to seek new ways to expand their now codified language. A remarkable work of art.
Artist:
France Jobin
(@)
Title:
Singulum
Format:
CD
Label:
Line
(@)
Rated:
Electronic music composers get portrayed or portray themselves as icy mannequins, ataractic or ghostly entities or robotic hybrids. Even if there's always a reason of similar (self)portraits and more or less aware representations, a certain humanity could look like a disrupting element of such a cliche, particularly when the technical canon seems coherent to a desired idea of excellence. When Montreal-based minimalist composer and sound artist France Jobin will gradually make her way into your eardrums, she doesn't opt for brute attacks or epic introduction, but she lets a glimmering breathe of piano tones and light electronic buzzes peep out by a strategy that you'll be tempted to label as shy. But such a shyness got matched to a grace, that is going to magnetically attract towards her surprisingly interesting sonic world, where sonic particles gently flow till the moment they sound like sparkling a significant process in a rarefied environment. France's way to organize these fascinating sonic particles seems to have been inspired by quantum physics: in her own words, "quantum physics inspires me to draw a parallel between the fundamental building blocks of physics, sounds and music. I put field recordings through a series of editing and manipulation processes which result in very different sounds from their origins. These manipulations affect time, timbre, harmonics and the essence of each sound, whereas composition influences how they relate to each other.". I don't really know how these scientific matters influenced her sound, but I'm pretty sure that she managed to find a path by which minimal electronic music can gracefully sound even more immersive than over-stuffed sonic outputs.
Ambient / Electronica / Ethereal / Dub / Soundscapes / Abstract
Edit (9138)
image not
available
anymore
Artist:
Alphaxone
(@)
Title:
Echoes from Outer Silence
Format:
CD
Label:
Cryo Chamber
(@)
Rated:
The project by Mehdi Saleh has, in good and evil, forged the sound from this label. His fourth release confirms the key elements of his craft: a clear vision in writing in the path of the tradition of dark ambient and a precise musical production. According to the liner notes, this album is conceived as a journey "through space and to the archaic signals of civilizations beyond the stars" so it deals with sci-fi imaginary and related sound deprived of trivial effects too culturally characterized.
The introduction, "Outfield", is a detailed field recording which depict an hostile nature. The drones of "Resistance" are juxtaposed until they fill the audible spectrum to create a dreamy atmosphere. While the first part of "Nothing Era" is based on noises, his second is based on a slowly developing drone. The loops of "Solitude" create a sense of unresolved stasis while "Sphere of Change" uses them to develop a track whose noises generate the portrait of a landscapes where rubbles are the main element. The initial radio signal of "Altered Xone" introduces the listener into a track which, using even beat, is the most complex of this work. "Revealing the Depth" is focused on drones as "Departure" where this musical scheme is changed only by the final beat. "Fragment" closes this release as a continuation of "Outfield" but it develops with a drone which evolves in a closing silence.
While relying in the usual impressive care for sonic details, it remains trapped in a musical structure without escape so fans of the label will be delighted by another first class release but the others could rather be disappointed. It's worth a listen.
Artist:
Venetian Snares
Title:
Traditional Synthesizer Music
Format:
CD
Label:
Timesig
Rated:
I've heard that the expectations of many fans of Winnipeg-born electronic music composer Aaron Funk, better known as Venetian Snares, weren't fully fulfilled by "My Love Is A Bulldozer", the album by which he broke a silence that was lasting more than four years. I honestly don't understand the reason and I can't believe that some followers opted for s sort of puritanical ostracism after having listened to the more romantic refrain of that output on the title-track ("Only you / can make my dick feel like this"... I won't scandalize by the fact that some words could come from an overexcited hippocentaur, the image chosen for the cover artwork!). Coached in a title that sounds like the one of a collection of mawkishly tedious folk songs, his new output by the Canadian giant, who can boast of both his remarkably physical height as well as by his likewise high creative flair, seems to remain faithful to a couple of "traditions", which manage to bring reciprocal benefits to the point they can't sound too aged. I'm obviously referring to the instrument that he widely handled on this collection of tracks that he exclusively created and performed on live stage, his own modular synthesizer, whose sound taste like those traditional flavours, that keep on charming many electronic composers, including Richard James (Aphex Twin), a sort of sonic kindred spirit of Vsnares - tracks like "Decembers" or "She Married A Chess Computer In The End" could resemble AFX's "Analords" -, but I also refers to the "template" of many moments of this collection, which is close to the style of his very first outputs, where polymorphic breaks and deconstructed rhythmical patterns - in between breakcore and IDM - cling to likewise frantically mutations of acid sounds and bleeps. You'll see the reference to a numbered sequence of version after the title of some songs (e.g."Dreamnt person v3", "Magnificent Stumble v2", "Can't Vote For Yourself v1", "Anxattack Boss Level19 v3" and so on); they supposedly refer to the fact that Aaron made many different variations of each song and the one you'll find is the take he selected. Highly recommended!