Ambient / Electronica / Ethereal / Dub / Soundscapes / Abstract
Edit (9187)
Artist:
Luminance Ratio
(@)
Title:
Honey Ant Dreaming
Format:
12"
Label:
Alt-vinyl
(@)
Rated:
Put in playback Nosferatu of Werner Herzog and then put silent the movie and play this masterpiece of a massive esoteric impact. The Luminance Ratio have the immense weight of Ammon Dull, Ash-Ra Temple and the psychedelic inpiration of Kraut Rock. Their music is in resonance with atavistic sounds and guitar researches not to mention electronic sounds in the wake of OTO vibes. This LP is a ultimate trip into an unknown we missed very much in these years, it is a tool to get out from this planet. Every tracks and performance is a fresh wind into a mysterious desert in which to listen the Al-Azif of Lovecraftian memoire. Their Strings are vibrating like the strings of quantum physics.The inspirations of the album comes from Papunya's aborigines but the final destination is far far in space and time. Only your ears can judge and immerse in this stargate shaped like a LP called "Honey ant dreaming".
Ambient / Electronica / Ethereal / Dub / Soundscapes / Abstract
Edit (9186)
Artist:
Richard Pinhas
Title:
Chronolyse
Format:
12"
Label:
Cuneiform
(@)
Rated:
The cemented collaboration between the excellent Washington DC-based label Cuneiform and the French philosopher, electronic music composer and guitarist Richard Pinhas brings another interesting output, the first-ever reissue on vinyl (white 180 gram vinyl featuring the original cover artwork) of Pinhas's superb output "Chronolyse", an interesting hybrid between progressive rock template and analogue electronics that he dedicated to Frank Herbert's sci-fi classic "Dune" more than 35 years ago. Besides the most known influences on sci-fi literature and movies (David Lynch's discussed cinematographic version was only the most popular one), "Dune" had a remarkable impact on the imagination of many musicians, but while Klaus Schultze tributed one long-lasting track in his album "X", Richard decided to tribute a whole album two years before the release of Schulze's album (1978). In spite of the fact "Chronolyse" has been released in the same year, Pinhas recorded it on tape between June and July 1976 after the purchase of a Moog P3 and a Polymoog that should work together a pair of Revox A700 he installed in his home studio. Even if entirely inspired, Richard didn't really want to strictly match it to the name of "Dune", so that he preferred to name it after the title of a novel by French science-fiction writer Michel Jeury, whose plot was related to time manipulations, which makes sense if you listen to what Richard did on this (maybe old-fashioned) output. On one side, you'll find seven short synth-a-delic swirling variations of the same theme, that could evoke the super powers of the so-called "witches", the female members of Bene Gesserit in the novel, whose highest acolytes - the Reverend Mothers - had greatest supernatural mental powers, including Truthsay - the ability to understand when someone lied by an attentive analysis of body language, speech and other biological clues -, the Voice - a tool to control human beings by selected modulations of voice - and a set of seductive powers, but mainly a weakness: the addiction to melange, a spice that was easy to find on the desert planet Arrakis - the set of Dune -.... any bizarre similarities with contemporary science? The track that closes the first side of "Chronolyse" was named after Duncan Idaho - another important character of Dune - and sounds like a summary of some techniques explored in the first seven short experiments, while the 30-minutes lasting "Paul Atreides" on B side is the moment where the above-sketched idea of time manipulation takes the shape of something closer to progressive electronic rock and some stuff of Heldon - Richard's Heldon mates provided drums, guitar, bass and further electronics in this extremely lengthy tribute to the heir of House Atreides, an aristocratic family ruling the planet Caladan in the novel and knowingly interpreted by a youngster (but already talented) Kyle MacLachlan (the well-known Detective Cooper in Twin Peaks) in Lynch's screenplay. "Chronolyse" can reasonably be considered the meeting point of the multifaceted universe of Richard Pinhas. According to Steve Feigenbaum, the founder of Cuneiform, it's "absolutely one of Richard's very finest works: half live Moog electronics that make fantastic use of stereo imaging and mix aggression with the repetitiveness of Phillip Glass or Terry Riley, and half with Heldon in a 30' King Crimson-ish stormy drone-epic of mellotrons, electronics, guitar, bass, & drums.".
Ambient / Electronica / Ethereal / Dub / Soundscapes / Abstract
Edit (9184)
Umanzuki is a three-piece act based in Florence whose new release is a 30 minute-long track recorded in an improv session. It's always courageous to conceive a work of this duration in times where people is used to hear music as beats and pieces, mostly when the reference framework is not the trend of the moment but a form now firmly dated. The most obvious reference which comes in mind hearing this release is kosmische music but it's a starting point rather than an exercise of nostalgia.
The track start quietly as a dialogue between an atmospheric synth and the sparse notes of a bass. His development could be described as the juxtaposition of the sustained notes of the synth and the percussive notes of a bass, or could also be a percussion, which also has the function to expose a sort of meditative loop which varies. So when the synth comes in the foreground, as the percussive element slows down, this release starts to evolve in a sort of drone release without the trivial sustain of a couple of tones but instead it develops a sort of melody at slow speed which sometimes stop to let the listener aware to the return of the percussive element and the insertion of a soundscape. The return of the synth marks the final part of the track based upon the complexity of the underlying beat which closes this release as an heartbeat.
As could be superficially simply decoded as derivative from well known form of kosmische music, it reveals instead some references from ambient language and rock which are merged into the result instead of being a trivial juxtaposition. With his long running time, it's not a release for everyone but could be a nice one for committed listener. Almost recommended.
Ambient / Electronica / Ethereal / Dub / Soundscapes / Abstract
Edit (9179)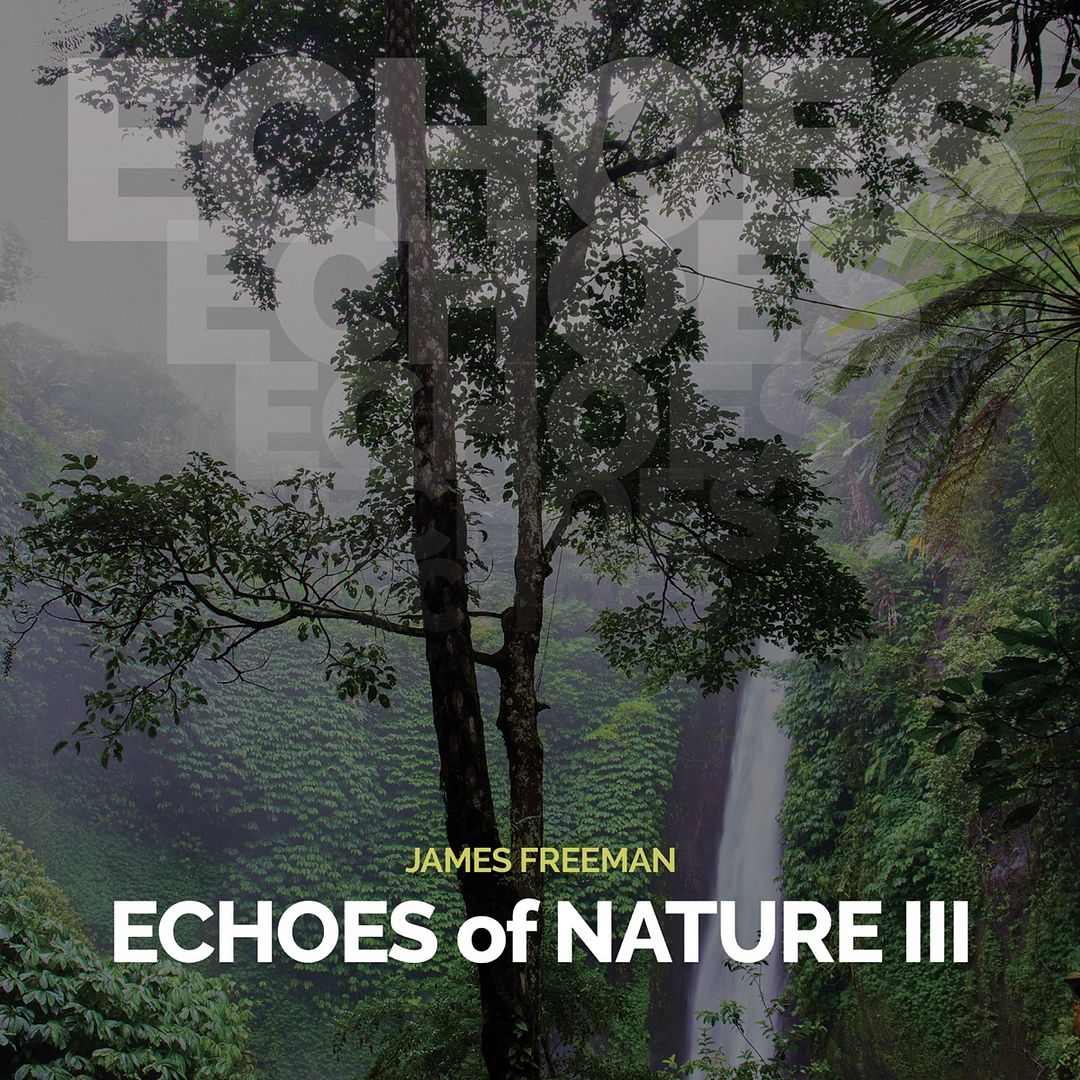 Artist:
James Freeman
Title:
Echoes of Nature III
Format:
CD
Label:
Edgetone Records
(@)
Distributor:
The Orchard
Rated:
The third installment of James Freeman's "Echoes of Nature" is generally interchangeable with the first two albums, though it is easily the most disjointed, and thus perhaps the most adventurous. Composer, conceptualist, and performer Freeman (synthesizer, bass, and guitar), once again marries his 'field recordings' (equally natural and unpredictable sounds of turkeys, birds, thunder, wolves, etc.) with authoritative soloing by live musicians. In addition to "Echoes" regulars Yehudit and Mad Tolling on violin/viola and Nika Rejto on flute/winds, Sheldon Brown returns on saxophone along with newcomer Lisa Wellhausen on flute.

The album begins rather ominously with fragmented low-end flourishes, which sets the tone for the first two tracks 'August Birds' and 'Wolves'. Both tracks, especially 'August Birds', can be surprisingly ominous-sounding. The pair had interesting moments, but more than once I felt like I needed a sonic breath to empty the mind space saturated by Freeman's conceptions.

'Canadian Geese' had more spaciousness and was a very interesting listen. Clean electric guitar comping coupled with the sounds of geese! I digress, but wonder if Canadian Geese sound different then geese of other nationalities? Proficient string improvisation by either Yehudit or Mad Tolling throughout leads to the subsequent 'Thunder Turkeys', which is similar in tonality and the longest track on the album (17:38). The comical, unpredictable sound of turkeys is highly amusing at times, and in this instance Freeman conjoins everything with an electric bass. Again, nearly ten minutes in, I found myself yearning for a long, deep breath as opposed to gasps.

I enjoyed the last three tracks the most, notably 'Amazon Dance', which was framed in the 'jazz idiom' and heavy on the winds and reeds. 'Tweety Birds' utilizes Rhodes piano-type sounds panned quickly back-and-forth to great effect. All in all, "Echoes of Nature III" was my least favorite of the bunch, but also the most audacious. It may fare better with a different track order. A remarkable sonic undertaking, regardless.

The math formula used to create the music, as defined in the press sheet:

1. Translate notes into numbers: C= 1, C#=2, etc.
2. Compose a theme, such as 1 3 4 6 2 9 11 3
3. Create derivative lines using the math formulas
4. Repeat this process to yield a matrix of numbers (notes) as a foundation for composing ideas
Ambient / Electronica / Ethereal / Dub / Soundscapes / Abstract
Edit (9178)
Artist:
James Freeman
Title:
Echoes of Nature II
Format:
CD
Label:
Edgetone Records
(@)
Distributor:
The Orchard
Rated:
Wait..there's a sequel to James Freeman's "Echoes of Nature"? And - spoiler alert - there's also an "Echoes of Nature III"??!! Still coming to all five senses from listening to the first, along comes a sequel with equally juxtaposed synthetics, natural 'field recordings' (owls, streams, etc.), and acoustic instruments/live musicians improvising atop it all. The result is surprisingly intriguing yet pastoral.

I was impressed with Freeman's first "Echoes of Nature", and this is more of the same, albeit more synthetic-sounding and nimble than the prior. Twenty-minute opener 'Frog Pond' features dexterous synth arpeggios, a frog-like ascending motif that functions almost like a bassline, and animated interplay amongst the soloists ranging in instrumentation from reed to wind to string. Mad Tolling and Yehudit return on violin/viola, as does Nika Rejto on flute and piccolo.

In an almost disconcerting way, the inorganic drum that opens the final track 'Jungle Flute' was so synthetic that, for a moment, it took me away from what had been nearly 50 minutes of balanced auditory potpourri. I thought, "that is a very unnatural-sounding drum to imagine either being or hearing in the jungle". Like everything on both of Freeman's "Echoes of Nature" albums, however, it somehow finds its relative place in the atmosphere, merrily plodding along.

Recommended for first-thing AM/last-thing PM listening for maximum enjoyment.