Ambient / Electronica / Ethereal / Dub / Soundscapes / Abstract
Edit (10077)
Artist:
Philip Jeck
Title:
Iklectik
Format:
CD + Download
Label:
Touch # Tone
The cryptic press release for "Iklectik" details Philip Jeck having been "creating sound with record-players since the early 80's", yet fails to explain the instrumentation or sourcing that would give you even half an indication of what a 45-minute, single-track live performance, recorded live at and named after the Iklectik art space in London, would actually sound like.

So, what it sounds like initially is a steady, soft, mellow drone affair with willowy pad sounds ebbing slowly, and gentle plucked synthetic notes dancing modestly over the top. At it progresses, slightly more metallic and at times more animalistic and vocal tones arrive to add a sinister shade, but it never veers towards any true discordance. Seemingly random pizzicato string notes later give it a sense of both progression and pace which evolves into a subtly more symphonic arrangement in the middle. The final third of the piece becomes hollower, returning to drone but with a greater emphasis on bass sound which at times sound faintly dubby before flattening into another drone element. A spoken word eulogy in the final three minutes is an odd addition, coming after a soporific section as though intended to speak into your dreams.

Occasional audience coughs are the only recognition of it as a live performance and the involvement (or otherwise) of record players is left undetectable, there's nothing sonically that would determine that this wasn't a laptop performance or a studio creation.

It's an intriguing and very carefully evolving work which takes you in some interesting, if not especially challenging, directions. Very smart.
Ambient / Electronica / Ethereal / Dub / Soundscapes / Abstract
Edit (10070)
Artist:
Forest Walker
Title:
UV Sea
Format:
Tape
Label:
Constellation Tatsu
(@)
Rated:
The listener could be instantly absorbed by the very first seconds of this release, ignited by "Desert Lighthouse", the longest track of this tape by Los Angeles-based composer Forest Walker Christenson, whose only connection to a lighthouse (according to my senses at least) is a bright sound whose fading in/out could resemble the movement on a spot of the beacon of light. Together with this sonic element, there's a slight noise that resemble the noise of a pencil on paper, whose combination with the general atmosphere of the track could let you think the author made a sort of ambient hymn to the creative act, even if Forest prefers to say that his work focuses on "the deconstruction of mythologies of sound". Since the above-mentioned suite, it's clear that Forest draws some meme of the sound he forged for this release both from his remarkable experience in sound engineering and editing for movies and performative arts and from some iconic figures (somehow like myths!) of ambient music, such as Philip Glass and Steve Reich. For instance the dim lights on the mechanical tapping of "Amendment of Fundamental Axiom" is something that could be placed in between Steve Reich and Tor Lundvall, and I would say the same for "Saved Video of a Postcard" (or better its first four minutes, as the climax turns towards so-called space ambient in the last two ones)), the track that opens the B side, while the highest sense of detachment and visionary sight gets reached on the sumptuous "Realtime Lapse" diluted over 12 peaceful minutes. This ultraviolet sea is something that could temporarily freeze the reality surrounding the listener.
Ambient / Electronica / Ethereal / Dub / Soundscapes / Abstract
Edit (10067)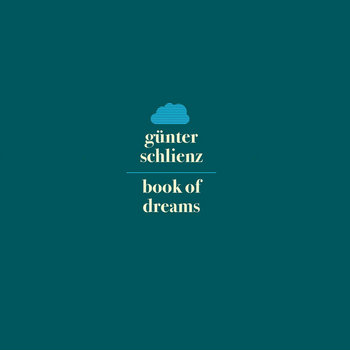 Artist:
Günter Schlienz
(@)
Title:
Book of Dreams
Format:
CD
Label:
Zoharum
(@)
Distributor:
Alchembria
Rated:
A Jack Kerouac's citation introduces this release: "the fact that everybody in the world dreams at night ties all mankind tighter"; "Book of Dreams" is an expanded cd reissue of a vinyl release and is based on a musical form that is based on modular synth and this means that is something familiar to those accustomed to a musical flux spanning from Kosmische Musik to new age. The quietness of the music which should facilitate dreaming is obtained with simple and catchy melodies and the absence of any dissonance, so it's something that requires considerable writing skill to avoid trivial results.
When "Just Silhouettes" starts, the listener is introduced into a sound field as synthetic but warm and organic even if there's any melody to follow but it's something cradling someone so "The Female Coffee Drinking Dwarf" sounds like a lullaby for heads in the clouds with his simple and hypnotic melody. The droning tones of "Kafkaesque Speeches" hugs the listener while "Mushrooming" is more experimental in his reminds of old sci-fi movies. "Stillleben" is a quiet and static ambient tune. The two new tracks, "The Girl with the Cloud Coloured Shirt" and "Diving into the Orange Pool", are a gentle track for cello, the first one, and a minimal pop divertissement, the second one. The hypnotic loops of "Two Big White Dogs" and the nostalgia of "Awaken", closed by the sound of an alarm clock, closes this release with a vague feeling of play again the play track.
While it could be the typical release that could be criticized by the fans of avant-garde with the classification of new age, this is that kind of release whose brilliance of writing let the listener enchanted. Practically recommended to everyone.
Ambient / Electronica / Ethereal / Dub / Soundscapes / Abstract
Edit (10062)
Artist:
Orchard
Title:
Serendipity
Format:
CD & Vinyl
Label:
Ici d'ailleurs
Orchard are the experimental, avantgarde equivalent of a manufactured boy band. Stéphane Grégoire arranged to bring together four musicians who didn't know each other either personally or professionally, given the theme of 'the orchard', and left in a room to improvise. And yet the result is a piece of confident, assured, leisurely, mellow instrumental soundscaping that sounds like it's been generated either by one mind or by performers who've been working together for many years.

Rich, slow string notes meander gently. Soft drum patterns drift in and out of audibility. Gentle and organic grooves with an unfamiliar quietness form and then disperse almost absent-mindedly. A clarinet toys with melodic ideas, repeating short note patterns then abandoning them, sometimes working alongside the drums and forming something faintly Eastern-sounding. The third track introduces an approach that then gentle infuses the rest of the work- an electronic processing and re-processing openness which sprinkles extra details onto the performance. With some short echoing samples there's just a very subtle hint of early 1990's ambient chillout flavour, as though it's a natural progression from that to this 'properly' instrumented work two and a half decades later.

After the especially mellow four-part piece "A Day Staring At Eternity", second work "Drawn With The Wind", again in four parts, has a more cinematic and tension feeling to it, thanks predominantly to the rumbling drums towards the start, and the more electronic-sounding slow kicks towards the end. If this is a musical representation of an orchard, then somewhere outside the orchard is a distant threat, it seems.

Third piece "After All The Sun Is Awakening" is a single-part 21-minute work which starts with shades of trip-hop before broadening out into an expansive and open landscape. This isn't so much an orchard as an invocation of the Great Plains of the US, largely barren yet beautiful.

The album is wrapped up by two shorter pieces, "Fructification" which is a simple and laidback jazzy groove that deteriorates into some kind of rabid bird attack, and "We Host You" which is a gently pulsing affair of string and soft bass with a calming clockwork feel that wraps up proceedings warmly.

It's hard to believe from "Serendipity" that the performers had only just met. The level of accomplished and assured performance in this smooth work is exemplary, and it really stands out as one of the highest quality downtempo listening experiences I've encountered recently.
Ambient / Electronica / Ethereal / Dub / Soundscapes / Abstract
Edit (10061)
Artist:
Monty Adkins
Title:
Shadows And Reflections
Format:
Tape
Label:
Cronica
"Shadows And Reflections" aims for 'a sense of meditation, contemplation and relaxation' as it develops sonic ideas originally created for an audiovisual exhibit at Bradford Cathedral in 2016 that drew inspiration from the restored altarpiece and stained glass windows of the cathedral. Designed for the cassette format, it's two twenty-minute pieces of warm, comforting, eventless drone soundscape with a decidedly 'empty church' feel.

This is simple, floating ambience that can't help but induce a sense of steady calm. The evolution of the tones is imperceptibly glacial. The second piece "Sounds Of The Sun" has an ever so slightly more tubular, metallic resonance to it, but I may only think that because my brain started to adapt to the noise level as its new normal.

Thankfully it's available digitally too, as the often soft and subtle soundscape can't really benefit from tape hiss- it's a very purist bit of soundscaping that's pleasantly soporific and attention-avoiding.