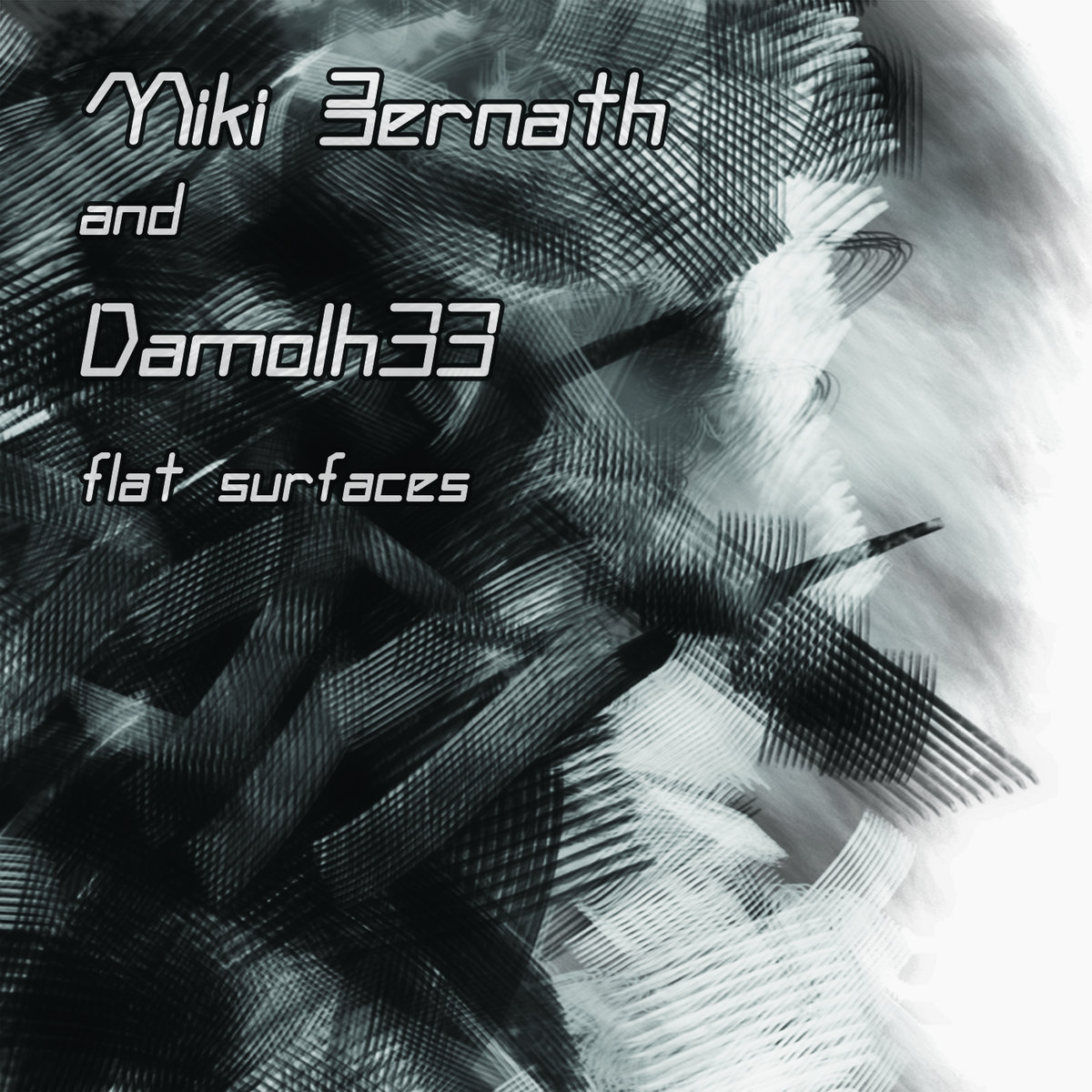 Artist:
Miki Bernath & Damolh33
Title:
Flat Surfaces
Format:
Tape
Label:
4mg Records
(@)
Rated:
After several digital EPs released in the last four years for their own Damolh Records, the Slovakian duo Miki Bernath* And Damolh33 are releasing on tape their first album titled "Flat Surfaces" for 4mg Records. Run by Imrich Vegh, 4mg Records always proposed interesting releases that mainly interested the retro electro scene fans. With this six tracks album (two bonus are included into the free digital download), Imi widened the spectrum of the music released by his label thanks to Gabriel Bernath and Mikuláš Bernáth. The tracks of "Flat Surfaces" span from ambient electronic with i.d.m. influences to 90s electro techno. If you are into early Biosphere but you like also the luscious sounds of the Soma Records rooster, like Slam or Oktogen, plus a touch of Warp stuff, this album could definitely find a place into your playlist. "Flat Surfaces" doesn't contain vocals neither dancefloor hits, but it's able to create a sonic world of its own and this is the main thing for someone who's making music! Preview here "https://4mgrecords.bandcamp.com/album/flat-surfaces" and contact Imi!
Artist:
Frank Meyer
Title:
Spuren
Format:
CD
Label:
Frank Mark Arts
(@)
Rated:
I heard some of the stuff by Frank Meyer on some collaborative releases, coming from Frank Mark Arts (the very first time I saw its name was on the occasion of "Levitation", a good album he made together with Roman Leykam). This debut album better highlights his interesting sonic searching, focusing on a well-balanced mixture of ethereal music, krautrock, prog rock and an assortment of tricks often used by composers of music scores. Despite its internal homogeneity, you could hear some sparse resemblances in "Spuren". For instance, I'm pretty sure that many listeners of the wisely titled "Klischee Und Wirklichkeit" (German for "Cliche and reality") would match it to the notorious Yann Tiersen's soundtrack for the likewise famous movie Amelie (even if its well-forged electronic sounds could befit a possible futuristic version when the main character of this film would be 40 years older at least). Other ones will imagine that "Hinter geschlossenen Augen" (meaning "Behind closed eyes") could have been grabbed in the imaginary garden of Klaus Schultze while automatic nozzles were watering the Japanese hydrangea or tracks like "Ein seltsames Wort" (eng."A strange word") could let you think about a cover of some prog rock classic song by Boards Of Canada after a transplant of a robotic heart or that robots themselves can feel and translate into music something closer to human love-driven depression while listening to the graceful "Tiefenbohrung". Tracks like the lovely "Fuge für Hoffnungsvolle" (meaning "Fugue for hopeful") could let you imagine that the famous herdsman appearing in an old spot by Marlboro has a promising future or maybe is already active in one of the supposedly newly discovered Earth-like planets. Besides possible and more or less fictitious similarities, the sound that Frank forged in this album by means of an impressive set of instruments (including acoustic and electric guitars, an electric bass, a diddley bow, a plenty of software synths and samplers, a glorious Doepfer Dark Energy monophonic synthesizer, an ukulele, a flute, some boom whackers, some field recordings, some toys for cats and even a lemonade bottle!) is really good and could be considered as one of the most interesting stylistic direction that a particular branch of the so-called psychedelic music could take.
Artist:
Quentin Sirjacq
Title:
far islands and near places
Format:
CD
Label:
Schole
(@)
Rated:
While introducing Akira Kosemura's "One Day", I was saying that 2016 was a great year for his imprint Schole. Even if there are more chances European and American readers will find it the version produced by Karaoke Kalk, here it is another release that fully justifies my feedback about this Japanese label - Japan itself was a source of inspiration for most of the tracks of this output -. Premiered one year ago in Lisbon, "Far Islands and Near Places" is the album by which French pianist, multi-instrumentalist and composer Quentin Sirjacq further enhanced the intense emotionality of his piano-driven sound by means of three guessed choices: the first one is the integration in the line-up of talented percussionist Arnaud Lassus, whose performance on marimba, vibraphone, and glockenspiel manages to highlight the dynamics of Sirjacq's declension of pianism, the second choice is the inclusion of electric piano and Fender Rhodes that Quentin combined to his beloved piano, two new entries that the French musician matches to "a certain musical style and era (namely 'amplified music' which began in the mid-twentieth century, from pop to electronic music)", according to his own explanatory words. The third "expedient" is the one that Quentin referred as "creative mixing" and its primary goal is acting as a bridge between "a modern aspect linked to technological devices and an old fashioned one based on piano and percussion which is not as contemporary." Besides the appreciated analytical explanation of its author, what matters is the beauty of the final result. There are some stylistic similarities of course: the opening "Aquarius" could resemble some compositions by notorious musicians like Niels Frahm or Yann Tiersen and the following and "Bodies", the delicate housey tune that follows, made me think of some stuff by Trentemoller or Matthew Herbert (a musical memory, the last one, maybe influenced by the soundalike of Sirjacq's track with Herbert's "Bodily Functions", one of his more famous albums). tracks like the daydreaming "Far Islands" or the delicate charm of the final "A Dream in a Dream" get closer to the style of the above-mentioned Kosemura and the nostalgic romanticism of "It's Raining In My House" make me think to some of the piano versions of the main theme of Last Tango In Paris (a reverie of a romantic meeting in a Paris cafe during a rainy autumn afternoon is almost logical during the listening of this lovely track), but besides all the possible connections that someone could find, Sirjacq's third album is simply an excellent release by which the author serves the purpose of contemporary music, according to his analysis and belief: "I believe the music of today should allow us to care more about our inner life and self-understanding in order to become more peaceful individuals and more able to acknowledge the complexity and mystery of the human condition". The only bug I found during the listening of "Far Islands and Near Places" is the typo of the plural for 'wolf' in the CD-text and printed tracklist!
Ambient / Electronica / Ethereal / Dub / Soundscapes / Abstract
Edit (9640)
Artist:
Lyef
Title:
Introspections
Format:
CD
Label:
Krysalisound
(@)
Rated:
Some listeners could find some similarities (particularly in the way the voice got often recorded) against some bands belonging to the old-fashioned branch of ethereal wave or medieval-folk, other ones could match some moments of this recording to other possible similar sonorities such as the early outputs by Brian Eno (particularly his well-known album "Neroli") or Beaumont Hannant, but the strictest relation of this new bicephalous project by Milan-based Italian musician Francis M.Gri, whose transition from quite cliched dark style of All My Faith Lost (the musical nubbin of his youth) to a more personal, more pensive and somehow brighter one could be considered already completed, and talented singer Lilium is the one with Revglow, their previous project. I wouldn't say Lyef is entirely beatless, as a sense of movement is sometimes rendered by occasional slow piano stroking, but traditional percussions or rhythmical patterns have been removed. In spite of the rarefaction of their sound, I wouldn't either label it as minimalistic as Francis didn't skimp on aural items, as many field recordings and diluted sounds mantled the trilling voice coming out of Lilium's uvula, which sometimes becomes an accomplice in spreading soothing sonic balms like her subtle invitation to silence or imitations of delicate air breezes in "Air". I prefer the moments when Lilium's voice and Francis' sonic handling sounds more balanced such as on "Iron Trees" or "Unbrace" (particularly in the second lulling part), but the other tracks are interesting as well, particularly the enchanting fade-in of Lilium's voice in "Fire" and her sort of dream nursing in the initial suites "Water" and "Paper". A possible enhancer for your oneiric activity.
Artist:
Innercity Ensemble
(@)
Title:
III
Format:
CD
Label:
Instant Classic
(@)
Rated:
I don't know if the palace in Ostromecko, a village in the heart of Poland, where Innercity Ensemble got hosted between 10th and 12th July 2015 for a three-day lasting improvisational musical meeting, fostered the inspiration of this group of talented musicians playing a plenty of conventional and unconventional instruments, but this third output is just a confirmation of the incredible stylistic whirling carousel they already forged. I honestly have no idea of what titles mean, but the beautiful music they built sometimes speaks by itself. The opening "Pismo Powstaje Noc" evokes the atmosphere of a possible tale of a Thousand and One Night by its graceful percussive arabesques and the sudden grandiose entry of Wojciech Jachna's trumpet, sustaining the incredible textures where two darbukas sets the flow in a way that reminded to me some outputs by Mazurek's Sao Paulo Underground. Both the darbukas and the trumpet again are the columns of the following track "Gdy Oddech Gór Rozpoznany," which sounds like an entranced evocation during some mysterious shaman-driven dance, disgorging its energy in the narcosis of the following "W Przeswicie Gestego Powietrza" and the prog-tinged blissful nuances of "Namacalny." "Staje Sie Pradem Nieprzespanej Godziny" sounds like the awakening from the previously rendered bittersweet mental trip and its fantastic crossover between a sort of dirty samba and surf rock over sonorities that could fit the revenge of some wounded gringo is utterly catchy. The bridge between the bitter lullaby on the trumpet (close to Erik Truffaz style) and a sort of lopsided amalgamation of ambient and obscure electronics features "Przenika Przez Drewno I Stal", maybe the track where electronics are more clearly listenable, preceding the bright finale of "Godzi Nas Ze Swiatem", sounding like the moment when a sort of atonement got reached. Some aspects of what seems to be the sonic rendering of a collective spiritual journey could have been clearer if I understood what the Polish titles were meant to say, but Innercity Ensemble's music is pleasant.