Artist:
Aeoga
(@)
Title:
Obsidian Outlander
Format:
CD + Vinyl
Label:
Aural Hypnox
(@)
Rated:
Aural Hypnox, the Finnish experimental label which is one of the physical manifestation of the Helixes Collective (including a constellation of projects orbiting around more or less dark ritual ambient), picked one of the columns of the label, Aeoga, for their very first release on vinyl. The duo, which prefers to keep their real names secret in order to focus on the potentially cathartic effects of their aural experiments, formed Aeoga just one year after the label was founded and, as far as I know, all releases under Aeoga came out under Aural Hypnox imprint. Also available on a nicely packed (as usual) CD edition, 'Obsidian Outlander' is slightly different than their previous releases. First of all, its length is apter to an EP instead of an LP, but it was introduced as their fourth album so that we can't really criticize the way it got filed. The moment when they get close to their earlier rite-like outputs is the central shortest tracks of the release "The Black Loom" (the ascending and descending chanting voice spreading over ritual percussive hits are really absorbing) and "Obsidian Towering", where the previously mentioned voice turns into a sort of entranced humming while weird whispers and ghostly chirping surround it. This short ritual output gets opened by "Initiatory Boil", where a set of percussive elements (including metallic hits and what sound a sort of rolling on a metal surface) seems to crackle and pop (without boiling actually!) over an ethereal melody that becomes clearly listenable at the end of the track. One of the most entrancing moment is the following "Rot Magnetism": a deeply low frequency and an obscure subtle chant begin to fill the aural sphere before a sort of subtle whisper and other elements get gradually inoculated. According to some more or less esoteric writing, the obsidian is a ritual element that requires a process of purification before having positive effects. If it doesn't get purified, it could attract negative energies. Whether you believe or not to this kind of matters, such an ambivalence seems to be rendered in the last two tracks of this album (the fourth in Aeoga discography). Both "Outer Observatory" and the final "The Sublime Canvas" get filled with disembodied weird voices, sinister aural entities and slowly rising dark melodies (close to some stuff by Lustmord or Troum).
Ambient / Electronica / Ethereal / Dub / Soundscapes / Abstract
Edit (10079)
Artist:
Roman Leykam
Title:
Essence
Format:
CD
Label:
Frank Mark Arts
(@)
Rated:
We already introduced some of the outputs of Roman Leykam's musical incontinency. The most recent we talked about is maybe "Impressions", a very good one for listener's meditation. There was also a track titled "Essence" in its list, but it has nothing to do with the sound that he explores on this album, likewise titled "Essence". He keeps on focusing on the painstaking forging of aural settings for meditation, but he preferred to squeeze an acoustic guitar for this lofty target. He didn't squeeze an instrument he found in a pawnshop, but he chose a Line6 Variax 700, one of the aesthetically ugliest guitar, but one of the best in producing some particular kind of sonorities in my opinion. Roman seems to know this acoustic jewel and its mods very well, so that he turns the instrument into something closer to Japanese shamisen, Indian sitar (tracks like "Subterranean River" or "Instinct" are the ones where the Line6 resembles this instrument) and a set of classic legendary guitar like the D'Angelico New Yorker, the Selmer Maccaferri or the National Reso-Phonic Style "O" - some of the instruments that inspired the mods of Line6 Variax 700 -. Roman often switches over different mods in the longer-lasting of the seventeen improvisations he packed in "Essence" (such as "Food for Thoughts" or "Uncomplaining Patience"), but all of them are mainly based on slowly picked chords (strumming is really rare on this album), that highlights Roman's interesting handling of effects.
Ambient / Electronica / Ethereal / Dub / Soundscapes / Abstract
Edit (10077)
Artist:
Philip Jeck
Title:
Iklectik
Format:
CD + Download
Label:
Touch # Tone
The cryptic press release for "Iklectik" details Philip Jeck having been "creating sound with record-players since the early 80's", yet fails to explain the instrumentation or sourcing that would give you even half an indication of what a 45-minute, single-track live performance, recorded live at and named after the Iklectik art space in London, would actually sound like.

So, what it sounds like initially is a steady, soft, mellow drone affair with willowy pad sounds ebbing slowly, and gentle plucked synthetic notes dancing modestly over the top. At it progresses, slightly more metallic and at times more animalistic and vocal tones arrive to add a sinister shade, but it never veers towards any true discordance. Seemingly random pizzicato string notes later give it a sense of both progression and pace which evolves into a subtly more symphonic arrangement in the middle. The final third of the piece becomes hollower, returning to drone but with a greater emphasis on bass sound which at times sound faintly dubby before flattening into another drone element. A spoken word eulogy in the final three minutes is an odd addition, coming after a soporific section as though intended to speak into your dreams.

Occasional audience coughs are the only recognition of it as a live performance and the involvement (or otherwise) of record players is left undetectable, there's nothing sonically that would determine that this wasn't a laptop performance or a studio creation.

It's an intriguing and very carefully evolving work which takes you in some interesting, if not especially challenging, directions. Very smart.
Ambient / Electronica / Ethereal / Dub / Soundscapes / Abstract
Edit (10070)
Artist:
Forest Walker
Title:
UV Sea
Format:
Tape
Label:
Constellation Tatsu
(@)
Rated:
The listener could be instantly absorbed by the very first seconds of this release, ignited by "Desert Lighthouse", the longest track of this tape by Los Angeles-based composer Forest Walker Christenson, whose only connection to a lighthouse (according to my senses at least) is a bright sound whose fading in/out could resemble the movement on a spot of the beacon of light. Together with this sonic element, there's a slight noise that resemble the noise of a pencil on paper, whose combination with the general atmosphere of the track could let you think the author made a sort of ambient hymn to the creative act, even if Forest prefers to say that his work focuses on "the deconstruction of mythologies of sound". Since the above-mentioned suite, it's clear that Forest draws some meme of the sound he forged for this release both from his remarkable experience in sound engineering and editing for movies and performative arts and from some iconic figures (somehow like myths!) of ambient music, such as Philip Glass and Steve Reich. For instance the dim lights on the mechanical tapping of "Amendment of Fundamental Axiom" is something that could be placed in between Steve Reich and Tor Lundvall, and I would say the same for "Saved Video of a Postcard" (or better its first four minutes, as the climax turns towards so-called space ambient in the last two ones)), the track that opens the B side, while the highest sense of detachment and visionary sight gets reached on the sumptuous "Realtime Lapse" diluted over 12 peaceful minutes. This ultraviolet sea is something that could temporarily freeze the reality surrounding the listener.
Ambient / Electronica / Ethereal / Dub / Soundscapes / Abstract
Edit (10067)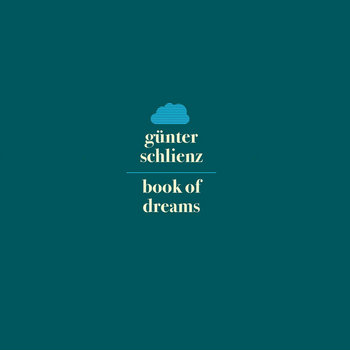 Artist:
Günter Schlienz
(@)
Title:
Book of Dreams
Format:
CD
Label:
Zoharum
(@)
Distributor:
Alchembria
Rated:
A Jack Kerouac's citation introduces this release: "the fact that everybody in the world dreams at night ties all mankind tighter"; "Book of Dreams" is an expanded cd reissue of a vinyl release and is based on a musical form that is based on modular synth and this means that is something familiar to those accustomed to a musical flux spanning from Kosmische Musik to new age. The quietness of the music which should facilitate dreaming is obtained with simple and catchy melodies and the absence of any dissonance, so it's something that requires considerable writing skill to avoid trivial results.
When "Just Silhouettes" starts, the listener is introduced into a sound field as synthetic but warm and organic even if there's any melody to follow but it's something cradling someone so "The Female Coffee Drinking Dwarf" sounds like a lullaby for heads in the clouds with his simple and hypnotic melody. The droning tones of "Kafkaesque Speeches" hugs the listener while "Mushrooming" is more experimental in his reminds of old sci-fi movies. "Stillleben" is a quiet and static ambient tune. The two new tracks, "The Girl with the Cloud Coloured Shirt" and "Diving into the Orange Pool", are a gentle track for cello, the first one, and a minimal pop divertissement, the second one. The hypnotic loops of "Two Big White Dogs" and the nostalgia of "Awaken", closed by the sound of an alarm clock, closes this release with a vague feeling of play again the play track.
While it could be the typical release that could be criticized by the fans of avant-garde with the classification of new age, this is that kind of release whose brilliance of writing let the listener enchanted. Practically recommended to everyone.