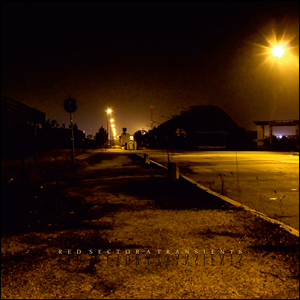 Artist:
Red Sector A
Title:
Transients
Format:
CD
Label:
Silentes
(@)
Rated:
Active since the mid 90s, Red Sector A, released four albums for Minus Habens where ambient dub was meeting techno rhythms. Under the Subterranean Source moniker, Andrea Bellucci, the guy behind Red Sector A, released two CD albums in the U.S. Desolation House, a Relapse sub-label and before starting the Red Sector A, he was active in the dance scene as composer. 'Transients' is Red Sector A's fifth album and the first for Silentes. On this one, Andrea, is bringing to fans of electronic music, ten new tracks born in collaboration with many well known musicians of the Italian and international scene. Andrew Lagowski, Teho Teardo, Retina.it, Dean Dennis (ex Clock-DVA), Giorgio Ricci (Templezone), Eraldo Bernocchi (also member of Sigillum S) and Fabrizio Modonese Palumbo of Larsen joined him helping enriching his sound. Listening to "Transients", I can't tell exactly what the guests did as their contributes are merged into the strong rhythmical texture which is the main element on the mix. We have a sound built by different layers which interact but kinda live on their own, also. As I said, the rhythms are king as there are so many beats made using glitching sounds, drums, synth noises that at first listening, those are the first thing that pops out. Under that, there's an underworld made of drones, tiny noises, loops and stuff that you'll discover them little by little. Also, you'll notice the clean mix which is helping listening to every sound. If you love i.d.m. as well as sound research and Warp, Rephlex are two labels you love, "Transients" is an album you'll enjoy.
Techno / Trance / Goa / Drum'n'Bass / Jungle / Tribal / Trip-Hop
Edit (8166)
Artist:
DLR, Mako & Fields
Title:
Bridge the Gap/Old Soul
Format:
12"
Label:
Utopia Music
(@)
Rated:
Other two gusts of wind which blew over Utopia Music fronds are going to refresh dnb followers' eardrums from the beginning of May. The first one, "Bridge The Gap", comes from Bristol-based dnb producer James "DLR" Rowbotham and is going to bring outbreaks of rain by sinewy breaks, thunderous bass, menacing sonorities and electric scrapes, but despite storms usually spill cascades of water down the ground, this track is going to make your feet jump as if you've been compelled to dance on a floor of hot stones. On the flipside DLR's breath got reinforced by the ones from Mako and Fields, who disperse clouds on "Old Soul", where residual electric storms keep on droning within a track which sounds more emotional and somewhat gloomy like a nostalgic reverie at dusk.
Artist:
Martijn Comes
(@)
Title:
Infinite Spaces and Beyond
Format:
CD
Label:
IO Sound
(@)
Rated:
Some sizzling synth-driven frequencies, frothy dilations and sonic meteroids on the opening track "Memory Field" fire up the engine of the musical starship by experienced Dutch sound artist Martijn Comes. Careful and erudite listeners will supposedly recognize many well-known musical astral bodies while watching out of its portholes, such as the electronic archeostructures by The Orb, the psychedelic extrusions by Future Sound London, Pete Namlook's intergalactic overdrives or some acts of synth-pop, ambient-dub and techno-ambient, but they will soon surrender to the attractively elongated "fields" by this gut, who managed to wrap his overdrive of electronic dub, techno-throbbing sponges, fluffy ambient by catalytic orchestral stoles and sometimes unpredictable dynamics: for instance, the cathedral-like space organs of "Silent Field" will let you foretell the follow-up of the track just after Martijn adulterates it by a pitching, which fosters a sort of alchemical transmutation into a progressive techno combustion or the marine inputs in the beginning of the final "Ultrasonic Field" has no apparent connections with the magnetic gargling plain chant and the ancestral radiofrequencies at the end of the suite. Martijn wisely turns each track into adventurous listening experiences by occasional aerostatic interruption and gorgeously cadenced mutations, which become proper sonic traps on the almost mystical suite "Electric Field" and on "Mirrored Field", which could resemble to some late 90ies techno-trance dry stuff such as Dr.Numa, Zen Paradox or Koen "Starfish Pool" Lybaert. This breathtaking sidereal journey has been asterfully mastered by Taylor Deupree.
Techno / Trance / Goa / Drum'n'Bass / Jungle / Tribal / Trip-Hop
Edit (8147)
Artist:
Rona Geffen
Title:
The Emancipation of Mitzy
Format:
CD
Label:
RG Recordings
Rated:
I can't hail this EP by rave-scene diva Rona Geffen as something new, but Berlin based artist, who after all plainly introduced "The Emancipation of Mitzy" as a sort of flashback, knows how to shake dancing grounds. For example, the opening track "Empty And Broke" could remind those hard-hitting techno panzers which struck the chords and the bodies of Tresor devotees at the dawn of new millenium (and maybe some years before 2000), the tribal wars on the drum of the following "Ra Ta Ta Ta" unexpectedly reactivated memories like Sepultura's "Chaos BC" that belongs to some old past musical lives of mine, "Patat" smells like those old-fashioned crossbreeds between Rio De Janeiro samba drumming and techno. "Teheran Nigts" and the squawking pitting of "It Began With 1 Pissed Chika" hurl head-banging missiles which borders on gabber and German techno-trance, while the final "30" recalls some "jihadist" declension of techno, which also spread over he scene particularly after the controversial exacerbation against some Muslim countries and the destabilization of those regions, but if you pay close attention to some details, you'll uncover the reason why Rona Geffen's output is everything but a cloning.
Artist:
Quentin Hiatus
(@)
Title:
It's Only
Format:
CD
Label:
Free Love Digi
Rated:
According to his own biography, "earthborn children told stories and called him Beastman, scurrying into the night in fear of him. As the years past, he cultivated the Solo System and emerged from the wild, determined to Experience the Mysterious. Guided by the great master Sophos, he mastered the art of Formtranse". Besides his imaginative description and the somewhat mythological parthenogenesis, Quentin "Hiatus" McFadden's music has really neither beastial nor divine traits. Quentin's dexterity with bass-driven rhythmical contraptions could let you think he comes from UK, the homeland and the meeting point of many talents of the scene; his headquarters are actually in the heart of US, Arizona, an almost unknown scene that Quentin is tryng to display by means of his own label, Free Love Digi, by which he also launches this full-length album after a series of tidbits with the imprint of some underground labels. Even if it could sound like a stretching of the point, its "Americanism" could gathered by the way he chews percussive elements like they were chewing gums that he inflates out of his brain by airy sonorities. Some tracks of his album such as the title track "It's Only" or "Digress" are so breezy that could be rather matched with some old chillign entries from mainly German sound jugglers and his mania for heavy "spacialization" of sound could be linked to another (stereo)typically American mania and source of pride, the conquest of space, so that some tracks like the lovely dedication to so-called Def Poetry in the middle of the album, the bouncy sidereal drumstep on "Unexpected Red" or the synth-propelled whirligigs on "Behaviourism" could sound like the sonic mirroring of space walks on board of a starship, whose shields got constantly hitten by space debris. The fluorescent blood from the scarred sniggering heart on the cover artwork spilled delightfully listenable lymph out.