Artist: Marlon Hoffstadt
Title: Simple Communication
Format: 12" vinyl + Download
Label: Midnight Themes

Marlon Hoffstadt continues to be prolific, with this sixth release in the Midnight Themes series coming fairly hot on the heels of the previous ones. It's a reliable and steady output that's also predictable, for better or worse- in this case, perhaps the better, as it's a trustworthy three-pack of semi-deep house that you can rely on not to surprise you.

There are shades of acid at times, strongly reminiscent of old Josh Wink tracks, including one that adds an extra element into the second half of "Take A Moment" which serves as a good substitute for any other musical progression that's lacking. Second A-side track "Action And Reaction" is a shade harder, with tougher kicks and assured use of effects to bounce simple synth pads around. For people of a certain age the title "Simple Communication" can't help but scan with the near-identical metre as Slam's "Positive Education", a release that these tracks aren't completely unlike, save for the iconic vocal of course.

The B-side is devoted to "Open Focus" which gives us the best of both worlds, an 11-minute journey that certainly pays tribute to the softer side of classic acid house with its steady claps and slowly unpeeling 303 noises, but which reminds us that these are elements of dance music that somehow never end up sounding old, or which nostalgia will never let us recognise as old. The eleven minute voyage is very expertly mapped out to keep things interesting with a fairly minimal set of ingredients.

Another 'safe pair of hands' release from an artist whose fairly frequent appearances in my inbox are always welcome.
Artist: Hvmble
Title: Textures 1/4
Format: 12" vinyl + Download
Label: Hvmble

The first in a four-part "Textures" series offers up two steady six-minute super-light and atmospheric house grooves where a super-polite combination of kick and soft bassline chug along nicely and it's the high-end patterns and atmospherics where the interesting stuff is going on.

With shades of dubby production, "Moeraki" is both the busier and the lighter-sounding of the pair. Processed noise that sounds like a babbling brook fused with digital insects comes and goes in waves, as does a slightly more sawtooth-edged synth pattern that takes things in turns with a much more mellow and 90's ambient house high line. It also has a surprisingly DJ-friendly fade outro, look out for that one.

"Plitvicer" has more of an earnest kick to it, focussing solely on the rhythm for almost two minutes before rolling out an assembly of soft bass notes, synth stabs and claps that got 80's influence written through it like a stick of rock. This one fades too, but leaving the stabs behind in a way that makes cross-fading nice and smooth.

A steady if unremarkable pair of tracks with a smooth and feel-good simplicity to them.
Artist:
Amp
Title:
Entangled Time
Format:
10"
Label:
Ampbase
This release has been available since November for download, but it's now available as a 10" from January 19th.

Described as a 'concise album', "Entangled Time" is apparently as a by-product of work on a 'proper' new album, though the distinction feels somewhat arbitrary and many artists would happily call this an album in its own right. Amp's first new material since "Outposts" is a familiar set-up of long sustained string and synth melodies, calm vocal pads and (sometimes) deep melodic techno kick patterns.

"Drifting" is an apt name for the leisurely opener, which washes over you like waves- literal waves by the end, as beach sound effects appear. "Will-Oh Dreams" adopts a similar set-up melodically, minus the waves and bringing the feminine vocal sounds to the fore, but introducing a moderately tough drum pattern into the mix to framework everything. A brief interlude "Playing Time" which has a soft, under-nourished pulse to it. The final original piece "Opal Tears" takes a small step towards a more traditional song form, making the vocal sounds intermittent and layering up harp-like glissandoes washed in heavy dominating reverb.

The extended 16-minute version of "Will-Oh Dreams" is the most captivating self-contained piece, allowing a steady super-soft techno rhythm to interplay with the long sustained notes in a manner that will have a broad appeal that should span fans of slightly more mainstream equivalents such as M83.

It's a richly textured bit of semi-ambient techno with some extremely lush and velvety sounds in it, and a certain elegance to boot.
Techno / Trance / Goa / Drum'n'Bass / Jungle / Tribal / Trip-Hop
Edit (10788)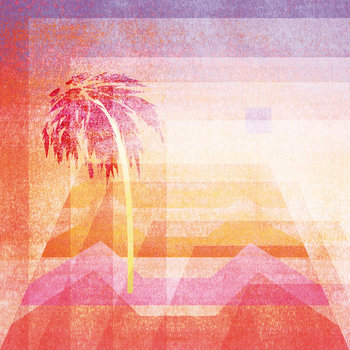 Artist:
Fabio Orsi
(@)
Title:
Sterminato Piano
Format:
12"
Label:
Backwards
(@)
Rated:
This new release by Fabio Orsi, according to the press notes, marks his return to Puglia after 8 years in Berlin and this is graphically symbolized by a colorful cover by Mastereaster while his most recent release were mostly tied to black and white pictures by Orsi. The chromatic change is matched by a musical form where the danceable aspect is particularly noticeable and, apart from the field recordings, all the sound elements are from synth and sequencer.
The A side, "Amai il Vento", is introduced by rhythmical, and vaguely minimalistic, piano line that hypnotizes the listener while sharp resonances evolves in the background; the small variation in every iteration creates a sense of movement, in the second part of the track, that introduces a lead line in the foreground which slowly is integrated in the rhythmic framework closing the track. The B side, "Sopra la Terra", starts as a classic ambient track in a suspended way while the main synth loop slowly fade in and introduces a beat with a vaguely oriental feel; at the end of the introduction begins a part of juxtaposition of elements until an hypnotic loop is established under a changing beat.
The linearity of the tracks reveals the influence of certain kosmische musik as he cites certain synth sound and the structure has those sense of progression under the apparent repetitiveness of the sonic cells that reveals a writing behind it, not a mere repetition of a phrase relying on timbre. It could be appreciate by a wide range of listeners. Recommended.
Techno / Trance / Goa / Drum'n'Bass / Jungle / Tribal / Trip-Hop
Edit (10780)
Artist:
Sascha Funke & Niklas Wandt
Title:
Wismut
Format:
12" vinyl + Download
Label:
Multi Culti
A collaboration openly contrived by A&R rather than pitched as a musical love story, this collaboration between techno stalwart Sascha Funke and multi-percussionist Niklas Wandt is the confident sound of two professionals who can roll out laidback, jazzy and slick mid-tempo house work with their eyes closed. The result is a four-track EP of long steady grooves, measured progressions and all the right bits in all the right places. Organic percussion sounds meet light techno kicks and claps while some sometimes bizarre-sounding melodic elements wander quite freely over the top.

The opening couple of tracks feature spoken-word German vocals which, more by association than design, evoke thoughts of 80's experimental and industrial, and very predictably Kraftwerk of course, particularly with the lo-fi stylophone-esque melody of "Die Sage" and the rhythm pattern which opens up "Lobotomie", before "Umarmung Aus Holz" seems to put more emphasis on the modern production touches instead, with its wandering and pitch-shifting ghostly pads. "Fur Die Paar Heller" is the highlight for me, the longest track that draws out a pattern of gradually increasing urgency that's beautifully well handled, and which adds slightly more sci-fi synth noises into the mix, before a nicely odd and very assured near-silent breakdown.

A very steady EP built from regular perspiration rather than inspiration, it's certainly a product of quality, excellent music to walk to.