Getting stomping (it's required by the style they deal with), but with a certain grace. This simple strategy could summarize the secret formula that justifies the longevity of Berlin-based label Souvenir Records. The label got founded ten years ago by Dj Ali Tiefschwarz and his partner Basti and keeps on withstanding the upheavals of a fast-paced scene, where stars got dimmer seconds after they gleam and shine. They are perfectly aware of the fact ten years in the current musical market is an astronomical era, and that's why they have a reason to celebrate. Besides a tour that will touch many finest clubs in Germany, France and Switzerland, they celebrate by this compilation, including a mouthwatering selection, exploring a broad range of styles in between tech house, techno, deep house and electronica, melted together by an intuitive sense of quality. Over a decade, they collected many good tunes, such as Ruede Hagelstein's hymn "Emergency", Tiefschwarz collaboration with Jaw for "Hurricane or floor filler "Triple S" by Chris Wood and Meat. This compilation of 15 breathtaking tunes is really catchy since the opening "Eago" by the above-mentioned Ruede Hogelstein - a lovely chilling warm-up on finest airy deep-techno chords - to the final "Taboo" by IOAKIM SAYZ - a mesmerizing declension of tech house - and groups together both long-term partners of Tiefschwarz label and newcomers such as Mathame, Cesare vs Disorder, Dixie Yure (tributing his "Mapache" to Ulises Gomez) and the duo by Thomas Von Party and Thomass Jackson (his misty tune "Boneyard Fluteman" is one of the highlights of the selection). Released under the lucky number 77...an augurs well for label owners!
Techno / Trance / Goa / Drum'n'Bass / Jungle / Tribal / Trip-Hop
Edit (9245)
Artist:
Stranger In The Night
Title:
So Much Subtle Fun EP
Format:
Download Only (MP3 + Lossless)
Label:
DAMN!
Distributor:
Believe Digital
This is a release that oozes confidence and attitude. While there's a music librarian in me that will always do a bit a Forest Whittaker eye at the idea that a release with only 2 tracks could be an "EP", this is a 20-minute dive into the Stranger's quite nerdy wallowing in acid techno basslines, and slow knob-twiddling of digitals wails and squeaks.

With the gradual progression and slightly unorthodox structure, there's an almost improvised feel to these tracks, as if they have been moulded and shaped on the fly, with the Stranger riding the faders and filters in real time. As such, "So Much For Subtlety" possibly overstays its welcome by just a couple of minutes, running out of tricks towards the ten-minute mark. This is largely boosted by the slow, almost "has it started yet?" intro that would make it a good set-opener for DJ's willing to set their stall out very clearly.

Despite the similar track titles and the fact the second one is labelled as a dub, these are two distinct tracks. They may originally have had the same musical root but they have branched out in quite different directions. "So Much For Fun" is a tighter affair which sticks to its brief and has a more determinedly clubby outlook. The almost tongue-in-cheek organ again has a slightly making-it-up-as-I-go-along feel to it, restraining itself in the first half before losing the plot into a crescendo of random arpeggiations, then spontaneously getting a grip and returning back to loop A. It's all very restrained- personally I wouldn't have minded a bit more drama and dynamic on this one.

This is the second release on the DAMN! label and marks them out as people to keep an eye on.
Techno / Trance / Goa / Drum'n'Bass / Jungle / Tribal / Trip-Hop
Edit (9244)
A traumfahrt is a journey, and in this release, the journey leads the dream. It's a collection of four gently progressive, atmospheric trance tracks, carefully controlled and measured, with the reverb-heavy, super-slow melodies providing the dream topping on a very sedate rhythmic ride. The melodies are strong, the shifts are gentle. As club music this would be more romantic than euphoric, but it's equally functional as a soundtrack to a train ride through rolling countryside.

The title track is a showcase for Celina de Torres' impressively pure, operatic vocal. It's a stand-out track and it's worth the price of admission for this track alone. It has more than a dose of "My Head Is A Jungle" about it, and definitely in a good way. The reprise version highlights how, with the right remix package, this track could get an awful lot of attention.

Celina de Torres' second appearance on "Der Turm" is not quite as enthralling but still leaves you thinking that Linus and Eingrad (actually only one man, Lienhard Hemme under an alias) should definitely be employing Celina's services on a regular basis in the future. The blend of her tone and 'their' (his) mellow motorik rhythms is a winning combination. Instrumentals "Mein Herz" and "Bremen" are very polished and tight, but faintly forgettable by comparison.

This is a pretty strong and consistent collection of tracks for rhythmic self-reflection.
Techno / Trance / Goa / Drum'n'Bass / Jungle / Tribal / Trip-Hop
Edit (9241)
Despite being called "Faceless Future", this is quite a backwards-facing EP that feels like it could've fallen through a timewarp from the late 1980's. It's a eulogy to prototype acid house, with slightly beefed-up production values but unmistakable noise snares, speak-and-spell-like vocal snippets and super-short, harsh-edged samples.

The accompanying press sheet references Front 242 and Cabaret Voltaire, and it's a spot-on comparison, this could practically be a tribute act. It's raw, aggressive, and sinister. All six of the tracks are between three and four minutes long, giving them an almost pop-song structure that neatly encapsulates the anti-pop sound.

"Fearless" breaks the mould slightly, bringing in a thick, resonant rolling bassline that those pioneers of the sound wished they could've made with the old technology. It's bold and feels almost like a tip of the hat to nu skool breaks as much as anything else. "Speed" is the most brutally angry track in the package.

This is a gritty, retro listening experience and a weird piece of electro-industrial nostalgia, not for the faint-hearted.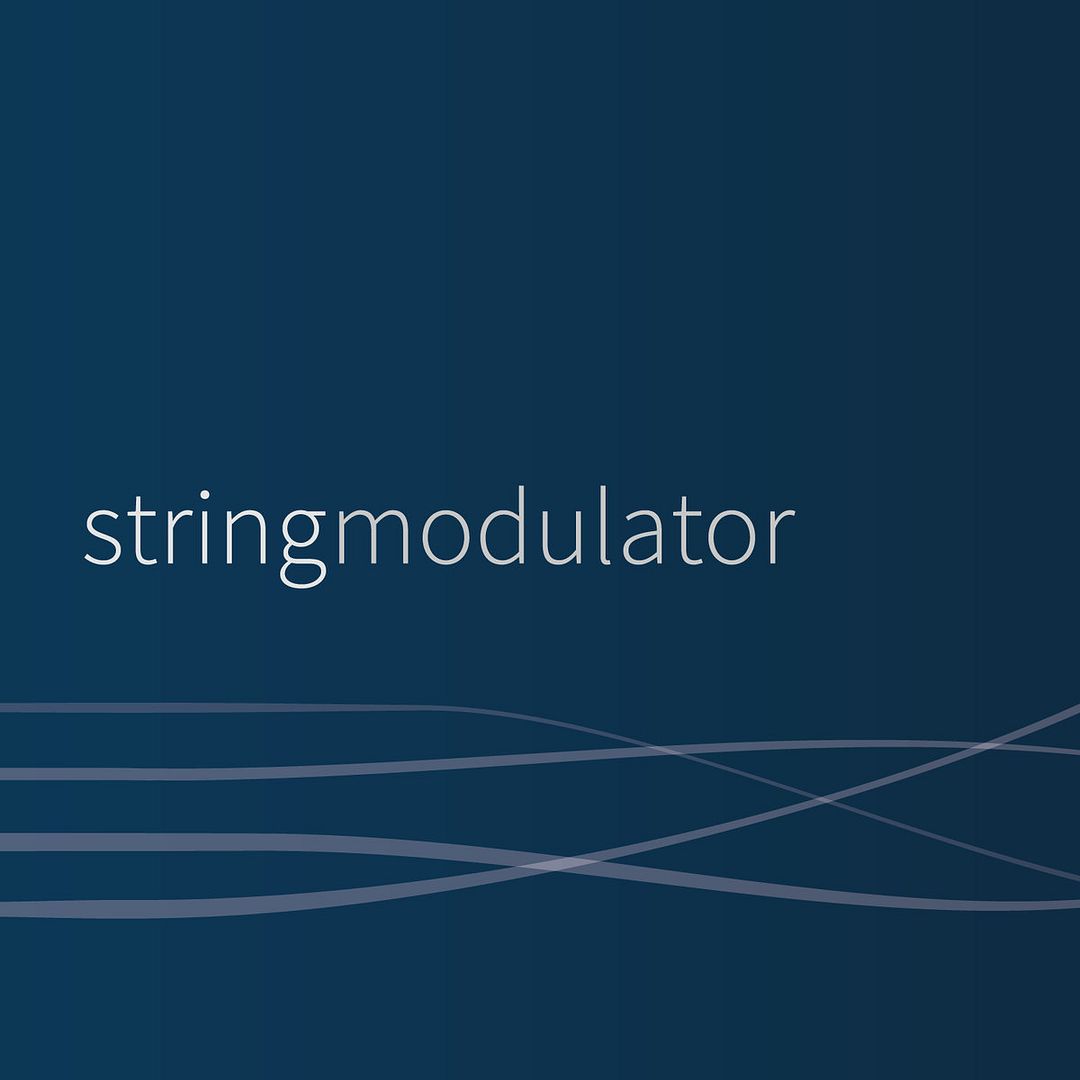 Artist:
stringmodulator
(@)
Title:
stringmodulator [EP]
Format:
CD
Label:
self-released
Distributor:
Bandcamp
Rated:
German musicians Jan Quednau (bass) and Fabian Chmielewski (guitar) compromise stringmodulator, an experimental music duo limited to ten strings. At 41 minutes, their first EP is quite possibly the longest EP I've encountered to-date, though in fairness the time spent listening flew by.

Lengthy initial track 'flow' does just that; at nearly 19 minutes, a number of motifs and patterns are established for a few minutes, never over-staying their welcome, and enveloping an organic continuance that is steady as a river (flows). At numerous times I found myself marrying 'flow' to an imagined crime-thriller film. For example, I could envision it functioning as dramatic underscore to certain scenes in Michael Mann's 1995 film "Heat," especially during the more pulsating/grooving moments.

Second composition 'OZEaN' is more contemplative and solemn. Almost call-and-response in nature, Quednau frequently sets the tonal stage with highly-treated, wandering basslines which Chmielewski answers with various guitar utterances that range from driven harmonics, feedback yelps, and clean, jazz-voiced chords. And then, somehow, we ultimately end up modulating into a miniature funk workout in the final minutes.

The final track is a live version of 'flow' that coalesces the most brash moments of the studio version and pushes them closer to extremes, alluding to an everyday four-on-the-floor pulse. Though purposefully limited by its instrumentation, the debut EP by stringmodlulator takes enough left turns to be enthralling, and overall satisfying.