Techno / Trance / Goa / Drum'n'Bass / Jungle / Tribal / Trip-Hop
Edit (7354)
Artist:
Phil Tangent
(@)
Title:
Restitution/Squaring The Circle
Format:
12"
Label:
Soul:r
Rated:
Brighton native dnb producer and dj P.Winn aka Phil Tangent reinforces the firm belief by many dnb followers about the beaming moment of his musical creativity by means of another pair of winning shots for Markus Intalex's Soul:r. "Restitution" manages to ventilate listener's eardrums and minds with daydreaming suspensive synth-pads, uplifting sounds, exstatic female vocals and propelling beats, the hastening element for the headphones-driven sublime ascension which could be experienced by listeners. Such an ascension is going to be followed by the sonic sideslip of "Squaring The Circle", where this bad boy pours absorbing phat bumps, airy trumpets and sourer basslines, whose counterbalances for flotation are some dazing and dazzling vocals by Bjork. A real touch of finesse to the scene, which is going to be rolled over by a lot of dnb djs.
Techno / Trance / Goa / Drum'n'Bass / Jungle / Tribal / Trip-Hop
Edit (7346)
Unlike many other beatmasters, East London-based producer and dj Ossie Aneke doesn't suffer from artistic incontinence, but he mostly likes to ration energies in order to concentrate them and his remarkable panache on true sonorhythmical gemstones, so that he still manages to stand out of an overcrowded scene, which finds it hard to let emerge authentic talents due to the proliferation of releases, which normally tag along the sound in vogue. Ossie seems to prefer the "little but good" policy and after a couple of successful hits - "Tarantula" and "Set the Tone" -, he comes back with a pair of impressive tracks: both of them are still imbued with garage-house sonorities, but beside the captivating beat-juggling on wisely built rhythmical patterns, mainly lying on back-and-forth broken beats and amazing shuffles, Ossie dashes some catchy preciosities. On "Ignore (Yes I Did)", a song about the battle games between opposite sexes, performed by Tilz on mic, Ossie adds pungent acidolous basslines and rolling snare drums to rise dynamics, while on B-sided "Find It", he sticks a Balearic guitar arpeggio on the pan-fried sequence of chords and effected vocals, which let play at full gallop in the end after he tried to draw in the reins. Proper stuff to let dancehalls wiggle on.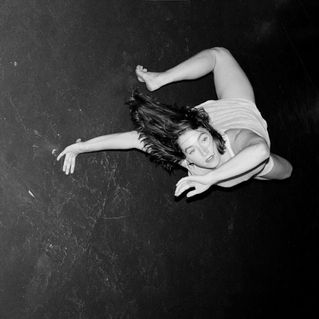 Artist:
Raime
Title:
Quarter Turns Over A Living Line
Format:
CD
Label:
Blackest Ever Black
(@)
Rated:
Imagine rain-slicked back alleys; haunted warehouses; a wooded clearing at night. These are some of the locales that Tom Halstead and Joe Andrews, collectively known as Raime, will guide you through, when immersing yrself in the blasted, decayed landscape of 'Quarter Turns Over A Living Line.'

Where lesser producers and weak imitators are content to pretend that the history of dance music is a logical, linear progression and work to perfect the perfect sugar-tweaked bass wobble, Raime draw lateral assocations across three decades of steely electronics, downtuned guitars, and horror-movie scores to create an inner nighttime world that is both menacing and optimistic. Owing as much to Earth and Sunn O)) as Regis and Burial, Raime (as one of the flagship bands of the impressive Blackest Ever Black label) have extracted viral DNA from a number of obscure sub-genres, such as Drone Metal and Doom Jazz, and combined them with the receptive and adaptable Industrial and Drum 'n Bass genes to form a dusty, lurching Golem of stately Techno. What could have ended up as another genre-splicing mishmash mess has ended up, instead, as an innovative album, full of impressive sound-design, finesse, and even some slow grooves.

'Passed Over Trails' kicks things off with some growling bass textures, before coalescing into a jazz-noir opium revery; it is plain from the start that this is not just another 'bass music' record. The closest corollary is Bong-Ra's amazing Mount Fuji Doomjazz Corporation project, that sounds like being followed down a lonely sidestreet by a car with tinted windows. Recognizable elements gradually dissolve, like reflections on oily water, to be replaced by the mummified Drum 'n Bass of 'The Last Foundry,' which wouldn't sound out of place in an afterhours set at a club, and the leaden bassdrop is one of 2012's finest moments on record. 'Soil And Colts' is a lumbering Techno track, crawling along at half-speed. Like some iron giant, complete with creaks, groans, and ominous shrieks, with an aurora of beauty surrounding and containing the scene; then seamlessly connecting with 'Exist In The Repeat Of Practice,' more skeletal d'n'b and '80s plasticine horror synth. By the time 'The Walker In Blast And Bottle' arrives, a model is nearly in place: start off with a minimal beat, then creep in ambiance and subtle sound design, which is like watching an image solidifying the air around you. Raime make mental movies, sure, but not the kind you'd see on a screen. 'Quarter Turn Over A Living Line' is more like a dreamstate that you get to explore for an hour, a direct connection to the superconscious of a couple of Scottish blokes.

The devil is in the details, when it comes to Raime. They're certainly not the first to make slow, crawling techno with surreal flourishes (again Regis, Monolake) but the way that they combine their post-Industrial electronica with doom metal, jazz, and other acoustic sounds, point a way forward for themselves, as well as the totality of dance music. With the machines that are at our fingers, we have control of songs and sounds to the almost molecular level, and we are beginning to see a race of sonic wizards that are constructing basalt mountain ranges of sound, out of thin air, just to see what they'd look and sound like. The way that Raime fills out their sound with the thickest, darkest dub echoes, like on 'Passed Over Trails' reveal 4 well-tuned ears, as well as some of the finest production and mastering money can buy. Everything is in place, and they never mis-step, 'QTOALL' gets more engrossing with each listen. This is Raime's first full-length, as well as the first LP of original material for Blackest Ever Black, so it should be interesting to see what this assemblage shall come up with in time, provided we're not all sucked into some galactic whirlpool, first.
Techno / Trance / Goa / Drum'n'Bass / Jungle / Tribal / Trip-Hop
Edit (7337)
Artist:
Gerwin/Nuage/2Shy
Title:
Lying Portraits/Soul Truth
Format:
12"
Label:
IM:Ltd
(@)
Distributor:
Triple Vision
Rated:
"Dishonesty...the grand delusion...the magic trick...complete confusion" 2Shy says on "Lying Portraits", the first tune of this little treat by Gerwin and Nuage from French label IM:Ltd. A moment of shining introspection with meaningful lyrics, which could let you imagine a consciousness rising of some disillusioned person while shredding photos of a cheating lover (or supposedly some holy pictures on a plastified card of some smiling politician...why not?), pierces a scene, which looks like twined around darker and darker beats and sounds by means of a deeply emotional cut for Gerwin, who already teamed up with Russian producer Dmitry Kuzmin aka Nuage for some releases on Dutch label Fokuz and come back with this bass-driven true gemstone for liquid funk and jazzy dnb lovers along the lines of wise and high tenor of some old stuff from Good Looking Records. On the flipside, you're going to find "Soul Truth", an in/fusion of melodic textures, RnB vocals and an electrifying 808 distorted bass snake, which could be a perfect fit both for sofa surfing and for bed rocking.
Techno / Trance / Goa / Drum'n'Bass / Jungle / Tribal / Trip-Hop
Edit (7331)
Artist:
Dub Motion
(@)
Title:
Lucifer/Red Stripe
Format:
Download Only (MP3 + Lossless)
Label:
Regal Records
(@)
Rated:
Just taken out of Regal Records' smithy, the ninth blood&tomato-spotted wand from the young indipendent label wisely run by Rob Dimension and Seb Skankandbass, mainly focused on almost unknown new levers of the scene, celebrates the arrival of Dub Motion in Regal's court, who introduces his sound by means of a Mephistophelian tune, "Lucifer": just after a creepy dim beginning, which could come from Darth Vader's nozzle while he's snoring - that a touch of horror trash that doesn't mar the track! -, the clappy jumps and the sub-bass buzz get blended by a sort of croak, which could ideally echo the one by huge prehistoric frog which bio-antiquarians baptized "Beelzebufo ampinga", commonly known as "Devil Toad" or "Devil Frog"! The same croak appears on the following track "Red Stripe", but this time Dub Motion prefers to mix it with frightening bells, visceral convulsions and injections of sonic solutions from heavyweight dub chemists. Recently featured on the Hospital podcast by S.P.Y., Dub Motion's amazing sound collected the support of many known producers and djs such as Crissy Cross, Xtrah, Cyantific, Logistics, Jubei, London Elektricity, Random Concept, Nu:tone, Unknown Error, Dimension, Wilkinson, Fred V & Grafix.