Techno / Trance / Goa / Drum'n'Bass / Jungle / Tribal / Trip-Hop
Edit (8180)
Artist:
Mollono.Bass
Title:
Remix Collection II
Format:
CD
Label:
3000°
Rated:
He likes bass frequencies. He likes house music. He likes to remix different genres. He did lotsa remixes and I mean a lot! He did only one album in 2011 for Acker Records. He did about fifteen EPs for Acker Records, Absurd Recordings, Ostwind Records and 3000°. For this last one he just released on CD his second collection of remixes. Who's he? He is Ronny Mollenhauer a.k.a. Mollono.Bass. About one year from the first volume here it is a second one containing fourteen new remixes that Ronny did for Be Svendsen, Robot Needs Oil Ganja Tunes, Douglas Greed Feat. Delhia De France, Felix Eul, Fuji Kureta, Monkey Safari, Pupkulies & Rebecca, Stereo Express, Dole & Kom, Wolfgang Lohr Feat. Miss NatNat, Schäufler & Zovsky, Be Svendsen, Peng Peng and Dolph. The tracks' atmosphere moves from dub reggae/balearic (on the remix of Felix Eul's "Auch"), to minimal house passing through pop folk with Hawaiian atmospheres (on the Pupkulies & Rebecca remix of "Ici") and Gipsy influences (on the remix of Stereo Express' "Mister Mayor"). I appreciate the wide of variety of genres remixed but most of the tracks are conducted to have a similar sound at the end of the work missing a bit of peculiarity. Most of the times on the background there's a wobbling bass sound that along with a good amount of reverb helps creating this effect. Most of the tracks are nice but sounds like fluffy dance tunes that missed a bit of their power on the process.
Techno / Trance / Goa / Drum'n'Bass / Jungle / Tribal / Trip-Hop
Edit (8179)
Artist:
Stevie Hyper D
Title:
Generation Hyper
Format:
CDS (CD Single)
Label:
Dance Concept
(@)
Rated:
The legendary MC Stevie Hyper D, whose death for a heart attack following a strenuous international tour and an ereditary condition on 5th July 1998 was an unbridgeable loss for drum'n'bass and jungle scene, lives again on this massive and overloaded collection by likewise legendary Dance Concept, whose owner Benny V has been a life-lasting friend and partner-in-art of Stevie. He was not only the inventor of the so-called Double Time MC'ing style and the first DnB MC signed by a major label ("The Next Step" on Island Records in 1999), but he also inspired and spread virtues and ideas by means of his perfectly timed word. Coming after 16 years after that tragic loss, "Generation Hyper" covers a remarkably wide range of styles and producers, who had the honour to work side by side this immortal and really versatile force of nature, who can be reasonably considered a cult figure for junglists and contemporary MCs, by means of 24 great tunes: Congo Natty, Benny V, Jaydan, Savage Rehab, Pappa G, Heist, Ray Keith, Jayline, Dj Sly, Nookie and many more. An authentic unmissable piece of music history, which is going to move your bodies and minds. Over and over again...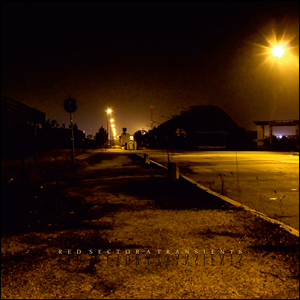 Artist:
Red Sector A
Title:
Transients
Format:
CD
Label:
Silentes
(@)
Rated:
Active since the mid 90s, Red Sector A, released four albums for Minus Habens where ambient dub was meeting techno rhythms. Under the Subterranean Source moniker, Andrea Bellucci, the guy behind Red Sector A, released two CD albums in the U.S. Desolation House, a Relapse sub-label and before starting the Red Sector A, he was active in the dance scene as composer. 'Transients' is Red Sector A's fifth album and the first for Silentes. On this one, Andrea, is bringing to fans of electronic music, ten new tracks born in collaboration with many well known musicians of the Italian and international scene. Andrew Lagowski, Teho Teardo, Retina.it, Dean Dennis (ex Clock-DVA), Giorgio Ricci (Templezone), Eraldo Bernocchi (also member of Sigillum S) and Fabrizio Modonese Palumbo of Larsen joined him helping enriching his sound. Listening to "Transients", I can't tell exactly what the guests did as their contributes are merged into the strong rhythmical texture which is the main element on the mix. We have a sound built by different layers which interact but kinda live on their own, also. As I said, the rhythms are king as there are so many beats made using glitching sounds, drums, synth noises that at first listening, those are the first thing that pops out. Under that, there's an underworld made of drones, tiny noises, loops and stuff that you'll discover them little by little. Also, you'll notice the clean mix which is helping listening to every sound. If you love i.d.m. as well as sound research and Warp, Rephlex are two labels you love, "Transients" is an album you'll enjoy.
Techno / Trance / Goa / Drum'n'Bass / Jungle / Tribal / Trip-Hop
Edit (8166)
Artist:
DLR, Mako & Fields
Title:
Bridge the Gap/Old Soul
Format:
12"
Label:
Utopia Music
(@)
Rated:
Other two gusts of wind which blew over Utopia Music fronds are going to refresh dnb followers' eardrums from the beginning of May. The first one, "Bridge The Gap", comes from Bristol-based dnb producer James "DLR" Rowbotham and is going to bring outbreaks of rain by sinewy breaks, thunderous bass, menacing sonorities and electric scrapes, but despite storms usually spill cascades of water down the ground, this track is going to make your feet jump as if you've been compelled to dance on a floor of hot stones. On the flipside DLR's breath got reinforced by the ones from Mako and Fields, who disperse clouds on "Old Soul", where residual electric storms keep on droning within a track which sounds more emotional and somewhat gloomy like a nostalgic reverie at dusk.
Artist:
Martijn Comes
(@)
Title:
Infinite Spaces and Beyond
Format:
CD
Label:
IO Sound
(@)
Rated:
Some sizzling synth-driven frequencies, frothy dilations and sonic meteroids on the opening track "Memory Field" fire up the engine of the musical starship by experienced Dutch sound artist Martijn Comes. Careful and erudite listeners will supposedly recognize many well-known musical astral bodies while watching out of its portholes, such as the electronic archeostructures by The Orb, the psychedelic extrusions by Future Sound London, Pete Namlook's intergalactic overdrives or some acts of synth-pop, ambient-dub and techno-ambient, but they will soon surrender to the attractively elongated "fields" by this gut, who managed to wrap his overdrive of electronic dub, techno-throbbing sponges, fluffy ambient by catalytic orchestral stoles and sometimes unpredictable dynamics: for instance, the cathedral-like space organs of "Silent Field" will let you foretell the follow-up of the track just after Martijn adulterates it by a pitching, which fosters a sort of alchemical transmutation into a progressive techno combustion or the marine inputs in the beginning of the final "Ultrasonic Field" has no apparent connections with the magnetic gargling plain chant and the ancestral radiofrequencies at the end of the suite. Martijn wisely turns each track into adventurous listening experiences by occasional aerostatic interruption and gorgeously cadenced mutations, which become proper sonic traps on the almost mystical suite "Electric Field" and on "Mirrored Field", which could resemble to some late 90ies techno-trance dry stuff such as Dr.Numa, Zen Paradox or Koen "Starfish Pool" Lybaert. This breathtaking sidereal journey has been asterfully mastered by Taylor Deupree.