Techno / Trance / Goa / Drum'n'Bass / Jungle / Tribal / Trip-Hop
Edit (7912)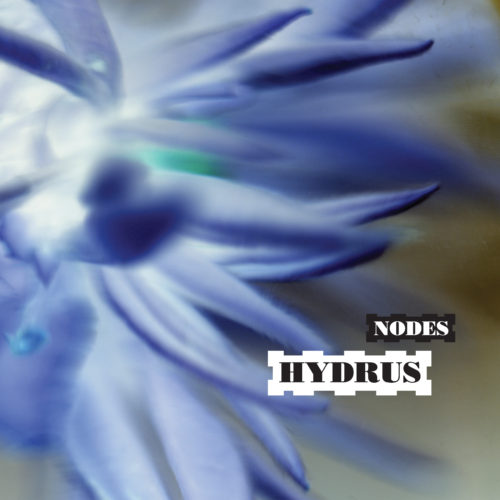 Artist:
Hydrus
Title:
Nodes
Format:
CD EP
Label:
Narrominded
(@)
Rated:
In their press release this band is presented as a band whose 'name suggests rationally conceived music' and 'they program their own patches for electronic software and they love to work on their sounds endlessly'. The result is a classic IDM album with declared influences by Autechre and Plaid but with personality and a clear music direction.
'Vertex' opens this release with a classic IDM beat pointed by a dreamy synth. 'Micronaut' is based upon the Autechre-style juxtaposition of two rhythm in a loose predictable way. 'Black soap' is a synth based track upon an almost drum and bass layer. 'Bato' tries to calm the atmosphere while 'Raim' features the most complex drum pattern. 'Drose' seems almost a 'tri repetae' track as is based upon a synth loop and a beat.
This EP sounds as the most logical release Autechre would do if they didn't decide to change their sound, and a whole musical career, and for some fans this is one of the best compliment available. The critic says three, as is nothing new, but the fan says five so the average is four. Only for fans of IDM but recommended.
Artist:
Max Cooper & Tom Hodge
(@)
Title:
Fragmented Self - Part 1
Format:
Download Only (MP3 + Lossless)
Label:
FIELDS
Rated:
Disquisitions about the possible lack of complementarity between the stylistical field of London-based pianist and composer Tom Hodge, who's not stranger to this kind of musical crossbreeding - you could check the pleasing collaborative project Piano Interrupted together with Franz Kirkmann -, and electronica producer Max Cooper require more theoretical efforts than it's worth, meaning that many nodes have formerly been made and succesfully tested by a number of musicians. I'd rather say that the most interesting aspect of this collaboration is the framework where they wedge respective sonorities in since the initial "pedagodical" piano drops by Hodge on "Fragments Of Self" - the first of a series of EP (second part has been recently dropped out), which preceded a tour, which is drawing to en end with their last show at Plus Music Festival in Mexico - sound permanently balancing to mutating equilibriums of the electromechanical expectorations and glitchy suppurations from Cooper's laptop. You could imagine an imaginary remix of learning piano sessions by Funkstorung or Telefon Tel Aviv, the possible soundtrack of those commercials which try to sell "smart" devices, credit cards or fast cars by linking them to the progress or the formation of a baby or for awareness-raising campaign about sorted waste collection or environmental conservation in order to have an idea of what kind of sound is going to hit your eardrums and a similar balance resounds from the following "Quantet" where some uplifting strings got synched on a balanced techno roller. The chipper, breezy and somewhat cherubic remix of "Fragment Of Self" by Cafe Oto stalwart Petrels and the elegiacal bonus track "Von Der Klippe Fallen (transl."Fallen from a cliff"), which melts blues, euphoric technoid dance and electronic butterflies, integrates this graceful release.
Techno / Trance / Goa / Drum'n'Bass / Jungle / Tribal / Trip-Hop
Edit (7910)
Following a couple of appreciated delicacies we've already talked about, the album, which crowns and honors an impressively fecund year for one of the leading edges of Chicago footwork and chief member of Teklife crew Rashad Harden aka DJ Rashad on Hyperdub and the concurrent spread of a genre which could be considered the upgraded soundtrack or, as more "romantically" suggested by cover artwork or maybe by the reference to the recreational drug quoted by the title - double cup is another slang name of so-called purple drank, a mixture ("drop a 4 in a 20 oz and call it 24s") of promethazine-codeine and sprite, whose original recipe came from H-Town, TX - the nocturnal street lighting, of the quivering Illinois' capital city by crossbreeding ghetto-house and juke styles, has finally been released. The antitussive recipe of Rashad's sound isn't just a combination of Chicago footwork and "something else", as you could take for granted and all those listeners who tasted his previous tidbits knows that. Its sonic energy-boosting toffee may contain traces of techno, jungle, tribal, ghetto-house, r'n'b, hip hop has been lusciously covered with creamy expectorations of 808 and flipping polyrhythms. I keep on preferring acidolous blast or darker waves of tracks like previously released "I Don't Give A Fuck", the stunning shock treatments of title-track "Double Cup", "Leavin" (ft.Manny) or "Acid Bit" (featuring Addison Groove) as well as the unusually tuneful hiccuping divas of tracks like "Everyday of My Life", "Only One" or "Show U How", but I'm pretty sure many listeners will be delighted by more soothing stuff where the sensually sizzling breaks of "Let U No" or "I'm Too Hi" and the soulful aftertaste of collaborative tracks with Spinna really stand out.
Techno / Trance / Goa / Drum'n'Bass / Jungle / Tribal / Trip-Hop
Edit (7907)
A lot of interesting stuff is ready-made from a bunch of labels from hidden clefts of electronic bass-driven music; this tidbit from British producer and dj (and extreme sports calendar model, his biography pinpoints) Jonathan Gibson aka JGYB is one of the most difficult to categorize, but the easiest to fall in love with. He snipped vocals which could recall Michael Jackson's yells, garage pad-synths, slightly sour drops, front-to-back and back-to-front claps, tribalistic sticks and gelatinous vibrato on his "Sun Soaked", while the following track "Money" shuffles the same elements in a more playful way - it's really funny the way he "crashed" claps and cowbells like they were eggshells -. I'd file his style under "broken beat" but some rhythmical stratagems could evoke something else as well. The release includes a stunning technoid translation of "Sun Soaked" by skilled Portuguese dj and musician Schuro, whose brush strokes painted the original version black by fast throbbing sonic enzymes. This ready is one of the forthcoming secretion from the trunk of Hamburg and Porto-based multifaceted label Con+ainer.
Artist:
Dominic Petrie
(@)
Title:
Tomorrow Now EP
Format:
Download Only (MP3 + Lossless)
Label:
Ingredients Recordings
(@)
Rated:
The intriguing syrup by Aberdeen-based dnb producer and dj Dominic Petrie, who's not really a newcomer of the scene as he released some good sonic pills on labels like Lifestyle Recordings, Nerve Recordings and Sound Artillery, and supported dj-sets of notorious names such as Calyx and Teebee, London Elektricity, Chase and Status, Andy C, Black Sun Empire and many others at the Bongo Club in Edinburgh where he propels Xplicit D&B night, contains many good old recipes in solution besides the influences (fellow countrymen Boards Of Canada - supposedly for a certain "mentalism" of Petrie's music - and LTJ Bukem's Good Looking stuff) that Ingredients mentioned for an introduction of this EP. While listening to this EP, some stuff of the so-called atmospheric drum and bass or even the so-called ambient jungle (I could mention Photek, Omni Trio, Skanna, PFM, Jack Ruby, Fast Floor or A Guy Called Gerald) resurfaced from the depths of my musical memories, which got melted with some percussive stunts (popping finger clicks, repetitive female vocals or amalgamating smoothed basslines) of liquid funk, whose influence is clearer on the initial "Riverside Blues" and the gloomily beautiful "Beyond The Wall of Sleep", which smells like Scottish rainy day. The remarkable quality and the soulful hook of the seven tracks of this release have been recognized by Ingredients itself as they had so many hesitations in making a selection for a 12" that they decided to drag all of them in one extended play in the end. My favorite tracks are the most clouded ones such as "Ephemerol Test" (a reference to fictional Cronenberg's drug for pregnant mother whose babies inherited the power of blowing other people's heads?), the amazing percussive overlaps and fuggy atmospheres of "Exponent Of Escape" and the dazed key stabs and the tailspins of basslines on "Empire", but all the other tracks are really outstanding.