The follow-up of the recently reissued debut album, Ganglion, is another strange mash-up of trip-hop, distorted violin, spoken word and is a concept album, a soundtrack to the comic book of the same name. The good news is this is vastly superior to the debut album in composition and production.
"ABEO" in the intro constructed upon some noises and the heavily distorted voice of the narrator. "Proxy" is the first proper track and is an uptempo based on the folky lines of the violin above the beat. "If Wishes were Catholics" is one of the few singed song with an, at least for the writer, unknown female vocalist and probably one of the singles due to the catchy lines. "The Right of Action" is another instrumental constructed with a violin melodic development upon an hip-hop beat. "They all do it the same" is reminiscent of, cited even in the linear notes, the work done by DJ Shadow in the definition of this genre. "Gate Keepers" features the return of the spoken words to describe the development of the plot and so "I Hate You" and "Forced Vision" continues upon this development track. "Hollow" is an instrumental track revealing the soundtrack project of this release. "Locus Priory" starts with a guitar lines suddenly replaced by a dialogue between cello and piano. "Veil" is the other singed track of the album and is reminiscent of all the metal bands doing some sort of crossover. "To Kill a King" close this release with an almost classic instrumental hip hop tunes that suggest an happy ending of the comic book.
This is an album without any truly original idea but so carefully constructed and well produced that it will find a place in any end of the year playlist of fans of the genre. Non only for the fans of the genre but also for any wanting to hear a pleasant release.
Techno / Trance / Goa / Drum'n'Bass / Jungle / Tribal / Trip-Hop
Edit (7050)
A graceful dub-flavoured tech-house proposal is ready to come on decks from Frankfurt-based vynil label, founded by Gabriel Le Mar and Carsten Schorr, whose publishing efforts are focusing on possible declensions of a dub-derived sounds within techno and house rhythmical patterns. Behind the moniker youANDme, there are two Berlin-based djs and producer, Martin Mueller and Daniel Stroeter, veterans of that scene as they roll interesting musical hybrids since 1995, which magnetized many partygoers and renowned labels such as Cocoon, Compost, 2020Vision, Ornaments, Platzhirsch and many others. On "mouche" (French word meaning "flight"), they let listeners hovering in the air with unobtrusive and well-balanced rhytmical oscillations, frothy echoes and icy ascending samples, so that it seems that there's a sensorial conflict between dynamics which gradually get warmer and warmer by taking possession of the body and inducing almost automatically some movements and sonic breeze which become subject to frostbite, but everyone knows what the mixing of warm and cold currents can cause... "Electric Dub Remix" by skilled dj Luke Hess on B-side immediately kicks with crunchy and regular beats, which sound remarkably influenced by typical Detroit techno progressions (it's quite normal if you consider that Luke is a dj born in metropolitan area of Detroit and musically grown in the legendary mid-90ies warehouse parties there, an influence tempered by a scientific approach on sound coming from his background in engineering and mathematics), the most notable additive to the track, which keep original aerodynamics properties intact.
Techno / Trance / Goa / Drum'n'Bass / Jungle / Tribal / Trip-Hop
Edit (7048)
Artist:
Gtronic
Title:
Sergeant Bass EP
Format:
12"
Label:
Dim Mak
(@)
Distributor:
Downtown Music
Rated:
I thought that samples of military snares and similar references in dance music were a little bit old-fashioned, especially after many stylists spoke out for the hoped disappearance of combat jackets, helmets, camouflage trousers, admiral coats, uniforms and insignia from wardrobes, arguably related to that smelling-like-teen-spirit feeling of being enlisted by strict rules of society - maybe many workers, retirees, businessmen or jobless people are feeling the same for the heavy tax regimes and the general rising of cost-of-living indexes related to financial crisis, even if such a situation could result in a feeling of belonging to a firing squad -. However that may be, many techno followers are joining to the rowdy forces of Gregory Grauwels aka Gtronic, a young techno maker dealing with the rougher and more contagious side of hard techno and the assault he normally mounts is sensorial as confirmed by this hard-ditting EP, wisely titled "Sergeant Bass" and issued by Steve Aoki's label Dim Mak- he still needs some seniority to reach golden stripes and gleaming medals, but he looks like quite resolute as he says with ogre-like voice in the title track between pasty bass pulses, harsh cuts and sharp sounds -. After he sets himself the target, Gtronic grinds his weaponry to reach the goal: military snares and dirty techno sounds in "March of Evil" are going to inflame the army (the snares used a long time ago by Dutchman Hans Weekhout's brain child Capricorn in "20Hz", which could came to listener's mind, will appear stuff for washouts) and a session of hard training has been scheduled on course sonic surfaces and whirling skretches of "Bubba", a sort of reminder of the dynamics which made Gtronic sound so notorious and beloved. An instrumental version of "Sergeant bass" has been included in the Ep for the sadic pleasure of lieutenants, who are going to recruit new forces in many clubs of the planet. Mission is going to be accomplished.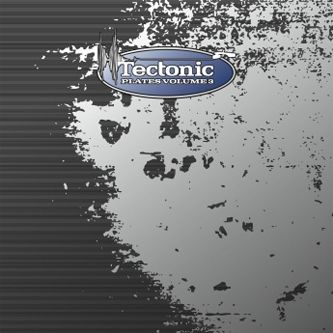 Artist:
VV.AA.
(@)
Title:
Tectonic Plates 3
Format:
CD
Label:
Tectonic Recordings
(@)
Rated:
Tectonic Recordings has had a formative influence on the evolution of Dubstep and its various bass-y tributaries. Run by Rob Ellis, aka DJ Pinch, over they years they have released a slew of classic Dubstep records by the likes of 2562, Distance, Skream! & Benga. It is fitting that on this most recent installment of the Tectonic Plates compilations, that they freeze and take stock of the current state of the bass.

Over the course of 13 tracks, it is possible to hear and identify many mutant strains of late-night LFO tweaking; from the now classic sub-woofer shredding of Kryptic Minds' "The Talisman," through the hypnotic tribalism of Tunnidge's "Universal" to the ends of an ATARI universe of Ginz's "Chrome". It draws a straight line straight from the earliest dubstep sounds, like Burial and Kode 9's wailing ghost divas and half-tempo locked grooves, to Skrillex's laser eyes and monster drops. Most of the tracks keep to the consistent 140 BPM, which makes for a smooth listening experience, well sequenced and well produced. There is also a pervasive mournful mood, brought on by heart-tugging strings, that harken back to the earliest days of dubstep, that sense of melancholy and immanent dread. Easy on the ears. Some of the tracks seem like works in progress, like Kevin McPhee's "Outs," which sounds like a dubplate rushed hot to the presses to someone's DJ friend, which seems like techno in its purest forms, utilitarian jams to make people dance.

In this day and age of media overload, trusted labels and selectors are more important than ever, and Pinch has been on the scene since the get go. Not every track on Tectonic Plates is essential listening, just like any DJ mix anywhere, but any of them would go over the for the late night faithful. Its interesting to speculate on where bass music will go from here.
Artist:
VV.AA./Athana
(@)
Title:
Athana Remixed 2012 NO:US
Format:
CD
Label:
West Audio Productions
(@)
Rated:
Although I didn't it, this Norwegian project, named after initials of its main mind Alf Terje Hana, has already been introduced on these pages and looks like based on the extravasation of guitars in a sonic blender whose blades have been turned rust-proof by the involving dynamics of drum'n'bass and its possible crossbreeds, so that by Athana's admission the concrete turning point as well as a source of inspiration (or even enlightenment) for his approach to composition came after seeing a TV broadcast by Roni Size in the golden era of drum'n'bass. Such an interest for new musical language pays off and after four years from its last appreciated collection of remixes - Athana Remixed 05-08 -, Alf decided to build a bridge between his home country, Norway, and USA taking the wraps off two of his songs ("Picazzo" from "Corridor" album and "I.O. Roni" taken from "Beats & Pieces", the one inspired by that inspiring perfomance on BBC's Jools Holland show) to a couple of Norwegian remixers and a couple of American ones. Those ones who remixed "I.O. Roni" are almost unknown to me, but they exhibit an interesting sonic weaponry. I've heard just a couple of releases (with Dialect Recordings and Crosstown Rebel imprints) by Ost & Kjex, but it seems they are so notorious in their country that they gained a nomination in the Norwegian Grammy 2010 and on this occasion they assemble a nice electronic/house movement, whose main elements (reverberations on claps, diluted synth bells, a certain funky gear combined with relaxed mood and a sound close to a mobile's dial tone acting as a metronome) recalls that style which radiated from some Scandinavian clubs (think about Plej, Hird or Ben Horn to name a few). In spite of his remarkable number releases, the name of California-based project Uberzone aka Timothy Wiles is totally new to me: his treatment of "I.O. Roni" blends together electro and breakbeat sensations, nice tablas, bleeping sizzles (turning into an 8-bit melody in the end of the track) and those centrifugated swirls which are normally used during dnb dj sets, which are going to delight ears of breakbeat and dubstep addicts as well. I'm more familiar with name and sounds by NY-based producer Dennis De Santis (his name gained some visibility for being involved in the astonishing Aphex Twin acoustic project "Alarm Will Sound"), who proposes a very catchy set of breaks & brakes flavored with sonic recipes such as guitar chords, synth brass gabbles, treated vocal slices, and by Mungolian Jetset, a nice Norwegian duo, which often build moody and daydreaming grooves with a sort of prog-rock approach, which seems to have been preferred on this occasion with the precious support by Emil Nikolaisen, whose additional guitar acts as an enzyme for dream processing.