Techno / Trance / Goa / Drum'n'Bass / Jungle / Tribal / Trip-Hop
Edit (9975)
Artist:
Martin Jenkins
Title:
Dance Cave EP
Format:
Download Only (MP3 + Lossless)
Label:
Medical Records
Some techno tracks are so deceptively simple that when you first start listening to them they feel very "instrumental techno by numbers", just the standard formula of house beat, simple one-note bassline and faintly tribal percussion that slowly layers up, drops elements out to introduce some gentle chord pads exactly when you're expecting them, and then gradually strips itself away to a predictable close. The four tracks on "Dance Cave EP" are like this.

But it would be doing them a disservice to slate them as predictable (even though they are) because that's exactly what they're designed to be. Steady, calming, slowly shifting but never challenging, these tracks do exactly what they set out to do. Under pseudonyms like Pye Corner Audio, Martin Jenkins has done some pretty esoteric stuff, but this is deliberately straight-faced, line-toeing classically structured techno- no more, no less.

The title track is sonically reminiscent of early 90's trance, while "Horror Hole" is just a tad darker and more pounding. "Sub Space" has just a touch more urgency in its looping pattern. Final track "Your Love Is Crawling All Over Me" is just a touch more melodically ambitious, heading (very slightly) in a direction that feels like it would lend itself to a wistful vocal that isn't there.

Nothing on here is a classic by any stretch of the imagination but if you're collecting solid, reliable, middle-of-a-techno-set-friendly rhythms on vinyl, this is an easy one.
Techno / Trance / Goa / Drum'n'Bass / Jungle / Tribal / Trip-Hop
Edit (9972)
"Wagenpark" is an EP of 5 radio-length slices of acid bigbeat and dark sample-stacked squelchy hip-hop. It evokes comparisons with Luke Vibert (particularly his Wagon Christ alias) and DJ Shadow, but it's a little darker and more distorted. Sampled live drum loops roll under deep and funky basslines, while vocal snippets and jazzier instrumental elements pop in and out on top. Occasional scratches and fills keep the energy up.

The tracks are arranged alphabetically, but the sequencing kind of works. After the rather poppy light-stepping "Denkteek" comes the slightly more sparse, 70's-tinged instrumental groove of "Dolksteek". "Mandaat" has a full rap vocal on it and starts developing that electro-heavy breakbeat groove akin to what it's sounded like when Chemical Brothers try doing hip-hop. "Wanbeleid" is a slower and quirkier appear revolving around a weird lethargic bassline on which some anachronistically rapid-fire toasting samples have been interjected. Final track "Welkoop" is the most Vibert-ish, revelling in analogue acid squelch with some atmospheric chords chugging along for good measure.

There's not a lot out there that sounds like this at the moment. It's full of character, endearingly a bit strange, and well worth checking out if you never agreed with the 'four legs bad' instruction that bigbeat is supposedly a dirty word.
Techno / Trance / Goa / Drum'n'Bass / Jungle / Tribal / Trip-Hop
Edit (9964)
Artist:
The Negativity Bias
(@)
Title:
Whatever You Want
Format:
CD
Label:
Audiophob
(@)
Rated:
A rather mysterious release with a serious lack of information, 'The Negativity Bias' is an electronic project by German music producer Chris Dupont (real name Christoph Lemke) and 'Whatever You Want' is the project's debut release. According to the Audiopho label, The Negativity Bias is "inspired by the musical output of SCUBA, Marcel Dettmann, Planetary Assault Systems and S.W.Z.K.," and "works as an emotional bridge between artist and listener. Warm Deep House structures are combined with cold effects known from the Industrial/Noise sector." Okay, well there are a lot of influences here in this cross-genre project - IDM, techno, psy-trance, quasi-industrial, etc. The beat-richness of the compositions make for some decent danceability, the techno aspect should please the technoheads, and the psy-trance element should delight the spacers. 'Whatever You Want' is likely a truer form of IDM than most stuff that gets called IDM. There is little attention to melody in these compositions, and rhythm is the dominant factor. After the jittery opening track titled "Black Coloured Trauma" most of the following tracks take on a groove-oriented motif that generally stays throughout when the beats begin. (The wobbly, synth-effluvetic "Neon Light Force" is one exception, but even that has its own groove.) I should mention that Mr. Lemke is no newcomer to the scene, being involved in projects such as Kleqq, MRDTC, Mr. Dupont, NordarR, and others. One track, "Sweet Little Pershing" features Blac Kolor, a likely enough ally for this type of music. 'Whatever You Want' is the kind of music you'd expect to hear at raves and at EDM clubs when the crowd is rally worked up. So if you're that kind of DJ, you should really check this out. Another exception though is the patently weird "The Wind Carries," a beatless track that goes through a number of strange permutations with industrial sounds and warped strings that sound like a sick mellotron. But most of the album is inspired beat-o-tronics meant to move your body and maybe even your mind. Not my favorite mix of genres, but exceptionally well done.
Techno / Trance / Goa / Drum'n'Bass / Jungle / Tribal / Trip-Hop
Edit (9952)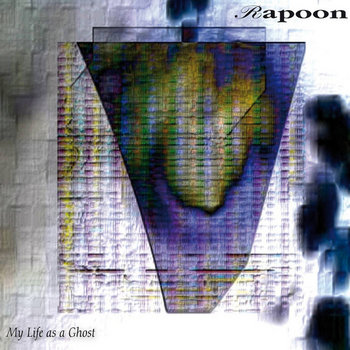 Artist:
Rapoon
(@)
Title:
My Life as a Ghost
Format:
2 x CD (double CD)
Label:
Zoharum
(@)
Distributor:
Alchembria
Rated:
After "Rhiz", Zoharum reissues "My Life as a Ghost" which is a release based on the same principle but, instead of IDM, it's based upon hip-hop rhythmic structure and this mark a basic difference as, instead of being centered upon the beats, the samples are used to divert the attention from the beat.
So, the voice which starts "Adrift" marks the first part of the track while the second one uses drones and noises. "The Sky Was Blue" is an evocative soundscape based on loops. "Neyyatt" is a partial return to the territories of "Rhiz". With "Terrain Sounds" emerges the primary flaw of this release, as the beat fundamentally never change and the tracks are long it's neither hypnotic nor interesting; a static rhythm needs a wide musical movement, as in "Adrift" to be effective, and only in the final two minutes of the track this is achived. This lack marks the central part of this release with only the last two track "I Think I Was Happy", with his static foreground and his crescendo, and "Tell Charlene", with a clever use of samples, to try to raise the score of this release.
Usually the bonus cd is something avoidable but used to persuade collectors with the mirage of something unreleased, but this bonus cd is something different. As Robin Storey has constructed new tracks from the original tapes with new material, he has corrected the flaws of the original release so
"Vertical Moonlight" seems based upon one of the layer of "Terrain Sounds" buried in the mix and this time with a quiet first part, an hypnotic second one and the return of the beat of "Adrift" in the final part, the result is impressive. "Not Knowing" is basically a remix of "Adrift" with a more developed sound spectrum and more sound movement. "Tremors" is a remix of "Terrain Sounds" but this time the rhythmic structure is in the background so it sounds as a completely different track as the atmosphere is more present instead to be a sort of musical wallpaper. "What's Been Happening?" is the same process applied to "Tell Charlene". "In Marakkesh" takes elements from "A Strange Land" and " BIG land IN" but they are almost unrecognizable as they are blended with new material in what is perhaps the best track of this release. "Terminus Gris" reworks a fistful of samples in a short coda relinking to the industrial elements of the project.
While the original release is something only for collectors, the bonus cd is something really enjoyable and it's not so far away from the best material of this project as it could seem. Almost recommended.
Techno / Trance / Goa / Drum'n'Bass / Jungle / Tribal / Trip-Hop
Edit (9951)
Artist:
Patricia
Title:
Several Shades Of The Same Color
Format:
Download Only (MP3 + Lossless)
Label:
Ghostly International
The press release accompanying this 91-minute long, two-disc album from Patricia (Max Ravitz) states that "listeners may find themselves deriving immense physical pleasure from exposure to these sounds. Inability to achieve such pleasure is likely attributable to over-analysis of the audio content". If as a reviewer I believed this, I'd be tied in knots, but thankfully I don't, so I'm free to describe this however I want, and I'll describe it as follows.

It's a slightly over-long and unhewn collection of mostly instrumental analogue synth-electro-pop, occasionally lo-fi-sounding, with leanings towards techno and a penchant for subtle discord. Synth pad chord progressions wash over soft single-note basslines and, for the most part, classic-sounding drum machine patterns. At its best, it sounds like late 1980's 808 State or mid 90's Josh Wink or softer Hardfloor, and at its worst, it sounds like quickly knocked-up "I've got a new synth and I'm learning how to play it" experimental demos that don't warrant a wider audience.

Don't get me wrong, there are some really strong tracks. Highlights include the rolling, muddy basses of "Liminal States", and the classic deep acid techno structures of "It Gets Worse At Night". The polished downtempo of "Thoughts Of You" running into "Shiba Inu Dub" is a section where the album is well into its balanced stride. It's hard to spot what sole guest contributor Terekke has added to the mix of final track "Upper Peninsula" but the result is a really strong bit of old-school trance.

Weaker moments include the opener "I Know The Face, But Not The Name", which slightly mis-sells the whole release. "Feel Your Body" and the energy-sapped "German Engineering" are the weaker and more derivative techno pieces. The haunting lullaby-esque tones of "The Words Are Just Sounds" that play against growling, barely discernible vocal noises, amplifying their sinister aspects, has promise but wanders too close to cliché.

The mastering is a little bit weird and seems to have been designed specifically and solely for headphone listeners to get a wall of sound. Wallowing in a warm and indulgent lo-fi production quality are some solid techno ideas and some well structured pieces. However a bit of judicious trimming and a bit of extra mastering polish could have turned this release into something more impressive that should have fit on a single disc. The "don't think, just hear" defence of the accompanying blurb is invalid, but sonically it does have a lot of merit.