Artist:
X-Navi:Et
(@)
Title:
Technosis
Format:
CD
Label:
Instant Classic
(@)
Rated:
Despite the fact the phenomenon is still evolving, the theme of consequences of technology on humanity and the (also biological) mutations related to this unprecedented technological acceleration as well as the development of an addiction to technological devices is not so new as a plenty of sociologists, anthropologists, psychologist and many other expertises in different branches of human knowledge wrote a lot about this subject, but the way by which such a fear got translated into sound in this last output by Polish producer Rafal Iwanski (I already introduced many projects he's taking part of such as HATI, Innercity Ensemble and Alameda 5) is fascinating. The title "Technosis" itself is a quotation of the definition ("civilization disease related to technology"), taken from "Philosophy of Civilization", an essay by Polish philosopher and educator Jozef Marian Banka, who keeps on studying this phenomenon. The opening track "Matnia" (Polish word for the French expression "cul de sac", referring to a path of no return) immediately sets the mood by a well-balanced mix of rising crippling percussions and thrilling sounds (close to the ones you could hear in horror movies when the watcher expect the appearance of a dangerous entity from some dark place of the scene); the breath you'd hear in the following "Ex Homo Sap" seems to render the above mentioned human mutation with the burden of concern that it could imply, while the following "Oto Technosis" sounds like the summoning digitalization of some old African tune. The whispered murmuring of Ewa Binczyk in the sinister mist evoked by the sonorities that Rafal assembled in "Medium" could mirror that diaphragmatic phase when the expected changes are still in progress but could let you guess what the next stages are going to bring about. Rafal wisely absorbs different ethnical influences in this unusual rendering technology-driven civilization disease: besides the previously sketched connection of the described tracks, it becomes clear in the following "In Extremis" as well as in the disquieting chimes of "Orient: Melancholia". All ethnic percussions you could recognize in his melting pot (an Irish bodhran, a South African mbira, a Chinese hulusi, an Egyptian zummara and a Moroccan bendir) are real, but the whole release is made by real entities: a relevant feature of Rafal's sound in "Technosis" is the total lack of field recordings, synths, samples or drum machines (besides the list of ethnic instrument I already mentioned, he just used Shanti chimes, bells, metal objects, contact mics, analog filter machine, a tone generator, a loop system and so on ) and such an aspect can be logically related to the conceptual framework of the album. The natural soundscape in "Pseudo Ambient" could be considered as another claims of forgotten human roots, while the final "Alchemy of Sounds", whose length (23 minutes and 23 seconds seems to be a desired aspect, due to the "esoteric" meaning of number 23), could keep on feeding the in-depth meditation a listener could be absorbed by. Do you remember the "fearful symmetry" of William Blake's tiger? Well, "Technosis" could be the roaring of that tiger in a sense. After its genetical mutation, of course...
Techno / Trance / Goa / Drum'n'Bass / Jungle / Tribal / Trip-Hop
Edit (9663)
Artist:
Andrea Natale
Title:
Time To Go Back
Format:
Download Only (MP3 + Lossless)
Label:
Basserk Records
(@)
"Time To Go Back" is 4 tracks of heavy-footed, steady techno, all taking acid riffs, simple kick-and-hihat drums and plenty of slowly twiddled effects and producing something with simplicity and drive.

The title track has a supremely dark but brief dark electro breakdown before looping back into a spoken-word "time to go back" vocal sample that has hints of the 90's about it, but with 2017-level subbass.

"Ouch" employs that classic heart rate monitor beep for tension above a flangey, busy synth line and a strangely infectious tempo-stepping bassline. A rave-era vocal scream is used sparingly to good effect.

"Unexpected Places" is a simpler and weaker affair, a constant sequenced synth loop squealing over a more lightweight rhythm, brightened a little by some percussive sonic frills and a vocal snippet which you'll be unsurprised to hear says "unexpected places".

By contrast, final track "Vault" is much thicker, a throbbing and pulsing kick and an alarm-like bell sound kicking in with immediacy and not relenting for six minutes. Muted synth stabs wander in and out in this tightly-focussed track.

This is no-nonsense stuff that's as dark as the artwork suggests, with an appealingly heavy thump.
Techno / Trance / Goa / Drum'n'Bass / Jungle / Tribal / Trip-Hop
Edit (9653)
Artist:
Klute
Title:
Read Between The Lines
Format:
3 x 12" vinyl
Label:
Commercial Suicide
(@)
Rated:
There are many evergreen producers in the international drum'n'bass scene that manages to resist to the seasonality of fashion victims and more or less force-fed trends, and Tom Withers, better known as Klute, undoubtedly belongs to this elitarian and fully appreciated circle of sonic wizards. Klute manages to surprise listeners without altering his style, but he rather upgraded it. How? First of all by means of a wise and absolutely well-balanced dosage of many different stylistic hints in a shake that keeps on tasting like a Klute tune: the touch of jazz and ambient he injected in the crackling "Crimson", the soul-ambient breezes (fueled by the delicate vocals by Linden Reeves aka Stamina MC) he framed into a gorgeous percussive break in "Lose My Way", those way of warming low frequencies up by grasping them into flowing tunes, uplifting sonorities and emotional framework (another master in this art that can pair Klute is maybe Seba) in tracks like "Angel Makers", the sci-fi-clipped tunes of "The Dreams" or "Earth Spits Out The Living", the electro-break of "Accept Our Power" or "Clappy" (sounding like a group of alien making a party after sampling the opening of Santa Esmeralda's "Don't Let Me Be Misunderstood") are just some examples of his unabated creative flair. Titles like "You Won't Like it" for one of the best tunes of the album shows Klute's unchanged irony as well. In a manner of sybilline speaking, I could say that stars are dying. Some others are imploding. But there are stars which keep on shining.
Last Christmas Wien-based Ukrainian label Kvitnu literally gave its heart: on the occasion of its 10versary, Kvitnu's guys decided to release this unique output, whose nice cover artwork (a distinguishing mark of the label under the wise visual supervision of Kateryna Zavoloka, the sound artist who signed this celebratory production) could vaguely resemble a psychedelic rendering of a cardiac muscle. It includes a fantastic track by Zavoloka herself, whose opening on what sound like treated bells has a scent of Xmas or birthday celebration before she ignites an electromechanical rhythmical spiral matching the aesthetics of which Kvintu became a sort of flag carrier, and a remix by Cluster Lizard, who transformed some elements of the original track, broke some kicking drums and added some high-voltage aural whispers to feed an enjoyable interstellar mental journey, combining so-called rhythmic noise and the ghosts of 70's synth-driven analogue electronica. Both tracks are available as free downloads, but you can also buy the CD version (priced 10€) or the 10" one (just ten copies are or were available). The last one costs 100€ but includes a lot of benefits: a big pack of Kvitnu stickers, a Kvitnu logo black t-shirt a personal 95% discount code for all items of Kvitnu shop that is valid over the whole 2017 and an unspecified surprise. The dark light of Kvitnu keeps on shining, and we cannot but wish its light can last longer and longer. Happy birthday!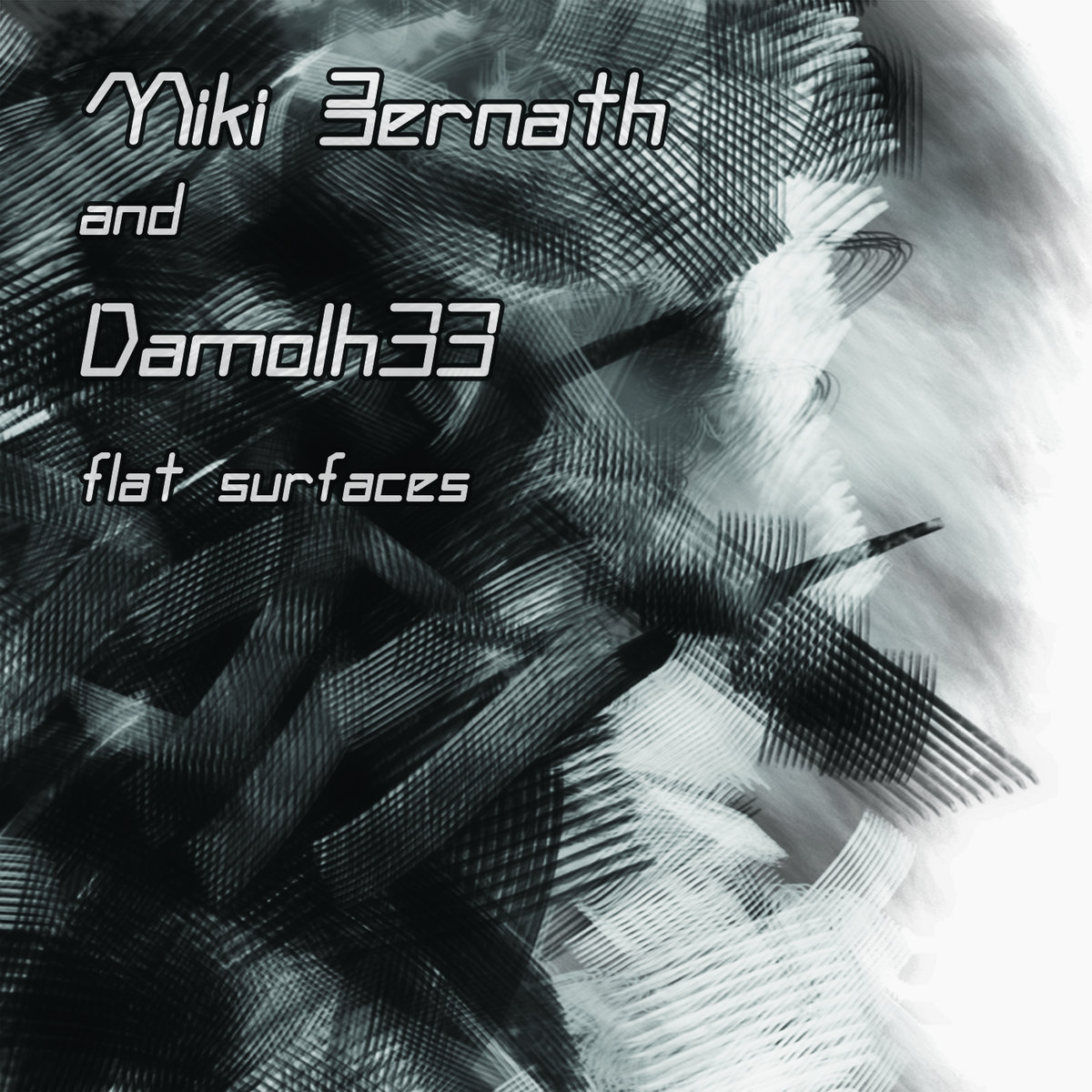 Artist:
Miki Bernath & Damolh33
Title:
Flat Surfaces
Format:
Tape
Label:
4mg Records
(@)
Rated:
After several digital EPs released in the last four years for their own Damolh Records, the Slovakian duo Miki Bernath* And Damolh33 are releasing on tape their first album titled "Flat Surfaces" for 4mg Records. Run by Imrich Vegh, 4mg Records always proposed interesting releases that mainly interested the retro electro scene fans. With this six tracks album (two bonus are included into the free digital download), Imi widened the spectrum of the music released by his label thanks to Gabriel Bernath and Mikuláš Bernáth. The tracks of "Flat Surfaces" span from ambient electronic with i.d.m. influences to 90s electro techno. If you are into early Biosphere but you like also the luscious sounds of the Soma Records rooster, like Slam or Oktogen, plus a touch of Warp stuff, this album could definitely find a place into your playlist. "Flat Surfaces" doesn't contain vocals neither dancefloor hits, but it's able to create a sonic world of its own and this is the main thing for someone who's making music! Preview here "https://4mgrecords.bandcamp.com/album/flat-surfaces" and contact Imi!