Techno / Trance / Goa / Drum'n'Bass / Jungle / Tribal / Trip-Hop
Edit (9289)
Artist:
Lenny Fontana feat. D-Train
Title:
When You Feel What Love Has
Format:
Download Only (MP3 + Lossless)
Label:
Karmic Power Records
This is the second time in a week that I've reviewed a Karmic Power release and described it as a massive 1990's throwback. If this is what they're all about, then they can keep 'em coming. It's a full-on cheese, and I'm aware I'll be in danger of undermining ChainDLK's sincere underground sensibilities if I keep praising this kind of stuff, but it's a guilty pleasure- a very safe combination of soulful yet fairly meaningless male soul vocals over a traditional party house recipe of beats, claps and house pianos following a formula that has barely changed for the last 30 years.

The Leon Wolf & Niko De Vries mix is the standout one. If you're going to do euphoric, soulful, hands-in-the-air house, this is the way to do it- with a lot of brightness and polish. This would slip very neatly into a recent Hed Kandi or Ministry Of Sound compilation.

The Klubjumpers mix uses the same ingredients, playing it safe with a straight-up house piano and bouncy bass combo, but just ends up running a little flatter by comparison.

The Francois remix also pulls it right back to the 90's house vibe- even Robin S didn't sound as much like Robin S as this does- with funky almost marimba-like bass, plenty of short builds and cymbal crashes and the most straightforward hands-in-the-air breakdown I've heard in ages.

The Twism & B3rao remix has a slightly more modern twist, with faintly glitchy underground vibes, still showing the 187 Lockdown influences but with slightly more 21st century in the production.

If you're intolerant to cheese, don't bother, but if you need more main-room party tunes in your life, this is a safe and steady, pre-packed cheese sandwich.
Techno / Trance / Goa / Drum'n'Bass / Jungle / Tribal / Trip-Hop
Edit (9286)
image not
available
anymore
Rauntrix is a new Italian duo comprising of a dub techno producer and a video maker, and their publicity angle, such as it is, promotes the synergy of the two and pitches them as a strongly audio-visual band. Without doubt though, the music stands up on its own merits even without the pretty pictures.

"Wild" ticks along at 120bpm with the gentle rhythm of an old grandfather clock that's fallen into some sci-fi alternative universe where gravity and the sense of time are the same, but everything else is ethereal and strange. It's a hypnotic wash of building and falling synth pads, very polite and gentle.

"Sunset" is a little more conventional, a repetitive cycle of one-note bass and dub delays that feels more like the long introduction to something more dramatic than something that wants to speak for itself.

This is about as relaxing as 13 minutes of music can get whilst still being legitimately labelled "techno".
Techno / Trance / Goa / Drum'n'Bass / Jungle / Tribal / Trip-Hop
Edit (9284)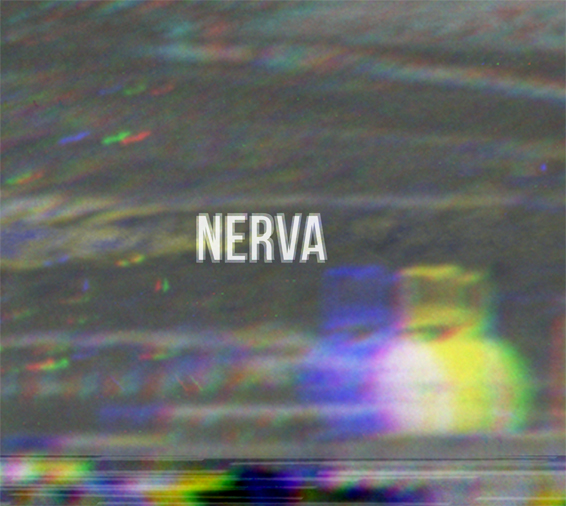 Artist:
Nerva
(@)
Title:
s/t
Format:
CD
Label:
Final Muzik
(@)
Rated:
erva is the project of Andrea Bellucci (Red Sector A) and Andrea Gastaldello (Mingle) whose name is taken from the Nuclear Engine for Rocket Vehicle Application, a NASA effort of the '60s. The result is something in the tradition of certain minimal techno based on rhythmic impact and aseptic sound which are icily charming.
The first track of this release, "Landed", shows immediately the sonic coordinates of the duo: a squared rhythm, a deep bass and various samples and bleeps to modify an already immutable form. "Myocardium" continues in the same vain but with a more constructed aural spectrum. The crystal clear sound of "Deekay" evolves in "Lato" trying to modify the rhythmic cage into a flexible one while "Yas Grid" returns to a more predictable structure. While "Lizard Mask" relies on the hypnotic effects, "Divided Minds" relies on the minimal one and "Obscura Thule" closes this release with an atmospheric track based on drone able to capture the listener's attention with subtle nuances.
A remarkable work at the sonic level which leverages already canonic structure to publish a release with will please all fans of minimal and techno with his careful writing. It's worth a listen.
Techno / Trance / Goa / Drum'n'Bass / Jungle / Tribal / Trip-Hop
Edit (9276)
The Modular Expansion label may have been named after analogue modular synths, but there's a tight, digital feel throughout this compilation. The label clearly has a consistent and targeted musical vision, as there's a homogeneity of sound here that's rare in a various artists compilation.

"Telesto" is a modest unassuming start, a rhythm primer and a mood setter, and it's only halfway through the Scan Mode remix of "Vier Haufen" that a sense of loop progression and chord starts to take hold. "0011010"'s breakdown ups the suspense level and sounds like the kind of techno anxiety attack you can dance to. Label founder George Aspergis' tracks tend to be on the deeper side, with the Lee Holman remix of "Minthe" a conglomeration of a robots-only disco and a distant space battle.

Absent's "Cycle II" has a sense of immediacy to it that snaps you out of your trance and reminds you where your heartbeat is. Module One's "Relay" picks up this baton with some compelling synth stabs and the Invite remix of "Friction Of A Mind" raises the threat level to a code yellow. After a selection of stomping and more aggressive tunes, the routine returns with George Aspergis's "Quelle" rolling like a high-speed train.

Stardice's "Variables By Sound" brings things to a low-key conclusion, with dub-style delays and washes that are strongly attention-worthy.

It's a well-sequenced collection of unmixed tracks, crying out for a DJ to do the simple job of beatmatching it all together into a single hour-long journey into deep, deep, deep space.
Artist:
Conduct
(@)
Title:
Borderlands
Format:
CD
Label:
Blu Mar Ten Music
(@)
Rated:
Even if Robin Andrews and Chris Edwards, the men behind the curtains of Conduct, don't actually wink at dance floors by catchy sonorities, you will easily realize why many well-known big names of drum'n'bass scene - including Noisia, London Elektricity, Reso or Doc Scott, to name a few of them) - keep on supporting their outputs after an attentive listening to their recent release on the appreciated imprint Blu Mar Ten. Their music tries to intertwine more or less fast-rolling patterns, which sometimes get closer to 170 bpm, and masterfully crafted harmonies or soundtrack-like melodies. "Borderlands" could be considered their very first album, but their skills in handling two symbiotic and seemingly contrasting entities in their sound could be more spontaneously feature more trained sound makers as you can easily guess since the opening tune "Meraki" - the title is maybe a reference to the well-known company founded by two former MIT PhD students -, where touching orchestral cinematic samples peacefully share the same nest with more aggressive percussive patterns. Their passion for soundtracks spurts on the following track "Archaic", where echoes of Western movies got evoked by an excellent guitar sound and drum patterns that seem to evoke the battle of two gunfighters while their bullets melts as a consequence of the red-hot temperature of a forgotten desert place, the place where this imaginary scene could occur, and this kind of reverie and sonic interferences occur here and there in many moments of the album, such the brilliant "Bat Country" - a track inspired by a scenic place in between Los Angeles and Las Vegas -. The grandiose appearance of a piano in "Piano Tunes", spiced by robotic hiccups and catchy mid-tempo, and the likewise emotional breaching of African scents over the hyper-real melancholic breezes of "Turmoil" precede the title-track "Borderlands", one of the highest moment of the whole album that is going to meet the tastes of the lovers of the most "scientific" side of drum'n'bass (Photek, Teebee). Tunes like "Faux", "Grand Panjadrum" or the bizarre hybrid between Vivaldi-like aria, alien vocals over smashing hits of kalimba and wooshing synths in "Beta's Error" as well as "Silkworm" - maybe the more predictable moment of the whole album - could resemble the very first steps of The Upbeats or Faun. Last but not least - even doubly important - the final track "Divergence", where the overlapping between natural and artificial sonorities, severe seriousness and light-heartedness, yin and yang, light and shade complete such a bipolar consecration.