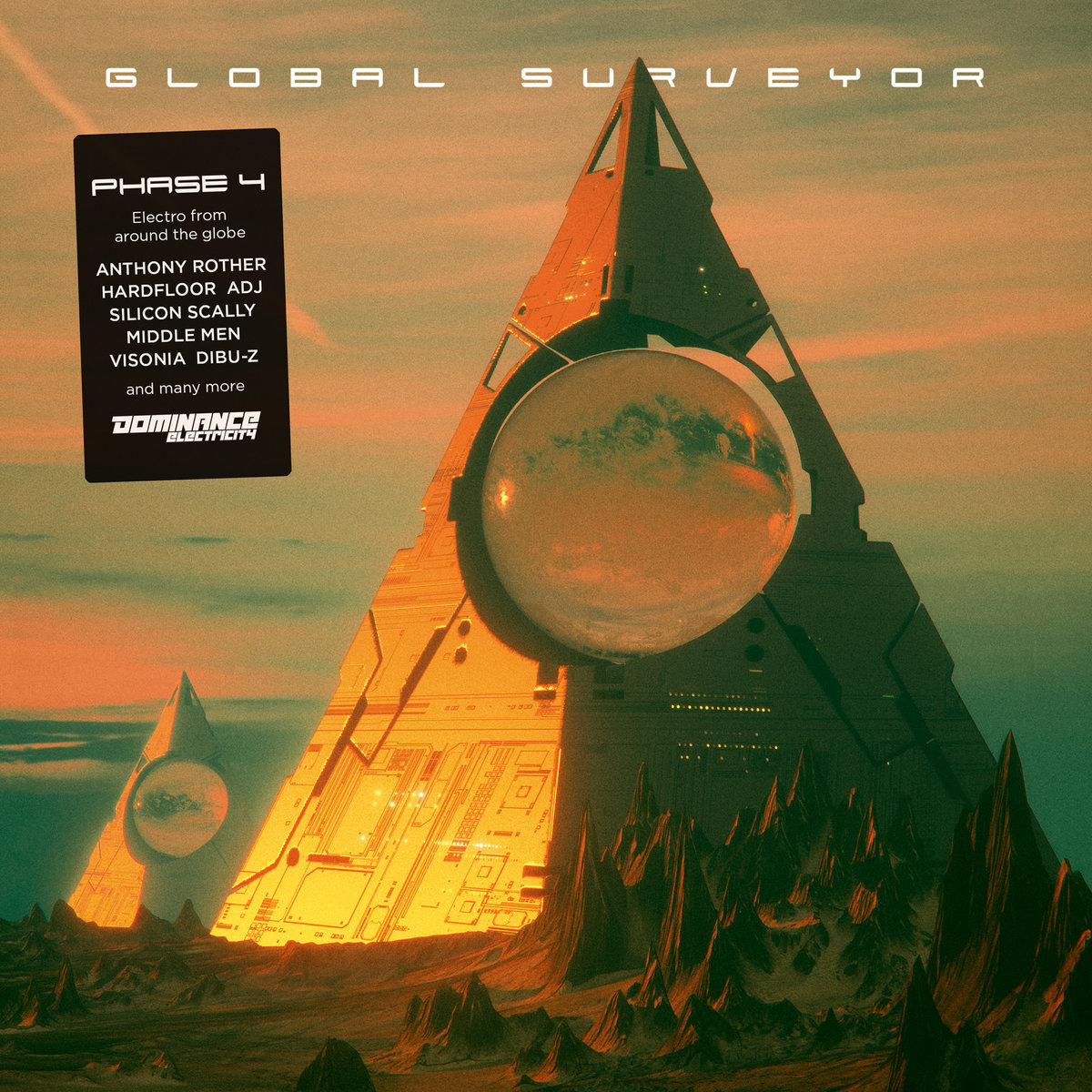 Artist:
VV.AA.
Title:
Global Surveyor Phase 4
Format:
2 x CD (double CD)
Label:
Dominance Electricity
Rated:
Nine years after the third volume, "Global Surveyor", the compilation issued by Dominance Electricity is out with the fourth volume/phase and this time is huge! Available as four vinyl records (clear vinyl with poster or black), double CD digipack or digital download, "Global Surveyor Phase 4" contains twentyfour tracks/projects for a total of almost two hours and twenty minutes! It would be impossible to talk about all the tracks but I'd like to start telling that in the last twenty years electro music has been in continuous evolution and the various projects started to mix influences in a new stimulating way and also this compilation isn't focused only on electro funk, but it sums up pretty well what is going on with electro right now. You'll find influences of: i.d.m. (Keen K), detroit electro (Heliopause, Middle Men, Obsolete Robotics), minimal techno (Tekkazula, Wilx, Blake Casimir, Low Orbit Satellite), Kraftwerkish electro (Anthony Rother, Patronen), acid (Hardfloor) just to name some. Also, among the well known names of the genre as Anthony Rother, Visonia, Heliopause (they did only a MLP but they are formed by Aux 88's Keith Tucker and Tommy Hamilton plus Dynamik Bass System's Thomas Werner), Silicon Scally or Hardfloor, we find totally new comers as Rauschenmaschine, Wilx, Tyraell and C*NT. The quality is guaranteed by Matthias M. Weise, the main man behind Dominance Electricity and too bad there isn't a new track by his own project Sbassship included here. There are many tracks that stand out already at the first listening: isn't a case if Heliopause, Middle Men, Kalson, Anthony Rother and Keen K open the compilation, because they already offer a wide example of what we're going to listen to: spacey pads, some menacious vocals, Detroit electro bleeps, complex rhythm patterns, robotic atmospheres and much more. This compilation is a must have and it grows with the listenings. Try it for yourself by checking all the tracks at the label's SoundCloud https://soundcloud.com/dominance-electricity/gs4
Techno / Trance / Goa / Drum'n'Bass / Jungle / Tribal / Trip-Hop
Edit (10452)
Artist:
Greenvision
Title:
Rambutan
Format:
Download Only (MP3 + Lossless)
Label:
ESP Institute
Minimal in some ways but not in others, the three tracks on "Rambutan" are built on understated house grooves with more than a slight late 80's flavour, but layered up quite thickly with abstract sounds, ethnic tones and ebbing and flowing effects into pieces that have real character and a relaxed, fairly playful attitude.

Lead track "Banana Paradiso" is the most feel-good, with bright chords and plinky noises, though it's not as cheesy as the title makes it sound. But it's B2 "The Color Of Maracuja" that's probably my favourite of the three, with extra use of jazzy slightly Rhodes-style chords playing rolling over the most determined-sounding of the three grooves, the only one with a notable hint of edge.

All three are perfect for gentle afternoon beach dancing, mellow and toe-tapping- it's a leisurely, Summery 12" with broad appeal.
Artist:
Basic Biology
Title:
Twilight / Sensational
Format:
Download Only (MP3 + Lossless)
Label:
Free Love Digi
(@)
Rated:
Artists orbiting around the digital label Free Love Digi by the wit and inventive producer Quentin Hiatus keep on pushing interesting outputs by shuffling the cards of its deck of styles. Basic Biology is one of the outputs of this musical/genetic melange, coming out by the crossbreed of two different drum'n'bass producers, who met through their common friend Ghast. On one side, we find Thomas Brinson aka Thomas B, whose atmospheric style, driven by masterfully-built pattern, often goes darker, even if the sonorities that he explores on Basic Biology are closer to the more placid ones he exposed on Sugar and Spice EP (maybe the first or one of the first release on FLD), while on the mother side there's the brilliant multi-instrumentalist Matthew Cassidy, whose sonorities are generally brighter than the one of his counterpart. Just two halftime-dnb tracks on this output: "Twilight" (featuring the sweetly sour voice by Megan McKey) could perfectly fit a pensive chilling or romance in the eventide on the beach, while "Sensational" (vocalised by Matthew Cassidy itself...even if some younger lads could think Alvin or some other chipmunk is on the mic!) is a nice see-saw between chilling Balearic downtempo and sudden acidulous stings.
After describing Chloé Raunet's second C.A.R. album "Pinned" as "a blend of supremely confident post-punk swagger with electronica twiddles, steady-walking house beats and just a dash of synthwave", Ransom Note Records have followed it up three months later with a 7-track remix collection giving some of the most prominent songs on the album over 50 minutes' worth of reworkings into deep house and the softer sides of techno, that largely keep the song structures intact and adopt a very classic and always welcome classic extended house mix layout.

Generally I'd say that some remix albums work and others don't- but this definitely has to go into the former, "it works" category. Raunet's gentle, slightly husky and not-trying-too-hard vocal work really suits some long deep electronica workouts, and despite the repetition- over twenty minutes of this release is remixes of "This City"- you can listen to it from beginning to end as a coherent house album. It's one of those that's perfect for while-you're-working, or for long drives, but has individual tracks that are properly DJ friendly and will fit well in the middle of relatively leisurely sets.

There are two distinct sections- the first four tracks are generally fairly consistent and uniform house numbers. Michael Mayer's take on "This City" is a perfect fusion of pop and house piano with steady motorway-friendly progressive house beats and opens the collection on a definite high. Marcus Wargull's take on "Cholera" is in a similar vein but with somewhat less energy, before Bawrut's take on "Daughters" adopts a slightly muddier synth bassline and a slightly more tribal flavour in line with the more chanted-rather-than-sung song content.

Jonny Rock's nine-minute remodel of "Strange Ways" is quite rumbly as well, drifting towards a more synthwave-y sound that allows the vocal to shine through more than others do, and the restrained, held-back use of the bell-like three-note melody has a good impact; DJ's beware on the last minute of this mix though, which is sparse and acapella when you might be expecting beat-match-friendly beats.

The second part, the final 3 tracks, mixes things up a bit and adds the variety needed to keep you engaged. Timothy Clerkin's take on "This City" is another highlight, channeling some classic breakbeat samples, acid squelches and rave stabs into something bright and energetic that manages to rework some nostalgic sounds without wandering into cheesy territory, although it's the one track where you do find yourself wishing more of the vocal could've been worked in in less buried, vocoded ways.

Lokier's version of "Cholera" has a more industrial, attitude-laden groove that's closer to the sound of the unremixed album, before Man Power's version of (again) "This City" ends on a high with a bright, lightweight bit of synthpoppy production with synth guitar stabs that takes things into almost Goldfrapp-y territory.

Whilst the original album certainly wasn't bad, given the choice I'd rather listen to this remix album, especially when looking for something that isn't demanding my full attention. There's not a single duff or flat remix in here, which is rare, so full marks for this one.
Techno / Trance / Goa / Drum'n'Bass / Jungle / Tribal / Trip-Hop
Edit (10435)
Artist: Begin
Title: Love International Recordings 001
Format: 12" vinyl + Download
Label: Love International Recordings

The first EP released on Croatia-based Love International Recordings is intended as an expression of the flavours of the Love International Festival, from which the label has been born. So across four five-minute-long mellow mostly-instrumental balearic house tracks, Begin offers up an advert for what feels like a very relaxed, sun-drenched environment, where the gentle slightly Spanish-sounding guitar on "Wood Trees" and the happy sampled melodic chanting of "Day Pulse" meander over gentle, super-soft rhythms and steady organic bass playing.

The beatless, house-piano laden "Garden Interlude" is an excellent DJ tool before the definite highlight "Into The Fun", which is an absolutely infectious, slightly Quincy Jones-ish vibe with Rhodes keys and shades of reggae that can't help but make you feel good.

James Holdroyd (Begin) has a very broad musical CV spanning techno and time as the Chemical Brothers' tour DJ, but this is a very focussed and specific release that channels a specific type of Ibiza-esque mellowness with respect and precision.

The new label says it will be offering a diverse range of styles on future releases, but in the meantime, stocking up on Balearic? Check this out.