Techno / Trance / Goa / Drum'n'Bass / Jungle / Tribal / Trip-Hop
Edit (10233)
She's Drunk (a man) have offered up here a very club-friendly 12" mixing the sounds and structures of minimal techno with African-style rhythms and catchy percussive patterns that are just great fun to dance to.

"Visions" has hints of Major Lazer about its sampled chant hits, but like all these tracks, they all run at a much faster BPM than the moombahton or dubbier sounds that they might otherwise have been compared to. South African artist Sho Madjozi's part-Tsonga part-English rap on "Amadoda" has hints of M.I.A. and plenty of attitude, a potential pop crossover hint and it's a surprise it was relegated to second place on this release.

"Dancing Doubts" pares things back and lets the pounding rhythm do the work with just occasional vocals shouts and cuts to keep things interesting. Final track "Heart Burns" is something a little different, with a pop-music-like arrangement formed out of tiny pieces of a female soul vocal laid over an oddly frenetic and sub-bass-heavy rhythm.

To my ears this is a properly unique release that pulls from several genres to create something truly distinctive that's also exceptionally listenable and as colourful as its artwork. All that's missing is that one catchy hook or that one crucial radio play that would catapult She's Drunk well into the mainstream where it belongs.
Techno / Trance / Goa / Drum'n'Bass / Jungle / Tribal / Trip-Hop
Edit (10229)
The live set by which she introduced her sound in Europe, called Sediment, through the stage of Berlin Atonal (the edition of last year), was really impressive and many lucky listeners, who attended that gig, said that her performance could be defined as a milestone to initiate a new sound and a new identity for contemporary techno. After the ecstatic reaction and the long-lasting applause as well as the collaborative output as Ourea with Sam KDC, Japanese performer and sound maker Maiko Okimoto aka Lemna dropped four tracks that will delight those listeners and all those ones, who will approach her sound after coming fashionably late. In order to have an idea of her sound, you could imagine a possible hybrid between Japanese industrial techno of the first 00ies/late 90ies (a name for all...Riou Tomita) and the darker side of minimal abstract German techno, blended in repetitive and hyper-compressed ritual-like beats, but in order to have a better idea, just listen what she made on this "Urge Theory". The hypnotic polyrhythms that Maiko builds got alternatively enhanced by unexpectedly hammering stresses on bungee patterns ("Metamorphosis", "Dice"), amazing viscously worming low frequencies ("Blot"), mincing of mechanical cogs ("DLPFC"). Have a check!
Artist:
Nuaru
(@)
Title:
Like In A Dream EP
Format:
Download Only (MP3 + Lossless)
Label:
Free Love Digi
(@)
Rated:
The incipit of this digital tidbit that Nuaru, a Dutch - from Eindhoven - producer grown in the nest (or I'd say in the greenhouse, given Nuaru's love and interest for botany) of Basserk, could vaguely resemble the sonorities of a lot of stuff by Burial or Fanu, but the ethereal breathe, the sound of tapping raindrops, the crystalline melody and the puffed claps soon become gears of a pleasant rhythmical engine, whose fuel is what he called "nature bass" in "Like In A Dream", the first half of this sonic drop. The engine rolling beats in the second half "She Blends In With The Ocean" is even more energetic, but in spite of the fact the (h)earthbeat-like bass is more thunderous and concentration levels of percussive elements is higher, Nuaru keeps that breathe-like effect alive by a wise dosage of "organic" elements and playing on gain levels. Just nicely liquid!
Techno / Trance / Goa / Drum'n'Bass / Jungle / Tribal / Trip-Hop
Edit (10223)
Artist:
Kantyze
(@)
Title:
Mutation EP
Format:
Download Only (MP3 + Lossless)
Label:
Free Love Digi
(@)
Rated:
Even if they recently landed on Free Love Digi's evergrowing catalogue, the project, named in a way - Kantyze - that could excite lovers of Kant's philosophy, quantum-based physics and any possible intersection of these branches of human knowledge, by French duo made up of Igor 'Knockoutz' Denat and Frederic 'Feubo' Bauffe with the support of Bernard William aka Dj Ben, is not new to the scene. We already introduced some of their outputs on m-Atome, their own imprint, the label through which they dropped their self-named debut album in 2005, and maybe some releases on IM:Ltd, a drum N bass/dubstep label we occasionally focused on. This digital album on Quentin Hiatus' imprint enwraps nine tracks, sounding quite different from what I previously heard from these folks. First of all, they remarkably decelerate the rhythmical pattern in many parts of the album; furthermore, they seem to prefer saturators like glitchy or dirty sonorities and a smidgen of estragons to the reverb by which they filtered some sounds. The fact that this album was titled "Mutation" underlies the recognition of such a stylistic change (or mutation!). And it's well known that the effects of mutations are unforeseeable and sometimes dangerous, but as far as I listen, they gained some interesting results, particularly when they keep the indicator of bpm on higher levels. The hoarding of laser beams, smudged rhythmical patterns, and crumpled mid-tempo aren't always so intriguing in my opinion: tracks like "Franco Un-American" or "Kyber" as well as the opening - "Has It Ever Occurred" - and the final - "The Bonus Song" - ones dock with some mutations of drumstep and trap, but they often sound like exercise of safe forced landing. On the other side, tracks like "Cipher" or "Expanse" doesn't really rise the speed of the rhythm, but the malignant contorsion they forged are much more engaging, and I'd say the same for "Piece Of Cake " (even if one of the recipe - that alarm sound close to a preset of a Casio - could make some listener dyspeptic), but kantyze reaches its top on this album on the fastest rollers, such as "The Blastmaster" (in spite of that alien turkey chirping all over the track!) and the awesome headbanging "The Riddim".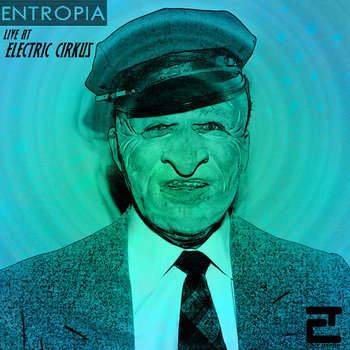 Artist:
Entropia
Title:
Live at Electric Cirkus
Format:
CD
Label:
Eclectic Productions
Rated:
There no introduction to this release except from the line up of the band (Dr.Lops: keys, modular synths; Ugo Vantini: electronic drums; Amptek:b synth guitars, analog sequencers; Carlo Micali: sound engineer) and the liner notes stating that this live was recorded on two tracks i.e., no overdubs. However Entropia's music could be roughly described as techno with a splash of ambient.
The release is divided in two parts: the first one is composed of four solo track: "The Great Escape From The Holographic Sanitarium" and "Fight The Winged Dragon" are from Ugo Vantini and they are minimal tracks based on the manipulation of the rhythmic sources and so they are more atmospheric than hypnotic. "Modular From Cassilde Hell" is from Doc Loops and is a crossover between a noise track and a sci-fi oriented synth track. "Supercluster Blaster" is from Amptek and it sounds as more oriented towards kosmische musik as the sound of the guitar is so effected that it's closer to a synth.
Then it starts the part featuring all the band and, instead of being the mere juxtaposition of the elements of the solo tracks, there's some elements emerging from the interaction: the rhythmic cages reminiscent of certain techno, with convincing results especially in "Memories Of An Electric Circus" and "Dance U Sob", which moves the result from the relatively meditative territories of the first part to more danceable one until "Nasty Tales From The Maudit Stage" marks a final part with a more attention towards the sonic construction until "Inner Spooky Universe Paraphernalia" closes this recording blending all the elements of the previous tracks.
This is a release oriented towards a very defined audience that could appreciate the craft of exploring this clearly defined genre while the others could be a little disappointed by the absence of any deviation from the canon. A nice release.