Artist:
ANDREW COLEMAN
(@)
Title:
Tony Alva's Hair
Format:
CD
Label:
Cocosolidciti
(@)
Rated:
Titled after the 70's skateboard legend Tony Alva, the new Andrew Coleman album "Tony Alva's hair" is a mixture of ambient sounds, hip hop / break beat rhythms and modern classical music structure. Also active with the Animals on Wheels' moniker, Coleman collaborated with Dose One' of Anticon' outfit cLOUDDEAD' on the track "Not a speculation". The result is a particular hip hop track which sees Dose One rapping on the jazzy / ambient / dub background created by Coleman. Each track has got its peculiarity: for example "Finger tip control" starts as a piano suite just to find rhythm thanks to a break beat tempo and recruiting oriental melodies on its way to the end. Even if every track has got a different approach to melody or rhythm there is always a certain melancholic sense created by the atmospheres: it's like there's always something in suspension or like there is something that is still to come and that will break free into the track and it never arrives. My favorite ones are "Rain and dogs" (where you can find a beautiful piano and no rhythms), "Not a speculation" and "Miles won't answer". To my ear sometimes the tracks sound too clean and this could make the album result as a good style exercise while with some wilderness here and there could help emphasize the geniality of the composer.
Artist:
Autoclav1.1
(@)
Title:
You are My All and More
Format:
CD
Label:
Crunch Pod Media
(@)
Rated:
Autoclav1.1 is the project of Tony Young, a well known promoter and musician in the noise underground. You are My All and More is his first full-length album following two stand-alone EPs. The premise of You are My All and More is to map the process of dealing with the loss of a loved one. A subject brought to Young's attention last year while coping with the loss of his cat, Frank. Listening through this album is like a window into his mind as his emotions fluxuate from sadness, confusion, nostalgia, anger, hope, and disillusionment.

Young had promised from his first EP that there would be evolution and growth. While some of the same qualities exist in his music there is a level of artistry and understanding that his humble suggestions put to shame. Tracks like "This is the Hollow Point" and "White Cover" are nothing short of amazing. The same skitterish break-beats can be found throughout the album, but Young's experimentation with ambience and texturing has turned into an all-out mastery, flirting with melodies, twisting and turning them enough to keep your brain on edge even on the most sentimental of tracks.

I will admit, I am biased toward Tony Young's music, but I am certain that even if I'd never heard of his name or work before I'd still be as caught in it. This is a wonderful album; Inspiring, Distrubing, and painfully honest all at once. Autoclav1.1's You are My All and More is perfect in my mind. My heart goes out for his loss, and my gratitude goes out for this album.

Artist:
Mohan
(@)
Title:
As Is Where Is
Format:
CD
Label:
Devlian Records
(@)
Rated:
Mohan is the newest offering from Seattle-based Dave Nugent. Nugent's bio claims he is an award winning producer, composer, and film-scorer. While I am not familiar with his past work, I am apt to believe the claim. This is the composition of a professional, and this music is nothing short of art.

As Is Where Is is a graceful mixture of ambient textures drifting among skitterish IDM beats, organic tribal sounds, and the beautifully layered female vocals gracing at least five tracks. Nugent's work here brings to mind anything from Delerium, Future Sound of London, and... Well... Pretty much anything. Mohan seems to touch on every end of the electronic spectrum, encasing it all in an easy-listening shell.

Mohan's As Is Where Is is a brilliantly crafted album; Calming and chill till the last moment. This is a great accent to any laid-back afternoon. My recommendation goes out to anyone who enjoys trance, ambient, or electronic jazz music.

Techno / Trance / Goa / Drum'n'Bass / Jungle / Tribal / Trip-Hop
Edit (2361)
image not
available
anymore
Artist:
STUNT ROCK
Title:
This is Stunt Rock Vol.3
Format:
CD
Label:
Cock Rock Disco
Rated:
Stunt Rock incarnate musical craziness and geniality at the same time. The tracks, as usual for this kind of electro/break core music, are built using cut ups and loops but, always as usual, the result depends on the use the band does of the original material. William Flegal picks up loops of drum, guitar and movie dialogues and he opens a funny and dramatic window on people mediocrity. The most funny part is that into the package you can find a booklet with the lyrics of the tracks but them are made out of the samples. The other peculiarity is that the tracks are titled as "Audio selection number..." and as subtitles William wrote a sort of explanation to the track. So, if "Audio selection number 5" is reported as "I will make up for a lifetime of fucking chicks poorly by having the most diverse cd collection in the world", "Audio selection number 14" is "Please don't stand behind me and make those stupid noises with your mouth that you seem to think indicate to me that you are thinking". Everything has been mixed like there was a drunken schizoid at the desk but he did a damn good work! Break rhythms meet daddies voice, country guitars, lounge extracts and other thousands of sounds / emotions. This is fun!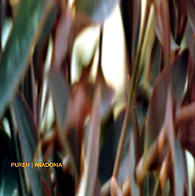 Artist:
PUREH
Title:
Anadonia
Format:
CD
Label:
Pharmafabrik
(@)
Rated:
Of the many deeds done by Mick Harris, I'm sure he will be remembered together with Justin Brodrick for having established the industrial dogma of effected drum beats with a light dub influence. Pureh aren't absolutely a senless clone of Scorn or Godflesh (as if it was so easy) but I'm sure this cd is suitable for those who think Earache during the "experimental/industrial" transition kicked ass. "Anadonia" keeps on following that dead-end street discovered by Mick Harris after the "Colossus" album which implies repetitive rhythmic patterns that become hypnotical, lysergic synth canvas and above all "lost in space" melodies. A friend of mine suggested this music should be experienced under the effect of soft drugs, sure I dare you to deny these tracks haven't been designed to induce a state of (dark) trance. Honestly of most of the bands approaching to this style of music, Pureh is one of the most interesting I've listened lately. I think "Anadonia" is a good example of how good taste can add that something more that saves a cd from being ordinary administration. Sorry if I get boring while repeating that's not a mere clone but the fact is they mix the dark-industrial/industrial-dub feeling with some cold-ambiental melodies not so far from litanies used by many artists from the early Warp orde. If you think it's a weird mix you always have to remember apart from the ordinary tracks had an all british dark feelings (Autechre in primis). Not bad at all.