Techno / Trance / Goa / Drum'n'Bass / Jungle / Tribal / Trip-Hop
Edit (9952)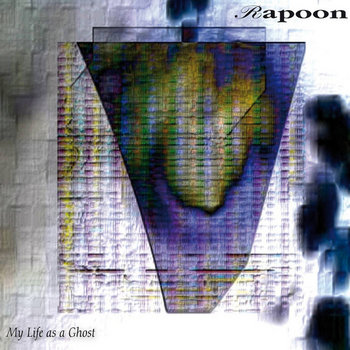 Artist:
Rapoon
(@)
Title:
My Life as a Ghost
Format:
2 x CD (double CD)
Label:
Zoharum
(@)
Distributor:
Alchembria
Rated:
After "Rhiz", Zoharum reissues "My Life as a Ghost" which is a release based on the same principle but, instead of IDM, it's based upon hip-hop rhythmic structure and this mark a basic difference as, instead of being centered upon the beats, the samples are used to divert the attention from the beat.
So, the voice which starts "Adrift" marks the first part of the track while the second one uses drones and noises. "The Sky Was Blue" is an evocative soundscape based on loops. "Neyyatt" is a partial return to the territories of "Rhiz". With "Terrain Sounds" emerges the primary flaw of this release, as the beat fundamentally never change and the tracks are long it's neither hypnotic nor interesting; a static rhythm needs a wide musical movement, as in "Adrift" to be effective, and only in the final two minutes of the track this is achived. This lack marks the central part of this release with only the last two track "I Think I Was Happy", with his static foreground and his crescendo, and "Tell Charlene", with a clever use of samples, to try to raise the score of this release.
Usually the bonus cd is something avoidable but used to persuade collectors with the mirage of something unreleased, but this bonus cd is something different. As Robin Storey has constructed new tracks from the original tapes with new material, he has corrected the flaws of the original release so
"Vertical Moonlight" seems based upon one of the layer of "Terrain Sounds" buried in the mix and this time with a quiet first part, an hypnotic second one and the return of the beat of "Adrift" in the final part, the result is impressive. "Not Knowing" is basically a remix of "Adrift" with a more developed sound spectrum and more sound movement. "Tremors" is a remix of "Terrain Sounds" but this time the rhythmic structure is in the background so it sounds as a completely different track as the atmosphere is more present instead to be a sort of musical wallpaper. "What's Been Happening?" is the same process applied to "Tell Charlene". "In Marakkesh" takes elements from "A Strange Land" and " BIG land IN" but they are almost unrecognizable as they are blended with new material in what is perhaps the best track of this release. "Terminus Gris" reworks a fistful of samples in a short coda relinking to the industrial elements of the project.
While the original release is something only for collectors, the bonus cd is something really enjoyable and it's not so far away from the best material of this project as it could seem. Almost recommended.
Techno / Trance / Goa / Drum'n'Bass / Jungle / Tribal / Trip-Hop
Edit (9951)
Artist:
Patricia
Title:
Several Shades Of The Same Color
Format:
Download Only (MP3 + Lossless)
Label:
Ghostly International
The press release accompanying this 91-minute long, two-disc album from Patricia (Max Ravitz) states that "listeners may find themselves deriving immense physical pleasure from exposure to these sounds. Inability to achieve such pleasure is likely attributable to over-analysis of the audio content". If as a reviewer I believed this, I'd be tied in knots, but thankfully I don't, so I'm free to describe this however I want, and I'll describe it as follows.

It's a slightly over-long and unhewn collection of mostly instrumental analogue synth-electro-pop, occasionally lo-fi-sounding, with leanings towards techno and a penchant for subtle discord. Synth pad chord progressions wash over soft single-note basslines and, for the most part, classic-sounding drum machine patterns. At its best, it sounds like late 1980's 808 State or mid 90's Josh Wink or softer Hardfloor, and at its worst, it sounds like quickly knocked-up "I've got a new synth and I'm learning how to play it" experimental demos that don't warrant a wider audience.

Don't get me wrong, there are some really strong tracks. Highlights include the rolling, muddy basses of "Liminal States", and the classic deep acid techno structures of "It Gets Worse At Night". The polished downtempo of "Thoughts Of You" running into "Shiba Inu Dub" is a section where the album is well into its balanced stride. It's hard to spot what sole guest contributor Terekke has added to the mix of final track "Upper Peninsula" but the result is a really strong bit of old-school trance.

Weaker moments include the opener "I Know The Face, But Not The Name", which slightly mis-sells the whole release. "Feel Your Body" and the energy-sapped "German Engineering" are the weaker and more derivative techno pieces. The haunting lullaby-esque tones of "The Words Are Just Sounds" that play against growling, barely discernible vocal noises, amplifying their sinister aspects, has promise but wanders too close to cliché.

The mastering is a little bit weird and seems to have been designed specifically and solely for headphone listeners to get a wall of sound. Wallowing in a warm and indulgent lo-fi production quality are some solid techno ideas and some well structured pieces. However a bit of judicious trimming and a bit of extra mastering polish could have turned this release into something more impressive that should have fit on a single disc. The "don't think, just hear" defence of the accompanying blurb is invalid, but sonically it does have a lot of merit.
Techno / Trance / Goa / Drum'n'Bass / Jungle / Tribal / Trip-Hop
Edit (9927)
Artist:
Debmaster, DJ Die Soon, oki-chu
Title:
ammo Hung II: Cursed Demon Seasons
Format:
12"
Label:
Le Petit Mignon/Staalplaat
(@)
Rated:
Okay folks, it's VINYL TIME! Finally getting around to giving some platters a spin and first up is 'Sammo Hung II: Cursed Demon Seasons' with music by Debmaster and DJ Die Soon and graphics by oki-chu. Debmaster (France) and DJ Die Soon (Japan) are two Berlin-based music producers, and oki-chu is a reknown Tokyoite surrealist painter/illustrator. If the title of this album sounds like a videogame to you, you'd pretty much be on the money. The videogame is in your mind though, so don't go looking for it at your local Gamestop. This is a split LP (limited to 297 hand-numbered copies, pressed on clear vinyl) in which Debmaster gets side 1(Invasion Side) and DJ Die Soon has side 2 (Crash side), 4 tracks each. According to the one-sheet, Debmaster's side (subtitled "Levels of Crevology") is "like the soundtrack of an apocalyptic video game of which you would be both the hero and the villain...Debmaster delivers a hybrid cocktail of playfulness and darkness...blending bounding kicks and deconstructed beats, obsure and droning industrial soundscapes, wrapped by electro acid strains." DJ Die soon titles his side "The Shimmers of Hell" and "immerses us in the black hole...a compact space sprayed by hip hop tones and saturated beats, overwhelmed by heavy bass and a piercing foam of noise." That's a pretty accurate description of what's going on here in this entirely instrumental opus. There's a whopping amount of repetition overall, but somehow it never gets boring. In a way, you almost feel like you're actually inside the game rather than an outside spectator/player. Even with all the repetition you can tell a huge amount of creativity went into this, and sometimes like on Debmaster's "FK" things are complex as hell. If you're not much into hip hop (I know I'm not) don't let DJ Die Soon's side scare you off, because this ain't no conventional hip hop; it's experimental all the way. The only thing hip hoppish about it is the pacing of the beats.

It's hard to say which side I liked better as they both have their merits. I will say that the last track on each side is rather mind-blowing. For the tech curious, Debmaster made his side using Push 2 and Oto Biscuit, while DJ Die Soon plays SP404 and MPC1000. Although you can listen to all the tracks on Staalplaat's Bandcamp site, I'd highly recommend the vinyl as it's a keeper, limited, bound to go out of print, and the fantastic 6-panel artwork by oki-chu makes this a genuine collector's item. (You also get a digital download card.) For the intrepid electronic music enthusiast who loves vintage videogame music.
Techno / Trance / Goa / Drum'n'Bass / Jungle / Tribal / Trip-Hop
Edit (9926)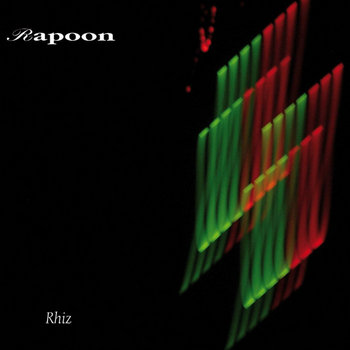 Artist:
Rapoon
(@)
Title:
Rhiz
Format:
CD
Label:
Zoharum
(@)
Distributor:
Alchembria
Rated:
In the now impressive, for number of releases, list of reissues of Rapoon made by Zoharum a release as "Rhiz" finds his place. Accurately the label present this release as a dance music one and so it's something different from the key albums from this project and so it sounds more as an experiment to be up with the times than an inspired release.
When the rhythm of "Gupta Highway" starts, there's a moment of disorientation as, instead of the usual hypnotic framework, there's a shift towards IDM territories so the rhythm is, at least apparently, less regular and it's the center of the track and the vaguely oriental samples are mostly underlining of the track. Instead, "Ho Gaya Can", features a moment, at the center of the track, where the rhythm stops and the familiar elements of the project properly emerge as in "Hunters and Pardesi" where there's more space for the soundscape as the speed of the track is lower. "LagaKe Swan" is the first track where the drum line is in the background, at the mix level, so the second part of part based on sparse piano note and a spacey drone find a remarkable equilibrium. While the first part of "Future Sajna" is the typical IDM track, the second part features a loop connecting the track with the canon of this project. "Last Stop" closes this release with more question than answers as it follows structurally forms established by other projects.
Honestly, if this was a release from an unknown IDM band, it could be valued as a derivative but good release that could be loved by fans of the genre but, as it's a release from one of the key name of an entire period, the lack of a moment that truly lasts in mind is a key lack. Only for collectors.
Techno / Trance / Goa / Drum'n'Bass / Jungle / Tribal / Trip-Hop
Edit (9900)
Artist:
Archivist
Title:
Chutes And Ladders
Format:
12"
Label:
Medical Records
Seattle-based Archivist's "Chutes And Ladders" EP is a 4-track collection of DJ-friendly dark evolving instrumental techno with a steady pounding groove over which synths twist and develop gradually and with expert control. It's that classic techno vibe from the 90's that never gets old, worked with some subtle modern production touches that are only slight clues to show the release isn't twenty years old.

The echoing clap pattern of the title track and the squeals have a particularly classic flavour. Second track "Language" is a little heavier but follows the same formula. "Octopus" is initially more stripped-back with a slightly more industrial sound that makes more of the gradual introduction of layers over several minutes, getting more optimistic as it gets busier. Final track "Polygony" is perhaps the most compelling, a darker affair with echoing toms, glitchy wind tones and clicks under one sustained droning chord.

Pitched more as "DJ tools" than home listening, these aren't the most attention-grabbing of cuts in their own right, but they're well structured and keep everything moving steadily. As part of a techno set, or doubling up as music to concentrate to, this is polished stuff.