Techno / Trance / Goa / Drum'n'Bass / Jungle / Tribal / Trip-Hop
Edit (5854)
Three weeks after the release of the third chapter of the SOME TUNES series, Basserk proudly give birth to a new volume! The fourth CD compilation of the SOME TUNES series does what you're expecting from an album that on the rear cover reports as genres: electro, pistolpop, fidget and bass... it beats you hard with bass frequencies, distortions, catchy tunes, loud 4/4 or syncopated drum beats. As usual, along with bands that already released E.P.s or participated to old volumes of the series, this fourth chapter presents to the Basserk lovers some new names: from Belgium Vecho ("Who you calling" is a good grime techno tune with funny phone samples), Trashing Teenagers ("Freakz on 66" is a classic Basserk tune with obsessive distorted bass lines and bouncing rhythms) and Depuis91 ("Body" is a distorted melodic instrumental with hard beats and traces of pop melodies), from Germany Ita Atari & Rampue ("Space rocket" is a fun upbeat electropunk tune a bit a la B-52s) , from UK Narsti ("Not as strong as the machines" is a nice instrumental mid tempo which mix two step, electro and pistolpop) and Boemklatsch ("Noisy" sounds like a retro videogame acid tune) from Netherlands. Along with them you'll have the chance to dig new classics like the ones of Petr Passive ("Ganz sticky" is a classic grime dance song with dub rhythms and electro vocals) or Rawfare ("Floor luv" mix house vocal samples and grime sounds).
Techno / Trance / Goa / Drum'n'Bass / Jungle / Tribal / Trip-Hop
Edit (5848)
image not
available
anymore
Artist:
SIURISMO
Title:
The Plasterer Of Love
Format:
12"
Label:
Monkeytown Records
Rated:
It takes a little while to enjoy in full Siurismo's electro music but it's not because their cut ups sound strange or else, it's only because you aren't used to them and this isn't a bad thing because it's a sign of creativity. Their new E.P. THE PLASTERER OF LOVE comes after one year from their debut E.P. and it marks the comeback of Modeselektor's Monkeytown Records (new releases will follow soon, since they and Moderat left BPitch Control). After the success of the first record, Siurismo did a bunch of remixes for Yelle, Simian Mobile Disco, Digitalism, Sido, Munk, Adam Freeland and Scissor Sisters which helped their fan base grow. The five tracks of the new E.P. have upbeat tempos, syncopated rhythms, sampled vocals played like synths, fat bass lines and tons of irony and for sure will replicate the success of the first one. This will lasts until the release of their first full length planned for Spring 2011.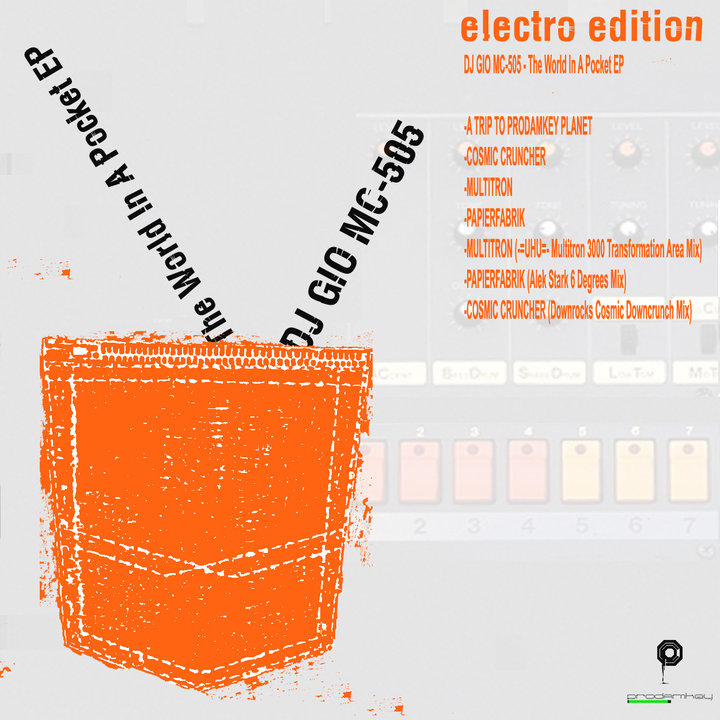 Artist:
DJ GIO MC-505
Title:
The World In A Pocket E.P. + Acid Edition
Format:
Download Only (MP3 + Lossless)
Label:
Prodamkey
Rated:
THE WORLD IN A POCKET E. P . is the latest release of Giosue' Impellizzeri, Italian electronic music enthusiast well known also for his work as musical journalist with different internet magazines (Technodisco, to name one) and with the new Italian edition of the famous Dj Magazine. The last time I had the chance to check his music was with the release of a double compilation on Das Drehmoment where he participated with "Intellivision", a great electro classic with Detroit influences. Ideally THE WORLD IN A POCKET is linked to that tune as it opens with an instrumental titled "A trip to Prodamkey planet" just to explode with "Cosmic cruncher", another electro upbeat track that mix electro and detroit techno. "Multitron", instead, is pure electro with bouncing fat bass lines and spatial themes (all the E.P. is focused on "the future is now" concept). "Papierfabrik" is the last original tune before the remixes bonanza and it sounds syncopated, upbeat and a bit cinematic. The release contains remixes of "Multitron" (UHU after the first release on Gigolo has released few digital E.P. and released his full length on Transient Force always on digital file format. He gave to the track a bit of experimental spatial touch), "Papierfabrik" (Alex Stark opted for upfront hard beats and kinda minimal electro bass / lead synth lines) and "Cosmic cruncher" (Downrocks made it sound like a retro electro tune a la Egyptian Lover, with gated bass drum with syncopated rhythms for the first half but on the end a TB-303 appears giving its acid typical sound). There's also a second release linked to the E.P. and has been released by the other Max Durante's label Angel Dust. On the ACID EDITION of THE WORLD IN A POCKET you'll find three remixes: Snuff Crew remixed "Multitron" focusing on drum layers alternance with few vocoder inserts, Gesloten Cirkel picked up "Cosmic cruncher" turning it into a sixteen minutes extravaganza with few minimal synths, 4/4 beats and TB-303 acid bouncing sounds while the closing Metacid version of "Papierfabrik" sounds obsessive with TB-303 resonance going mad. The remixes are nice but I really enjoyed the original tunes and if you are short of money, be sure to download those ones at least...
image not
available
anymore
Artist:
Kabutogani
Title:
Bektop
Format:
CD
Label:
Mille Plateaux
(@)
Distributor:
Intergroove
Rated:
Glitch music can be structured ' I guess, that this is the most important result, a listener of this special kind of Electronica music can extract out of this release. To release it via the label Mille Plateaux, part of the Vertical label group, fits well, since this label has taken a leading role to offer this experimental form of Electronica music since years. By completely trusting into the abilities to transform all rhythmical ingredients into that Glitch/Clicks 'n' Cuts genre, the accompanying music rather consists of minimal field recordings, noisy soundscapes and at times obscure frequency manipulations. This is a very own form of Avantgarde/Electronica, although very minimal operated. Not useable for Chill-Out sessions, as I guess, that the overall cold sound environment would rather scare the audience. No stuff for the dancefloors either, as this music turns too far into the experimental genre. Rather music especially dedicated to fans of Glitch and IDM, who aren't afraid of to check out a more dark and drowning fx-modulated sound design under a good pair of headphones.
Techno / Trance / Goa / Drum'n'Bass / Jungle / Tribal / Trip-Hop
Edit (5839)
Artist:
ORSON
Title:
Madness
Format:
12"
Label:
Version
Distributor:
Groove Attack / St Holdings
Rated:
The second release on Version is a 12" by the label's founder Orson. The vinyl contains two tracks based on 808 sounds: "Madness" is an atmospheric tune which mix hypnotizing ambient textures with 808 drum variations and dub bass inserts while on side B, "808 dub", as the title states is based on slow dub/grime bass lines mixed with spatial sounding synth lines. Both the tracks create a good ambient cinematic atmosphere. Nice...