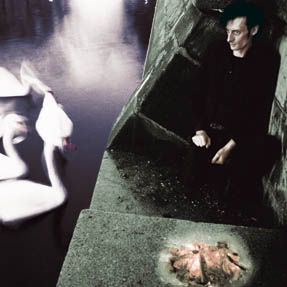 Artist:
STEVE MORELL
Title:
Loneliness
Format:
12"
Label:
Pale Music
Rated:
LONELINESS anticipate Steve Morell's album 'The Life and Death of Jimmy Pheres and his Rise from the Underworld'. This 12" don't function only as an appetizer for the forthcoming album but offers, along with the original version, three remixes that are really worth the purchase. Let's start from the original, it is an acoustic dark ballad which takes the mournful atmospheres of Nick Cave to a new level thanks to deep vocals and a haunting piano/guitar arrangement. The first mix of the track is a doom version made by Einsturzende Neubauten's member Alexander Hacke, who filtered the original vocals making them sound like coming from six feet underground and added a distorted bass guitar during the whole tune. I really enjoyed also the orchestral intermezzo he put on the middle of the song. Punx Soundcheck, instead, did what they do best by making of it an electro guitar driven song with drum machine rhythms and deep bass lines. Luiz Miguilez (Glamour To Kill) made an electronic version which keeps the original flavor of the original but adding pumping rhythms.
Techno / Trance / Goa / Drum'n'Bass / Jungle / Tribal / Trip-Hop
Edit (5820)
Formed by Bryan Kelleghan and Darren Bonilla, PartyMode are a new signing of Basserk Records. Coming from the San Francisco Bay Area, the duo released the last month their debut digital E.P. titled A LA MODE. Containing four original tracks and two remixes the E.P. presents to lovers of dub and grime a new band who's willing to make the dancefloors burn. Tracks like "Coma" or "Chillidipping" are bouncing grime/dubstep instrumentals that sounds energetic and menacing at the same time. "Heem n' cream" has a bit of acid techno flavor and "Foreign affair" is the reggaest of the lot with classic vocals, slow rhythms but with distorted grime bass lines. Chokr's remix of "Coma" and "Heem N' Cream (Nite Theories remix)" are a bit more based on techno sounds and give to the original tunes a nice different twist.
Techno / Trance / Goa / Drum'n'Bass / Jungle / Tribal / Trip-Hop
Edit (5805)
Artist:
PATRICK PULSINGER
Title:
Impassive Sky
Format:
CD
Label:
Disko B
Rated:
Active since early nineties, Patrick Pulsinger is releasing this month his fourth album IMPASSIVE SKIES. On this new album Patrick succeeded into conjugate different musical influences under the flag of techno music. Jazz, glitch, electro and techno could seem really difficult to get along but he, helped by friends like Fennesz, Franz Hauntizinger, Abe Duque, ElektroGuzzi, G Rizo and Teresa Rotschopf, composed eight tracks where jazz improvisations duet with electronic sounds. The result is really intriguing and we pass from the syncopated techno with trumpet solos of the opening "Grey gardens" to the dance dark electro with Detroit flavor of "A to Z" (where Teresa Rotschopf vocal performance help is making of this a killer song), passing from the piano rhodes inserts of "Future back" and the funky guitar of "Blame it" (tracks featuring Abe Duque). IMPASSIVE SKIES is a multifaceted album that will reveal its essence only after some listening sessions but you'll be satisfied to find yourself discovering a new bit each time.
Techno / Trance / Goa / Drum'n'Bass / Jungle / Tribal / Trip-Hop
Edit (5794)
image not
available
anymore
Second album on Planet Mu for Ital Tek, MIDNIGHT COLOUR contains thirteen new tracks that are slightly different from the ones of the 2008 album "Cyclical". Alan Myson's debut album was mixing dubstep sounds to cinematic atmospheres keeping high the level of distorted square waves. MIDNIGHT COLOUR, instead, has vocal guests or samples vocals (the closing "Restless Tundra" features Anneka and it sounds sensual and nightly), house influences and rarefied atmospheres that weren't present on the previous album. The raw sounds have been sedated (they haven't been removed from the new tracks) and now Ital Tek sound spectrum has widen thanks to soft synth pads and a richer drum sounds palette. Doing a paragon, if "Cyclical" ideally incarnates the energies of a party that has just begun, MIDNIGHT COLOUR is the sound of its end, when you drive back home while the streetlights paint colored stripes on your windshield...
Techno / Trance / Goa / Drum'n'Bass / Jungle / Tribal / Trip-Hop
Edit (5790)
image not
available
anymore
Artist:
NUMAADS
Title:
Now
Format:
12"
Label:
Project Moon Circle
(@)
Rated:
Esperanzah is a versatile singer: she could sing jazz, house, rock with no problem. Numaads mix jazz, soul a bit of hip hop and lounge music creating a good mixture which is well arranged thanks to a great balance of different elements. Vinyl samples, rhodes keyboards, fat bass guitar, few electronic sounds and syncopated drums are there waiting for Esperanzah's voice for giving them the vital breath. Sinuous, deep and passionate, she will convince the audience in no time and if you want to check a nice experimental version of the main track, check the Robot Koch version as he made a sort of experimental ambient two step version of it.