Techno / Trance / Goa / Drum'n'Bass / Jungle / Tribal / Trip-Hop
Edit (5839)
Artist:
ORSON
Title:
Madness
Format:
12"
Label:
Version
Distributor:
Groove Attack / St Holdings
Rated:
The second release on Version is a 12" by the label's founder Orson. The vinyl contains two tracks based on 808 sounds: "Madness" is an atmospheric tune which mix hypnotizing ambient textures with 808 drum variations and dub bass inserts while on side B, "808 dub", as the title states is based on slow dub/grime bass lines mixed with spatial sounding synth lines. Both the tracks create a good ambient cinematic atmosphere. Nice...
Some biographical notes could be really important to understand one of the most astonishing musical personality of Ane Oestergaard: her innocent face akin to the one by an angelic street urchin saw the light in a little village in the region of Jutland and begin the adolescence in an idyllic setting, a place where everyone knows each other amidst a fabulous natural context. Her family house was nearby a small lake surrounded by a big forest, the ideal place to develop a refined artistic and musical sensitivity where she inherited the passion for music from her beloved father - whose collection of records included a plenty of classical, pop, acid rock and even avantgarde and electro-acoustic stuff -, refined in England where she attended a jazz course, set on the right road by her boyfriend, an electronic music lover which advised her to attend a Cubase training course and propelled in the fertile artistic ground of Aahrus, a little Danish city growing in popularity for having given a plenty of very interesting contemporary electronic musicians (musicians such as Jonas Olesen, Karsten Pflum, Heidi Mortensen and Jonas Rasmussen just to mention a few of blossoms grown in that scented electronic musical garden...),where she actually lives attending the electronic music course at the local conservatory.

This double album has been inspired by a prolonged stay in her home-town, where she rediscovered the fascination of countryside, a sort of intimate and personal dimension injected in the peaceful and perfumed melodies of the first part of this oeuvre, being Anish Music Too, following her very debut full-length in 2006 (Anish Music) an eloquent title to highlight there's an idyllic but above all personal imprinting on it, a silent and quite place, suddenly broken by the somewhat idyllic and "noisy" life of the eccentric neighbourhood disquieting or I'd better say delighting and inspiring the second part of Ame's release, "and Free", where she poured tales, life stories and rural portraits coming from outside her red hut by translating it into the universal language of music in such an evocative way that you don't need to understand Danish to imagine her sketches. She plays with different music idioms in an off-hand manner adding a delicate touch to a glitchy style getting narrative sketches, contemplative soundscapes (close to the lovely ones by Future 3), references to Japanese contemporary music (some tracks could remind to the musical mind of most careful listener slices of Takagi Masakatsu, Nobukazu Takemura or musicians playing with the appreciated Japanese label Schole), some chilled stuff by names such as Plaid, Pole, Aphex Twin or Boards Of Canada and some of their gaudy pieces of respective inventories, glitch-ambient, drill'n'bass, childplays and even techno afloat in an easy and balanced way - tracks such as Ballongyngen, Atom Muffin, Cirkel, Braendsel and even the one she dedicated to her favorite broadcast of a Danish radio station, Harddisken, based on laptop-generated music (her main love amidst personal armory...) could remind you something already listened, but you'll recognize a certain coherence from the stylistic viewpoint...-. You'll also fall in love with her way of filtering the above-mentioned rural portraits included in the second part of this issue in such a whimsical way! Brimful and brilliant work-out! ...and definitively one of the most delightful release in recent times as well!

Techno / Trance / Goa / Drum'n'Bass / Jungle / Tribal / Trip-Hop
Edit (5834)
After the swashing minimal techno wave flooded over a lot of techno clubs throughout the planet, having sometimes brushed some old techno-trance sounds up in brimful dj consolles and nothing more, there're some techno-makers rediscovering the "anthemic" and most conceptual side of techno on the pathways of what some peppy producers such as Plastikman made in a not so far past-time. Even if Jeremy Jacobs aka JPLS doesn't disengage the minimal clutch especially in the compositional structure of the track, based o gradual addition of sonic elements, it could be filed into this privileged archive of sonic researchers side by side to other renowned producers such as Robert Hood, Frank Bretschneider, AFX or Thomas Felhmann. As his previous album in 2007, entitled The Twilight, entirely based on tracks conceived between 3 and 5 am (!), The Depths rests on a solid conceptual layer derived from a bunch of visions and visionary models you could easily find in theoretical physics' essays or in personal diaries with detailed reports inspired by hallucinogenic drugs! In particular, JPLS could have imagined the interactions of sound particles with other sub-sub-atomic recipes flowing in the surroundings or presumably the physical chain reactions which could stand behind an arguable transformation of the mentioned particles into energy (don't be scared...most talented techno makers could easily feed this kind of lucubrations throughout their releases!).


From the obscure pool introducing this atomic whirls, a set of stretched hats begins cleaving the sonic space and abruptly absorbs the listener into a gluey magma of sub-tones and percussive low frequencies: the listener will not easily distinguish when the outro of Reset - the 13-minutes lasting track I'm talking about - really begins lulled by the sound of castanet-like pulsating beats and will inadvertently slide into the following one, Zero Point - a sort of gradual disintegration of one melodic line, whose hypnotic step partially mask the juxtaposition of the same melodic line before it completely fades - and Displacement, whose structure is more conventional, starting with a suffocating kick-bass whose heavy trampling seems to arise clouds of dusty sounds drawing foggy mantras while Jeremy trifles on pitch, even if his favorite game is more similar to those "guess the differences between similar images" you could find on a plenty of crosswords issues! The following track, Basis, is just confirmation of Jeremy's preferences: a good example of looping where a limited set of sounds is injected into a cyclic movement which slightly vary during the recursive movement turning into something completely different. How many similarities with biological cycles can you notice?!?! The second part of the album is more "experimental": one of the funniest track is surely Fold, where a booming electro bassline seems twirling on itself when Jeremy adds a layer of random harmonics to the spectrum before the final disgregation introducing the entrancing down tempo groove of Collapse, a track featuring sounds which could be presumably inherit the visceral ones of an alien being after a Lucullian banquet! The spectral engratation of stripped down beats and deep harmonic percussions in Convolution is going to ease listener's way to the final track, State, where those shaking sound particles which begin their venomous effluxes at the beginning of the record are going to leave their residual energy. A funny as well as dumb misconception of looping, dealing with the purist minimal heads, just like almost any M-nus release!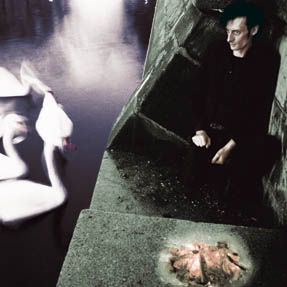 Artist:
STEVE MORELL
Title:
Loneliness
Format:
12"
Label:
Pale Music
Rated:
LONELINESS anticipate Steve Morell's album 'The Life and Death of Jimmy Pheres and his Rise from the Underworld'. This 12" don't function only as an appetizer for the forthcoming album but offers, along with the original version, three remixes that are really worth the purchase. Let's start from the original, it is an acoustic dark ballad which takes the mournful atmospheres of Nick Cave to a new level thanks to deep vocals and a haunting piano/guitar arrangement. The first mix of the track is a doom version made by Einsturzende Neubauten's member Alexander Hacke, who filtered the original vocals making them sound like coming from six feet underground and added a distorted bass guitar during the whole tune. I really enjoyed also the orchestral intermezzo he put on the middle of the song. Punx Soundcheck, instead, did what they do best by making of it an electro guitar driven song with drum machine rhythms and deep bass lines. Luiz Miguilez (Glamour To Kill) made an electronic version which keeps the original flavor of the original but adding pumping rhythms.
Techno / Trance / Goa / Drum'n'Bass / Jungle / Tribal / Trip-Hop
Edit (5820)
Formed by Bryan Kelleghan and Darren Bonilla, PartyMode are a new signing of Basserk Records. Coming from the San Francisco Bay Area, the duo released the last month their debut digital E.P. titled A LA MODE. Containing four original tracks and two remixes the E.P. presents to lovers of dub and grime a new band who's willing to make the dancefloors burn. Tracks like "Coma" or "Chillidipping" are bouncing grime/dubstep instrumentals that sounds energetic and menacing at the same time. "Heem n' cream" has a bit of acid techno flavor and "Foreign affair" is the reggaest of the lot with classic vocals, slow rhythms but with distorted grime bass lines. Chokr's remix of "Coma" and "Heem N' Cream (Nite Theories remix)" are a bit more based on techno sounds and give to the original tunes a nice different twist.