Techno / Trance / Goa / Drum'n'Bass / Jungle / Tribal / Trip-Hop
Edit (7364)
Artist:
Lynx
(@)
Title:
Balloons/Passing Time ft.Hellrazor
Format:
12"
Label:
Soul:r
Distributor:
S.T. Holdings Ltd.
Rated:
Another drum'n'bass doozy from Marcus Intalex's imprint Soul:r has been marked by the signature of one producer in top shape, Portsmouth-born Steve Nobes aka Lynx. On A side, he provides a sample of compositional playfulness by means of "Balloons" where it seems he staged a sort of imaginary game room with coloured balloons, whose systematic inflation sounds like having been rendered on this funny clapping track, which prompts a certain sense of hebephrenic infantile regression in the listener. After such a return to innocence, Lynx gives voice to the melancholic feeling wich sometimes catches somewhat grown up old lions who seemingly lost their sheen on "Passing Time" - co-signed by skilled producer Rich Scott aka Hellrazor - by means of an uplifting rhythmical liquid phunk pattern which allays the nostalgia, evoked by some moody sonic hints - particularly some chorused grand piano and a pipe organ, whose phrasing seems to hang in the balance and get gradually banished by accelerating ticking hats - and assuages the blues by paddling beats. Lynx managed to see through walls and underground by pushing his powerful sight on human emotional flights and its temporary tailspins again.
Techno / Trance / Goa / Drum'n'Bass / Jungle / Tribal / Trip-Hop
Edit (7363)
Artist:
cdatakill
(@)
Title:
Battleworn
Format:
CD
Label:
Hymen Records
(@)
Rated:
Denver-based musician Zak Roberts is cdatakill, active since the mid-90's under names such as ak-47 and dj rabies where he was more into speedcore and hardcore. This is quite a change from those genres, although as cdatakill Roberts makes good use of what he's learned along the way. 'Battleworn' marks the fifth release as cdatakill, the first on Hymen Records, the others being released on Ad Noiseam. I haven't heard any of Roberts' previous releases, so I'm going into this with 'virgin ears' so to speak. I must have had this CD confused with something else in the review hopper, as I put off reviewing it for so long likely because of the aggressive-looking cover, I mistook it for a noise project, which it assuredly isn't.

There is a lot going on on 'Battleworn,' maybe too much at times but don't let that put you off. As cdatakill Zak isn't adverse to mixing genres, often within the same track. At times you get jungle, dubstep, hardcore, IDM, breakcore, doom metal, country-western (I kid you not, it's the samples!), techno, and likely a dozen others I haven't thought of. Remember when FSOL was considered innovative? Well, this sort of makes me think of them then, although cdatakill bears not a whole lot of resemblance to cdatakill. The first thing that stood out to these ears is Zak's excellent drum and percussion programming skills. Always engaging, and often rhythmically inventive. It's not overkill either; there is plenty of space for interesting atmos and ambience. I like his use of vocal samples too, often not much more than a processed snippet or phrase, but actually enhancing the music rather than detracting from it. The electronics are inspired and resourceful. From track to track there is a good amount of variety, yet a cohesiveness that won't give you the impression you're listening to a V/A compilation. There is a dark moodiness to 'Battlworn' but it never gets morose. Sometimes I was reminded of the best of Scorn, but with a less heavy-handed approach. At others, Access to Araska, or similar artists. The two remixes on the album ('Battleworn' by Nest, and 'I Swear' by Sense) sounded completely different from the originals, and not bad at that, so you're not just getting rehashes.

Summing up, I was fairly impressed by cdatakill's 'Battleworn'. It's an album that seems to have a good replayabilty factor, somewhat psychedelic and mind expansive, and you can really get immersed in it. The recording and production are very good too. It's hard to imagine where cdatakill will go next, but count me in for a copy of the next release. I'm game.

Techno / Trance / Goa / Drum'n'Bass / Jungle / Tribal / Trip-Hop
Edit (7354)
Artist:
Phil Tangent
(@)
Title:
Restitution/Squaring The Circle
Format:
12"
Label:
Soul:r
Rated:
Brighton native dnb producer and dj P.Winn aka Phil Tangent reinforces the firm belief by many dnb followers about the beaming moment of his musical creativity by means of another pair of winning shots for Markus Intalex's Soul:r. "Restitution" manages to ventilate listener's eardrums and minds with daydreaming suspensive synth-pads, uplifting sounds, exstatic female vocals and propelling beats, the hastening element for the headphones-driven sublime ascension which could be experienced by listeners. Such an ascension is going to be followed by the sonic sideslip of "Squaring The Circle", where this bad boy pours absorbing phat bumps, airy trumpets and sourer basslines, whose counterbalances for flotation are some dazing and dazzling vocals by Bjork. A real touch of finesse to the scene, which is going to be rolled over by a lot of dnb djs.
Techno / Trance / Goa / Drum'n'Bass / Jungle / Tribal / Trip-Hop
Edit (7346)
Unlike many other beatmasters, East London-based producer and dj Ossie Aneke doesn't suffer from artistic incontinence, but he mostly likes to ration energies in order to concentrate them and his remarkable panache on true sonorhythmical gemstones, so that he still manages to stand out of an overcrowded scene, which finds it hard to let emerge authentic talents due to the proliferation of releases, which normally tag along the sound in vogue. Ossie seems to prefer the "little but good" policy and after a couple of successful hits - "Tarantula" and "Set the Tone" -, he comes back with a pair of impressive tracks: both of them are still imbued with garage-house sonorities, but beside the captivating beat-juggling on wisely built rhythmical patterns, mainly lying on back-and-forth broken beats and amazing shuffles, Ossie dashes some catchy preciosities. On "Ignore (Yes I Did)", a song about the battle games between opposite sexes, performed by Tilz on mic, Ossie adds pungent acidolous basslines and rolling snare drums to rise dynamics, while on B-sided "Find It", he sticks a Balearic guitar arpeggio on the pan-fried sequence of chords and effected vocals, which let play at full gallop in the end after he tried to draw in the reins. Proper stuff to let dancehalls wiggle on.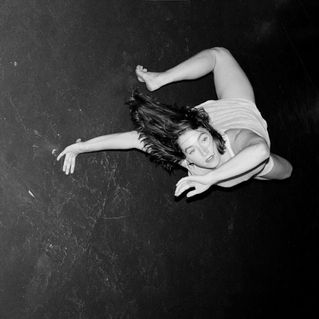 Artist:
Raime
Title:
Quarter Turns Over A Living Line
Format:
CD
Label:
Blackest Ever Black
(@)
Rated:
Imagine rain-slicked back alleys; haunted warehouses; a wooded clearing at night. These are some of the locales that Tom Halstead and Joe Andrews, collectively known as Raime, will guide you through, when immersing yrself in the blasted, decayed landscape of 'Quarter Turns Over A Living Line.'

Where lesser producers and weak imitators are content to pretend that the history of dance music is a logical, linear progression and work to perfect the perfect sugar-tweaked bass wobble, Raime draw lateral assocations across three decades of steely electronics, downtuned guitars, and horror-movie scores to create an inner nighttime world that is both menacing and optimistic. Owing as much to Earth and Sunn O)) as Regis and Burial, Raime (as one of the flagship bands of the impressive Blackest Ever Black label) have extracted viral DNA from a number of obscure sub-genres, such as Drone Metal and Doom Jazz, and combined them with the receptive and adaptable Industrial and Drum 'n Bass genes to form a dusty, lurching Golem of stately Techno. What could have ended up as another genre-splicing mishmash mess has ended up, instead, as an innovative album, full of impressive sound-design, finesse, and even some slow grooves.

'Passed Over Trails' kicks things off with some growling bass textures, before coalescing into a jazz-noir opium revery; it is plain from the start that this is not just another 'bass music' record. The closest corollary is Bong-Ra's amazing Mount Fuji Doomjazz Corporation project, that sounds like being followed down a lonely sidestreet by a car with tinted windows. Recognizable elements gradually dissolve, like reflections on oily water, to be replaced by the mummified Drum 'n Bass of 'The Last Foundry,' which wouldn't sound out of place in an afterhours set at a club, and the leaden bassdrop is one of 2012's finest moments on record. 'Soil And Colts' is a lumbering Techno track, crawling along at half-speed. Like some iron giant, complete with creaks, groans, and ominous shrieks, with an aurora of beauty surrounding and containing the scene; then seamlessly connecting with 'Exist In The Repeat Of Practice,' more skeletal d'n'b and '80s plasticine horror synth. By the time 'The Walker In Blast And Bottle' arrives, a model is nearly in place: start off with a minimal beat, then creep in ambiance and subtle sound design, which is like watching an image solidifying the air around you. Raime make mental movies, sure, but not the kind you'd see on a screen. 'Quarter Turn Over A Living Line' is more like a dreamstate that you get to explore for an hour, a direct connection to the superconscious of a couple of Scottish blokes.

The devil is in the details, when it comes to Raime. They're certainly not the first to make slow, crawling techno with surreal flourishes (again Regis, Monolake) but the way that they combine their post-Industrial electronica with doom metal, jazz, and other acoustic sounds, point a way forward for themselves, as well as the totality of dance music. With the machines that are at our fingers, we have control of songs and sounds to the almost molecular level, and we are beginning to see a race of sonic wizards that are constructing basalt mountain ranges of sound, out of thin air, just to see what they'd look and sound like. The way that Raime fills out their sound with the thickest, darkest dub echoes, like on 'Passed Over Trails' reveal 4 well-tuned ears, as well as some of the finest production and mastering money can buy. Everything is in place, and they never mis-step, 'QTOALL' gets more engrossing with each listen. This is Raime's first full-length, as well as the first LP of original material for Blackest Ever Black, so it should be interesting to see what this assemblage shall come up with in time, provided we're not all sucked into some galactic whirlpool, first.