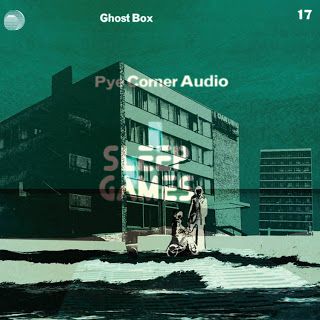 Artist:
Pye Corner Audio
(@)
Title:
Sleep Games
Format:
CD
Label:
Ghost Box Records
(@)
Rated:
As we approach Kurzweil's singularity, epochs and eras are running together in a permanent ontological NOW. The future is unfathomable, so we strive to master history, perhaps in an attempt to better understand the times we are living in. We are attempting to eradicate the grievous crimes against taste found in any era, and reinvent ourselves in the process. Ghost Box, the label run by Jim Jupp (Belbury Poly) and Julian House (The Advisory Circle) have been ahead of the curve since the label's inception in 2004, materializing an alternate history located somewhere between the years of our lord 1954 and 1978. With 'Sleep Games,' the most recent and most realized work by The Head Technician, the force behind Pye Corner Audio, they have expanded their template by about 7 years, and allowed in cosmic disco forces into Belbury's town square, lit the pastoral avenues with phosphorescent lights and polished chrome.

The Head Technician, aka Martin Jenkins, is a self-proclaimed John Carpenter devotee, and the predominant mood of 'Sleep Games' is akin to escaping from New York in The Fog, while someThing follows ominously, just beyond the halo of yr taillights. But Jenkins is also obsessed with early Detroit Techno: Carl Craig, Juan Atkins, Drexciya, Underground Resistance. He adorns the '80s plasticine sheen of horror movie synth explorations with a pillowy thump and colorful sequencer arpeggios, making a cyberpunk superbeast of atmospherics and danceability. Its a way forward for Ghost Box, who could flounder under their own archaic electronica, if they weren't careful.

'Sleep Games' is an exciting listen; its supposed to sound like movie music. It seems as if something is going on. With track names like 'The Mirror Ball Cracked,' 'A Door In The Dry Ice,' and 'Underneath The Dancefloor' 'Sleep Games' conjures mysterious visions of night drives and haunted discotheques. Some have referred to PCA's sound as 'Spectral Electronics'. It sounds like someone driving a speeding Delorean to catch the library before it closes, with churning fog obscuring the fields and barns of sleeping Belbury, in an attempt to subdue the sleeping demon beneath the haunted dancefloor, so that the good townspeople may dance and take pills and make merry in safety and splendour.

All of the drum machines and synths are lovingly sources from analogue, giving an old school crunch and warmth to the proceedings. As the Earth is riddled with neat, meticulous ADD-addled bedroom producers, rough hewn homemade electronica seems to be coming back in fashion, things which are personal and irreproducible, that seem like they COME from somewhere. The soul of the circuitboards, and the chi of the vacuum tubes are captured and transmitted in the stygian troughs of the spinning vinyl, an ineffable specter that is increasingly mandatory, in the dense oversaturated music industry. Martin Jenkins gives a loving touch to everything he produces, and has found a spiritual home in the town of Belbury, as part of the Ghost Box coven. Mark Fisher, aka K-punk, one of the patron saints of Hauntology, has even given his blackened benediction to 'Sleep Games', acting as a creative consultant for the haunted tenement cover art, lovingly created by labelhead Jim Jupp. Every mark of excellence is present and accounted for, proving Pye Corner Audio and Ghost Box to be at the peak of their powers, taking risks and creating worlds. It is exciting to watch their world grow and shift, and it is a magickal world to lose one's self in. With '80s movie scores gaining visibility and respectability, starting with 2010's Unsound Festival in Cracow, Poland, which focused on horror-themed music, to seeing classic scores lavishly re-issued on vinyl by the likes of Death Waltz Recording Company, perhaps people are finally ready to hear Pye Corner Audio's mouldering electronica. Its his best work yet, and a triumph and a new direction for Ghost Box, which continues to set the standard for Victorian Techno.
Techno / Trance / Goa / Drum'n'Bass / Jungle / Tribal / Trip-Hop
Edit (7281)
Artist:
Chemical Ally & Lady Flava/Fade
Title:
Imagination of Yourself (Spirit remix)/Insider
Format:
12"
Label:
Rooted Recordings
(@)
Rated:
Just like new buildings need solid foundations, Rooted Recordings, the newborn label by veteran Welsh producer and dj Chemical Ally, opts for a massive appetizer as a way of presenting itself to a scene, which cannot be but ready enough to similar stuff. According to Chemical Ally's words, he founded Rooted not only with the intent of producing sonic stuff he likes to spread out, but he's also taking account of it as a possible launching pad for his music, which you can taste on this release through "Imagination Of Yourself", a roaring track he co-signed with Lady Flava, long-time lasting fellow dj on Rude FM; they both got inspiration from the style of the evergreen and prolific Duncan Busto aka Spirit, a sort of miliar stone for tech-oriented and dancehall-igniting drum'n'bass, so that they immediately took the opportunity to give him the track for further retouch when they learnt about sich a chance. The final result perfectly suits recent dancehall tastes, which seems to turn darker and darker without dropping the possibility to jump, by means of eerie sounds, high speeds (they also included a sample of a racing car, which spins across catchy rhythmical patterns, distorted brasses and infective basses). On B side, there's a track, "Insider", by the young Ukranian prodigy Fade, which sounds quite simple and mannered, but highly effective, while digital release comes with a very catchy tune by Saint-Petersburg-based duo 2Sides (Jack Ivanov and Ivan Evdokimov), whose "True Skull" sound like combining some of the grimest influences by Upbeats-like "esoteric" dnb and highly energetic trancey breakbeat. Definitively a good way to be welcomed by many dnb djs and supporters!
Techno / Trance / Goa / Drum'n'Bass / Jungle / Tribal / Trip-Hop
Edit (7277)
The closest sonic connection to the critically acclaimed debut album "Hive Mind" by house adventurer Daniel Martin McCormick aka Italare maybe the initial "Despot", an amazing sample of offbeat electronic dance which lies on a pitched airy melody, sonic laser beams, trotting breaks and broken vocal sample, which makes me thought about a Miss Universe wannabe during an annoying cosmetic laser mole removal, and the nice following one, "Boi", whose sample from "Baby Boy" by Beyonce and Sean Paul could let you think about a sort of interference by Daniel on the mainstream. Then the grooves seems to turn more fractured and disjointed than his previous experiments and the sounds starts getting dirtier and more "sloping" just on the amazing "Eat Shit (Waterfalls Mix)" by a wise set of distorsions and estranging echoes, which injects the best emotional setting for the obscure ridge of the album, "Enrique", whose engine seems to be propelled on puffs from the darkest side of Detroit techno and bleeping screeches before it's blown by less "tight" gains. Echoes of the brightest side of Detroit techno (particularly some stuff by Kenny Larkin or Eddie Flashin Fowlkes) seems to exhale from the scrumptious interlude "Housecapella", where Daniel enjoyed stopping the track just when it begins to mouthwater the listener, while the almost beatless "What A Mess" - nicely introduced as a kind of "music rotting" by the label -, which could remind some aged insane ill-bient hybrids by The Orb, and the bizarre crossbreed between classical garage-house sounds and an harsh electric guitar drone on "Deep Cut" (temporarily) draw the curtain over the oneiric sonic stimuli of the weird declension of dance coming from this skilled lad.
"Nebula Dance" could be considered the best way for the new course dubstep should follow, according to Planet Mu's label manager Mike Paradinas and Brighton talented beat juggler Alan Myson, known as Ital Tek, one of the jewel in the crown of this appreciated imprint at least. To be honest, all those musicians, who dealt with dubstep, a style which was gradually depleting its possible combinations by getting a little bit too schematic, are mainly following two paths: the first one crosses the overcrowded realm of techno-trance, IDM and minimal, while the second exodus moves towards that Chicago-born style, known as footwork and closely related to juke or ghetto house, which normally accompanies on a style of street dance, based on fast movements of feet as well as a number of twists and turns, who startyed to be popular thanks to producer and djs such as Kavain Space aka R.P.Boo or Dude N Nem (their notorious clip "Watch My Feet" includes some figure at your fingertips!). I could almost say that Ital Tek is trying to go beyond this fork by paving the first junctions through tracks like the amazing 8-bit driven "Pixel Haze", the glimmering synth-oriented tracks "Dusk Beat" - including the typical soft toms which normally embellishes footwork stuff in order to make their voodoo-like sound even more swinging for feet -, "Steel Sky", "Solar Sail" or "Human Version" by adding drops of atmospheric synths and technoid mutations of bass tones to his frenzy rhythmical pattern and to his percussive freaks (I particularly enjoyed the glockenspiel-driven track "Glokk", the crossbreed between a sort of gong with conga on "Gonga" and the amazing alternation of accellerations and decelerations on the initial "Nebula Dance") or by accentuating the contrast between weightless sounds and weighty ground layers of sizzling basses ("In Motion", "Yesterday Tomorrow Today"), which got blended within the notorious fizzy sound by Ital Tek, who seems to trap both percussive elements and sounds within a pinball machine. I cannot imagine how many traffic jams are going to come when all roundabouts (and no through roads...) on the above-mentioned stylistical fork will be ready.
Techno / Trance / Goa / Drum'n'Bass / Jungle / Tribal / Trip-Hop
Edit (7274)
Have you ever seen a hyetograph or those maps of weather forecasts with the distribution of rainfall over time? If so, you could have noticed that most of them show different coloured areas whose chromatic spectrum ranges between pale blue (normally representing light drizzle) and red or purple (associated to heavy thunder showers), but I remember a 3-years old boy who made me laugh after he asked myself if those maps meant to say the sky was going to become flushed with purple! When I read the title of this good selection on appreciated French label IM:Ltd, named after the first song by talented Berlin-based producer Es.tereo, I immediately thought about that funny and innocent remark and I cannot but fall into a reverie related to atmospheric disturbances, even if the amazing tracks which have been included in the selection could be meant to bring your imagination somewhere else! The clicks on frothy ambient and dub sounds, rushing percussive spurts and organic catches on the above-mentioned title-track easily flows in the following "Transition" by French dj and producer Stephane Vallini aka Gunston, who speeds this mental enzyme up by means of a nervous hi hat, a deep rolling bass, a suspensive sonic blasting gelatin and eerie vocals, while the second disc starts with "Ellipse", a contagious track by Ukranian lone wolf Hibea, who ensnares the listener with mindblowing sparse drumming, catchy claps and clocks and an entrancing mysterious atmosphere, and ends with the sentimental crystalline breeze of the breathtaking "Above Time" by the talented and (artistically) incontinent Russian producer Dmitry Kuzmin aka Nuage, that you could associate to a kiss under a downpour in order to reprise the previous meteorological reverie. After such a reprise, I could associate Gerwin's "Lonely" - the first of the two bonus tracks for buyers of the digital release -, whose vocals recalled Goldie's ones on his notorious masterpiece "Mother" to me, to extremely corrosive acid rains whereas "In This Life" by Belgian producer Atmospherix could be the perfect setting for a brisk walking over pools and puddles in search of the rainbow's ends!