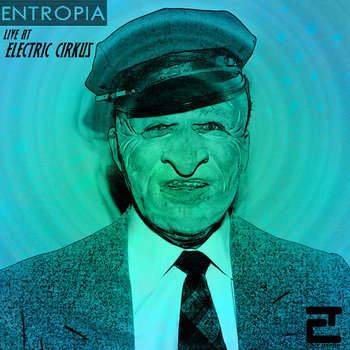 Artist:
Entropia
Title:
Live at Electric Cirkus
Format:
CD
Label:
Eclectic Productions
Rated:
There no introduction to this release except from the line up of the band (Dr.Lops: keys, modular synths; Ugo Vantini: electronic drums; Amptek:b synth guitars, analog sequencers; Carlo Micali: sound engineer) and the liner notes stating that this live was recorded on two tracks i.e., no overdubs. However Entropia's music could be roughly described as techno with a splash of ambient.
The release is divided in two parts: the first one is composed of four solo track: "The Great Escape From The Holographic Sanitarium" and "Fight The Winged Dragon" are from Ugo Vantini and they are minimal tracks based on the manipulation of the rhythmic sources and so they are more atmospheric than hypnotic. "Modular From Cassilde Hell" is from Doc Loops and is a crossover between a noise track and a sci-fi oriented synth track. "Supercluster Blaster" is from Amptek and it sounds as more oriented towards kosmische musik as the sound of the guitar is so effected that it's closer to a synth.
Then it starts the part featuring all the band and, instead of being the mere juxtaposition of the elements of the solo tracks, there's some elements emerging from the interaction: the rhythmic cages reminiscent of certain techno, with convincing results especially in "Memories Of An Electric Circus" and "Dance U Sob", which moves the result from the relatively meditative territories of the first part to more danceable one until "Nasty Tales From The Maudit Stage" marks a final part with a more attention towards the sonic construction until "Inner Spooky Universe Paraphernalia" closes this recording blending all the elements of the previous tracks.
This is a release oriented towards a very defined audience that could appreciate the craft of exploring this clearly defined genre while the others could be a little disappointed by the absence of any deviation from the canon. A nice release.
Techno / Trance / Goa / Drum'n'Bass / Jungle / Tribal / Trip-Hop
Edit (10212)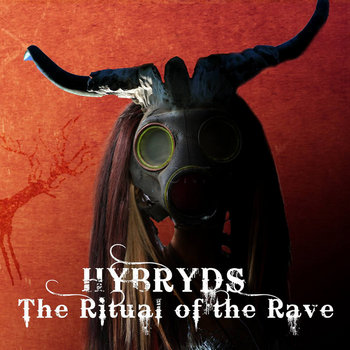 Artist:
Hybryds
Title:
The Ritual of the Rave
Format:
2 x CD (double CD)
Label:
Zoharum
(@)
Distributor:
Alchembria
Rated:
This new reissue of the Hybryds' discography was originally published the same year as "Soundtrack for the Antwerp Zoo Aquarium" but while those album was a demanding gem of experimental music, this one is more oriented towards a dance oriented electronic music whose development is mostly slow or static and where even the hypnotic element is put aside.
The rhythmic framework of "Red Lebanon" immediately exposes the style of the band at the crossroad between tench and ethnic music or between dance and hypnotic aims while "Sjamanistic Dream (ravemix)" is more unbalanced towards the dance floor as it's completely focused on the rhythmic functionality of all the elements. While the initial of "Icarus" with the apparently ritual spoken words hints a change of direction, there's a immediate return to the rhythmic elements but with a subtle research for a sonic nuance mainly for the ambient background. "The Ritual Should Be Kept Alive (Part 3)" revolves around ever evolving rhythmic patterns and "Prometheus' Quest for Fire" uses a piano in the first part to mark a break for this rhythmic exploration only to return to an obsessive rhythmic part seldom doubled to create variation and movements and using the ethnic overtone while "Sjamanistic Dream (computermix)" has a synthetic palette. After three minutes of silence, an hidden track closes this release with an evocative ambient tune.
The bonus cd collects a live recording where the sound construction is in evidence instead of the rhythmic element even if the sound quality is not always excellent mostly in tracks like "Zoo Intro" and "Call of the Tuareg" and other rarities which are on the same framework of the other tracks of this reissue.
Honestly, this is mainly a release for fans and collectors that, even with the undoubtable ability of the performers, sounds more as an adjustment to times than a proper follow up of their masterpieces. However, it's not even aged a little bit.
Techno / Trance / Goa / Drum'n'Bass / Jungle / Tribal / Trip-Hop
Edit (10187)
I didn't receive any biographical info about this entity called Makkatu, pushed by Urbsounds, the amazing Bratislava-based label by Michal Lichy, but it doesn't really matter to enjoy the sonorities it (referring to Makkutu, as it could be a male, a female, an animal, an alien or whatever) browses on this (debut?) release. Besides the mycological connection (mycelium is that web of branches, called hyphae, spreading chaotically by fungal colonies), the initial track "Micelium" and its grid of resounding bleeps, cushioned hits and cog-like thuds, whose tone get lowered in the second half of the track, could let you think Makkatu is going to take the direction of brainy side of the so-called 'rhythmic noise', but the style of the following track "Compose" slots in the darker mazes of dub techno. The stress on a tone of the computational sequence (typical of Detroit techno), the dried rhythmical pattern and the risingly darker atosphere of many tracks of Makkatu's outputs: tracks like "Swamp", "Flow" or "Will o the wisp" could surmise some acid declensions of the first steps into minimal techno and electro, made in the late 90ies by techno-makers of New York scene such as Abe Duque, Dietrich Schoenemann, Susanne Brokesch, Arc (bicephalous project by Savvas Ysatis and Taylor Deupre) and so on, while other stuff gets closer to the amazing sonorities spread by some Trsor djs in its glorious years (tracks like "Gorge" or "Hollow tree" could be easily matched to stuff by Drexciya, Surgeon or Sender Berlin). If you are a lover of dark electro-techno stuff, Makkatu deserves a check.
Each track of this EP - the catchy debut release of Redukt, the project by Moscow-based electronic noise craftsmen Alexander Vasiliev and Nikolai Turchinski - got titled as a permutation of the main title and such a choice could make sense, as some aural elements are like constants that get thatched in different set-ups to change their "chemical" properties. The way by which they handled the noisy slices and the electric sparks that ignite each loops and the simple mechanics of the five tracks could let you think they didn't rely on computer-aided manipulation, with the only exception of a small clutch of percussive elements (such as the ground-shaking hitting low frequencies and the metallic clicks of "HTOO" or the async stitches digital crackle on the electrical stretching of "OTOH"). The paradoxically sordid collisions of these cushioned noisy entities are anything but thunderous, as they, on the contrary, evoke arctic wastelands and suburban desolation, which contaminated language, thoughts, and lives. A soundtrack of imaginary dystopian or borderline scenarios or something tragically close to our (more or less camouflaged) reality?
Techno / Trance / Goa / Drum'n'Bass / Jungle / Tribal / Trip-Hop
Edit (10169)
Artist:
Frore & Shane Morris
(@)
Title:
Eclipse
Format:
CD + Download
Label:
Spotted Peccary Music
(@)
Rated:
'Eclipse' is the second collaboration between Frore (Paul Casper) and Shane Morris after their previous 'Blood Moon' (2015). Together these musician composers explore the boundaries of ambient and tribal, merging the organic with the electronic. Utilizing digital and analog synths, didgeridoo, ethnic flutes, gongs, djembe, singing bowls, frame drum, and udu pots, Frore and Shane take the listener on a journey to the depths of the psyche through primordial roots to transcendental peaks and lush valleys. Hypnotic hand-drumming plays a large part in this, with nearly every track exhibiting some sort of polyrhythm. The drums are rather upfront in the mix too when they need to be, nearly ceremonial in their manner. Synths of course carry the ambience in sustained drone-like pads as you might expect. Throughout the eight somewhat lengthy tracks on 'Eclipse' there is an aura of mystery and magic that emphasizes the ritualistic and shamanic. The music is neither complete dark nor light, but falls into that grey area that the title and CD cover perfectly illustrates. A good amount of this must have been improvised but these guys work so well together there is no stepping on toes, nothing out of context, nothing that doesn't work or feel contrived. While there is melodicism the melodic content is amorphous supportive of the ambiance rather than dominating it. That may seem (in description) that the music is simplistic, but in actuality, far from it. The layering is complex in that there is much going on within the ambiences. Believe me this is full, rich and heady stuff. I know from my experience with Malaysian Pale back in the '80s that making electronic world music of substance can be a real challenge. Here Frore and Morris live up to and often surpass the challenge in a path well-trodden by other artists in the ambient-tribal domain such as Vidna Obmana, Steve Roach, Robert Rich, Matthias Grassow and other similar artists. The flow from track to track is really great too lending itself to a seamless listening experience with nothing disjunct or jarring by juxtaposition. The only misgiving I had about 'Eclipse' was on the final track "A Lonely Path" where it seemed like it should have been building to some conclusion but just ended up petering out. The artists likely had a different take on this but to me it seemed inconclusive. Overall though this is a very worthy work if you're into ambient-tribal, and will probably spend a good while on my current and future playlists.