Moomin's third album is a collection of eight DJ-friendly tracks spread across two slices of vinyl. For the most part it's laid-back and stripped-back house music, strolling along in the 120bpm region with simple patterns slowly shifting, rising and falling, jazzy laidback keys, soft and straightforward basslines and gentle beats with quite an organic feel to them. Opener "Daysdays" gives you a reasonable flavour of what to expect.

On the second side, "Shibuya Feelings" follows the same patterns but with the introduction of a much heavier kick that makes things feel much more post-sunset, before "Maybe Tomorrow" places more emphasis on crisp, higher-toned drum loops that bring the jazziness back in force.

In the second half, things start getting a bit more varied and take on a decidedly more retro '90s feel. On both sides, more jungle and drum & bass-flavoured tracks are paired up with trip-hoppy counterparts. "Move On God" uses some classic jungle drumloops under super-smooth pads for a lush, quite throwback-minded piece, before "949494" is a neat little slightly hip-hop workout. "Into The Woods" is a pretty sparse bit of jungle/drum & bass which lets the simple subbass shine with some very confident production touches, alongside the Rhodes-style chords that provide the sonic bridge between this and the earlier tracks, before "Fruits" rounds things off in a very smooth, quite Groove Armada-ish fashion.

There's an almost nostalgic feel to this release in parts, but carried thanks to a lot of production polish and a consistent vision of Moomin's sound. It's not going to set dancefloors alright or set your heart ablaze, but it's got a quite plush flavour that feels somehow quite premium- like sticking your bare feet on a super-soft carpet.
Techno / Trance / Goa / Drum'n'Bass / Jungle / Tribal / Trip-Hop
Edit (10458)
There's no danger of losing this rhythm. Three tracks and a remix of crisp, warm house beats with soft acid electro basslines, funk guitar licks and poppy vocal mantras, this is modern house-meets-indie-pop and it works well.

The title track feels like it ought to be heard on a warm beach, while "Suffocation" has a slightly dingier and indoors affair which then leads on to the much heavier "The Blacksmith" that completes a gradual progression away from the dancefloor and into serious home-listening electropop.

Scott Fraser's remix of the title track (mislabelled accidentally as "Lose Mr Rhythm") strips away all but tiny snippets of the vocal and concentrates on the acid and bass elements for a neat, well-evolved eight minute workout with a nice progression that brings us full circle.

It's a solid 12" pack that should appeal to both DJ's and home listeners.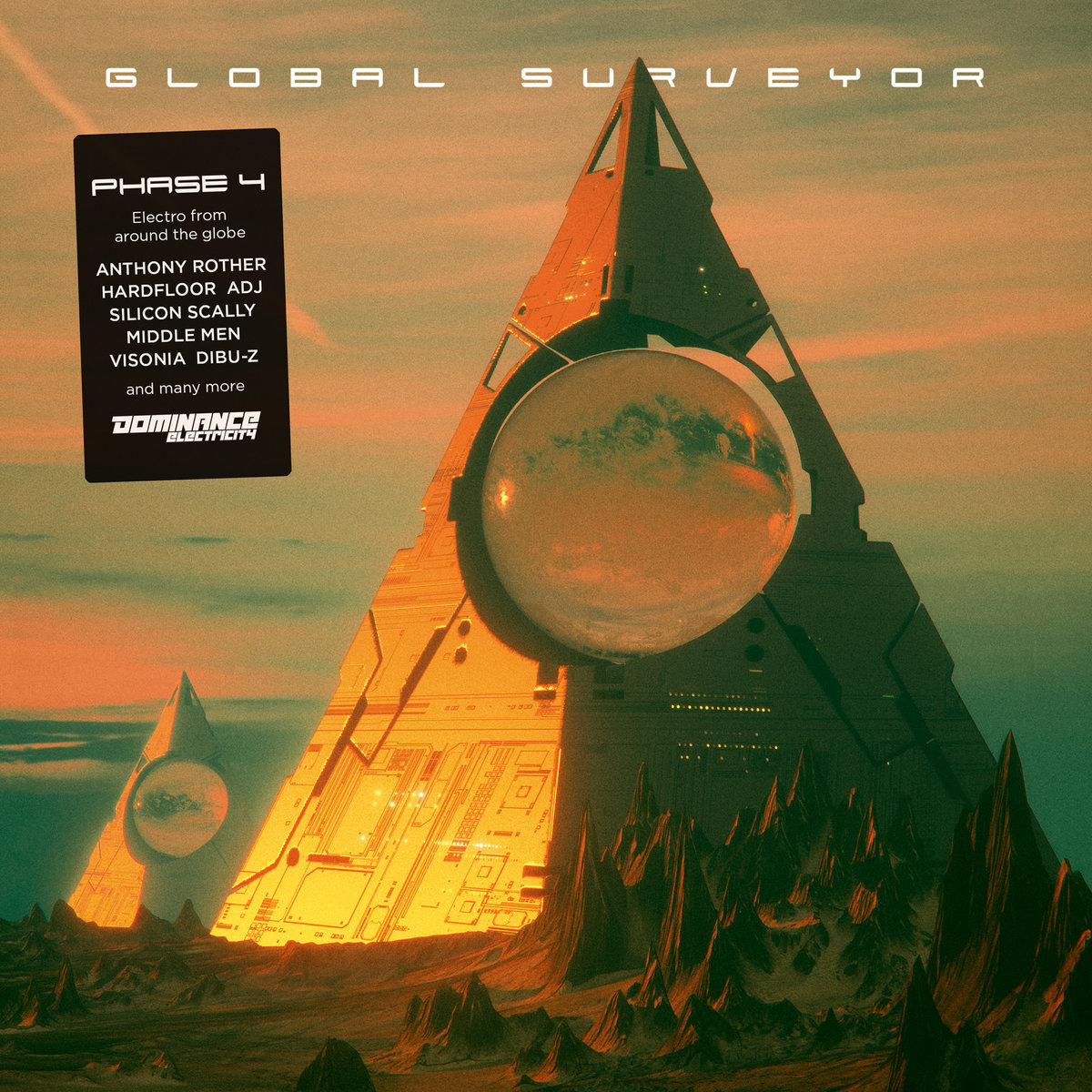 Artist:
VV.AA.
Title:
Global Surveyor Phase 4
Format:
2 x CD (double CD)
Label:
Dominance Electricity
Rated:
Nine years after the third volume, "Global Surveyor", the compilation issued by Dominance Electricity is out with the fourth volume/phase and this time is huge! Available as four vinyl records (clear vinyl with poster or black), double CD digipack or digital download, "Global Surveyor Phase 4" contains twentyfour tracks/projects for a total of almost two hours and twenty minutes! It would be impossible to talk about all the tracks but I'd like to start telling that in the last twenty years electro music has been in continuous evolution and the various projects started to mix influences in a new stimulating way and also this compilation isn't focused only on electro funk, but it sums up pretty well what is going on with electro right now. You'll find influences of: i.d.m. (Keen K), detroit electro (Heliopause, Middle Men, Obsolete Robotics), minimal techno (Tekkazula, Wilx, Blake Casimir, Low Orbit Satellite), Kraftwerkish electro (Anthony Rother, Patronen), acid (Hardfloor) just to name some. Also, among the well known names of the genre as Anthony Rother, Visonia, Heliopause (they did only a MLP but they are formed by Aux 88's Keith Tucker and Tommy Hamilton plus Dynamik Bass System's Thomas Werner), Silicon Scally or Hardfloor, we find totally new comers as Rauschenmaschine, Wilx, Tyraell and C*NT. The quality is guaranteed by Matthias M. Weise, the main man behind Dominance Electricity and too bad there isn't a new track by his own project Sbassship included here. There are many tracks that stand out already at the first listening: isn't a case if Heliopause, Middle Men, Kalson, Anthony Rother and Keen K open the compilation, because they already offer a wide example of what we're going to listen to: spacey pads, some menacious vocals, Detroit electro bleeps, complex rhythm patterns, robotic atmospheres and much more. This compilation is a must have and it grows with the listenings. Try it for yourself by checking all the tracks at the label's SoundCloud https://soundcloud.com/dominance-electricity/gs4
Techno / Trance / Goa / Drum'n'Bass / Jungle / Tribal / Trip-Hop
Edit (10452)
Artist:
Greenvision
Title:
Rambutan
Format:
Download Only (MP3 + Lossless)
Label:
ESP Institute
Minimal in some ways but not in others, the three tracks on "Rambutan" are built on understated house grooves with more than a slight late 80's flavour, but layered up quite thickly with abstract sounds, ethnic tones and ebbing and flowing effects into pieces that have real character and a relaxed, fairly playful attitude.

Lead track "Banana Paradiso" is the most feel-good, with bright chords and plinky noises, though it's not as cheesy as the title makes it sound. But it's B2 "The Color Of Maracuja" that's probably my favourite of the three, with extra use of jazzy slightly Rhodes-style chords playing rolling over the most determined-sounding of the three grooves, the only one with a notable hint of edge.

All three are perfect for gentle afternoon beach dancing, mellow and toe-tapping- it's a leisurely, Summery 12" with broad appeal.
Artist:
Basic Biology
Title:
Twilight / Sensational
Format:
Download Only (MP3 + Lossless)
Label:
Free Love Digi
(@)
Rated:
Artists orbiting around the digital label Free Love Digi by the wit and inventive producer Quentin Hiatus keep on pushing interesting outputs by shuffling the cards of its deck of styles. Basic Biology is one of the outputs of this musical/genetic melange, coming out by the crossbreed of two different drum'n'bass producers, who met through their common friend Ghast. On one side, we find Thomas Brinson aka Thomas B, whose atmospheric style, driven by masterfully-built pattern, often goes darker, even if the sonorities that he explores on Basic Biology are closer to the more placid ones he exposed on Sugar and Spice EP (maybe the first or one of the first release on FLD), while on the mother side there's the brilliant multi-instrumentalist Matthew Cassidy, whose sonorities are generally brighter than the one of his counterpart. Just two halftime-dnb tracks on this output: "Twilight" (featuring the sweetly sour voice by Megan McKey) could perfectly fit a pensive chilling or romance in the eventide on the beach, while "Sensational" (vocalised by Matthew Cassidy itself...even if some younger lads could think Alvin or some other chipmunk is on the mic!) is a nice see-saw between chilling Balearic downtempo and sudden acidulous stings.