Synth Pop / Electro Pop / Synth-Electronica
Edit (6765)
image not
available
anymore
Artist:
Code 64
(@)
Title:
Deviant
Format:
Download Only (MP3 + Lossless)
Label:
Progress Productions
(@)
Rated:
Third release out of their smasher-album 'Trialogue', to me 'Deviant' is a much choice compared to the predecessor 'Masquerade'. 'Deviant' is a fine, dancefloor-oriented Synthpop-song with a catchy-as-hell chorus in a modern sound-design. Parralox and Spark! Are the both prominent guest providing the usual remix contribution, while both can not match with the original. More interesting is finally the 'cover' version of this track by the Greek Metal-project A Sorrowful Angels, which of course lefts the smooth, Synthpop-related sound-environment. But highlight of this 5-tracker is the Frequencer remix of the brilliant ballad 'Oblivion', which is for sure one of the most demanding Code 64 tracks to remix. Nice delay-effect, a rather post-modern IDM/Ambient rhythm section, plus the crystal-clear vocal performance of the new singer Bjørn Marius Borg, transforming this track to another valuable experience. An EP which follows business strategies can not at all replace the quality of their album, but it finally still holds a few good aspects to get consumed. For fans of these Swedish trio a must-have item.

image not
available
anymore
Artist:
Fractured
(@)
Title:
Beneath The Ashes
Format:
CD
Label:
Metropolis Records
(@)
Distributor:
Industrial Music
Rated:
What have we waited for this? More than five years after the brilliant second album 'Only Human Remains' of this Canadian Electro/Industrial-project, Mastermind Nick Gorman starts his long awaited comeback with this all new album entitled 'Beneath The Ashes'. And it starts, where 'Only Human Remains' has stopped. The opening track 'Beneath The Ashes' represents Nick's sense for perfect inserted synthesizer-pads, searching for their mutual, smooth path with the integrated acoustic guitar loops. That the last five years haven't left Mr. Gorman unaffected, well, that I had to learn with the next tracks. Especially 'You Are (The Voice Inside My Head)' with Nick's natural sounding voice and a nearly singing-along-the-parts-like chorus are turning this track dangerously near to the Synthpop-genre ' but thumbs up for this 'experiment', which turns to be out quite assessable. Not to forget to mention, that Nick relies again on the talent of some long-years' comrades like the brilliant spoken-word-artist Squid a.k.a. It-Clings ('Transcendental Rage For The Fundamentals'), or M@ of Encephalon ('Anesthetic'). Haunting Industrial-Metal guitar-loops are nowadays also an 'allowed' weapon to express some his tracks, 'Save Me' starts it, 'We Bare These Scars' highlights it. Finally 'Disengage' is again a witness specially dedicated to the more classic Dark Electro-audience. 'Beneath The Ashes' is definitely the more matured work of Nick Gorman compared to the predecessor, although this means, that Nick has intentionally developed a bit away from that haunting, classic Dark Electro-stuff, with which he has grown up. That isn't a negative point, because Nick proves to write more personal songs with better compositional skills. If it then turns out with tracks like 'You Are (The Voice Inside My Head)' to enter the bastion Synth-/Electropop, then I agree, since this helps Nick to be better recognized. Not to forget, that he has started nearly from scratch again, because most of the younger listeners are hardly able to remember an album released in 2005 due to our stress-driven life-times. Thumb up for this good and well-produced Electro-/Industrial album.

image not
available
anymore
Artist:
Blame
(@)
Title:
Convergent Fields
Format:
Download Only (MP3 + Lossless)
Label:
Ionium Records
(@)
Rated:
Unbelievable, that the needs and his job at the gaming industry would at least offer Boris Posavec a free time-window, to work on this very detailed follow-up album 'Convergent Fields', after his official and highly praised debut release 'Water'. 'Water' has seen the light of a release in 2007 on the unfortunately too early gone German label Klangdynamik, which has set one or another milestone against the still continuing Hellectro-rush with fabulous releases of bands like Fection Fekler, Nordschlacht ('¦which have nowadays renamed into Pyrolline'¦), Collapse Project, of just Blame. And Boris proves that 'Water' wasn't at all a one-hit wonder album. Compared to 'Water', this new album can be called the hoped for development, which more than before places Boris to be a fine producing Electro-/Industrial musician, whose talent isn't reduced on a simple preset sound or stolen rhythm pattern. Although pretty much dancefloor-oriented, you'll find several niches and details in the sound-environment of Boris, which will bind you under your pair of headphones. The opener 'Progeny' for instance offer some interesting vocal fx-manipulations and multiple percussion patterns. 'Logical' follows with bass-line programming, which sounds quite related to Fix8:Sed8 ' has Mr. Sane had his fingers on this track? Also the fast pacing title track has my preference with its homogenous changes between verses and chorus and the different vocal fx-treatment. The cold 'Begotten' turns out to be a classic Dark Electro pearl worth to mention too. Friends of a valuable synthesizer programming featuring opulent sweeps and pads have to take a listen to 'Protozoa' and the hidden, not-listed last track. Diversity and the art to integrate this big word tatstefully, that is something, Boris is well capable to deal with, Let's keep the fingers crossed, that this project won't take again such a long pause between two albums. Good and well produced Electronica music!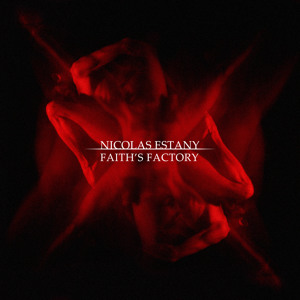 Artist:
NICOLAS ESTANY
Title:
Faith Factory
Format:
Download Only (MP3 + Lossless)
Label:
Romance Moderne
Rated:
Coming from Chile, Nicolas Estany is releasing through Romance Moderne his second E.P. titled FAITH FACTORY. His first one "Third Eye Of Child" has been released always in 2011 by Black Montanas and had four different takes of the main track (even if the titles are different, the melodies and the core of the tracks is the same). On FAITH FACTORY Nicolas presents four new tracks plus "The Last Firefly", which is a different version of the opening main title (which is an instrumental track), with the add of Andy of Oppenhaimer Analysis on vocals. You read right, Oppenhaimer Analysis, the 80s duo that had their stuff reissued by Minimal Wave during the last years. On this release Nicolas fit better the sound of what the label proposed until now: cold wave electronic sounds. In balance from new wave, minimal wave and electronic obsessive distortions (like on the closing "Autumn Leaves"), FAITH FACTORY's track listing is a good mix of electronic danceable rhythms, cold atmospheres and melancholic melodies. Nicolas wrote all the music and like on the aforementioned song, also on "False History" and "Bonjour Deception" he had guest vocals: Xiu on the first one and Bastian on the latter one (his deep voice and French lyrics add a nice atmosphere to the track). This is another cool Romance Moderne release which calls for your attention. P.s. You can check the tracks at Nicolas' Soundcloud page.
Synth Pop / Electro Pop / Synth-Electronica
Edit (6756)
Artist:
Arsine Tibe'
(@)
Title:
Good evening, the mountain said
Format:
CD
Label:
Echozone
(@)
Distributor:
Masterpiece
Rated:
One leg of the synth-pop duo !Distain, Manfred Thomaser looks like having come back with the tables of the law (or better a 10-track new album!) after some chat with an unknown god smoking and chilling at lounge noir, his imaginary temple arguably hollowed on the side of some high well-mannered mountain (as the title suggests, it should be the same mountain who used to pursue Mohammed, which nowadays due to the fact there're too many pavid mad people who easily call for police to protect themselves even from people who incidentally walk on the same route to get out from a station, it confined itself to merely greet!), through his solo-project Arsine Tibe'. If you didn't know such a sonic semblance and demanour, when Manfred wears Arsine Tibe''s dress, he normally entartains listeners in a less enquiring way without refraining from simple compositional schemes combined with a narrative approach, delicious hooks on some 80ies sonorities. The initial track "Light" dips the sound in the ink of some sacred text by a delicate percussive textures, leavened synth sounds and the spongy vocal performance by Tania Murray (I have to say that the light hypnotical breeze of the song as well as the gentle vocal tune of the singer repeating "give me the light, give me the anime" could induce some of you to post some comics and a lighter to Tania!), whereas the second track plays on the contract between the dim evoked by the title "Darkness" and the general mood of the lyrics and the ethereal shine of the sound close to some stuff by Ataraxia or Cocteau Twins. The simple bassline and some delayed synth-piano of "In My Room At Night" bring gracefully the listener into the oniric dimension where Manfred could have imagined (or just dreamt) the narration, which looks like described as "a stranger's dream" or arguably a possession by "a stranger's mind" by Tania's voice in "Dawn At Night", where the possessed girl ("feeling not like a girl") finds herself in a noisy lounge bar (it's quite bizarre the jump of setting in "Maximum boy", the track describing such a change of scene), which looks like belonging to an undefined past time. I dont' anticipate anything about the way this character reaches its redemption and enlightenment, but it's quite clear this album sounds like a soundtrack of a spiritual journey whose goal is the understanding of the roots of existence. From the stylistical viewpoint, I think that Arsine Tibe' could be considerably enhanced by recurring to less conventional and braver choices, but it's appreciable anyway.