Synth Pop / Electro Pop / Synth-Electronica
Edit (6932)
Artist:
Pupkulies & Rebecca
(@)
Title:
Looking For the Sea
Format:
CD
Label:
Normotion
Distributor:
ALIVE/FINETUNES
Rated:
This interesting release by Pupkulies and Rebecca, alias Janosch Blaul (musician) and Rebecca Gropp (singer) partners in life and in work, is a multifaceted journey into music , which starts with the gentle intro of the title track "Looking for the sea", travelling through more involving sounds such as "Fou de Toi" and "Ici" ones, experiencing more intimate landscapes with "Fullest Moon", to finally return to the extended version of "Looking for the Sea".
In this journey mild atmospheres take turns with lively ones, in order to never bore the listener. The main thread is house, not in the general American sense, but with a more European taste. Infact most part of this release has been recorded in the south of France.
The songs are sung both in English and French. They are way more than simple tracks. Maybe "chansons" is the right description, because they have heart, they communicate unrestrained joy for music and inspire to dance as well. All of the above thanks to the employment of rustling leaves, old synths, an organetta from the flea market. Each sound has been carefully chosen by Sepp Singwald to be tailored for Rebecca's voice and to make it part of the whole final design.

Synth Pop / Electro Pop / Synth-Electronica
Edit (6931)
Artist:
DATO
Title:
Letting Go
Format:
Download Only (MP3 + Lossless)
Label:
Mullet Records
(@)
Rated:
"Letting go" is the newest one song single by Dato which, after the "Bangkok" single, is releasing for Mullet Records a new vibrant nu-disco tune. The song is a nice mid tempo with funky guitar riffs, 4/4 punching rhythms, bass slaps, catchy melodies and sensual female vocals. You can find it in three different versions: Radio Edit, Extended Mix (it lasts two minutes more) and Extended Dub (basically is an instrumental version). Check them and pick up your preferred one or the whole release if you want to support the label.
Synth Pop / Electro Pop / Synth-Electronica
Edit (6930)
image not
available
anymore
Artist:
BOYWITHOUTMEMORY
Title:
Heights
Format:
Download Only (MP3 + Lossless)
Label:
Romance Moderne
Rated:
Coming from Berlin, Boywithoutmemory is the latest band that signed for Romance Moderne. The last time I talked to Coco she told me that Romance Moderne wanted to cover different styles of electronic music and with Boywithoutmemory they did it by picking up a band that differ from the 80s electronic sound of the previous releases. The four tracks of "Heights" mix the electronic wave of the 80s with synthpop, neo-dance and a bit of funk. Along with Simmons pads like sounds, the band build their sound on nice guitar riffs, catchy synth pads and lead solos. I don't know if you had the chance to check DFA bands like Holy Ghost! or Juan MacLean. Well, try to imagine that kind of atmospheres but with much more catchy melodies, upbeat tempos and cool synth sounds. After the summer Romance Moderne will release its first vinyl compilation. Don't miss it and stay tuned here for more great releases from this label... Check the whole release here http://romancemoderne.bandcamp.com/album/heights
Artist:
Cyberpunkers
Title:
EPIC
Format:
12"
Label:
Freakz Me Out!
(@)
Distributor:
Groove Attack
Rated:
After many gigs where this Italian couple of masked electro-house animators where they should have noticed their music smashed away all paralyzing factors of the coldest audiences, Cyberpunkers decided to apply this attitude to every forthcoming ventures they announced so that they shattered their new EP Trilogie into three mini-eps and Epic is just their first one, which has been issued in conjunction with the beginning of their EPIC Worldtour in Europe, according to a prompt schedule intended to launch it with the track which is opening their gigs. On this appetizer, beside the above-mentioned track, there are also two incendiary electronic dance tunes, "Are You Ready?" and "Dungeon", where they unmask their light change of route towards more "rockish" sounds, even if they basically keep on champ those 8bit-like pulses and slides and that feeling I had about their past releases and their sound, which appears to my ears as the clubbish consecration of those hypnotical jingles some crackers normally add on little apps to cheat videogames or find hidden codes for activation of many programs, which sound like having been remixed by Noze, Glimmers or Chemical Brothers on Cyberpunkers'consoles. You can love or hate them, but what we're sure about are the enthusiastic feedbacks by all those who took part to their hellish exhibitions, where they normally manage to turn dancehalls into concrete funny bedlams.
Synth Pop / Electro Pop / Synth-Electronica
Edit (6912)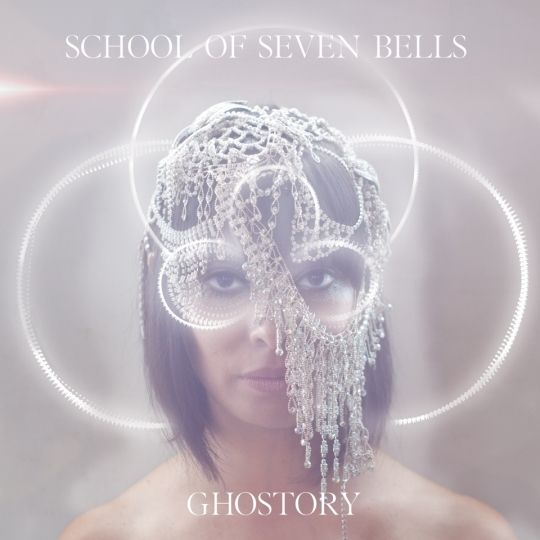 Artist:
School of Seven Bells
Title:
Ghostory
Format:
CD
Label:
Vagrant/Ghostly International
(@)
Distributor:
Revolver/Midheaven
Rated:
'Everyone has ghosts', says Alejandra Deheza, the voice of School of Seven Bells. 'They're every love you've ever had, every hurt, every betrayal, every heartbreak. They follow you, stay with you.' Ghostory tells the story of Lafaye, a young girl surrounded by ghosts.

There's something ghostly about Alejandra Deheza's vocals; she remains detached, aloof, drifting above the beats and soundscapes conjured by guitarist/producer Benjamin Curtis. Mining the rich ore of gloomy British music from the past 3 decades, they condense and refine Bernard Sumner's ringing guitars, like on album opener 'The Night', with submersive dubstep sub-bass, with Deheza's vocals sprinkled like confectioner's sugar over slick club beats, to create a mutant strain of darktranceshoegaze. With a distinctive DSP sheen, reminiscent of Ulrich Schnauss or M83's epic grandeur, there is also a decided lack of grit and muscle. Many have declared this record destined for high-end clothing boutiques and cafe's the world over, best to be politely ignored, but it successfully evokes an otherworldly quality, like being wrapped in cotton or sterile gauze. It is the sound of a detached eye, floating through hyper-saturated, overly colorful streets, feeling like a stranger.

On Ghostory, SVIIB have pared down to a duo, after the departure of longtime member Claudia Deheza, making Ghostory a more intimate, organic affair, with Alejandra Deheza and Ben Curtis jamming and writing in real-time, more of an interplay than a bricolage of bric-a-brac, but i still don't get the feeling that they are in a room together, like they're afraid to look at each other. Alejandra Deheza is the wind; Curtis is the rising tide.

The superb production guarantees that Ghostory will sound great through a club's PA, and tracks like 'Low Times' or 'White Winds', with their infectious disco grooves, will be instant DJ favorites, with the gorgeous and open 'Reappear' will slacken the ecstacy hangover. School of Seven Bells have released an impressive body of work, so far, and they show themselves to be constantly evolving. I saw them live, at a Ghostly International showcase in Seattle this last summer, and was blown away by their stage-show, more Radiohead than Tiesto, and proved to me that School of Seven Bells, and almost everything on Ghostly International, is worth paying attention to.