Artist:
Redrum Alone
(@)
Title:
De Redrum Natura
Format:
CD
Label:
Ufo Solar
Rated:
After one year and half here we are talking about Redrum Alone again. The Italian duo formed by Tommaso "Qzerty" Danisi e Piero "Peet"Pappalettere is now delivering through Ufo Solar their first full length "De Redrum Natura". The album contains eight new original songs plus two covers: Joy Division's "She's Lost Control" and CCCP's "Emilia Paranoica" (track which has been included on a compilation sold along with XL magazine and printed in 80000 copies). Since the last time I talked about them, they played into several clubs and festivals around Italy, opening for international acts like Kruder & Dorfmeister, T.raumschmiere, Tying Tiffany, Aucan, etc and they also became Waldorf endorser. The new album is convincing me more compared to the previous EP and it sounds also more powerful and catchy. The whole sound and the songwriting is recalling me Digitalism and I like to think that in Italy we have a band that sounds that kind of electro dance which is based a lot on good melodies and cool sounds. The album opens with a short self named track where vocoder, dry sounds and arpeggios welcome the listener. "RevolutionAir" is a nice mix of arpeggios, fat distorted bass lines, 4/4 rhythms and melodic vocoder filtered vocals. There are different of their tracks that would please also the lovers of the French electro sound (Daft Punk, Justice or Kavinsky to name a few), check: "Remote", "No Guitars Were Used In Making These Tracks" or "MidNight". "User Interface", instead, mix hard electro beats, in levare distorted bass lines, electro house pads and filtered vocals and it sounds just nice. The two covers a really good as they took the original versions and transposed them into the Redrum Alone world changed them a lot but keeping alive their spirit. You almost won't recognize "She's Lost Control", but if you aren't purists, you'll love this energetic upbeat version. Is strange to hear "Emilia Paranoica" with cool arpeggios and dance rhythms but this doesn't matter, because it sounds good. As you can imagine by what I wrote, I liked a lot "De Redrum Natura" and if you love cool melodic songs with dance attitude give to this album a chance and go to see the duo live, they are playing around...
Synth Pop / Electro Pop / Synth-Electronica
Edit (7139)
Artist:
S.P.O.C.K.
(@)
Title:
The Best Of The Subspace Years
Format:
CD
Label:
Artoffact
(@)
Rated:
Artoffact wisely thought that the time for setting US coordinates of the starship which carries this funny Swedish synth pop band mainly inspired by Star Trek saga (but there are many references to other notorious sci-fi movies as well - is ripe, so that SPOCK - acronym for Star Pilot On Channel K! - come out from their capsules to spread their music in the States with this limited deluxe edition, which includes 19 of their most successful tracks, including some authentic club hits such as "Dr.McCoy" (if you followed Star Trek you should know who's this character), "Klingon 2000", "Alien Attack", "E.T. Phone Home", "Not Human", "All The Children Shall Lead" and many more. The circulation of bizarre and somewhat odd theories about human origins, alien role in the development and building of civilization and technology, fake religions or conspirational theories (think about David Icke's list of alien races such as Reptilians or Greys, Church of SubGenius, Illuminati and other subcultures which argue some external intervention, which could explain the collapse of human civilization and its spread over Internet during last years, particularly in times when the discrepancies between people needs and policies adopted by governmeents are getting so wide that someeone could believe they came from some malevolent alien race!) will make the understanding of the caustic and amazing irony of S.P.O.C.K.'s songs and lyrics whereas the evergreen liking for synth-pop (it's so evergreen that Depeche Mode still manages to fill arenas even when they issue mediocre releases), which this Swedish guys wondrously interprets by adding some piquancy with a considerable dosage of irony, meaningful vignettes and nice sounds as well, is going to facilitate rocket-propelled dances engineered by these lads.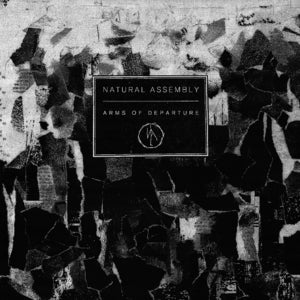 Artist:
Natural Assembly
Title:
Arms of Departure
Format:
12"
Label:
Avant! Records
Rated:
Coming from London and born the last year as a solo project of Jesse Cannon, after the release of the first demo, Natural Assembly became a duo with the arrival of Z. Zsigo and soon after made two other tapes. Now, thanks to Avant!, they are ready for their major release, a 12" vinyl EP titled "Arms Of Departure". Influenced by industrial electronic music and new wave, the duo packed six tracks where reverberated drum hits mark the rhythm while analog synth lines build the melodic background of the tracks. To the whole you have to add resounding vocals that sing quasi unintelligible lyrics. Being capable of making anxious atmospheres, the duo's lyrics are quite decadent and tormented. On "19.03.12" they sing: "The warmth of the springtide guides the blossoming of the child through the dull fog of life enduring the bright fractures of times existence" and on "Ruination": "Trapping me tight, the structure forces me down, our bodies entwine but our spirits will fadeout". They the right companion to the other label's bands Lust For Youth, War and Contrepoison. Nice...
Artist:
Kid606
(@)
Title:
LSDMTB303 EP
Format:
Download Only (MP3 + Lossless)
Label:
Tigerbeat6
(@)
Rated:
A record by Kid606 without breaks or rhythmical cracks could be associated by many fans of the defiant sonic whims by Miguel Depedro to a flat-chested Barbie with big cellulite ass, limbs contorted by arthrosis, deep wrinkles, serious goitre, hiatus hernia and taken tothe cleaners by exorbitant fees from plastic surgeons and injunctions to pay from luxury car dealers, perfumeries and beauty centers (Damn it...I should avoid giving these ideas to toy factories!), but even though Miguel is no more a youngster, I shouldn't say this new stylistical course will collide with listener's expectations and thinking of Kid606 while playing melodies and microtextures on a 303 after knitting on a rocking chair in spite of first balding symptoms is definitively too untimely! On the contrary, all those who knows Kid606 releases will recognize his touch as well as a certain acid mocking irony since the very first steps of this EP, when a dim voice repeats the title "Everything Is Business...a shame" over a typical dubstep tune. The uncommon face of Kid606 comes out with dispatch over the following tracks: whereas tracks like "Love Me", "I Want Her Wings" or "Dark Archipelago" could recall to mind some easygoing synth-pop stuff based on simple warm melodies and sounds from some arcade or atari game (think about Ratatat remixed by AFX or any other Rephlex producer!), there's an authentic plunge in elderly sonorities and suggestions of primeval synth-electronica in tracks such as "Temporary Revelations" and "Hood Gone Mad" with its burden of collective imagination borrowed from movies or literature, but the most astonishing moment comes in "When Things Come Together" when these two aspects of Kid606's renowned sound have been merged together. This EP anticipates Kid606's forthcoming full length "Lost In The Game" and he cannot but choose a better way to make listener's mouth (or eardrums) water!
Synth Pop / Electro Pop / Synth-Electronica
Edit (7116)
image not
available
anymore
Artist:
VV.AA.
Title:
Les Annees Folles
Format:
12"
Label:
Enfant Terrible
(@)
Rated:
"Les Annees Folles" is a new Enfant Terrible compilation which is the first release on their Gooiland Elektro sublabel. The 12" contains six tracks/bands that are active into the synthpop/electro wave scene and each of them give their personal interpretation of a genre which crossed three decades with bands that redefined the genre or paid tribute to the golden years of electronic music: the 80s. The compilation opens with Sololust, band that already had a 7" out on Enfant Terrible and that will have soon a new 12" released by the label. Their tune, "The Spark", is a nice synth wave mid tempo with hard beats and seducing atmospheres. Velvet Condom have already two albums on their back and are here with "The Stars Are Not Right", a convincing melodic synthpop tune with bouncing rhythms, vocoder inserts that duet with synth pads stabs. Gold Zebra are coming from Canada and released an EP a couple of years ago. With "Useless Night" they mix ebm sounds with nigth atmospheres and warm female vocals. Cute Heels feat. Devon Disaster with "Slave Toy" mix ebm and electro creating the right atmosphere for a kinky game. Tobias Bernstrup is here with and updated version of "Images Of Love", a track coming from his 1998 CDr. His synthpop always works great and this tune has many italo disco influences. I think that you already know Terminal Twilight and that you already checked their album "House Of Love". They sound like a mix of early New Order and Chromatics and "Too Late For Tears" is their tune that closes this nice compilation.