Synth Pop / Electro Pop / Synth-Electronica
Edit (6930)
image not
available
anymore
Artist:
BOYWITHOUTMEMORY
Title:
Heights
Format:
Download Only (MP3 + Lossless)
Label:
Romance Moderne
Rated:
Coming from Berlin, Boywithoutmemory is the latest band that signed for Romance Moderne. The last time I talked to Coco she told me that Romance Moderne wanted to cover different styles of electronic music and with Boywithoutmemory they did it by picking up a band that differ from the 80s electronic sound of the previous releases. The four tracks of "Heights" mix the electronic wave of the 80s with synthpop, neo-dance and a bit of funk. Along with Simmons pads like sounds, the band build their sound on nice guitar riffs, catchy synth pads and lead solos. I don't know if you had the chance to check DFA bands like Holy Ghost! or Juan MacLean. Well, try to imagine that kind of atmospheres but with much more catchy melodies, upbeat tempos and cool synth sounds. After the summer Romance Moderne will release its first vinyl compilation. Don't miss it and stay tuned here for more great releases from this label... Check the whole release here http://romancemoderne.bandcamp.com/album/heights
Artist:
Cyberpunkers
Title:
EPIC
Format:
12"
Label:
Freakz Me Out!
(@)
Distributor:
Groove Attack
Rated:
After many gigs where this Italian couple of masked electro-house animators where they should have noticed their music smashed away all paralyzing factors of the coldest audiences, Cyberpunkers decided to apply this attitude to every forthcoming ventures they announced so that they shattered their new EP Trilogie into three mini-eps and Epic is just their first one, which has been issued in conjunction with the beginning of their EPIC Worldtour in Europe, according to a prompt schedule intended to launch it with the track which is opening their gigs. On this appetizer, beside the above-mentioned track, there are also two incendiary electronic dance tunes, "Are You Ready?" and "Dungeon", where they unmask their light change of route towards more "rockish" sounds, even if they basically keep on champ those 8bit-like pulses and slides and that feeling I had about their past releases and their sound, which appears to my ears as the clubbish consecration of those hypnotical jingles some crackers normally add on little apps to cheat videogames or find hidden codes for activation of many programs, which sound like having been remixed by Noze, Glimmers or Chemical Brothers on Cyberpunkers'consoles. You can love or hate them, but what we're sure about are the enthusiastic feedbacks by all those who took part to their hellish exhibitions, where they normally manage to turn dancehalls into concrete funny bedlams.
Synth Pop / Electro Pop / Synth-Electronica
Edit (6912)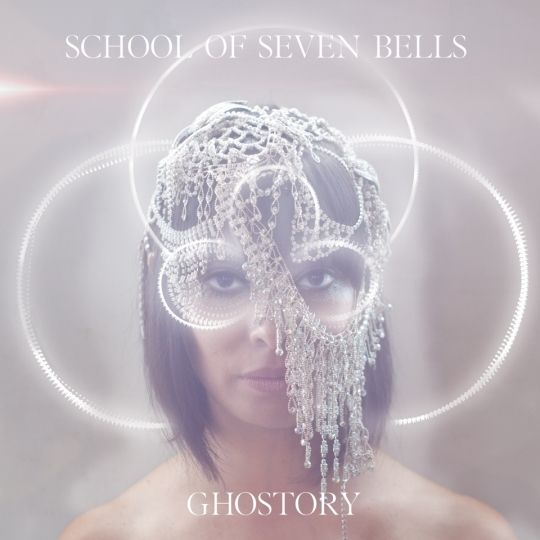 Artist:
School of Seven Bells
Title:
Ghostory
Format:
CD
Label:
Vagrant/Ghostly International
(@)
Distributor:
Revolver/Midheaven
Rated:
'Everyone has ghosts', says Alejandra Deheza, the voice of School of Seven Bells. 'They're every love you've ever had, every hurt, every betrayal, every heartbreak. They follow you, stay with you.' Ghostory tells the story of Lafaye, a young girl surrounded by ghosts.

There's something ghostly about Alejandra Deheza's vocals; she remains detached, aloof, drifting above the beats and soundscapes conjured by guitarist/producer Benjamin Curtis. Mining the rich ore of gloomy British music from the past 3 decades, they condense and refine Bernard Sumner's ringing guitars, like on album opener 'The Night', with submersive dubstep sub-bass, with Deheza's vocals sprinkled like confectioner's sugar over slick club beats, to create a mutant strain of darktranceshoegaze. With a distinctive DSP sheen, reminiscent of Ulrich Schnauss or M83's epic grandeur, there is also a decided lack of grit and muscle. Many have declared this record destined for high-end clothing boutiques and cafe's the world over, best to be politely ignored, but it successfully evokes an otherworldly quality, like being wrapped in cotton or sterile gauze. It is the sound of a detached eye, floating through hyper-saturated, overly colorful streets, feeling like a stranger.

On Ghostory, SVIIB have pared down to a duo, after the departure of longtime member Claudia Deheza, making Ghostory a more intimate, organic affair, with Alejandra Deheza and Ben Curtis jamming and writing in real-time, more of an interplay than a bricolage of bric-a-brac, but i still don't get the feeling that they are in a room together, like they're afraid to look at each other. Alejandra Deheza is the wind; Curtis is the rising tide.

The superb production guarantees that Ghostory will sound great through a club's PA, and tracks like 'Low Times' or 'White Winds', with their infectious disco grooves, will be instant DJ favorites, with the gorgeous and open 'Reappear' will slacken the ecstacy hangover. School of Seven Bells have released an impressive body of work, so far, and they show themselves to be constantly evolving. I saw them live, at a Ghostly International showcase in Seattle this last summer, and was blown away by their stage-show, more Radiohead than Tiesto, and proved to me that School of Seven Bells, and almost everything on Ghostly International, is worth paying attention to.
image not
available
anymore
Artist:
JOHN FOXX AND THE MATHS
Title:
The Shape Of Things
Format:
CD
Label:
Metamatic Records
Rated:
"The Shape Of Things" is the follow up to "Interplay", which was the first John Foxx And The Maths album. The project born from the collaboration of Foxx with electronic composer and synthesizer collector, Benge (Ben Edwards), who is best known for his 2008 album "Twenty Systems". Composed just using analog synths the Maths isn't an archeological project as for John Foxx is like to be back to "the place of the murder", because he already used those keyboards on his early days (I saw a photo where he program one of those with notes of patches he did decades ago) and it's like he went back to find a new creative vein. "Interplay" already showed how well the duo interaction worked and if that album was sounding bright and energetic with some epic moments (like "Destination"), "The Shape Of Things" is like it's the darker sister album. Containing short instrumentals (like the opening "Spirus" or "Psytron" and "Astoria", to name few) which set an intimate atmosphere that sounds a little experimental, the first song "Rear-View Mirror" seems to come from "The Garden" or "Metamatic" albums. Foxx and Benge sure know how to create a gem alternating arpeggios to catchy melodic lines. "Talk" has a menacing bass sound and a fragmented rhythm line and John sounds like in trance. "September Town" is a nice mid tempo with bright atmospheres and prepares to the low frequencies of "Unrecognised", a passionate mid tempo a bit melancholic. "Modreno" is another experimental instrumental and after that the sound explodes with "Falling Away", another mid tempo where Foxx plays interludes of distorted guitar which work as counterpart to his calm vocals. Bright atmospheres are back with "Vapor Trails" and I find that the alternation of dark/bright/experimental sounds is working great and none of all the fourteen tracks of the album is a rip off. The CD contains also two bonus tracks: another version of "Talk (Beneath Your Dreams)" featuring techno producer Matthew Dear (now the track sounds even more dark with those 4/4 beats and drone sounds) and "Where You End And I Begin". Featuring Tara Busch, electronic composer also endorsed by Moog, the track is a nice dreamy upbeat tempo with Tara on vocals. "The Shape Of Things" is a great album and convinced me even more than "Interplay". It will be out on March 23rd, take a note!
Synth Pop / Electro Pop / Synth-Electronica
Edit (6906)
Artist:
Nite Jewel
Title:
One Second of Love
Format:
CD
Label:
Secretly Canadian
(@)
Distributor:
SC Distribution
Rated:
On One Second Of Love by Nite Jewel, the project of Ramona Gonzalez from L.A., we find the singer emerging from the fog-machine obfuscation of her previous record, 2009's Good Evening. In the ensuing clarity, she pries back her rib cage, to reveal her day-glo chrome ventricles.

Nite Jewel, like other recent 80s re-creationists like Zola Jesus or Portland's Vice/Device, romanticizes the early days of MTV, days of roller-rinks and hot pink futurism, but where
Zola Jesus is calling upon early Cocteau Twins or Siouxsie and the Banshees, Ramona Gonzalez is summon the phantoms of Prince, Madonna, or Grandmaster Flash. Funkier than the rest, less cold too, One Second Of Love shows Nite Jewel to be a romantic: it's music for getting ready for a night out, 'This Story', or dancing next to a floor-length mirror in a shadowy night-club, 'In The Dark'. Gonzalez is a talented producer - working with longtime collaborator producer Cole MGN, who has also worked with Ariel Pink's Haunted Graffiti - she has a knack for picking the right synth setting at the right moment, with crisp tasty beats, expertly placed in the stereo spectrum, they show her hip-hop tendencies. It keeps the record moving along, engaging and textured, it doesn't get boring, it RACES to its end, it is STREAMING towards the future.

One Second Of Love stands up well to scrutiny, Gonzalez has a warm pleasant voice with emotionally stirring lyrics, and her beats and synths are crisp and clearer than what would've come out in 1983. At first i was irritated by the stylized funk, but i gave it a chance, spinning it again and again, while washing dishes or reading or staring out the window. Nite Jewel didn't reveal her facets until i paused to listen, digging in with with a pair of headphones, listening to her older records, which i hadn't heard in a while, stopping to consider the context. The strength of the revisionist is that they can call upon the greatest strengths of whatever genre they're working in. Nite Jewel pulls out the romance and optimism and glamour that was buried in records from Hall and Oates or Michael Jackson; the sleek sexiness, the bright colors, the decadence, while the superficiality and greed get parsed out in the sieve.

Ramona Gonzalez is growing and getting more confident as an artist. One Second Of Love will mainly appeal to old goths and fan of the new New Wave, like Fever Ray, The Knife, or underground Witch Haus screwheads. This wave of sonic archaeologists are re-imaging the past, creating an alternate History to conjure a Present they can bear. They are striving for romance and passion and excitement, a sense of adventure, of purpose and direction. They are taking stock of what has come before, and deciding which way to go from here.