Artist:
Needle Factory
(@)
Title:
Goetia
Format:
CD
Label:
Unrepresented Music
(@)
Rated:
After their 6-track debut release 'Jubilee' through D-Trash Records earlier this year, Manchester-based Electro/Industrial-duo Needle Factory returns with this all new 10-track album. Established by Freddy Morgendorffer and Johna Curtis in late 2011, this duo has caused some attraction through some intense live performances, so that the British Independent label Unrepresented Music couldn't resist to offer them a deal. 'Goetia' is the result of this collaboration and it is without any exaggeration a colorful, musically diverse sounding exploration between genre boundaries. This duo integrates Post-Punk Industrial influences of the old icons of Throbbing Gristle or Cabaret Voltaire to their up-to-date sound-adaptation by blending between styles like EBM, Witchhouse, and TBM/IDM. The opening track 'Blind' with its distorted, lo-fi synth-arrangement is a good example, how they are capable to unite the rawness of Noise with calm, cold-melodic synthesizer-drops. Fx-manipulation on female vocals has become a stylistically hype at latest with Erica Dunham / Unter Null and Needle Factory are swimming often on this wave, as this track proves too. 'Die For Joy' and their pre-released, freely available teaser track 'Needles, Pins & Razor Blades' are standing for solid, club-oriented food, which will surely impress the dancefloor-junkies. The musically more striking tracks are starting with 'Drug Laws', as this track offers surprisingly a typical old-school EBM-like bassline programming. Their sense for calm melodies returns with a vengeance on 'Kiss The Blade', a ballad-esque, ominous, but beautiful sounding Dark Electro pearl. If it seriously needed any proof that Johna's voice sounds more effective without multiple fx-manipulations, you've found it herewith. Also 'Innocence' sounds really 'innocent' and rather inspired by melodic Electropop styles instead to evoke the noisy ingredients. 'The Falling' deserves a mention too with its crafty and attractive bassline programming. The title track, an eerie Downtempo-influenced tune with raw, experimental-minded drum patterns concludes this refreshing album. Needle Factory for sure haven't invented an own, authentic sound-style, but their attitude and their courage to break with conventions deserves respect. It at least results in a quite good and diverse sounding Electronica-album, which deserves support and attention. Good work, keep it on!
Synth Pop / Electro Pop / Synth-Electronica
Edit (7225)
Artist:
Bertrand Loreau
Title:
Journey Through The Past
Format:
CD
Label:
Spheric Music
(@)
Rated:
Coming from Nantes, Bertrand Loreau's recording career started in the early 80s when he purchased his first synthesizer: the Polymoog. Thanks to that and to his newest keyboard, the Korg MS20, he started to experiment with sounds and soon after he formed with some friends a group called Krill. Since then Bertrand never stopped creating music and at the beginning of the 90s he got in contact with the label Musea and started to release albums for them. On 1992 Musea released the first Bertrand solo album "Priere". Since then he released for Musea Parallèle and Dreaming labels nine albums where he mixed progressive, new-age, classical and experimental music taking inspiration from Klaus Schulze and Vangelis. The album I'm about to review is titled "Journey Through The Past" and has been printed by Spheric Music, the label run by Lambert Ringlage. This isn't exactly a new album by Bertrand Loreau, it is a selection of tracks recorded on the 1982-1988 period. At that time Bertrand composed many tracks influenced by the Berlin synth scene of the 70s. On these tracks you'll hear echoes of Hoening, Froese as well bits of Schulze, without forgetting the influences of the French school of Jarre and Vangelis. Bertrand picked up nine tracks which span from calm suites with celestial atmospheres (like "Meeting You" or "Welcome In The Show") to long mesmerizing suites made of sidereal sounds and nice melodies (check the two parts of "Le Ciel Est Jaune D'un Liquide Inconnu" and "Dx Seven Age") passing through great upbeat tracks made of several arpeggios (like on "Moog On The Moon" and "L'arpege A Tord"). The album is very long and to get into it at the best I suggest you to listen to the tracks separately different times.
Artist:
Praezisa Rapid 3000
(@)
Title:
314159265
Format:
CD
Label:
Noble
(@)
Rated:
The new regency of cut-up electronica, a scene which bred many successful artists and musicians who almost permanently conquered the hearts of so many listeners that they sometimes buy their pigs in a poke, could be based on a triumvirate in the forthcoming future. After a couple of EPs printed by their label Doumen Records, this Leipzig-based trio made up of experienced musicians Devaaya Sharkattack, Guschling and Simon 12345 received the unofficial imprimatur by notorious magazines (Vice, Groove) without the accomodating intercession of any promotional agency and first acclamations by underground audience on the occasion of their live appearances on stages shared with Mount Kimbie, Cloud Boat, Eskmo or Untold and at FUSION, the largest outdoor festival in Germany. Their crossbreed of traditional acoustic instruments - piano, guitar, drum, trumpet, clarinet - on the one hand and synthesizer, modern editing techniques and sampling on the other hand, which stylistically bears a likeness to Prefuse 73, Gold Panda or similar attempts of blending together a syncretic style with no defined boundaries within the same track and a contemporary sound such as those ones by German (maybe forgotten) bands like Netzer or many Japanese contemporary musicians (it's not so casual Praezisa Rapid 3000 managed to mouthwater Noble, a stylish and remarkable J-pop label), coalesces with a pronounced passion for exotic collagism of samples and genres (they wisely manages to dose and whisk hip hop, ambient, jazz, post rock, IDM, film music, disco, post dubstep), which rather reminds Felix Laband and similar weird musicians. Even if they're undoubtedly humorous, I'm not sure many listeners could understand it: for instance the humour of the track "Thom Liwa" could not be easily understood by those ones who never listened the "spiritual" songwriter and singer Tom Liwa as well as the typical mispelling of notorious names by some electronic musicians (Com Truise, Duran Duran Duran, Donna Summer and so on) as well as the supposed references to an imaginary freak between Geoff Farina's Karate sound and J-pop in the track "Dojo Days" and other funny quotations. But this is just a little flaw, that is not going to impede the possibility to be recognized by broader audience.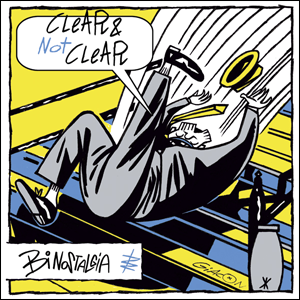 Artist:
Bi Nostalgia
Title:
Clear And Not Clear
Format:
2 x CD (double CD)
Label:
Oltre La Nebbia Il Mare
(@)
Rated:
Bi Nostalgia was the solo musical project of Luca Rigato, already member of Endless Nostalgia. With this project he explored his intimate side composing synth electronic songs based on tiny synth sounds and mellow atmospheres. As for Endless Nostalgia, Oltre La Nebbia Il Mare is bringing to the attention of the lovers of electronic sounds a double CD compilation that contains 36 tracks coming from tapes released from 1984 to 1987 for Luca's label, The League Of The Gloomers, plus one unreleased track recorded in 2005. In balance from pop and ambient (check the tracks of the second album which could remember a bit some Wim Mertens atmospheres), Luca Rigato created a soundscape of its own which is capable to make you focus on the music. There's no way you could use these tracks, even if they are sounding discreet, as background, as they demand attention. When I listened to "Dance of the Pessimism", "The act of killing himself" or "The Seeping Mouth" it's like I was feeling myself locked into an imaginary room. I have to admit that I'm more into catchy melodic synth songs or into experiments between electronic and pop (like Philip Glass did on his album "Songs From Liquid Days"), so the second CD of this compilation has been hard to listen to all in a row but you feel that Bi Nostalgia is a project coming from the heart. This is your chance to check a massive amount of Bi Nostalgia tracks that have been remastered and selected from "Anthems for Losers", "Dances of the Pessimism", "The Seeping Mouth', 'Cathedrals EP","Art Is Not Much" and "Philokalia" for the price of a single album. A bargain!
Synth Pop / Electro Pop / Synth-Electronica
Edit (7215)
Artist:
The Phone
Title:
Songs For This Nuclear Age
Format:
12"
Label:
Attractive Co
Rated:
The Phone is the minimal synth musical project of Johnni Mogul. He released something under his own name about ten years ago but I don't really know how it was. Anyway'¦ "Songs For This Nuclear Age" is The Phone's first album as well as it's the first 12" release for Attractive Co-ordinates, Steve Lippert's label which is exclusively distributed by Anna Logue Records. Limited to 500 copies, "Songs For This Nuclear Age" contains fourteen tracks. Three of them were available on the first two 7" EPs previously released but two of them are new versions and are: "The Phone - Version 2", "Cabaret Noir" and "Discreet Affair - Version 2". The album containing synthpop songs as well as minimal wave cold chirpy sounding tracks (like the opening "Inner Refuge", "Element 115" and the closing "When The Warming Sound"), is well balanced and offer about forty minutes of 80s influenced sounds. Tracks like "Perspex", "Jonni" and "Cabaret Noir" sound like outtakes of Soft Cell's first self produced 7" "Mutant Moments", while "Pylon To Pylon" or "Nuclear Winter" have the same post punk urgency of late Ultravox / early John Foxx. Jonni succeeded into making the songs sound his own and made a great album which contains cool analog synth sounds, catchy melodies as well as bites of experimental solutions like the noisy synth inserts on "Zero Dub" or the great chirpy frequencies cavalcade of "Inner Refuge". Be sure to check out this release. You won't be disappointed!