Artist: SDH (Semiotics Department of Heteronyms)
Title: Tell Them
Format: Download Only (MP3 + Lossless)
Label: Avant! Records

"Tell Them" is a strong, hard-edged set of three synthwave pop tracks hailing from Barcelona. Slightly industrial-tinged synth basses and pads and crisp, simple drum machine sounds roll with a decidedly dark streak while Andrea P. Latorre's reverb-laden, quite Chrissie Hynde-esque vocal rides on top at what feels like half-speed compared to the quite high-energy instrumentation.

There's good songwriting here, the title track and the slightly dreamy "Abandon" being the highlights, making extensive use of the device of repeating lyrics into mantras rather than writing too many words. "Blind Guide" is the obligatory ballad, which is a decent bit of synthpop but doesn't feel particularly accomplished, with a more demo-like feel than the first two tracks.

A solid statement from Semiotics Department Of Heteronyms that's more accessible and poppy than their artist name and artwork may suggest, and if an SDH album appears I will definitely check it out.
Artist:
In Good Faith
(@)
Title:
Trinity
Format:
CD
Label:
Echozone
(@)
Rated:
German synthpop band In Good Faith have been around since 1998, but this is the first I'm hearing of them. The band consists of Kai Vincenz Iggi Nemeth (vocals, keys, drums, programming, e-bass); Jorg Allenbach (keys, brogramming); Mic-L (keys, vocals, production); Hendrik Strehl (drums). There are additional musicians involved on 'Trinity' but let's not get carried away with the credits. The first thing you're going to notice about this album is just how much these guys are influenced by Depeche Mode. While I can't exactly call them clones, second cousins is not far off the mark. Kai has a voice that is as distinctive and pop-oriented as David Gahan's. While Depeche Mode has matriculated towards material that's more political and ponderous, In Good Faith direct their energy towards the dance club with insistent, compelling beats. Not to say they can't lay back a bit; "Light," sung in German, sounds like a romantic love ballad. While the songwriting on 'Trinity' is pretty darn good overall, the band's own material will undoubtedly be overshadowed by their choice of covering Joy Division's "Love Will Tear Us Apart." Almost impossible to top that one under any circumstances. At least they did a credible (updated) job of it. The very slick, professional production throughout the album should ensure it will get noticed likely beyond their region. In Good Faith aren't trying to reinvent the wheel here, just letting it roll on a faster track.
Austrian band Mills is the duo of Alexander Steiner (guitar, keys) and Walter Glatz (vocals, keys) and they've been around since 1994. Their label (Echozone) categorizes them as Post-Wave, which doesn't exactly seem on the money to me; it's more of a grey-electro melancholy synthpop. If you've been around long enough (through the late '80s and '90s) you've probably come across a few bands that sounded a bit like this. It's music that's symptomatic of some alternative bands that were never looking to make it big with commercial sounding vocals and killer hits, but rather an introspective bent and ambience. Shoegaze grew out of that ethic, but Mills is not shoegaze, as that sub-genre has certain distinctive elements which Mills lacks. The guitar playing is along the lines of Joy Division/early New Order, in their mellower moments. Perhaps in some ways not far removed from the Durutti Column. Keyboards are just there enough to get the music across and hardly ever obtrusive. The album has a subdued ambience throughout, and Glatz's low key baritone vocals make even rockers like "New World" seem rather placid and sombre. The album might be instantly forgettable due to its lack of very strong and memorable hooks, but simply because it is so different it tends to leave an impression. 'Monochrome' is not an album that will ever set the world on fire or cause a riot in the record store, but it's nice music when you can't think of anything else to play on a grey day.
Artist:
Bernie Worrell/Bill Laswell
Title:
A Book of Woo Vol. 1
Format:
Download Only (MP3 only)
Label:
self-released
Distributor:
Music Hertz
Rated:
Although keyboardist and funk griot Bernie Worrell has jumped this sinking ship, we can hear him speaking to us at any given moment through the prolific black box he left behind. In this mix tape, longtime collaborator and producer Bill Laswell offers a eulogy to his dear friend, and by its light reveals the prism of Worrell's talent. This is perhaps nowhere so true as in the three selections culled from ELEVATION, a 2013 release from Laswell's M.O.D. Technologies label. It's rare to hear this master of wired keyboards bring his mastery to an acoustic piano, through which he clarifies the sheer expanse of which he is capable. Whether through the anthemic intimacy of "In A Silent Way" or the lush self-awareness of "I'd Rather Be With You," he wraps moments of youth in the tattered clothing of reflection. But it's in "Alabama" where he digs deepest, unearthing the raw materials of experience and turning them inside out until fragrant with possibility. There's even a touch of melancholy that gives the magic realism. Three tunes from another M.O.D. release, 2016's FUNKRONOMIC, also pepper the set. For these, Laswell's bass and Karsh Kale's drums are the wings to Worrell's thermals, going from subterranean ("Woo Doo") to earthly ("Flashlight-Redux") to extraterrestrial ("Outer Woo") in quantum leaps of inspiration.

Four tracks faithfully represent 1993's BLACKTRONIC SCIENCE. These include two electrifying trio outings ("Blood Secrets" and "X-Factor") with altoist Maceo Parker and drummer Tony Williams, the cinematically inflected "Revelation In Black Light" (featuring Worrell on harpsichord with arranged strings), and "Flex," which adds Laswell on beats, trombonist Fred Wesley, guitarist Bootsy Collins, and rapper J-Sumbi to the mix. The latter tune is an ode to adaptability, a veritable SETI signal shot into hip-hop space. In any instance, Worrell slings enough satisfaction to sustain us into slumber, thus reflecting the patterns of his own creation.

The 1990 joint FUNK OF AGES gets two nods in the forms of "At Mos'Spheres" and "Volunteered Slavery/Bern's Blues/Outer Spaceways." The first is a heat-distorted congregation of organs. Baroque in shape and cosmic in reach, it's the brightest star of this constellation. The second is "Volunteered Slavery/Bern's Blues/Outer Spaceways," which finds Worrell in the company of percussionist Aïyb Dieng to evoke a still-timely message against oppression and control. Kindred spirits populate the epic "Black and Strong (Homesick)," taken from the 1993 album HOLY TERROR by The Last Poets. Laswell, Dieng, Collins, and special guest George Clinton are Worrell's brothers in arms, and together they are a fully assembled Voltron of intention, their skin steeled against the slaveries of the world. Money changes hands, they preach, but the exploitations it buys stay the same. And yet, from the noise of it all, Clinton arises with a torch of promise firmly in hand, leading the way to return. It's a sentiment further echoed in "By A River (For Peter)," a self-released single from 2016. Featuring Laswell on bass and electronics and Worrell on electric piano, it flows with aching authenticity, an emotional spiral unwound as a straight line from a corrupt world to a secure afterlife.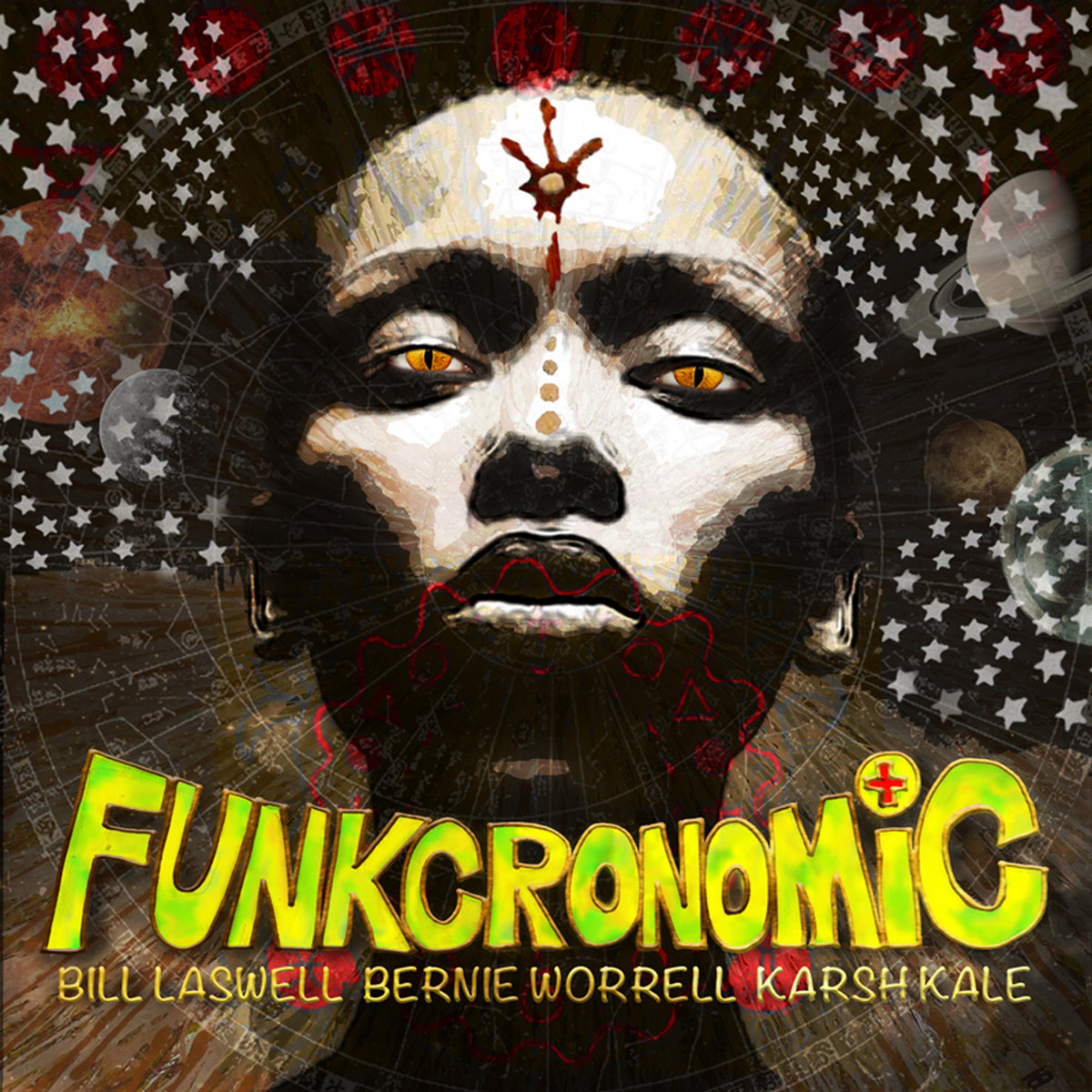 Artist:
Bill Laswell/Bernie Worrell/Karsh Kale
Title:
Funkronomic
Format:
Download Only (MP3 only)
Label:
M.O.D. Technologies
Rated:
Funk, in its purest form, is written in the language of escape. Not so much an out-of-body as inner-body experience, it turns the world around like a mirror to reflect only the brightest parts of our souls. In this intimate yet far-reaching collaboration between bassist Bill Laswell, keyboardist Bernie Worrell, and drummer Karsh Kale, we dive off cliffs of ego into the bottomless pool of creativity that drives these master musicians to seek sonic truths.

As "Woo Doo" somersaults into the funk-o-sphere, it offers glimpses of a future in which peace and sparkling emotions walk hand-in-hand without ever looking back. It lifts us beyond the entanglements of everyday life and to the spirit of resolution from which we've been trained to disassociate ourselves. The underlying current of "Flashlight-Redux" likewise taps an optimistic marrow and spins from it an appreciation for life. There is a distinct feeling of illumination, of knowing that darkness can never win so long as there is music to keep it at bay. "Outer Woo" underscores this dynamic even further, beginning with a warm introduction from Worrell, whose fingers then tip the fulcrum into a rhythmic invitation. The vibe is supremely welcoming, and under its influence we may dance without fear. The lights dim, ironically enough, in "Flash Back," wherein oppressions cease to be and the only call to arms is to lay them down. All of which yields the concluding "Shochurolling." In this tune, Laswell's bass line and Kale's lockstep are so heavenly that they feel downright sentient, even as Worrell slings an earthly shine.

In the end, this album is a master class in the art of perspective. It reminds us that being too close to the sun would mean certain obliteration, whereas at a divinely ordained distance it becomes a source of life. The music of Funkronomic likewise stands at the precipice of death and invisibility, finding purpose in its finite mortality. Listening to it makes Worrell's passing harder to bear. Then again, we know he's nodding his head somewhere, smiling through this planet's dramatic chord changes, over which he stands poised to strike an eternal groove.