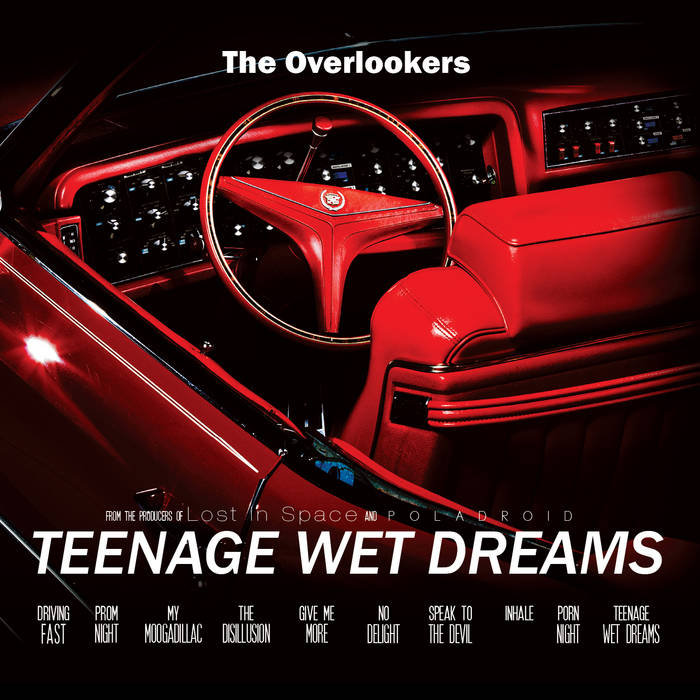 Artist:
The Overlookers
Title:
Teenage Wet Dreams
Format:
CD
Label:
Boredom Product
Rated:
Anticipated by the E.P. "Driving Fast", The Overlookers are delivering to the electro-pop lovers, their first album "Teenage Wet Dreams". Containing ten songs (well, that's nine if you count "Porn Night" as a "Prom Night" reprise) of which four we already checked with a different version on the E.P., the album will please the Depeche Mode fan but not only them. Formed by XY (Foretaste) and JB (Dekad), Overlookers took the fifties aesthetic made of sexy cars/girls and transposed it to the 21st century with a blink to the 80s. The duo got inspiration by 80s synthpop/ebm and if you check their other projects, I'm pretty sure you'll find something else you may like. The quality of this album resides in the fact that it's catchy since the first listening and it won't annoy you after a couple of times: the duo did a great job by packing the album with upbeat songs and dark ballads full of catchy melodies, great synth sounds, and top production work. Some tracks will recall some atmospheres and melodies a la Depeche Mode but The Overlookers' sound is personal and doesn't copy the one of the Basildon boys, luckily. If your preferred Depeche Mode period is going from "Black Celebration" to "Violator", what you won't get from Depeche Mode anymore you'll be able to get from The Overlookers! The album is available on streaming, digital download and deluxe six panel digifile CD.
Artist: VV.AA.
Title: Bleeps, Beats & Bass 2
Format: Download Only (MP3 + Lossless)
Label: Basserk

The second in the compilation series from constantly reliable Amsterdam label Basserk is another rich pack of almost-entirely-instrumental house, electro and danceable techno that stays just on the right side of wonky and looks out across the view.

There's an intriguing music-as-product concept behind it, with QR codes linking to every track, meaning for example that you'll be able to buy your favourite track as a sweatshirt. I can't vouch for the quality of the shirt manufacture of course, but big chunks of this are serious dancing music, so a lighter, more breathable T-shirt may be required as well...

Musically, it's a pack with no filler, stacked with potential DJ weapons. There's the infectious bounce of Sjamsjoedin's "Corners", the bright alt-disco clapping of Heart Space's "Move Aside", or the breathy, semi-glitched groove of highly-regarded LHISPR's little track "Closer" that bypasses your higher thought patterns and makes you dance like a robot.

It's bookended by "Passw123" by Full Monty at one end and "Modderpoel" by Maanwagen at the other, both breezy stepping grooves reminiscent of Luke Vibert tracks, that cheekily imply they're about to break out into full-verse rap tracks but never do. The former is a definite highlight that's earned its pole position on the compilation, that one's getting repeat plays here for sure.

There are also broodier and more introspective pieces for headphone-centric listening. Xyloglotte's "McKlatchey"- a track you'll never be able to verbally ask Siri or Alexa to play- rumbles with a gentle kick-led broken beat under counterplaying layers of squeaky synths, while Radio Parkplatz's "Wormshop" brings a bit of urgency through relentless synth bass notes and gliding siren-like arpeggios that slightly recall a Juhl Krøse track or two.

HuSo's "Tome" is one of those 150bpm-ish tracks with dubbier, half-speed top layers where your body can be shuffling frantically to the slightly jungle-ish beats at 150 while your head chills out at 75.

Kraz's "Shelter" stands out, not solely for the fact it has a full sung verse-and-chorus vocal on it- with a gravelly, Jan Burton, Rob Dougan-ish affair over a slow beat and synths that seem to want to be guitars, it definitely draws the attention. Baptist's "Nothing Left" leading into Tholyson's "Fou Amoureux"- the latter with an extremely OMD-ish synth lead line- form 'the synthwave section' towards the tail of the release.

It's hard to argue with the title of this release. High-quality bleeps, variety in the beats and a tastebud-wetting variety of squelchy bass sounds are on offer. It's a strong pack with just the right amount of twist.
problems
with image
availability
Artist:
Randall Dunn
Title:
Beloved
Format:
12" vinyl + Download
Label:
Figure Eight
(@)
Rated:
BUY from
Randall Dunn is a fantastic producer, best known for his work with Sunn O))), Anna Von Hausswolf, Tim Hecker and many others. This is his debut as a solo artist and, as you can imagine, it comes loaded with years of his experience as a producer and as a connoisseur of all things analog and all things synth. Reading the credits of the album is like reading the history of analog synthesis (PPG Wave, Minimoog, Elka, Arp QUadra, Juno 60, Ems Synthi 100, OB8, OBX, Buchla, Roland system 700 etc), something Randall went looking for, exploring and recording all over the world, like in the South Tirol area of Italy bordering with Austria, in El Paso Texas and Brooklyn New York, where Randall lives and where his record label Figure Eight has the Figure8 recording studio owned and operated by label founder Shahzad Ismaily (who also played some bass on this record).

The seven cuts on the vinyl are dark and atmospheric, droney and melodic, melancholic and anguished, perfect for fans of Vangelis and Johann Johannsson. I can't help to think that it also reminds me (especially tracks like "Mexico City") of the latest BladeRunner soundtrack by Hans Zimmer and Benjamin Wallfisch (which coincidentally was initially going to be done by Johannsson, and that Dunn was working on himself).

Some of my favorite cuts are the ones where organic old school synths are joined in by acoustic instruments, such as cello and bass clarinet (like in the fantastic "Lava Rock & Amber", where Jeremiah Cymerman plays the reeds and Will Smith plays the cello), although such pairings of instruments happen on almost every one of the songs on the record. There are almost no beats in the whole record, except for a subtle electronic heart beat in "Something About That Night" (which also features vocals by Frank Fisher of Algiers) and a pulsating EMU Emulator pattern in "A True Home" (featuring guests vocalist Zola Jesus). Other notable players are Eyvind Kang on viola, John McCowen on contrabass clarinet, Justin Morris on flanger boss, Ulfur Hansson on guitar and Buchla and Timm Mason on various synths.

Although you can listen to this record on Bandcamp, I would highly recommend getting the 180 gram vinyl album, which, other than obviously sounding better than digital, also features photography by Lauren Rodriguez and Una Blue, cover art work design by Stephen O'Malley of Sunn O))) and a zen poem by Gesshu Soko which he wrote close to death and became the lyrics that Frank Fisher sings.

Acting as a sort of companion piece or footnote to their full-length album "Im Tiefenrausch", "Im Tanzrausch", from the still relatively new but profilic mysterious figures of Fred und Luna, is a dancefloor-friendly pack of 4 deep house tunes ("elektrakraut/krautelecktro" if you go by the press release) with an optimistic and bright synth top layers that make them very likeable.

The undoubted highlight is "Compostonikum", which foregrounds some laidback chanting over warm chords and a bunch of lower rubbery squelches in the bass area, into a result that's genuinely entrancing. "People Mambo" adopts a similar approach with similar-ish vocal samples but a more laidback attitude and that's truly effective as well.

Opener "Der Elektrolektor" is a purposeful and driven bit of light electro-house with some nice percussive touches, but without a hook to really set it alight. Third track "Es Ist Heiß" is the weak spot, a somewhat cheeser-sounding affair with a spoken-word German vocal that ends up sounding faintly Yello-ish but a touch on the corny side, lacking the thoughtfulness of the tracks around it.

Leisurely toe-tapping stuff with a definite broad appeal.
Artist:
Bartellow San Ground San
Title:
Amanogawa
Format:
12" vinyl + Download
Label:
SVS Records
Bartellow & Ground's second limited edition EP is a nicely casual fusion of light-footed house and synth-electronica with more organic percussion and atmospheric elements. It's lovely, steady-walking music with a nicely feel-good tone.

The cut-up retimed sung elements on "Holy Water" are a distinct bit of texturing that make it a highlight, whilst the title track is a more exotic and sultry affair with feminine vocals and a lovely rubbery bass sound.

But ultimately there is a slightly 'nothingy' aspect to some of the structuring that makes some of the tracks outstay their welcome a little bit and not quite manage to justify their eight-minutes-and-up running lengths. Fourth track "Orto Vision", at only a minute and a half and a more abstract drumapella of sorts, is of course excepted. Is this release possibly just a degree or two too laid back?