Synth Pop / Electro Pop / Synth-Electronica
Edit (5137)
image not
available
anymore
Artist:
Chinese Theatre
(@)
Title:
The Silent Years
Format:
CD
Label:
Synthphony Records
(@)
Rated:
The Swedish Synthpop-duo CHINESE THEATRE has decided to release its new studio album via the US-based label Synthphony Records – a decision rather following some approved structures, since Krister and Martina seem to have convincing experiences with this label. On the other side this also means, that to pick up a hard copy of this album would be a job for a headhunter, because Synthphony presses and releases only in very limited editions. "The Silent Years" rather acts like a collection of the last recordings of this duo, from which a few have been released in remixed versions via compilations or CDEP's ("Mirror, Mirror") through the last two years. Musically Krister and Martina offer a clear and melodic-oriented Synth-/Electropop-sound, which extracts inspiration out of the romantic Pop/Wave- and Italo-disco era out of the golden 80ies. Martina's timbre fits perfectly to this era, since she impresses with her ice-cold performance somehow comparable with Annie Lennox and Kim Wilde. By naming Kim Wilde, you'll get also a new cover version of the classic "Cambodia", another relict and obviously hint to the musically preferences of both, Krister and Martina. Of course their marvelous compositions like "Forever And Never" and/or "I'm Leaving You Behind" are featured on here too, which are perfect tunes to warm up any O30-party. Krister also has a surprise to offer, for the new track "Ballerina" he provides the male vocals, an experiment, which rather reminds on the new side-project of Krister and Martina, the Italo-Disco project VISION TALK. As for further new and undiscovered tracks of the band, well, "Hiding" has my preference. A remix of "Bit By Bit" provided by PEOPLE THEATRE accomplishes a quite good album of a mega-talented Synthpop-act. A must-have item for fans of this genre, but unfortunately no longer available as a physical CD.
Synth Pop / Electro Pop / Synth-Electronica
Edit (5135)
Artist:
The Selfsentered Spacecadet
Title:
Killers
Format:
MCD (Mini CD)
Label:
Cynical Minds Rec.
Rated:
An electro band from Sweden. TSS have been around since 2006 with various line-ups and released 2 singles via other labels already. In the first cold months of 2009 TSS recorded three new songs that were released through Cynical Minds Recordings this May. In its previous "reincarnations" the band was way less synth and electro oriented, but found the way to its contemporary sound in the course of time. It is melancholic yet danceable. I don't mean it negative, but to my taste it is a bit too wishy-washy and there is a room for some more zip in those songs. It must be good as lounge music if played quietly, because it sounds not pushy and would have a relaxing effect. The influences of TSS range from the pop and rock scenes of the latter decades of the previous century.
The title song deals with a topic that fascinated people since the beginning of the ages and I hope it always will: love. "Stalking Girl" is a rather slow-tempo song, sang as a monologue to an addressee.
The remixes by fever society fix, Simon Gag and Captain Orange are rather interesting. Honestly I prefer the last remix of "Killers" over the original, while it is rarely the case with any song that the listeners find a remix more appealing than the original. I guess it is because this remix is more energetic and lively.

Synth Pop / Electro Pop / Synth-Electronica
Edit (5133)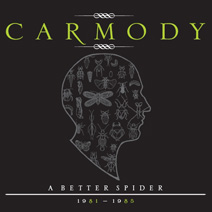 Artist:
CARMODY
Title:
A Better Spider
Format:
CD
Label:
Anna Logue Records
(@)
Rated:
Active during the first half of the 80's Carmody were an electronic band coming from Torino, Italy. Started as a duo and later a trio with Massimiliano Casacci joining in as guitar player, the band recorded only a couple of demos and a song for a local compilation album titled "Tracce". That compilation gathered some of the bands active on that period in Torino and it has been compiled by Massimo Scabbia and named after the Tracce show that each Monday was aired by Radio Torino Popolare playing only Italian alternative music (the show was run by Fabrizio Della Porta and Gilberto Maina). Picking their name from a science fiction novel titled "Dimension of Miracles" by Robert Sheckley, the band did a perfect choice, because their electronic music wasn't exactly pop as, even being melodic, tracks like "Il sospetto", "Ambiguos" or "Cowboy" have a common feeling of imminent catastrophe. You know, like a dog who's feeling an earthquake coming or just like the Mr. Carmody of the novel who's lost in space. The synthesizers build strong ambience structures while Alberto Ramella theatrical vocals sing of the difficulties of being human beings. Picking seven out of sixteen tracks from the self titled demo, three out of six from their second demo titled "Dogu" (these ones thanks to Max Casacci sound less "dramatic" and have a certain pop potential) and a later version of "P.s.a.l.m." (the original one was on "Dogu"), "The perfect beat" coming from the "Tracce" compilation (one of their best electro pop tracks along with "Space invaders" and "Messengers of love") this compilation is a gem for the lovers of that period. If you loved the Monuments compilation issued by the label the last year and you want to discover their sister band (they were friends and Carmody also recorded at Monuments' TKS studio), this CD is a must! With the first 500 copies you'll find a postcard signed by all the three members.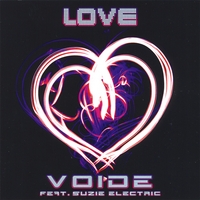 Artist:
VOIDE (feat. Suzie Electric)
(@)
Title:
Love
Format:
CDS (CD Single)
Label:
self-released
Distributor:
CD Baby
Rated:
It's seldom that a reviewer nowadays receives a real Single-CD with 3 tracks and moreover, that bands are seriously producing CD's in this limited dimension. But this fits perfectly to the release catalogue of the Swedish Electronica-specialist VOIDE a.k.a. David Almgren. Combining the tradition with the newest media resources available to publish and present his music, has always been the main direction for VOIDE - and somehow this counts also for his music. It is an Electronica/IDM-related outfit, which balances between the elements of EBM and Trance/Techno-influences. Sound-wise at the state-of-art, David integrates additionally a strong Pop/Wave-influence out of the good old 80ies and his sounds out of his beloved CZ-synthesizer family – you see, this stands rather more for the tradition. He also cant hide his dedication to the German pioneers KRAFTWERK by using comparable and vocoderized voice/vocal effects. But for "Love" the things differ. First off it needs to be mentioned, that "Love" isn't at all a new composition of David – it sounds too much similar to David's 2007 classic "Space Sponge", available on the same titled Voide debut album released in 2007. For this track, available in 3 different versions, he could hire Germany's female artist Suzi Electric to provide the vocals. So you'll get a version with lyrics in English and one featuring German lyrics. The third version is a mixture out of both languages, but it provides nearly 8 minutes of music. It seems a bit, that David felt the need to produce a real Extendet version of this sweet Synthpop-tune. A good collaborative idea and enough potential to become a favorite for every Synthpop-fan, but at least only a tiny shining light at the end of a tunnel, which is only a glimpse of the huge talent, which David has to offer.
Synth Pop / Electro Pop / Synth-Electronica
Edit (5099)
Artist:
VV.AA.
Title:
Auto Reverse - Auto Tribute Compilation
Format:
CD
Label:
Boredom Product
(@)
Rated:
The idea behind this low price compilation is to celebrate the label by giving new life to Dekad, Celluloide and Foretaste songs (all of these bands have been reviewed here with almost every of their releases) by making other bands re-interpreting them (and between the various bands we have also the three aforementioned ones ). The interesting thing is that we don't have remixes but real covers and the good thing is that we have seventeen different songs. On the track list we have also some well known names such as Komputer, Sista Mannen Pa Jorden, Psyche + People Theatre, Joy Electric and The Rorschach Garden but also the ones that are new to me offer some great tunes. Even if we have seventeen different bands the label opted for an uniform result by inviting only electronic/electro pop projects. The best tracks to me are: Komputer version of Celluloide's "Incommunication", Joy Electric performance of Celluloide's "People like me", Even More version of Celluloide's "I missed you", Celluloide version of Dekad's "Dive", Foretaste version of Dekad's "Down below", Neues Kombinat version of Celluloide's "I am fine" and Destillat electro dark treatment of Dekad's "Club devil". This is a compilation worth the purchase anyway but it costs only 7, so give you a favor getting good music and... support the label!