Synth Pop / Electro Pop / Synth-Electronica
Edit (7089)
Artist:
Collide
(@)
Title:
Counting to Zero
Format:
CD
Label:
Noiseplus Music
Rated:
'Counting to Zero' is the latest release by Los Angeles' electronic duo Collide. Here they have crafted a very smooth, intricately designed record of electro beats; darkwave synths and atmospheres; and smoky, seductive female vocals. There is nary a dull beat to beat found herein, from chill, trip hop loops to funky glitches to even the occasional huge distorted drum loop. They are expertly melded with a variety of interesting synths and sounds and peppered lightly with a select few distorted guitar/bass parts throughout. There are a lot of influences obviously at work here, from Nine Inch Nails reminiscent passages, to echoes of Tori Amos and even a few hints of Nocturne's first album. The biggest comparison I find myself making, however, is kidneythieves. In nearly every song I find myself coming back to this reference at some point, which is ok because I'm a fan of KT as well. With 'Counting to Zero' Collide have certainly gone a bit more in-the-pocket in that the record as a whole is more cool and calm than 2008's 'Two Headed Monster' which was a bit more raw and aggressive, though this isn't a negativity, merely an observation, as they have definitely grown since then. The arrangements are more solid, intricate and professional; the vocals more mature; it's an all around positive evolution. My personal recommendations: 'In the Frequency,' 'Clearer,' and 'Tears Like Rain.' While some of this record may be a tad laid back for me, it is overall a great record with very few lows, and plenty of highs, very well done. And not to mention comes with a poster, a button with a small card, a large 2 panel folded card with a note from the band, a full color post-card style card and a full color booklet with photos and full lyrics (you have the option of this being an autographed set as well).
image not
available
anymore
Artist:
Steve Morell & Monica Pokorna
Title:
Lady Pheres
Format:
12"
Label:
Pale Music
Rated:
I reviewed Steve Morell's latest single two years ago and I was thinking that the album was going to be released anytime soon. After twentyfour months, it seems that now "The Life And Death Of Jimmy Pheres And His Rise From The Underworld" release is really near. To get acquainted with its atmosphere, Steve Morell and his partner Monica Pokorna, bring to their audience four new tracks of which the title track is "Lady Pheres". The main track is a strong ballad characterised by the alternation of Steve Morell and Monica Pokorna who start to tell the story of Jimmy, the character of the album and his love relation with Lady Pheres, the one that will ease him from his pain ("I am the one; I am your princess, come closer / And you can smell my love and feel my holiness"). One this one acoustic guitars, strings, xylophone and drums initially plays softly, like they don't want to disturb that magic feeling but then, in a crescendo, they underline the atmosphere. The second new track is "It's Been So Long" and it will be included on the album. This one is a bit more melancholic and with slow rhythm. I don't know if this one tells of the death of Lady Pheres, but an excerpt of the lyrics tell: "Here I am on my own, alone, again / Lonely thoughts creating shivering pain / Death is shining on your ring / Slowly I'm facing the sin / All I see is black and white there's no one else to hold me tight / I pull on my finger, I'm crawling like a clown". "Confusion" is a short intermezzo made of metallic percussions, vocals and brushed acoustic strings. "Holding On" is a song which is exclusive to the 12" and it's a good ballad with paced rhythms and post punk atmospheres (the distorted guitar inserts and the tribal rhythms make a nice effect). These are the original tunes and I liked them and they make me think that the album will be a good one. Now, we can talk about the remixes. On the vinyl we have one remix "Lady Pheres (DJ Vela's The Lady Smiles Vocal Remix)". Of the original tune it keeps the strings parts, some guitars, some vocals and the xylophone. It adds a bouncing retro drum machine sound and nice effects on vocals. It isn't a proper dance version but it sounds nice. On the digital version of the release, we have three other remixes of the track. "The Handclap Situation... Remix" is a minimal ambient one with strings, choruses which turns into a dub/drum and bass one after a while. The "Electrosexual Remix" is a sensual electro mid tempo where the main melodic parts (instruments and vocals) are used and alternated with the add of 4/4 hard beats. The last track is "DJ Vela The Lady Smiles Instrumental Remix". This is a good EP which sees Ragnar, EF Kriete (Goldfish), Andrew Unruh (Einsturzende Neubauten), Carolin Werren, Kevin Mooney (Adam & The Ants), Karen Weber and Valerie Renay (Noblesse Oblige) collaborating with the couple.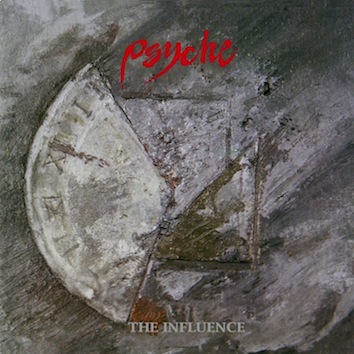 Artist:
Psyche
Title:
The Influence
Format:
CD
Label:
FinalMuzik
Rated:
Born in 1982 in Canada, Psyche formed thanks to brothers Darrin and Stephen Huss . It took a while before preparing some tracks, going into the studio, but in 1985 they self released for their label Malignant Productions, the first album "Insomnia Theatre". The tracks of that album, recently released as three LP box by Vinyl On Demand, paid tribute to Suicide and to a style of minimal electronic which was also dealing with industrial music. Soon after, they got a deal with the French label New Rose, that reissued that album and released "Unveiling The Secret" the year after. Already with this one, Psyche introduced more melody and a sort of r'n'r attitude on tracks like "Screaming Machine" (tracks that is recalling me Alien Sex Fiend a bit) without losing its electronic industrial root. Anyway, something was going on... In 1988 New Rose released "Mystery Hotel", an album that was sounding more pop and which cointained four tracks that had a commercial success in Europe and Canada: "Eternal", "Insatiable", "The Outsider" and "Uncivilized". The year after Darrin teamed up with David Kristian and recorded "The Influence". Originally released by Animalized, label of the SPV group that had on their roster bands of the likes of A Split - Second or Front 242, the album was a sort of creative change for the band thanks to the use of samples performed with the Casio FZ1 keyboard. Containing tracks like "Misery" and "Haunted", which were in continuity with their past releases, on this album the title tracks and mainly the beautiful "Dark Pool", were offering a sound more atmospheric and more complex. They always used 4/4 hard beats, but on the background pads and rhythmic sounds created a tense atmosphere, almost horrorific (see also "Psyche Theme"). Mid tempo tracks with powerful sounds were also winking to pop atmospheres: "Salvation Stranger" or "Secret Angel" are good examples of this new attitude of the band. This new release contains also five bonus tracks: "Haunted (On Hill House Mix)", "The Sundial (Shifting Time)" (this is an acoustic version of the track with chilly sax inserts), "Misery (Acoustic Rhodes)" (another strip to the bone acoustic version a track with a folk wave atmosphere), "Salvation Stranger 2012" (this is a new re-recorded version of the original tune which now sounds like a mix of cyber electronica and dark wave) and "Goodbye Horses (Immortality Mix)" (a nice dreamy electronic pop tune). If you love the band, for sure, you won't miss this release.
Without having seen a picture of the band or having a listing of the band lineup, yet, I imagine onstage Overmamba is a single person with a computer, a couple of keyboards and a drum machine. He doesn't look at or acknowledge the audience. He just dances to himself while pushing buttons.

Listening to 'Crawl Out,' it's hard to get a feel for who or what Overmamba is. The influences are apparent and every song sounds like a different song by each of those influences. There's no identity. Nothing that says, 'we are Overmamba.' It's like listening to a cover band that plays all the obscure tracks by different bands. 'Crawl Out' sounds like a demo of an electronic artist trying to discover who he is.

There's not much in the way of songs here. The songs can be categorized as either trying to be clever, long and rambling, or short and incomplete. The short songs end before you get a chance to hear the chorus; the long songs have nothing that catches your ear and are cluttered with vocal gymnastics akin to a Goth R&B singer; the rest... imagine a Goth jam band. If it weren't for the singer you would think that you were listening to a different band with each song.

Sonically, 'Crawl Out' sounds like the demo a band makes before recording the album. The synths harken back to the classic FM synths you would hear in 80s electronic pop, which are great, but Overmamba makes them feel campy and amateurish. The production eventually gets cluttered with cheesy synth horns, hokey organs, orchestra stabs and thin, cheesy guitars.

After checking out the website I learned that my impression couldn't further from reality. Overmamba is two guys with 'supporting musicians,' that describe their music as 'an incredible hybrid between electronica, pop, new wave, dark and eighties vibe.' This is all music I like.

If I'm being hard on these guys, it because I really wanted to like 'Crawl Out.' There's a little something in each song that grabs me. 'Crawl Out' is an album that was released too soon. With the help of a producer and a songwriting coach this could have been a really good album. It will be interesting to see how they progress. With some help, I could see Overmamba evolving into a band like Indochine.
image not
available
anymore
Artist:
Newclear Waves
Title:
Newclear Waves
Format:
12"
Label:
Desire Records
Rated:
Three years in the making and after producing a split tape and a split single with Opus Finis, two CDrs and different remixes, Newclear Waves, a.k.a. Alessandro Adriani, are ready to deliver their first vinyl album through Desire Records. Alessandro, is also knows as the man behind Mannequin Records, label that brought you two volumes of 80s delicatessen under the "Danza Meccanica" brand and different Italian 80s reissues (Degada Saf, Chromagain, Janitor Of Lunacy, Intelligence Dept. to name few) plus several electronic/wave releases of nowadays bands of the such of Led Er Est, Soviet Soviet, The Present Moment, Frank (just Frank), etc. Printed in 300 copies, black vinyl, printed inner-sleeve, four panels die-cut sleeve, the self titled LP contains ten tracks. Nine out of ten have already been issued on the previous releases (on the tape, the CDrs or the double vinyl compilation "Doppelhertz Vol. 2") but if you think that the tape and the second CDr have been printed in fifty copies and the first CDr in ten copies available at a live concert, we could think of them as brand new and in any case, they have been re-recorded. Anyway... Newclear waves base their sound on the warmth and richness of vintage synthesizer sounds creating a strong core of pusating bass lines and rhythms where stripped to the bones synth melodic lines are added. Also the vocals tend to be straight like a razor cut. No thrills or frills, just a bit melodic but sorta cold with a bit of filtering. It takes a while to find these atmospheres comfortable but step by step, beat by beat, you find the path to follow and then the light dissonances and the 4/4 rhythms start to lead you through nightmarish scenarios made of buzzing noises and crying filters. It's like being in front of a wall which is melting realizing that under the wallpaper there's the portrait of the old householder. If you love post punk, cold wave and minimal wave, you'll find all this like home... As last note; on two tracks we find two guests: Lou Chano of Der Noir, Ivs Primae Noctis and Tiresia Raptus on bass guitar on "The End Of The Cold War" and Oksana Xiu on vocals and synth on "Tishina". Cool one...
P.s.: You can preview all the tracks here http://newclearwaves.bandcamp.com/album/newclear-waves-s-t-lp-cdr-desire-records