Artist:
Bernie Worrell/Bill Laswell
Title:
A Book of Woo Vol. 1
Format:
Download Only (MP3 only)
Label:
self-released
Distributor:
Music Hertz
Rated:
Although keyboardist and funk griot Bernie Worrell has jumped this sinking ship, we can hear him speaking to us at any given moment through the prolific black box he left behind. In this mix tape, longtime collaborator and producer Bill Laswell offers a eulogy to his dear friend, and by its light reveals the prism of Worrell's talent. This is perhaps nowhere so true as in the three selections culled from ELEVATION, a 2013 release from Laswell's M.O.D. Technologies label. It's rare to hear this master of wired keyboards bring his mastery to an acoustic piano, through which he clarifies the sheer expanse of which he is capable. Whether through the anthemic intimacy of "In A Silent Way" or the lush self-awareness of "I'd Rather Be With You," he wraps moments of youth in the tattered clothing of reflection. But it's in "Alabama" where he digs deepest, unearthing the raw materials of experience and turning them inside out until fragrant with possibility. There's even a touch of melancholy that gives the magic realism. Three tunes from another M.O.D. release, 2016's FUNKRONOMIC, also pepper the set. For these, Laswell's bass and Karsh Kale's drums are the wings to Worrell's thermals, going from subterranean ("Woo Doo") to earthly ("Flashlight-Redux") to extraterrestrial ("Outer Woo") in quantum leaps of inspiration.

Four tracks faithfully represent 1993's BLACKTRONIC SCIENCE. These include two electrifying trio outings ("Blood Secrets" and "X-Factor") with altoist Maceo Parker and drummer Tony Williams, the cinematically inflected "Revelation In Black Light" (featuring Worrell on harpsichord with arranged strings), and "Flex," which adds Laswell on beats, trombonist Fred Wesley, guitarist Bootsy Collins, and rapper J-Sumbi to the mix. The latter tune is an ode to adaptability, a veritable SETI signal shot into hip-hop space. In any instance, Worrell slings enough satisfaction to sustain us into slumber, thus reflecting the patterns of his own creation.

The 1990 joint FUNK OF AGES gets two nods in the forms of "At Mos'Spheres" and "Volunteered Slavery/Bern's Blues/Outer Spaceways." The first is a heat-distorted congregation of organs. Baroque in shape and cosmic in reach, it's the brightest star of this constellation. The second is "Volunteered Slavery/Bern's Blues/Outer Spaceways," which finds Worrell in the company of percussionist Aïyb Dieng to evoke a still-timely message against oppression and control. Kindred spirits populate the epic "Black and Strong (Homesick)," taken from the 1993 album HOLY TERROR by The Last Poets. Laswell, Dieng, Collins, and special guest George Clinton are Worrell's brothers in arms, and together they are a fully assembled Voltron of intention, their skin steeled against the slaveries of the world. Money changes hands, they preach, but the exploitations it buys stay the same. And yet, from the noise of it all, Clinton arises with a torch of promise firmly in hand, leading the way to return. It's a sentiment further echoed in "By A River (For Peter)," a self-released single from 2016. Featuring Laswell on bass and electronics and Worrell on electric piano, it flows with aching authenticity, an emotional spiral unwound as a straight line from a corrupt world to a secure afterlife.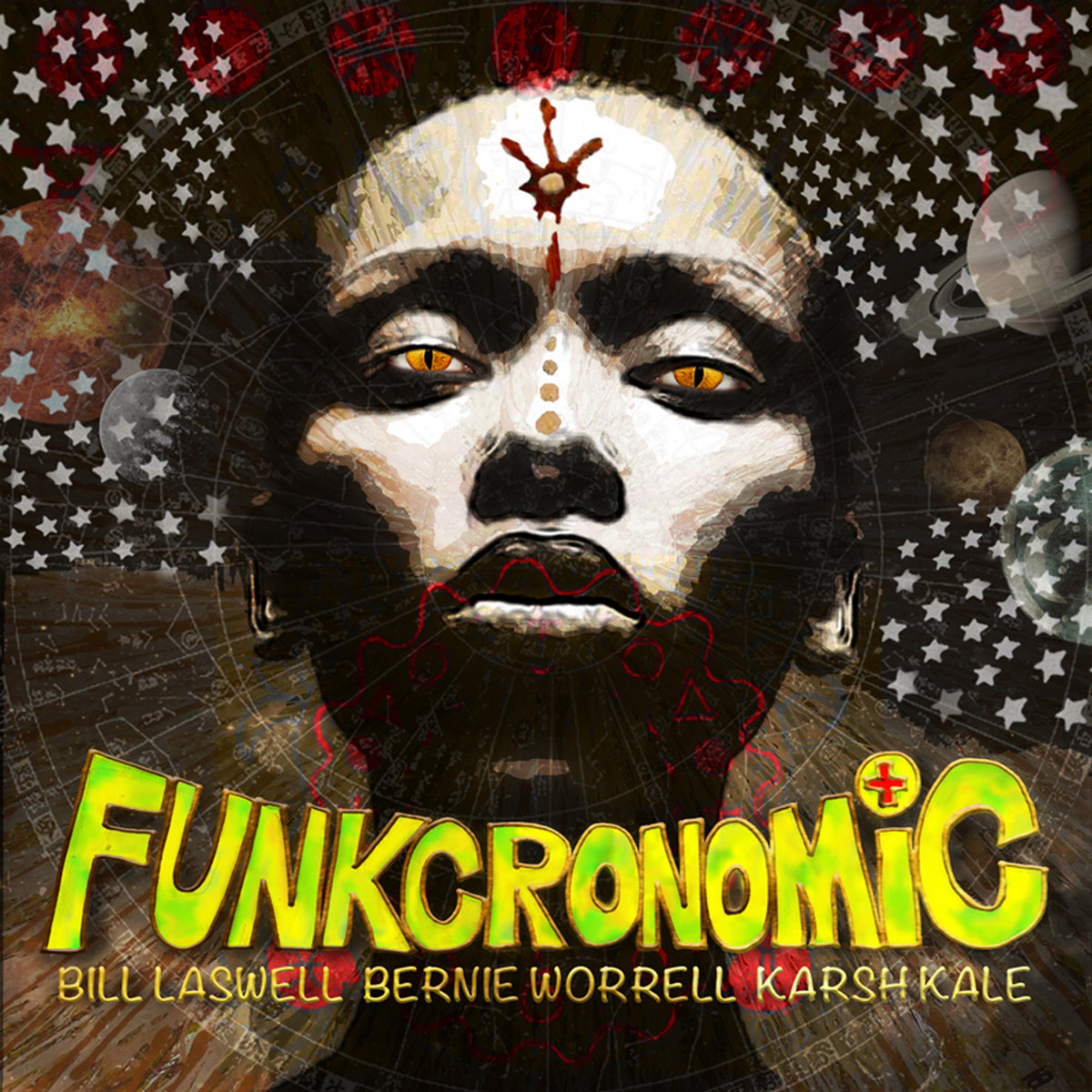 Artist:
Bill Laswell/Bernie Worrell/Karsh Kale
Title:
Funkronomic
Format:
Download Only (MP3 only)
Label:
M.O.D. Technologies
Rated:
Funk, in its purest form, is written in the language of escape. Not so much an out-of-body as inner-body experience, it turns the world around like a mirror to reflect only the brightest parts of our souls. In this intimate yet far-reaching collaboration between bassist Bill Laswell, keyboardist Bernie Worrell, and drummer Karsh Kale, we dive off cliffs of ego into the bottomless pool of creativity that drives these master musicians to seek sonic truths.

As "Woo Doo" somersaults into the funk-o-sphere, it offers glimpses of a future in which peace and sparkling emotions walk hand-in-hand without ever looking back. It lifts us beyond the entanglements of everyday life and to the spirit of resolution from which we've been trained to disassociate ourselves. The underlying current of "Flashlight-Redux" likewise taps an optimistic marrow and spins from it an appreciation for life. There is a distinct feeling of illumination, of knowing that darkness can never win so long as there is music to keep it at bay. "Outer Woo" underscores this dynamic even further, beginning with a warm introduction from Worrell, whose fingers then tip the fulcrum into a rhythmic invitation. The vibe is supremely welcoming, and under its influence we may dance without fear. The lights dim, ironically enough, in "Flash Back," wherein oppressions cease to be and the only call to arms is to lay them down. All of which yields the concluding "Shochurolling." In this tune, Laswell's bass line and Kale's lockstep are so heavenly that they feel downright sentient, even as Worrell slings an earthly shine.

In the end, this album is a master class in the art of perspective. It reminds us that being too close to the sun would mean certain obliteration, whereas at a divinely ordained distance it becomes a source of life. The music of Funkronomic likewise stands at the precipice of death and invisibility, finding purpose in its finite mortality. Listening to it makes Worrell's passing harder to bear. Then again, we know he's nodding his head somewhere, smiling through this planet's dramatic chord changes, over which he stands poised to strike an eternal groove.
Artist: Mark Renner
Title: Few Traces
Format: 2 x 12" vinyl

The pitch of "Few Traces" seems to be a revisiting of the scant discography of Mark Renner, who has two LP's to his name, both from the late 80's, the most known of which is "Painter's Joy". This collection is a mixture of greatest hits and unreleased bits. 21 tracks, ranging from fully-fledged verse-chorus clangy-electric-guitar-pop songs ("Half A Heart" being a prime example) to short sketches that are more like unfinished song ideas than truly experimental pieces, the title track or "Princes Street" being examples of the latter.

Of the influences listed in the press release- Yellow Magic Orchestra, Skids, Cocteau Twins- the most apt are probably Big Country from a sound point of view, and Ultravox in terms of songwriting. Production-wise it couldn't sound more 1980's if it tried, with very bright mid-range but a warm fuzziness underneath.

There's some very good, quite conventional but strong songwriting here- "More Or Less" being worth highlighting. Some of the tracks have a decidedly demo-level feel to them. "Autumn Knows You By Name" and "It Might Have Been" sound like instrumentals for which Renner never got around to recording the vocal, while I'm no guitarist but there are what sound like a few out-of-time strums in "The Wild House"…

"The Sun In His Head, A Storm In His Heart" is interesting but anachronistic- a more genuinely experimental and potentially ahead-of-its-time ambient piece layering up slow synth chord pads with a long recording of a passionate public reading of Scottish poem "Hush"..

People who remember Mark Renner's music with fondness will be very pleased to hear some unearthed material, but otherwise it does feel like a somewhat indulgent release where the full extent of the source material and its historical relevance doesn't necessarily merit the luxury anthology treatment.
Artist:
Psy'Aviah
(@)
Title:
Lightflare
Format:
CD
Label:
Alfa-Matrix
(@)
Rated:
Belgian music producer/composer Yves Schlepe is back with a new Psy'Aviah album titled 'Lightflare,' in some ways similar to 2016's 'Seven Sorrows, Seven Stars,' and in other ways, not so much. The similarity is in the vocalists Yves uses this time around - 'SSSS' alumni Kyoko Baertsoen, David Chamberlin, Mari Kattman, Ellia Bisker, Fallon Nieves, and Addie Nicole are all back for another go-round. There are some new voices too but we'll get to them in time. The overwhelming impression I had of 'Seven Sorrows, Seven Stars' was a cornucopia of eclectic electronica. I can't say that's the case with 'Lightflare.' Schlepe calls the album his "testament to hope," but sometimes hope just
isn't enough. You've got to back it up with great songwriting, and often that's difficult to do. Too many tracks fall short in that department. Opening with "Lost At Sea" (Mari Kattman) on vocals we find a mid-tempo number that's totally dependent on Kattman's voice floating in the upper register for the chorus hook. It's an okay song, but nothing to write home about. Ellia Bisker is up next with the similarly paced "Aftermath," and the best thing about this song is the harmony vocals that follow the lead like an echo. I will admit the song has a bit more going for it melodically than the opening track, but it just isn't a "grabber". Perhaps the best song on "Lightflare" is "The Great Disconnect" sung by Psy'Aviah's live vocalist Marieke Lightband. This is a wonderful piece of modern moody trip hop with very cool melody, excellent contemporary lyrics, and Lightband's superb sultry vocals which really sell it. As good as Addie Nicole is on 'The Sound of the New" (and she's plenty good) the song sounds like a blatant attempt just to go mainstream commercial. Plenty of hook, and about as much substance as a can of Pringles. If you thought that might be pandering, "In the Sound" featuring MiXE1 is part DivaPop, part electro-rap. Maybe I'm getting old. Maybe this is what the kids want to hear nowadays, but it struck me as kind of crass. "For Myself" featuring Lofthill sounds like
Trent Reznor in a boy band. Mari Kattman is back on "Heavy Heart" and as good as she is, the song just wallows in misery without anything else that makes it compelling. "Reboot Reset Relay" sung by Fallon Nieves is a step up with its cyber-themed meme, and a strong dance vibe as well. David Chamberlin gives it his best soulful shot on "Ghost," which has a good dark electro groove but lacks any memorable hook. Phoebe Stone takes the vocal helm on "Lonely Soul" which kind of sounds as melancholy as its title but at least has a memorable hook. Kyoko Baertsoen executes "Plan B" and due mainly to her sublime vocals makes it the second best track on the album. MiXE1 is back with "Game Changer," and though I wouldn't call it a game-changer for the album, it's a lot better than "In the Sound." It has some edginess, which I suppose is just what's needed at this point. "Under the Rain" (vs. Koner) is an understated number that almost captures a little of the eclecticism of 'SSSS'. Final track "Mr Vanity" is a cheeky number with Fallon Nieves on vocals quite reminiscent of "Not What I Expected" off the previous album. The production is really good on 'Lightflare' and vocally everyone gives it their best, but the songwriting is uneven often leaving something to be desired. I understand that there is a deluxe version of this album with a 2nd remix CD, but I wasn't sent that one. (Don't think it would have made much of a difference anyway.) Instead, Yves sent me an Alpha Matrix label compilation CD with a Psy'Aviah cut on it. I'll be reviewing that sometime in the near future when I've has a chance to absorb it all.
Artist:
Aidan Casserly
Title:
"Dirk Bogarde Suite" + "Winter Papers"
Format:
Download Only (MP3 + Lossless)
Label:
House Of Analogue
Rated:
Aidan Casserly is at his peak of creativity and this time he brings to his audience two new releases: the first one is an EP titled "Dirk Bogarde Suite" and the second one is a new album titled "Winter Papers". "Dirk Bogarde Suite" contains four tracks which are based on four key moments of the life of the English actor/writer named in the title. The titles "War Finds You Out", "Idol Of The Odeons", "Exile" and "A Forgotten Icon" are somehow self explanatory. I didn't know him, but the fact that his 1961 role, as an homosexual lawyer into the Basil Dearden movie "Victim", touched so deeply the audience who formed movements which forced the English parliament to change some laws about that matter, amazed me. An actor and a movie that can influence society. It would be a sort of dream nowadays. Musically, besides "Idol Of The Odeons", which is a nice upbeat song a la Marc Almond of the "Stories Of Johnny" period, the other three are inspired piano ballads ("Exile, is a little bit more "experimental" with its sax solo intermezzos that break in changing the atmosphere, though). "Winter Papers", contains songs where Aidan is using the poems of Monica Brito on ten out of eleven (Aidan wrote the lyrics for "The Lady"). Monica Brito is a Portuguese poet/artist based now in Canada which book titled like this album, containing her poems / illustrations, will be out sometimes in the year. A mutual friend on Facebook introduced them as her writing style is similar to Aidan's and he gladly got in contact. Most of the tracks are ballads based on piano and occasional strings parts. The ones that particularly catched my attention are "Silent Sounds" and "Pieces", as they are a bit different. The first one is a jazzy semi upbeat tune really minimal but able to create a great atmosphere and the second is a really good one where piano, distorted guitar chords, strings and drums create a nice mix of energetic crescendo and atmospheric moments. Also "The Lady", which is closing the album, is a really good one: it contains a mix of spoken word, piano and synth pads, thing that is creating a sort of cinematic effect I liked. I think that the minimalistic approach is due to the will to make the people focus on Brito's lyrics as a form of respect toward the feelings of the person he was collaborating with.