Artist:
VV.AA.
Title:
Tombstone Trance Vol. 1
Format:
Download Only (MP3 + Lossless)
Label:
Stabudown Recordings
Stabudown's compilation album isn't purely 'trance', in any generational use of the word, but a fairly broad collection of almost-entirely-instrumental EDM that spans synthwave, modern electro, synth-industrial, techno and, to a lesser degree, trance in the more early 90's, less mainroom hands-in-the-air sense. Initially there's a musical commonality that comes from some heavy and not-just-4/4 percussive elements that provide most of the tracks with a distinct bang, but as the tracks progress, things get more beat-free, introspective and spacious. The result is an earnest pack of tunes that's so remarkably consistent and planned out that at times you could believe this is an artist album.

TML's "Goshun" is one of the heavier pieces, thick kicks with stuttering vocal sounds, while CLAWS's "Scrappy Industrious F.U." also has the banging attitude but with a production approach that's so bright it ends up feeling feel-good possibly by accident. Kerridge's "Death Is Upon Us", Long Bastard's "Send" and Bad Tracking's "Arnos Veil" form a mini-industrial section (the second of those with some vocals, just to mix things up a bit).

Highlights include Koehler's "Beyond Andromeda", a deceptively grouping of semi-breakbeat and playful high synth arpeggios that's strangely infectious. East Side Ancients' upbeat but coarse-edged dub track "New Happy Fortune" is oddly nostalgic, but in a good way, and it runs nicely into the deeper reverbing delays of Grey People's "Mourning Etiquette". This in turn flowers smoothly into the ethereal tones and heartbeats of "Absolute Other" by Organic Dial. The two final tracks, from Vanity Productions and The Rancor Index, complete the descent into downtempo ambience, bordering on drone, and the journey is nicely complete.

It's a well curated compilation that's more thoughtful and diverse, and less in-your-face, then the artwork and branding may possibly suggest. Definitely the sound of life at the more interesting side of EDM.
Artist:
Moscoman
Title:
Wave Rave
Format:
12" vinyl + Download
Label:
Life And Death
After catching Moscoman's "I Ran" release from last year on his own Disco Halal label, a new EP was very welcome. This one's now on the Life And Death label but the style, and the quality, has remained consistent across these four new tracks of melodic, synthy instrumental house with a warm, analogue but not wholly retro flavour.

The title track is built around a bright chord scheme and enjoys itself, a fairly simple bit of feel-good instrumental electropop in a DJ-friendly format. "Dinner For One" is a little darker and wobblier, with soft rumbling bass, a scratchy, meandering distorted synth lead note, and an unusual and very confident breakdown involving near-silence and light but militaristic snare patterns.

There's a bouncy, slightly 90's feel to the slow unfolding and twangy guitar work of "550", which ends up being my favourite of the pack, while final track "Space Comfort" is another bright number with an almost endearing naivety to it that recalls the heady early days of instrumental synthpop where absolutely nothing seemed to be regarded as cheesy.

Another strong, accessible and surprisingly poppy pack from Moscoman, perfect for filling your set with a bit of bright electro cheer.
Artist: Cosmo
Title: Cosmotronic Remixed
Format: Download Only (MP3 + Lossless)
Label: 42 Records / Ivreatronic

Cosmo is a bona fide Italian pop star, though I'll admit that word of him or his albums hadn't previously reached me in the UK. He (or his press people) emphasise that he "keeps one foot in the underground", and on the strength of this 11-track remix package, getting mostly Italian artists to rework tracks from last year's "Cosmotronic" album, that statement does appear to be valid and true. Across eleven DJ- and club-friendly tracks, we get a fairly consistent set of deep house and synth-electronica which is essentially no longer pop music, and which most of the time completely disguises and hides its pop roots.

The rapid kicks of Not Waving's version of "Animali" set the tone nicely in terms of synthetic, synthwave-ish atmosphere and slow build, although it draws a harder, grittier rhythm which isn't indicative of the usually steadier house rhythms that follow it. Bawrut's steady techno-inflected-house version of "Tristan Zarra", with its enviable live drum fills and stripped-back 'polizia' vocal refrain, is both a great track with broad appeal, and a strong indicator of the rest of the release. The acid tweaks of Elisa Bee's "Bentornato" provide an appropriate bookend doing a similar job at the other end of the release.

Other highlights include the infectious bouncy synth bass of Fabio Fabio's "Barbara remix", and the modern twist on an 80's jack groove gone dark in Fabrizio Mammarella's "Attraverso lo Specchio" remix.

It's not all plain 4/4 either. The odd-step-pop of the Splendore remix of "Tutto Bene" is notably gritty and faintly moombahton-esque, while the Stefano Ritteri version of "Sei La Mia Citta" is a pleasant, if slightly flat, slow Eastern blend.

I haven't heard the original "Cosmotronic" album so can't comment on its merits as a remix album compared to its source material, but as a stand-alone package of deep house and soft-edged techno, this really is top-notch stuff.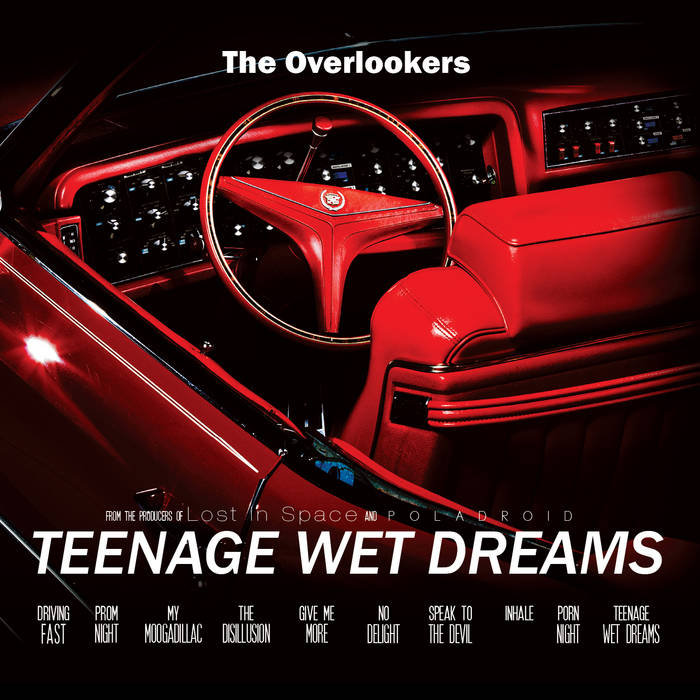 Artist:
The Overlookers
Title:
Teenage Wet Dreams
Format:
CD
Label:
Boredom Product
Rated:
Anticipated by the E.P. "Driving Fast", The Overlookers are delivering to the electro-pop lovers, their first album "Teenage Wet Dreams". Containing ten songs (well, that's nine if you count "Porn Night" as a "Prom Night" reprise) of which four we already checked with a different version on the E.P., the album will please the Depeche Mode fan but not only them. Formed by XY (Foretaste) and JB (Dekad), Overlookers took the fifties aesthetic made of sexy cars/girls and transposed it to the 21st century with a blink to the 80s. The duo got inspiration by 80s synthpop/ebm and if you check their other projects, I'm pretty sure you'll find something else you may like. The quality of this album resides in the fact that it's catchy since the first listening and it won't annoy you after a couple of times: the duo did a great job by packing the album with upbeat songs and dark ballads full of catchy melodies, great synth sounds, and top production work. Some tracks will recall some atmospheres and melodies a la Depeche Mode but The Overlookers' sound is personal and doesn't copy the one of the Basildon boys, luckily. If your preferred Depeche Mode period is going from "Black Celebration" to "Violator", what you won't get from Depeche Mode anymore you'll be able to get from The Overlookers! The album is available on streaming, digital download and deluxe six panel digifile CD.
Artist: VV.AA.
Title: Bleeps, Beats & Bass 2
Format: Download Only (MP3 + Lossless)
Label: Basserk

The second in the compilation series from constantly reliable Amsterdam label Basserk is another rich pack of almost-entirely-instrumental house, electro and danceable techno that stays just on the right side of wonky and looks out across the view.

There's an intriguing music-as-product concept behind it, with QR codes linking to every track, meaning for example that you'll be able to buy your favourite track as a sweatshirt. I can't vouch for the quality of the shirt manufacture of course, but big chunks of this are serious dancing music, so a lighter, more breathable T-shirt may be required as well...

Musically, it's a pack with no filler, stacked with potential DJ weapons. There's the infectious bounce of Sjamsjoedin's "Corners", the bright alt-disco clapping of Heart Space's "Move Aside", or the breathy, semi-glitched groove of highly-regarded LHISPR's little track "Closer" that bypasses your higher thought patterns and makes you dance like a robot.

It's bookended by "Passw123" by Full Monty at one end and "Modderpoel" by Maanwagen at the other, both breezy stepping grooves reminiscent of Luke Vibert tracks, that cheekily imply they're about to break out into full-verse rap tracks but never do. The former is a definite highlight that's earned its pole position on the compilation, that one's getting repeat plays here for sure.

There are also broodier and more introspective pieces for headphone-centric listening. Xyloglotte's "McKlatchey"- a track you'll never be able to verbally ask Siri or Alexa to play- rumbles with a gentle kick-led broken beat under counterplaying layers of squeaky synths, while Radio Parkplatz's "Wormshop" brings a bit of urgency through relentless synth bass notes and gliding siren-like arpeggios that slightly recall a Juhl Krøse track or two.

HuSo's "Tome" is one of those 150bpm-ish tracks with dubbier, half-speed top layers where your body can be shuffling frantically to the slightly jungle-ish beats at 150 while your head chills out at 75.

Kraz's "Shelter" stands out, not solely for the fact it has a full sung verse-and-chorus vocal on it- with a gravelly, Jan Burton, Rob Dougan-ish affair over a slow beat and synths that seem to want to be guitars, it definitely draws the attention. Baptist's "Nothing Left" leading into Tholyson's "Fou Amoureux"- the latter with an extremely OMD-ish synth lead line- form 'the synthwave section' towards the tail of the release.

It's hard to argue with the title of this release. High-quality bleeps, variety in the beats and a tastebud-wetting variety of squelchy bass sounds are on offer. It's a strong pack with just the right amount of twist.