Artist: Michele Mercure
Title: Beside Herself
Format: 2 x 12" vinyl
Label: RVNG Intl. / Freedom To Spend

"Beside Herself" is a 19-track, 66-minute anthology of material taken from Michele Mercure's self-produced and distributed cassettes released between 1983 and 1990 from her base in Pennsylvania (until divorcing in 1987, some were released under the name Michelle Musser).

It's a collection of almost wholly instrumental experimental electronic vignettes, with one foot decidedly in the world of lo-fi 80's synth pop but the other foot pointed outwards into more esoteric and avantgarde directions.

It's one of those works that inspires a lot of comparisons to other artists, which is not to take anything away from its originality or the uniqueness of its character. "Beginning" sounds like a mid 80's Nik Kershaw instrumental, and not in a bad way, while "An Accident Waiting To Happen" with its sampled car noises and sharp noisy percussion has more than a shade of The Art Of Noise about it, albeit with the sound quality of a homespun demo rather than a Trevor Horn-produced master. "De Dunk" is an oddly squelchy bit bit of slow-grooved weirdness that sounds like one of the more out-there moments from the early days of library music.

Thanks to some warm bass guitar work, there's a decided downtempo funk aspect in parts, the title track for example feeling like it could have soundtracked a night-time stakeout in a big-hair cop show. "Mother" is a nicely quirky bit of synth work with an almost lullaby-like quality to it.

Mercure's breakthrough material is certainly worthy of some re-appraisal, though the demo-like sound quality and production techniques root it firmly in its original decade. Fans of the edgier and more experimental edges of the early days of the 80's synth explosion will find a lot of merit in this.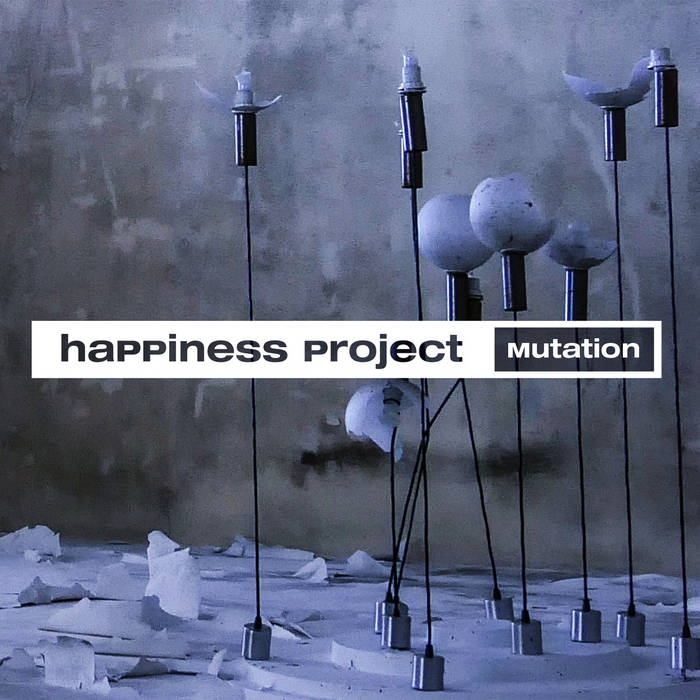 Artist:
Happiness Project
Title:
Mutation
Format:
CD
Label:
Boredom Product
Rated:
Spring is gone and in a snap we are arrived to autumn and as announced "Mutation", the newest album by Happiness Project, is out. Like I wrote on my review of their previous EP, the new album has been released five years after the previous release and sees the band with an enriched sound with the additional production of JB Lacassagne (a.k.a. Dekad) and Member U-0176 (of Celluloide and label's boss). Compared to the past on "Mutation" we have more bass and guitar, along with some aggressive rhythm sound here and there but, as I wrote, it's a thing that is enriching the sound which, as in the past, is synth based. Compared to the EP "Big Cities", the album propose a balance of upbeat energetic tunes (as the opening "Big Cities", "Sweet Heart Of Mine", "A Better Claim" and "Tell Me") and a bit more intimistic mid tempos ("Still Able To Love", "Mutation", "The Pumpkin Fairy Tale" or "Ivak Trahor" to name a few). Besides the professional production, which is a distinctive thing of the label Boredom Product, I might say that I have the impression that for the band this album signs their maturity as songwriters. "Mutation" mixes science fiction bits with visiting aliens and everyday humans' doubts: if "Mutation" is a bit philosophic ("The future comes to an end / as soon as tomorrow comes / the future come to an end / as far the technologies change… Mutation may be a better word / it helps us understand / nothing's complete"), "Still Able To Love" is more intimistic ("Everything has blasted away / and has come to pieces in me / is my heart still able to love? / maybe I will soon again / but I'm lost in all these sensations"). At the end you'll ask yourself: ain't we all beings with feelings in the end? You can check and the whole album and purchase it here https://boredomproduct.bandcamp.com/album/mutation.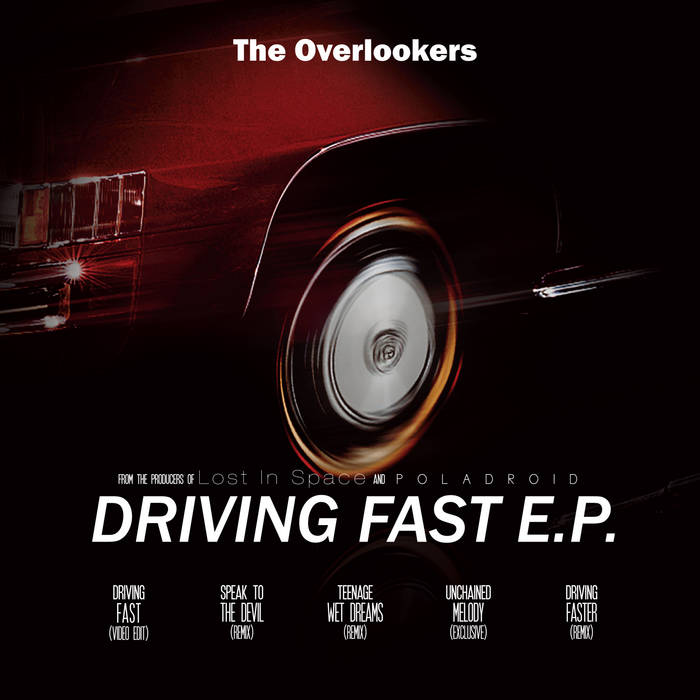 Artist:
The Overlookers
Title:
Driving Fast EP
Format:
CD EP
Label:
Boredom Product
Rated:
Initially I was thinking that The Overlookers were a mysterious band coming from France but they have recently posted a photo on their Facebook profile and it seems to me that one of them is JB, of Dekad. Anyway... Their first EP "Driving Fast" has just been released by Boredom Product and it contains three tracks which will be released on their first album "Teenage Wet Dreams", which you can find here remixed (only "Driving Fast" is here also with the video edit version), plus a cover of the Righteous Brothers' "Unchained Melody". The band, has been helped by Member U-0176, of Celluloide fame and boss of the Boredom Product label, for the "special effects" and post-production. The songs, find their roots in the 80s/90s synthpop but with a twist and in this case we have a bit of 90s e.b.m. influences helping to spice up the rhythm section, thanks to bumping bass arpeggios. The three original tracks "Driving Fast", "Speak To The Devil" and "Teenage Wet Dreams" are really nice and make you feel curious about the forthcoming album, because they are sounding quite different: the first is a uptempo killer (probably it's the one which is more e.b.m. sounding), the second is a mid tempo dark tune and the third one is a slow tempo which is recalling me the old Depeche Mode ballads of the likes of "Waiting For The Night" or "Question Of Lust", because of the overall atmosphere and also because of the the arpeggios progression, which melodically remembered me the Basildon boys. The "Driving Fast" remix, renamed "Driving Faster", is a good electro track which is focusing on the rhythmic parts of the song (bass lines, drums and synth percussions are the main elements) and the leads are added here and there to enrich the melodic parts. Check it here! https://boredomproduct.bandcamp.com/album/driving-fast-ep
Artist:
Key To The Mint
(@)
Title:
A Godless Line
Format:
CD + Download
Label:
self-released
Rated:
Key To The Mint is an '80s retro synthpop band (although they describe themselves as "post punk") from Cleveland, Ohio, who have been around since 2015 or so. The band consists of Joel Anger (lead and backing vocals), John Alexander (guitar, bass, keyboards, drum and synth programming), and Rich Kundracik (drum and synth programming, bass, keyboards) plus a few guests who help out with additional backing vocals and guitars. They admit to influences of Depeche Mode, The Smiths, The Cure, Sisters of Mercy, and OMD, and truth be told, they sound a little like most of those bands. This 11-track CD opens well enough with "The Hague," a song that sounds nearly like a Depeche Mode B-side, but unfortunately it's all downhill after that. The aptly titled next track, "Make Me Suffer" will make you realize that this album sounds like it was recorded live in a basement. It's also where the singer switches from Dave Gahan mode to Morrissey mode, meandering in the melody with no real hooks to anchor the songs. Joel Anger's vocals may be an amalgam of all the singers of the aforementioned "band influences" (excepting the Sisters) but basing the vocal melodies on the worst traits of Morrissey is no way to make an impact. Considering that Anger's voice is the most talented aspect of this group (the instrumental performance/execution is fairly pedestrian), these guys have a long way to go as the competition is fierce in this genre, and there are many better bands out there. In this age of rampant technology there's simply no excuse for the mediocre recording. What this band needs is a spiffy songwriter (one who can really cook up great hooks) and a good studio with someone who knows how to use it. Until then, it's back to the basement.
Artist:
Dicepeople
(@)
Title:
One From Many
Format:
Download Only (MP3 + Lossless)
Label:
Syndicol Music
(@)
Rated:
Finally, Dicepeople have released a new full album, very different from their previous one ('End of the Line,' ) but no less ambitious. The band has changed a bit too. Matt Brock (songwriter, electronic musician/programmer, producer) has contributed some vocals on 'One From Many,' Rafael Filomeno (visual artist) is still aboard, and (female) vocalist Zmora is now listed as a band member. Where Brock previously only used guest vocalists, now there is a permanent one. Still there are a number of guest vocalists on the album - Sara Dee, Atashi Tada, Darien Graham-Smith, and Hemiola. Additional guest guitarists include Roger Le Guin and Rob Ackerman. An overall description of the music would be dark electro with touches of EBM, techno-industrial, synthpop, darkwave and post-rock. It has a "grand scale," expansive, futuristic, cyber-sound with generally great production by Brock. Using different vocalists keeps the material from sounding too homogeneous, while not betraying the feel and theme of the material. There are 9 tracks all with single word titles running a succinct 47 minutes or so total. The odyssey begins with "Void," a track of mostly space ambient effects with a lengthy dialogue sample from the 1993 Aussie cult film- "Bad Boy Bubby". The dialogue is an existential rant on God, and seems to be a useful setup for what's to follow. "Gone" features Zmora on vocals with backing vocals by Atashi. For some reason she reminds me of Propaganda's Claudia Brucken here. A very spacey electronic ambience is woven between the beats, and the subtle chorus hook is beguiling. On "Multiplicity" Matt Brock speak-sings his way through this heavy electro track on the verses while Zmora sings the choruses. Okay, now I understand why he's used other vocalists. It's still a good track and also features a neat twisty instrumental section. "Celestial" (co-written by Darien Graham-Smith, who also provides lead vocals) is a bouncy number with Sara Dee also on vocals with vocoder processing. On "Nitro" Atyashi steps up into the lead vocalist spot for a song with a real EBM/technoir vibe. The angular bass synth motif of "Addiction" provides a stark contrast to the smoothness of the previous track with Brock on primary vocals, supplemented by the voice of Zmora. "Pigs' treads more traditional electro-industrial territory with vocals by Brock and Zmora. A processed (but unassimilated) Borgish vocal that opens "This" continues along electro-industrial lines with Hemiola's voice swimming against the slipstream of cosmic effluvia. If that track seemed like it was awash in an ocean of synthetic sound, it's nothing compared to "Duality". Zmora sounds like she's nearly drowning but somehow managing to cling to a liferaft, until it capsizes in the bitter end. This is one interesting and unusual album, brimming with cyber-vibes and wonderfully executed. I imagine that it's even more spectacular live when Rafael gets to work his visual magic. My only complaint is that the album is download only with no physical product. I'm kind of old school when it comes to that, but I'll save that rant for another time.